Frozen S'mores are the most delicious frozen treat made with chocolate pudding, whipped topping and graham crackers. Such an easy and delicious summer dessert to try.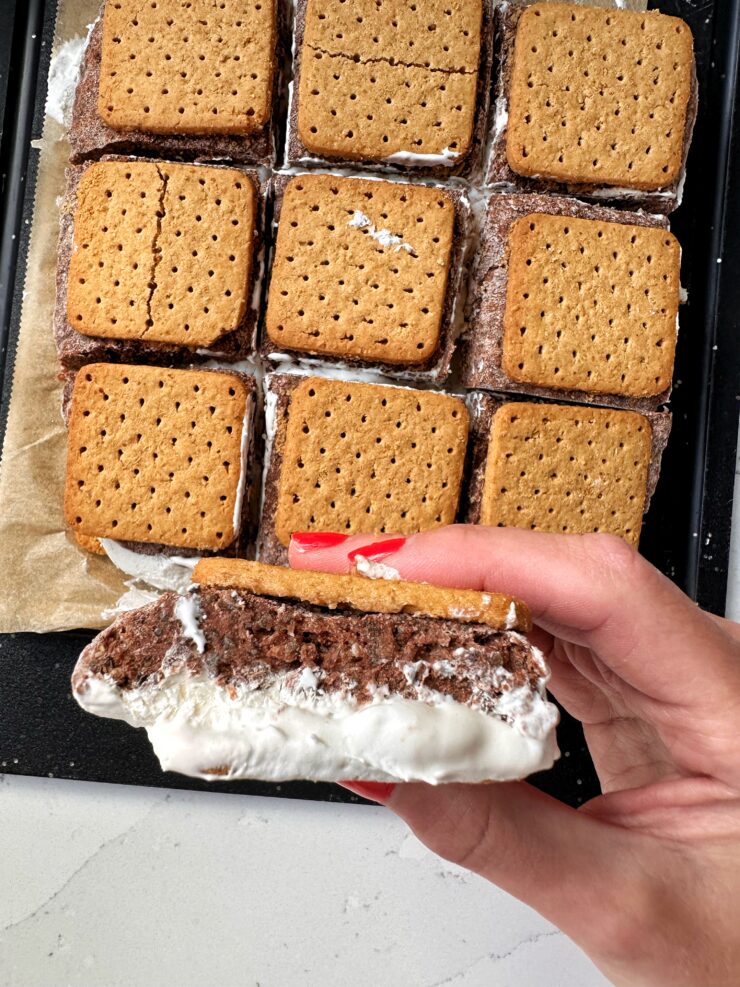 S'mores are usually a hot summertime staple so when I say "frozen s'mores" you may think I am crazy. But these are such a delicious and refreshing treat to make for the summertime. It is a twist on the classic and another fun way to enjoy s'mores like S'mores Chocolate Chip Cookies and 4-ingredient S'mores Bark.
As someone who is obsessed with s'mores, I love recreating the classic dessert in new ways. Plus my kids are also obsessed with them and they are now obsessed with having these frozen s'mores bars in the freezer.
These frozen s'mores squares are made with layers of whipped chocolate pudding and whipped topping with graham crackers on both sides. I love that these are also prep-able too. They're great to entertain with and eat like an ice cream sandwich.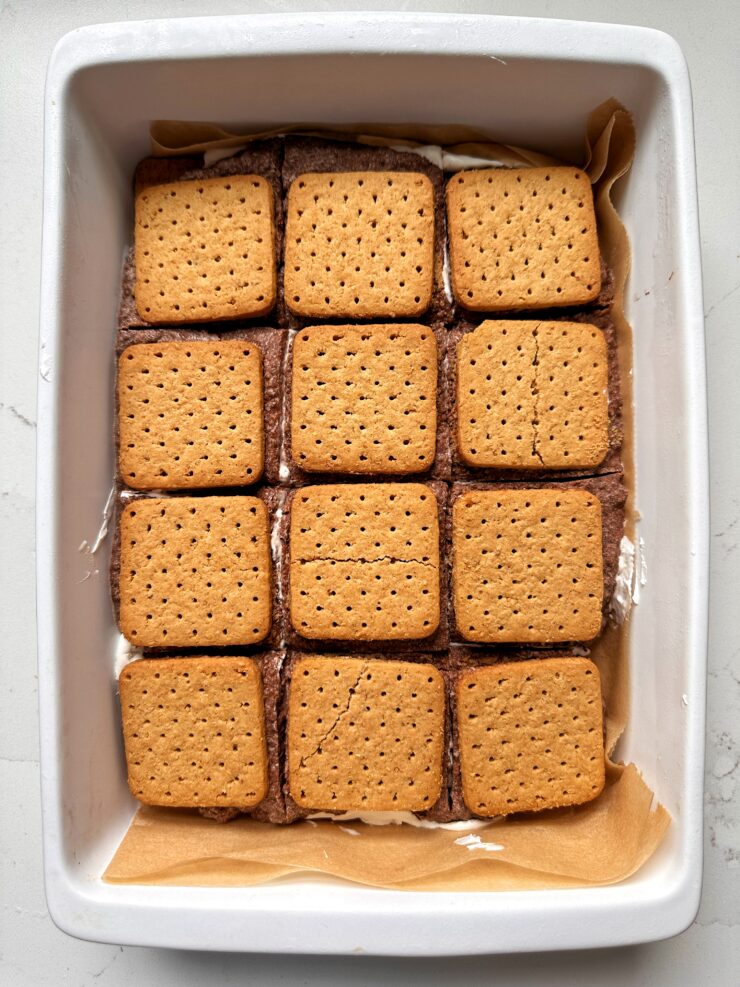 What ingredients you need to make Frozen S'mores Bars:
Non-dairy milk – almond, oat, coconut or anything can work here!
Chia seeds – I love making pudding with chia seeds. It makes it thicker in texture too and adds extra nutrients to the pudding
Cacao powder – this is what makes the chocolate pudding "chocolate", please don't skip!
Coconut sugar – you can also use maple syrup if you prefer to sweeten the pudding
Vanilla extract – I like to add to this to pudding for flavor
Gluten-free graham crackers – or use regular graham crackers if not gluten-free
Frozen whipped topping – vegan if needed but really any whipped topping can work. I get these in freezer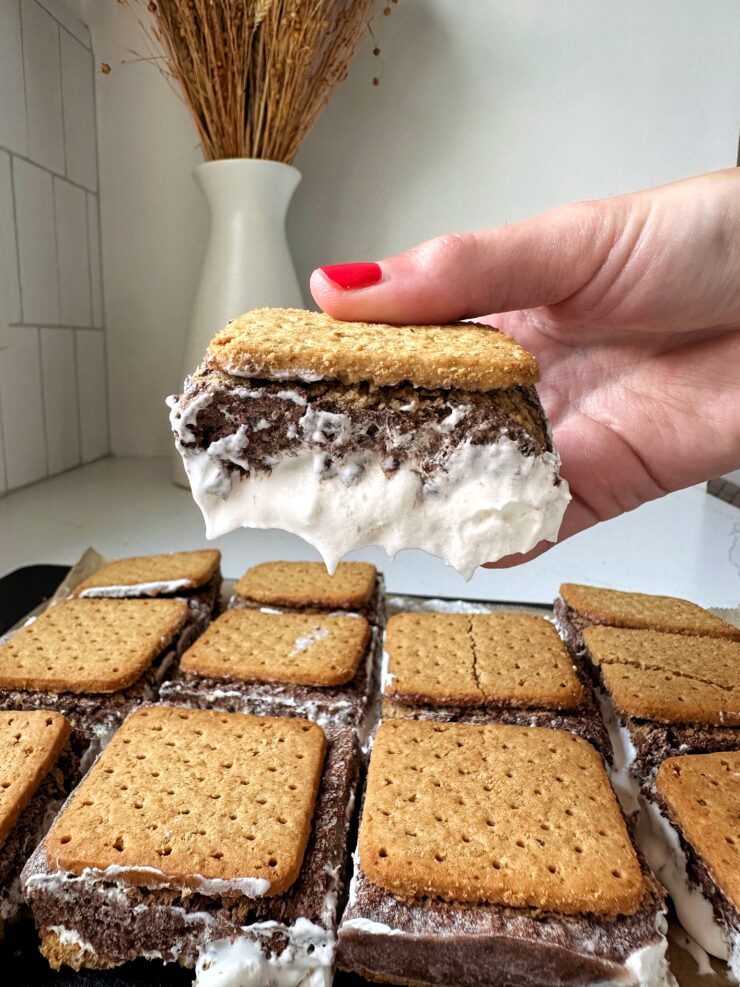 How to make healthier Frozen S'mores:
Begin by preparing the pudding. Add ingredients to food processor or blender and blend until creamy
Add to fridge in bowl to set for at least 30 minutes
Line a 9×13 baking dish with parchment paper (leave extra parchment hanging over so it's easy to remove!)
Line a layer of graham crackers across the bottom of the baking dish then spread the cool whip on top (spread so it is even across)
Next spread the pudding across followed by another layer of graham crackers
Add to freezer to set for a few hours
Pick up the overhanging parchment to remove and place on a cutting board, using the graham crackers as a guide, slice the layers into 12 squares

Enjoy while softened or store in the freezer in bag (if frozen, allow sandwiches to soften at room temperature 15 minutes before eating!)
FAQs on making these Frozen S'mores:
Can I prep these s'mores ahead of time? Absolutely! That is what I love about these frozen s'mores – you can make them ahead of time then serve when ready.
Can I use chocolate pudding mix instead? 100000% use your favorite instant chocolate pudding mix or make my homemade version.
Do I thaw out my whipped topping before? Yes! I recommend taking it out about 30 minutes before so it is smooth and softer to smear across.
What is the best way to cut the bars? With a large, sharp knife. You can also trim any excess frozen filling from around the bars too if you'd like a "cleaner" look.
What is the best way to store these? You can store them in a large ziplock. I like to wrap each square individually with plastic wrap too within the bag.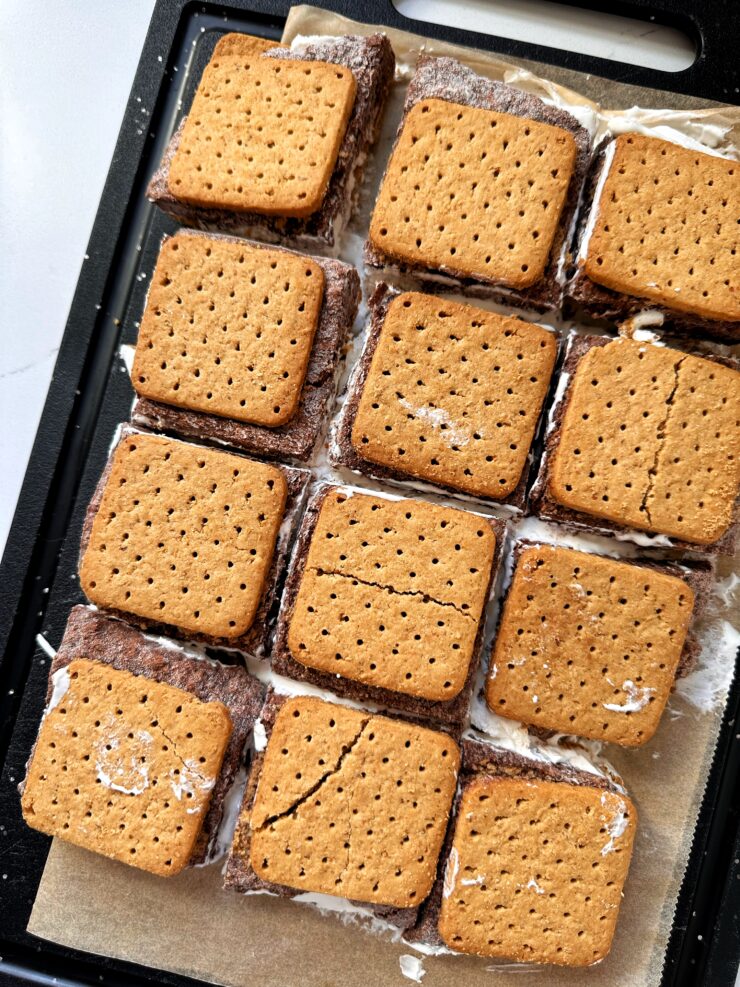 A few other summertime desserts to try:
4-ingredient Strawberry Shortcake Ice Cream Bars
Copycat Frozen Reese's Dessert Bars
Chocolate Peanut Butter Frozen Banana Pops
Print
Frozen S'mores
Frozen S'mores are the most delicious frozen treat made with chocolate pudding, whipped topping and graham crackers. Such an easy and delicious summer dessert to try.
Prep Time:

10 mins

Total Time:

4 hours
Chocolate pudding:
2 cups

non-dairy milk (almond, oat, coconut or anything!)

1/2 cup

chia seeds

5 tablespoons

cacao powder

1/2 cup

coconut sugar

1.5 teaspoons

vanilla extract
S'mores bars:
Instructions
Begin by preparing the pudding. Add ingredients to food processor or blender and blend until creamy
Add to fridge in bowl to set for at least 30 minutes
Line a 9×13 baking dish with parchment paper (leave extra parchment hanging over so it's easy to remove!)
Line a layer of graham crackers across the bottom of the baking dish then spread the cool whip on top (spread so it is even across)
Next spread the pudding across followed by another layer of graham crackers
Add to freezer to set for a few hours
Pick up the overhanging parchment to remove and place on a cutting board, using the graham crackers as a guide, slice the layers into 12 squares

Enjoy while softened or store in the freezer in

large bag

(if frozen, allow sandwiches to soften at room temperature 15 minutes before eating!)
Notes
*Store in freezer for 2 months