Maple Banana Oatmeal Bake topped with a delicious Maple Honey Cream Glaze. A personal go-to to make for a healthy gluten-free breakfast!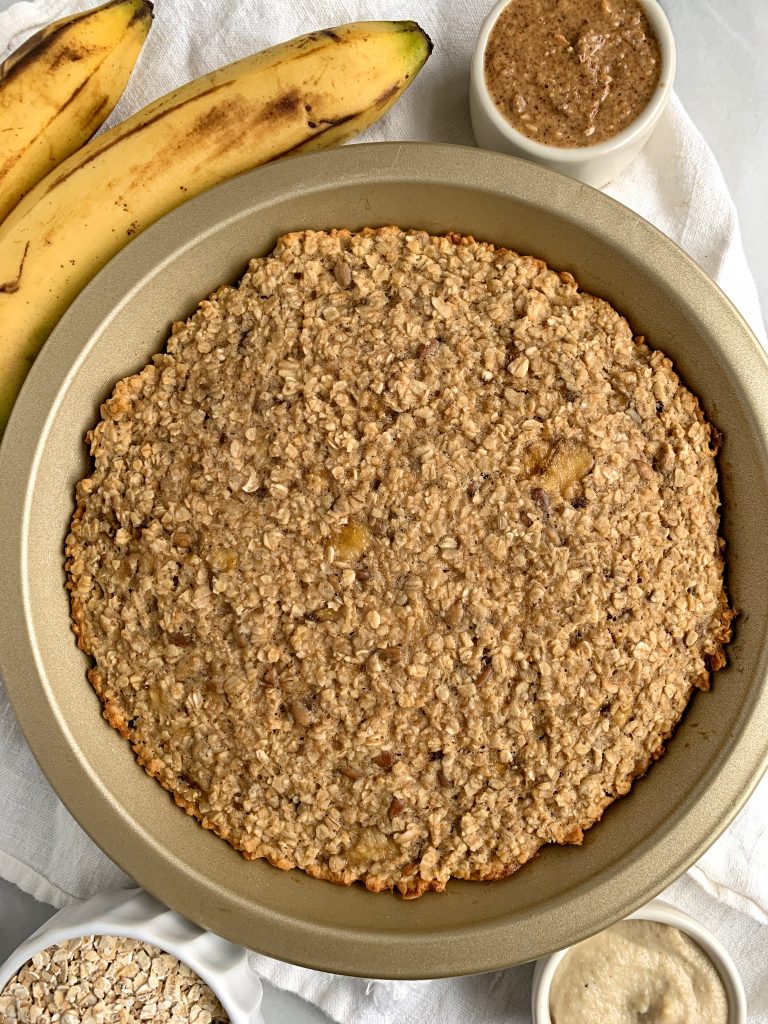 Easy breakfasts are everything. Especially when you have 3 hams over here eating breakfast every single day.
I whip up meals for Jordan, Ezra and myself so making things that are simple and easy are the only way to do it. I love making recipes that make a few servings. That way we are set for a couple of days with a meal! But even if you are baking for one, this recipe is perfect. You can have breakfast for a full work week. Or even freeze half of it.
Baked oatmeals are one of my personal favorites and I love how hearty and taste they are. They basically make me feel like I am eating cake for breakfast. And I love topping it off with some coconut yogurt, granola, nut butter, anything! Think of them like an oatmeal casserole of sorts.
This Maple Banana Baked Oatmeal is gluten-free and dairy-free and low in sugar.
This is one of those recipes that will go on your rotation once you start making it. Plus it doesn't require a dozen different ingredients. We use a few gluten-free staples on hand for both the oatmeal bake and the maple honey cream glaze on top.
Now don't get intimidated by the glaze. It is so not fancy and it is super easy to whip up. It adds a cinnamon bun-like consistency to this recipe and it has just the right amount of sweetness from the maple syrup and Wedderspoon's Manuka Honey. And if you aren't feeling a glaze, smear a thick layer or almond butter on top like I do most of the time, and you will be golden.
What you need to make this gluten-free oatmeal bake..
Mashed banana. One of my favorite ways to naturally sweeten a recipe. Plus it gives it that banana bread-like flavor.
Pasture-raised egg. You can absolutely sub flax egg in this too!
Creamy nut butter. I personally like using almond butter here but anything works.
Maple syrup. For that little sweetness for the oatmeal bake.
Beechwood honey. A personal favorite honey to bake with. Wedderspoon makes the best one!
Manuka honey. I use this in the glaze. Wedderspoon is another personal fave for this.
Unsweetened non-dairy milk. Always look for little to no gums, no natural flavors and added sugars. Such a waste to add into milks!
Rolled oats. I have used both quick rolled oats and rolled oats. Both work!
Cashews. The main ingredient for the dreamy glaze on top.
A few of my other favorite baked oatmeals: Mini Chocolate Chip Banana Bread Oatmeal Bake (vegan + gluten-free), Turmeric "Golden Milk" Oatmeal Bake (vegan) and Dark Chocolate Banana Bread Baked Oatmeal (gluten-free). But for evermore healthy breakfast recipes, head on over to this blog post.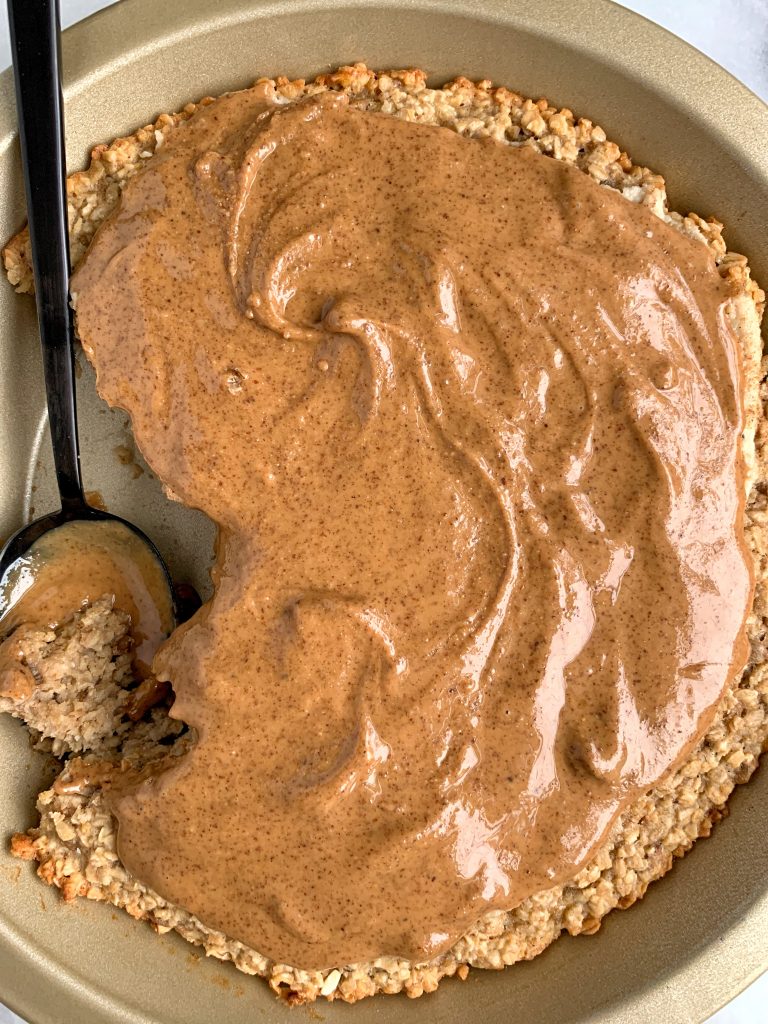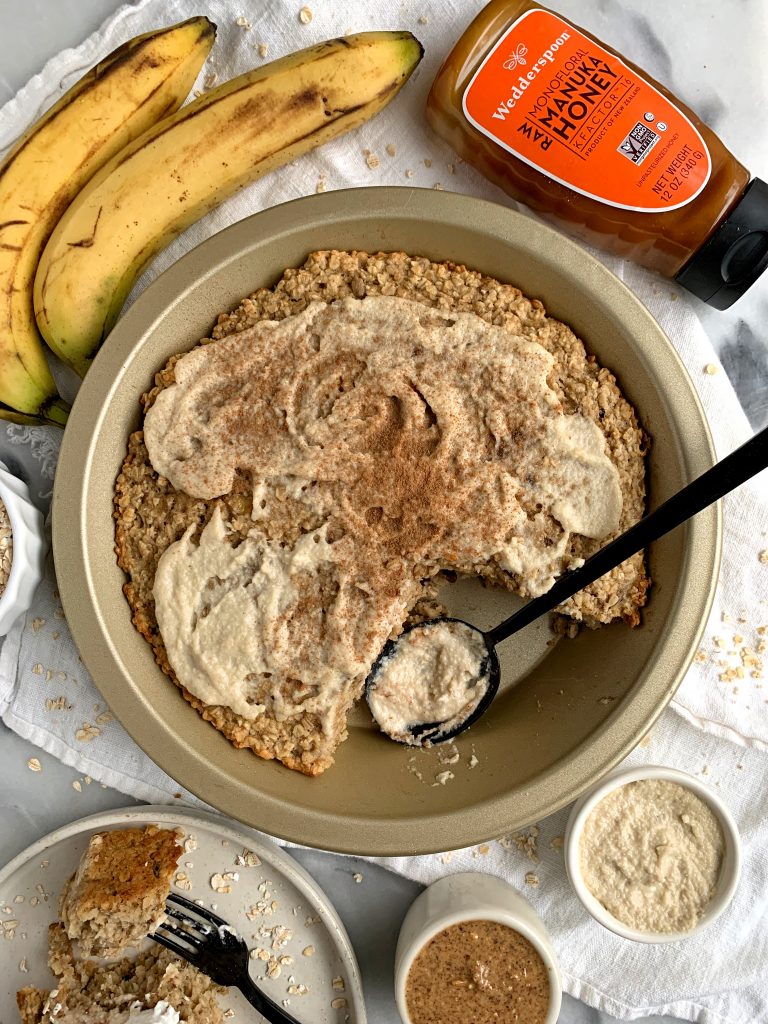 Print
Gluten-free Maple Banana Oatmeal Bake with a delicious Maple Honey Cream Glaze
Maple Banana Oatmeal Bake topped with a delicious Maple Honey Cream Glaze. A personal go-to to make for a sweet breakfast that is also dairy-free and refined sugar-free.
Prep Time:

10 mins

Cook Time:

25 mins

Total Time:

30 mins
Gluten-free Maple Banana Oatmeal Bake:
1 cup

mashed banana

1

pasture-raised egg (or sub flax egg)

1/3 cup

creamy nut butter

3 tablespoons

maple syrup

3 tablespoons

Wedderspoon Beechwood Honey

3/4 cup

unsweetened non-dairy milk

1 teaspoon

vanilla extract

3 cups

rolled oats

1/2 teaspoon

baking powder
Maple Honey Cream Glaze
3/4 cup

raw cashews, soaked in boiling hot water for

10

minutes

5 tablespoons

non-dairy milk

1/2 teaspoon

cinnamon

2 tablespoons

Wedderspoon Manuka Honey

1 tablespoon

maple syrup

1 teaspoon

vanilla extract
Instructions
Preheat oven to 350 degrees and grease a pie dish or 8×8 baking dish well
In a large bowl, mix together banana, egg, nut butter, maple syrup, milk and vanilla extract
Add the oats and baking powder and mix again until well combined then add to dish
Bake in oven and bake for 20-25 minutes
While the oatmeal bakes, make the glaze by straining the cashews and adding to a blender or food processor and blend with other ingredients until creamy
Top oatmeal bake with glaze and enjoy! I also use almond butter if I don't make a glaze and it tastes delicious too
xx, Rach
Thank you Wedderspoon for sponsoring this post. It means so much to me to partner with brands I love and believe in!