This Gluten-free No-Boil Pumpkin Pasta Bake is a dream meal. Takes little to no effort to prepare and all you need is a large baking dish to make it.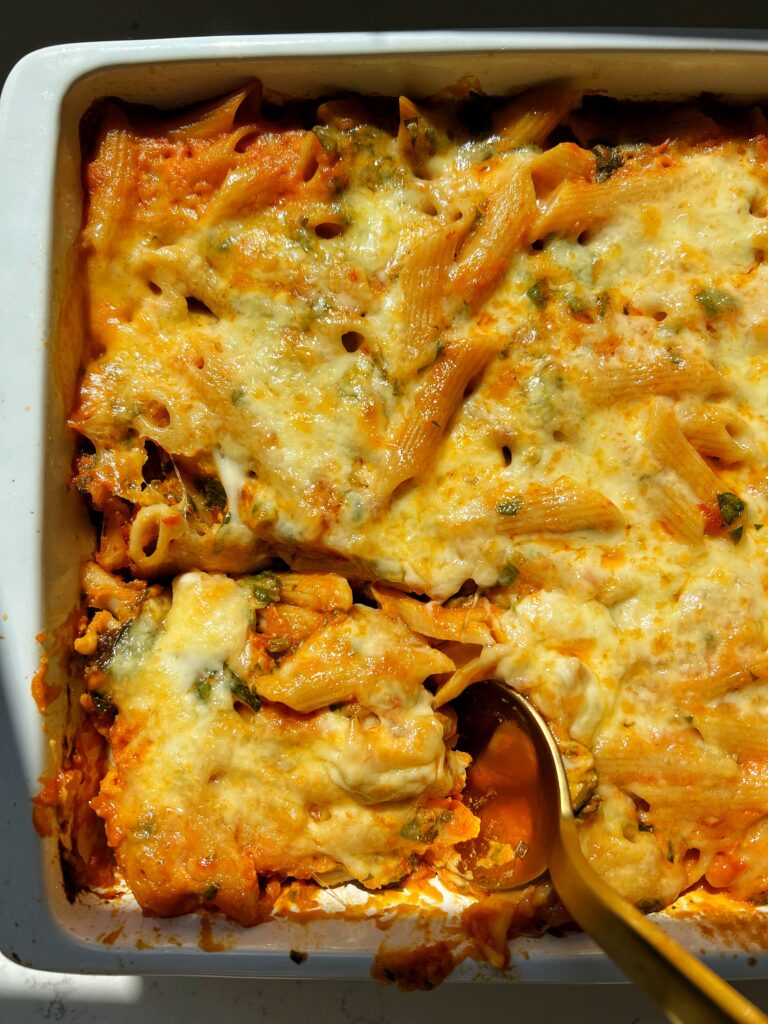 Meals that take little to know effort and make a handful of servings are my kind of meals.
This new pasta bake recipe I have for you guys is truly one of my favorites. And it was inspired by the oh so popular The Easiest No-Boil Baked Pasta Recipe (gluten-free) that continues to be one of the most popular recipes on the blog each month. Except I made a few tweaks and additions to this new one and I am obsessed.
For starters I add in some organic pumpkin and spinach, which makes this recipe a bit more nutrient dense. And it is an easy way for Ezra to eat spinach and not know it is there. I also add in some cooked sausage crumbles or cooked ground meat for extra protein. It is totally optional but definitely adds a bit extra to make the meal even more filling.
I made this for us on a Sunday night for dinner and it lasted us for a few days too, which is great. Anytime I can prep a meal that lasts for more than just one night – I am here for it. Plus it doesn't make a mess in the kitchen and you don't have the boil the pasta beforehand or do much work. The only effort comes from making ground meat if you plan to add that in there.
Stay tuned for some more healthy pasta bakes because I am officially obsessed. And especially with wintertime coming! Bring on the cozy foods.
What ingredients you need to a pumpkin pasta bake with veggies:
Gluten-free pasta – anything pasta works – I used cassava pasta here and have also used brown rice pasta
Full-fat coconut milk – the creamier the better but other non-dairy milks work too!
Garlic, onion powder, oregano – for seasonings
Marinara sauce – any sauce you love!
Organic pumpkin – look for no sugar added for this
Organic spinach – raw! no need to cook before
Shredded organic mozzarella – you can also use dairy-free cheese if you prefer
Optional: ground sausage, beef or any meat you have cooked before
How to make this easy pumpkin pasta bake:
Preheat oven to 400 degrees and take out a 9×13 baking dish
Shake the can of coconut milk to breakup the creamy parts
Add the pasta to the baking dish and spread it across the dish
Add the milk, garlic, onion, oregano, marinara, spinach, pumpkin and cooked meat if using and mix well to evenly combine
Sprinkle cheese on top then cover the dish with tin foil
Bake in oven for about 35-40 minutes then remove foil and broil for about 90 seconds so the cheese starts to bubble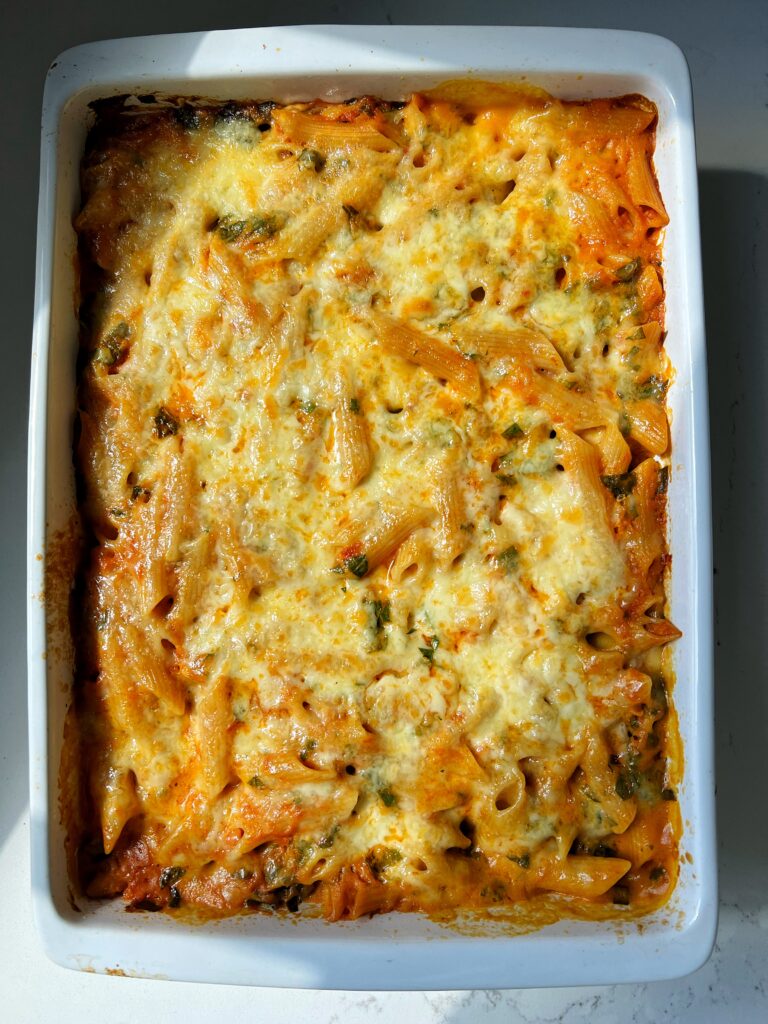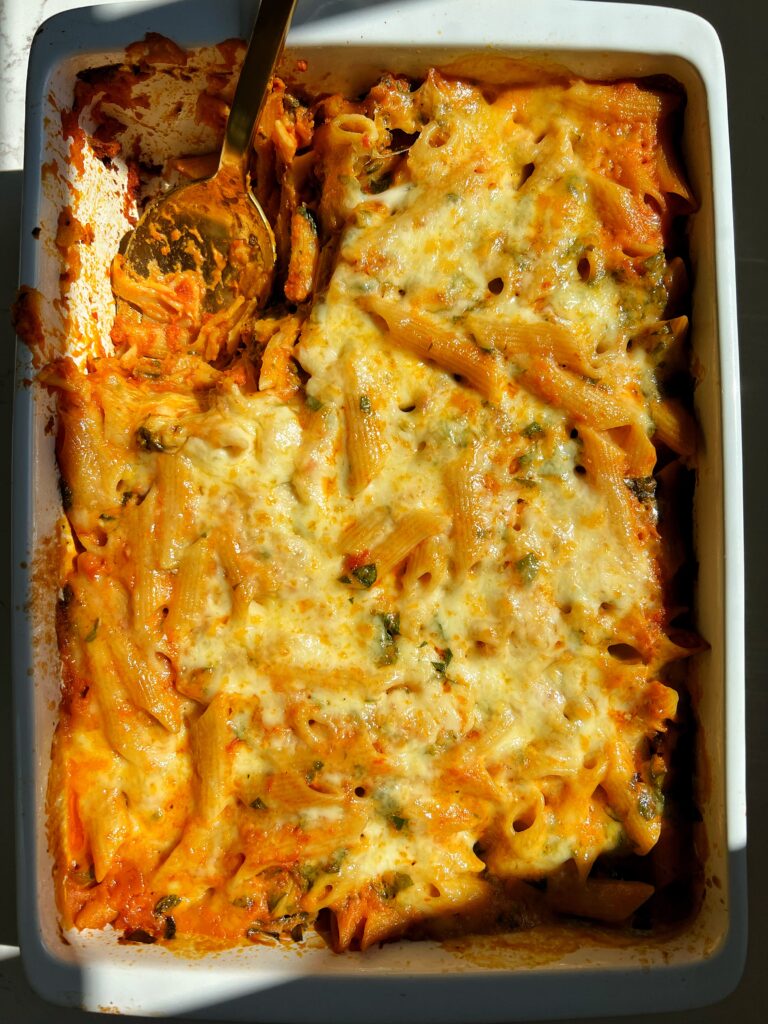 A few of my other favorite healthy dinner recipes:
Insanely Good Basil Cashew Chicken Bowls (gluten-free)
Healthy Avocado Chicken Burgers (paleo + whole30)
Healthy Chili Peanut Noodles with Crispy Sesame Tofu
Paleo Crispy Sesame Chicken Tenders with Spicy Honey Sauce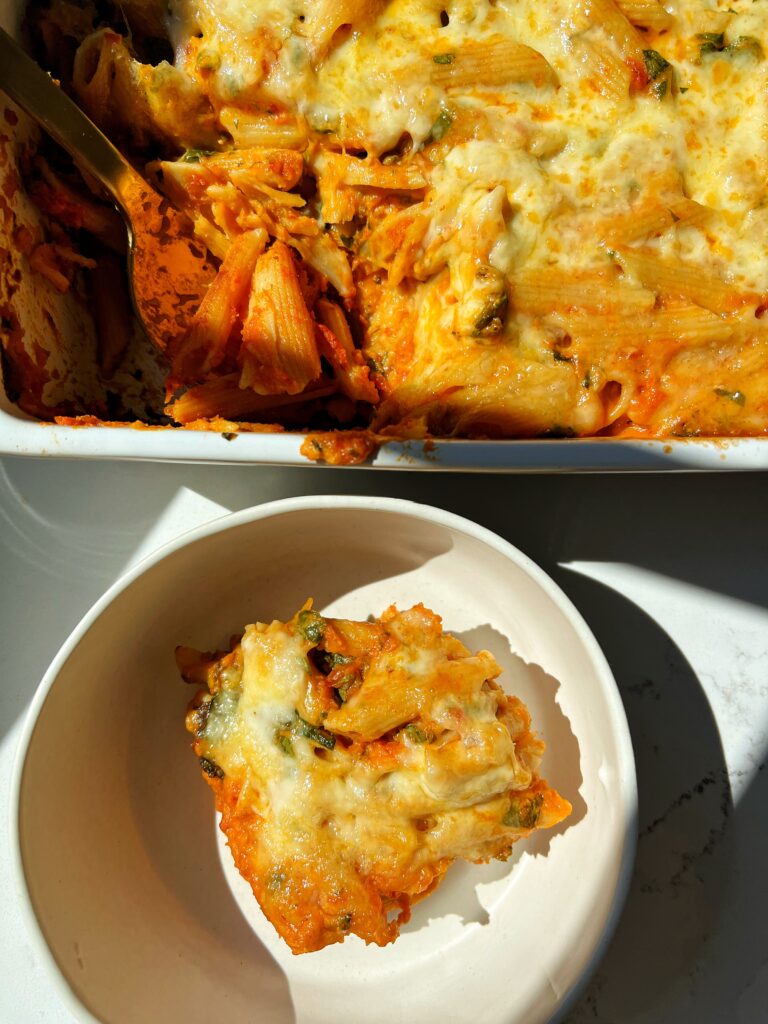 Print
Gluten-free No-Boil Pumpkin and Spinach Baked Pasta
This Gluten-free No-Boil Pumpkin and Spinach Baked Pasta is a dream meal. Takes little to no effort to prepare and all you need is a large baking dish to make it. Such an easy and healthy meal for the whole family.
Prep Time:

5 mins

Cook Time:

40 mins

Total Time:

45 mins
16 ounces

gluten-free pasta (any pasta noodle works!)

1

16-ounce can full-fat coconut milk*

2

cloves garlic, minced

1 teaspoon

onion powder

1/2 teaspoon

oregano

1

20-ounce jar of marinara sauce*

1

15-ounce can organic pumpkin (look for no sugar added)

2 cups

organic spinach (raw)

1.5 cups

shredded organic mozzarella*

Optional: ground sausage, beef or any meat (cooked!)
Instructions
Preheat oven to 400 degrees and take out a 9×13 baking dish
Shake the can of coconut milk to breakup the creamy parts
Add the pasta to the baking dish and spread it across the dish
Add the milk, garlic, onion, oregano, marinara, spinach, pumpkin and cooked meat if using and mix well to evenly combine
Sprinkle cheese on top then cover the dish with tin foil
Bake in oven for about 35-40 minutes then remove foil and broil for about 90 seconds so the cheese starts to bubble