Gluten-free Pizza Hot Pockets Recipe using my favorite paleo pizza dough mix. Super versatile and this recipe is also vegan-friendly!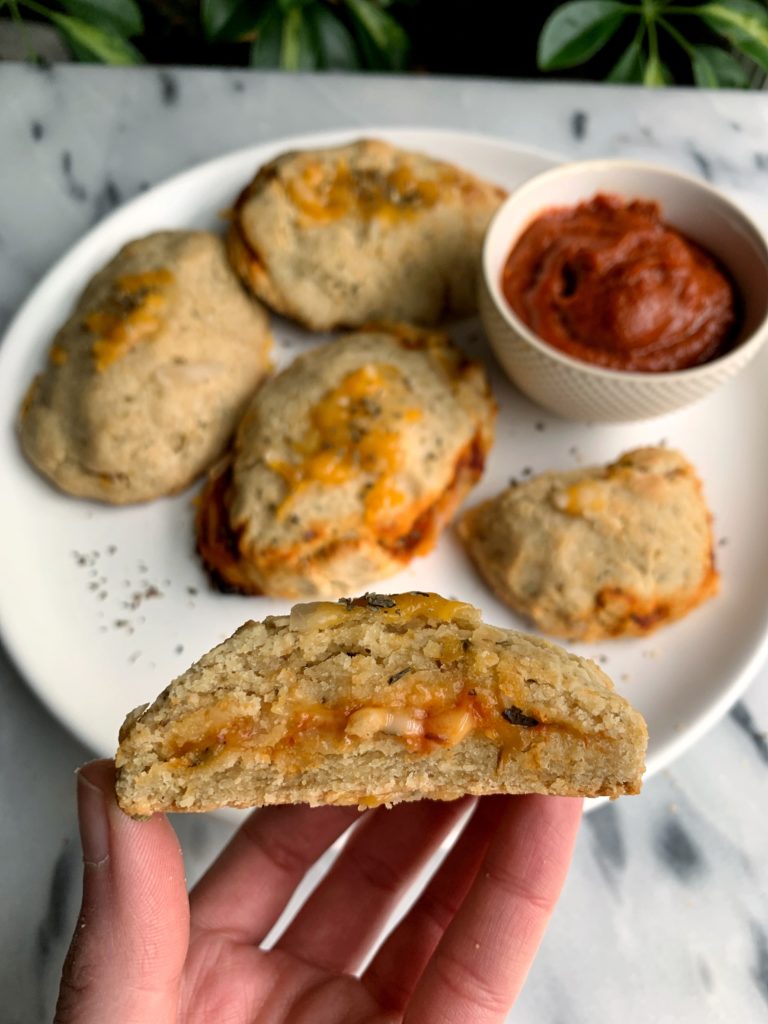 I was on the phone with my mom earlier and was telling her about these new hot pockets I was sharing on the blog today.
Her immediate response.. "OMG you used to love those!" And she is 100% right. I loved my hot pockets. I would always ask for the pizza ones to be in the freezer growing up. Filled with pepperoni and all the goods.
Except fast forward a decade and now we finally understand the ingredients in an actual hot pocket.
Of course this recipe doesn't taste exactly like the ones you may have had growing up like I did, but they are still pretty kick a$$ if you ask me!
I love that these healthy hot pockets are easy to make, super versatile and they are paleo and can be easily made vegan.
I filled some with just cheese and sauce and others with some sausage in there too. I personally like adding in a little extra protein in them to keep me full longer but you can also use a vegan sausage or anything you wish.
I also sprinkle some extra cheese on top and broil them for a minute or so to get the cheese all melted and real good!. These can also easily be reheat in the oven or if you prefer microwave, that works.
What ingredients you need to make these homemade hot pockets:
Pizza dough mix of your choosing – I love this one so much! I use it in so many recipes here like my homemade pizza bagels, garlic knots and these everything bagels.
Organic sauce of choice – you could also put in some pesto too!
Cheese or non-dairy cheese – I used a random vegan one I found at the store. It was pretty good but I'm going to use mozzarella next time
Sausage, veggie sausage and/or roasted veggies!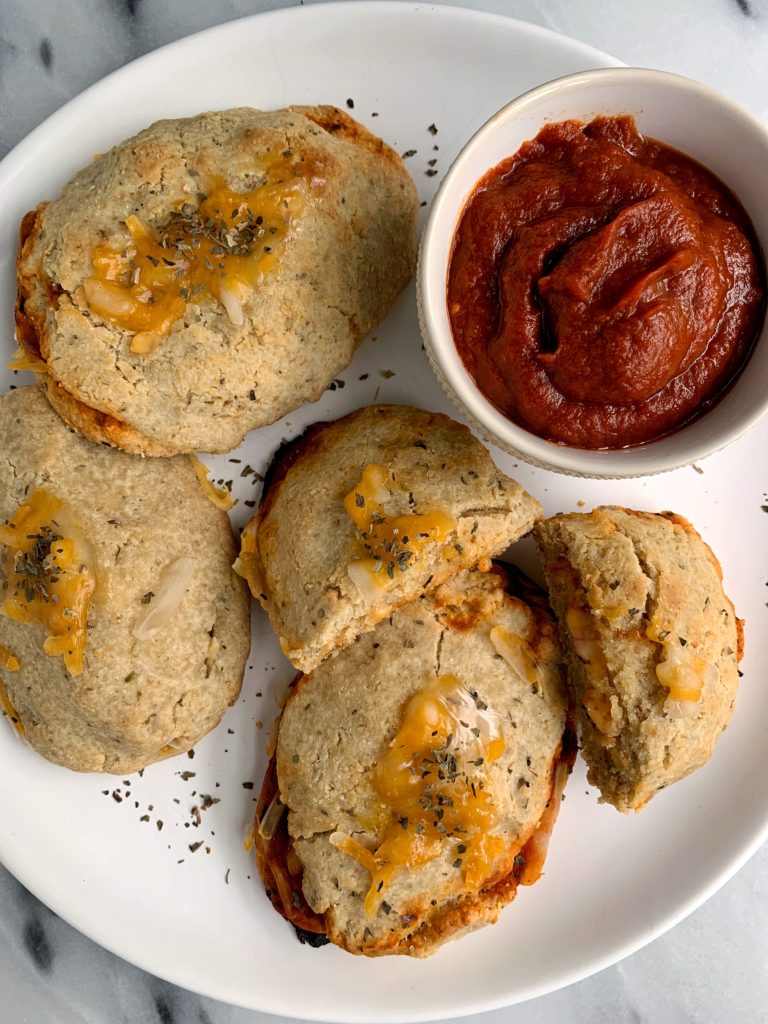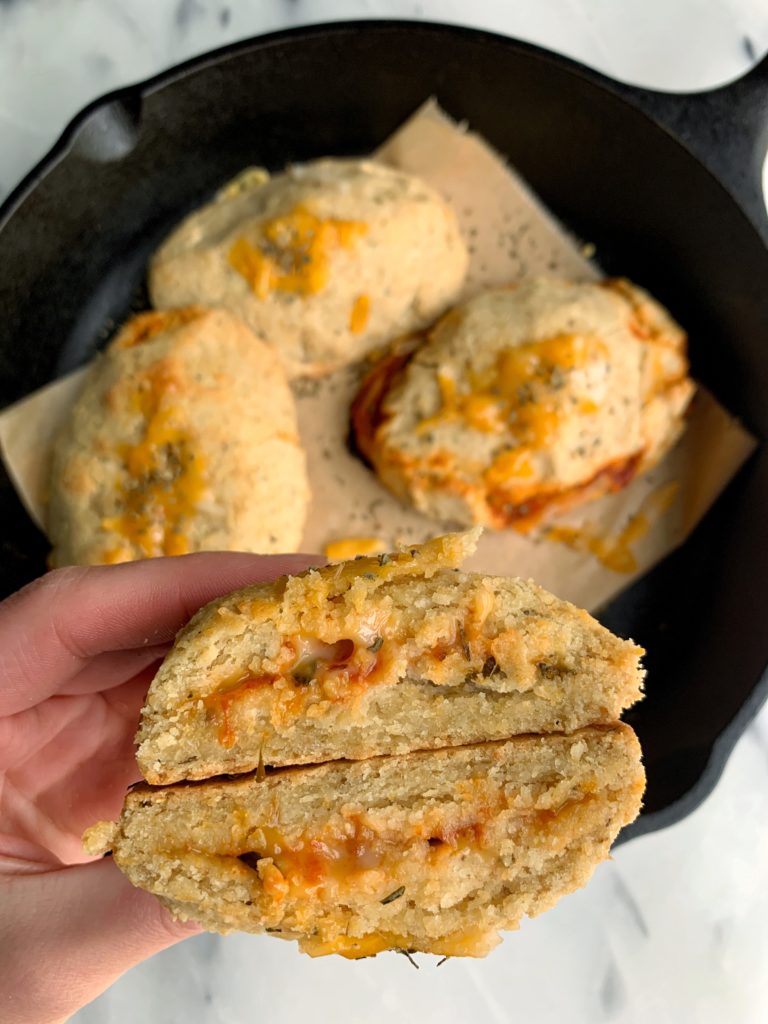 Print
Gluten-free Pizza Hot Pockets Recipe
Gluten-free Pizza Hot Pockets Recipe using my favorite paleo pizza dough mix. Super versatile and this recipe is also vegan-friendly!
Prep Time:

10 mins

Cook Time:

25 mins

Total Time:

35 mins
1

box pizza dough mix (I used this but you can also use any pizza dough/mix you prefer!)

1 cup

organic marinara sauce

Shredded cheese (can be non-dairy or diary-based)

Any mix-in's: cooked sausage, veggies, vegan sausage, anything!

Olive oil for brushing

Extra sauce for dipping
Instructions
Prepare the pizza mix per instructions on the box
Divide the dough in about 4 balls/pieces (if using same mix as me) then break into 2 smaller pieces
Flatten one of the pieces into a rectangle then add to baking sheet lined with parchment paper
Add sauce, cheese and desired mix'ins then flatten another piece of dough and add on top
Pinch the edges of the dough so that it seals the bottom/top dough together
Repeat for remaining dough then bake in oven for 25-30 minutes or until ready
Dip in any sauces and enjoy!
Notes
*Will stay good for 5 days in fridge or you can freeze and reheat like a traditional hot pocket!