Healthier Copycat Cosmic Brownies made with all paleo, egg-free, gluten-free and grain-free ingredients!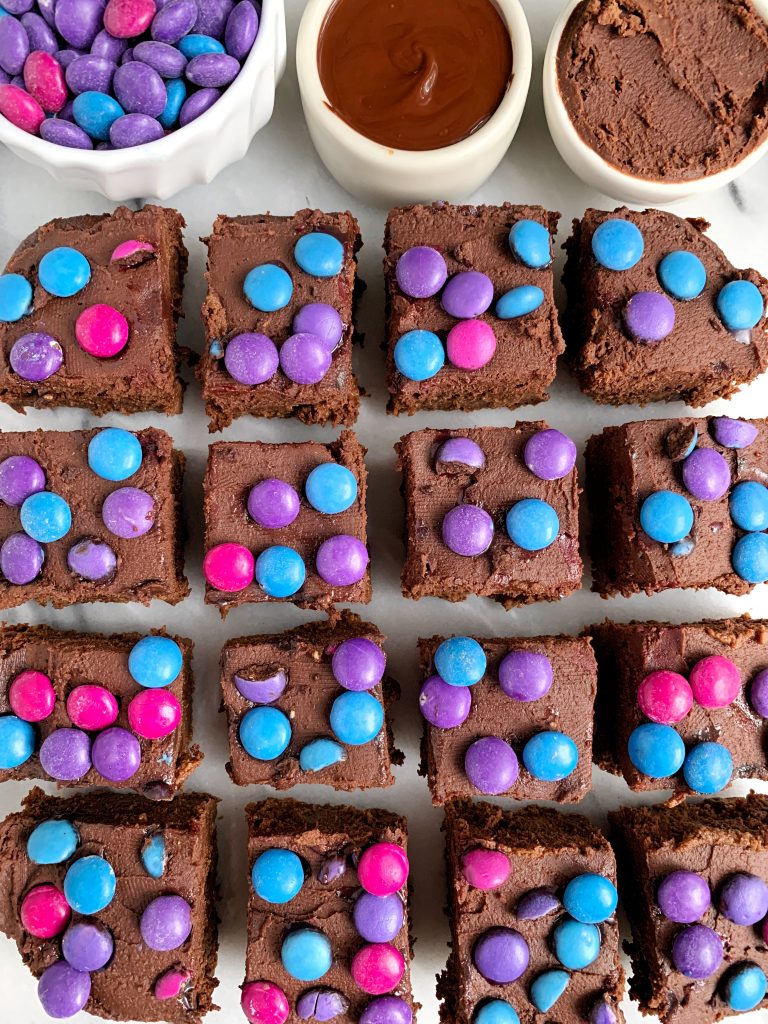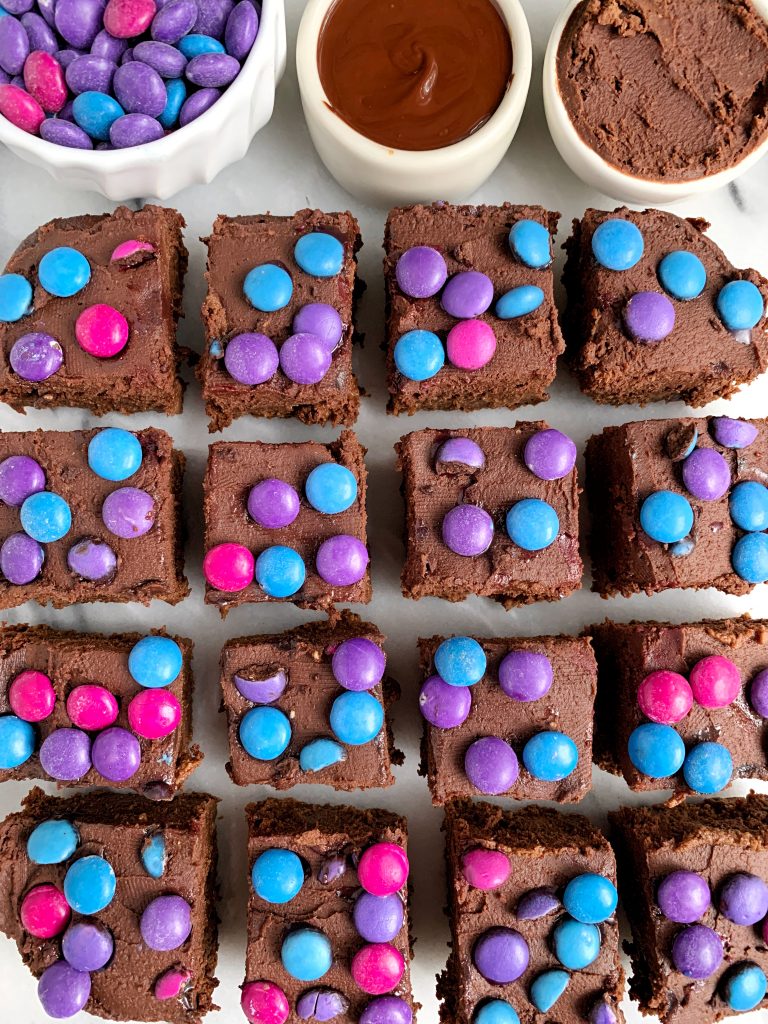 When I was in school, these were only 35 cents. How crazy!!!
I am 100% aware that I sound like a grandpa right now saying this. But how insane is that?! You probably can't even get a gum ball these days for that.
Today we are making those cosmic brownies from our childhood, but with a healthier twist. Of course they don't taste exactly like the real deal. But I'm also not using corn syrup 4 different times like the actual ones do. I looked up the OG cosmic brownie online when I started testing these. And I'm not going to lie and say I was surprised by the ingredients, but wow!
It is shocking to me that we would sell something like this in schools nonetheless. But times are different now and soon I will be baking all the goods to bring to Ezra's school when he is older. As a society, we are more aware of what we are feeding our families and eating. Paying attention to sugars and the nutritional value of what we keep around. Granted there is always a time and place for the classics but for the reoccurring consumption, I like to make them a bit healthier.
And now we can try to make our own copycat cosmic brownies at home.
Incase you are wondering what a cosmic brownie is…
Think a fudge-y brownie layer topped with a thick chocolate frosting and some little candies on top.
I personally love eating these frozen. Then dipped in some warm non-dairy milk like coconut or oat or almond. You can use whatever milk you wish!
This recipe I am sharing is paleo, gluten-free, grain-free and the only refined sugar that is added comes from the candies on top, which is totally optional!
Let's chat more about the ingredient line up..
Unsweetened organic applesauce. The main ingredient responsible for making these brownies extra moist. You can probably use organic pumpkin puree as well.
Creamy nut butter. I personally like using almond or cashew butter in this. Peanut butter also works but it definitely would have an overpowering taste to it.
Cacao powder. A staple in homemade brownies. You can use cocoa powder too.
Coconut sugar. The grainy sugar we add to sweeten the brownies up. Please don't use a liquid sweetener instead
Almond flour. You can likely use oat flour or spelt flour too. I haven't personally used it but it may work.
Full-fat coconut milk. The FULL FAT kind is key here so you get that thickness from the milk.
Wedderspoon manuka honey. My love for this honey is insane. It is the highest quality manuka honey out there and it adds the best sticky sweetness to the ganache. You guys know by now that Wedderspoon is a staple around here. I also love that a little goes a long way. Don't forget about their other products they have too like the throat sprays!
Coconut flour. This is really just to thicken the ganache a bit. Sometimes I need more or less depending on how the ganache is looking. Eye ball it a bit!
Dark chocolate. You know the drill – code RACHL for free shipping on my favorite chocolate.
If you are craving more brownies.. Don't forget about my epic grain-free brownies on the blog!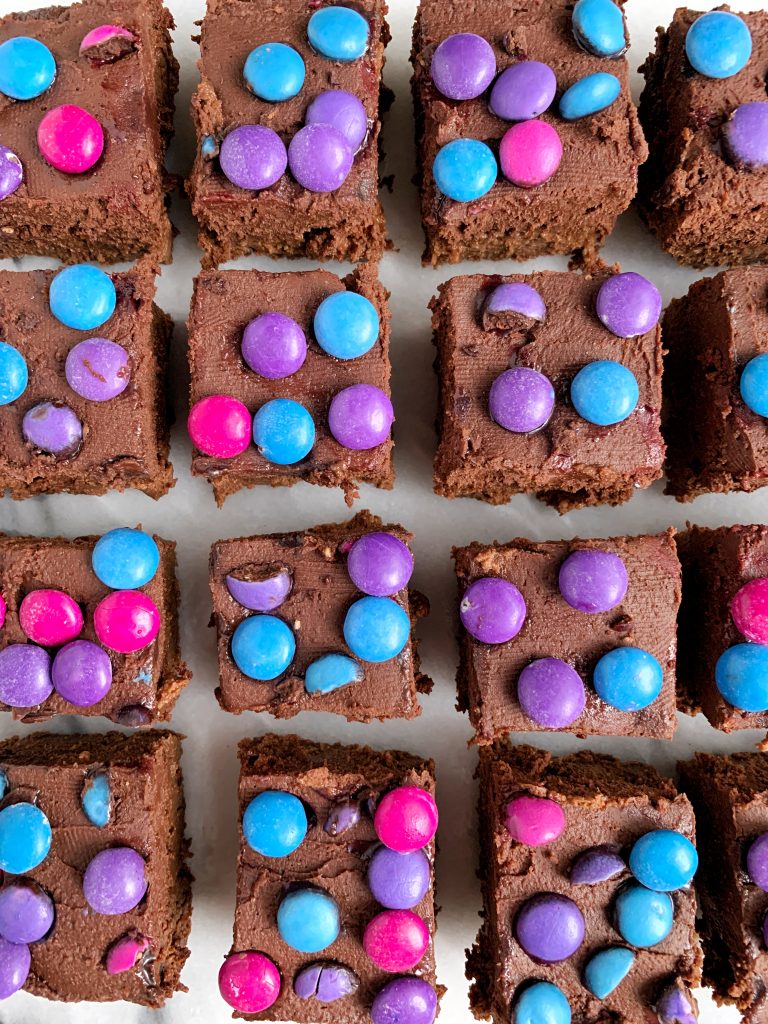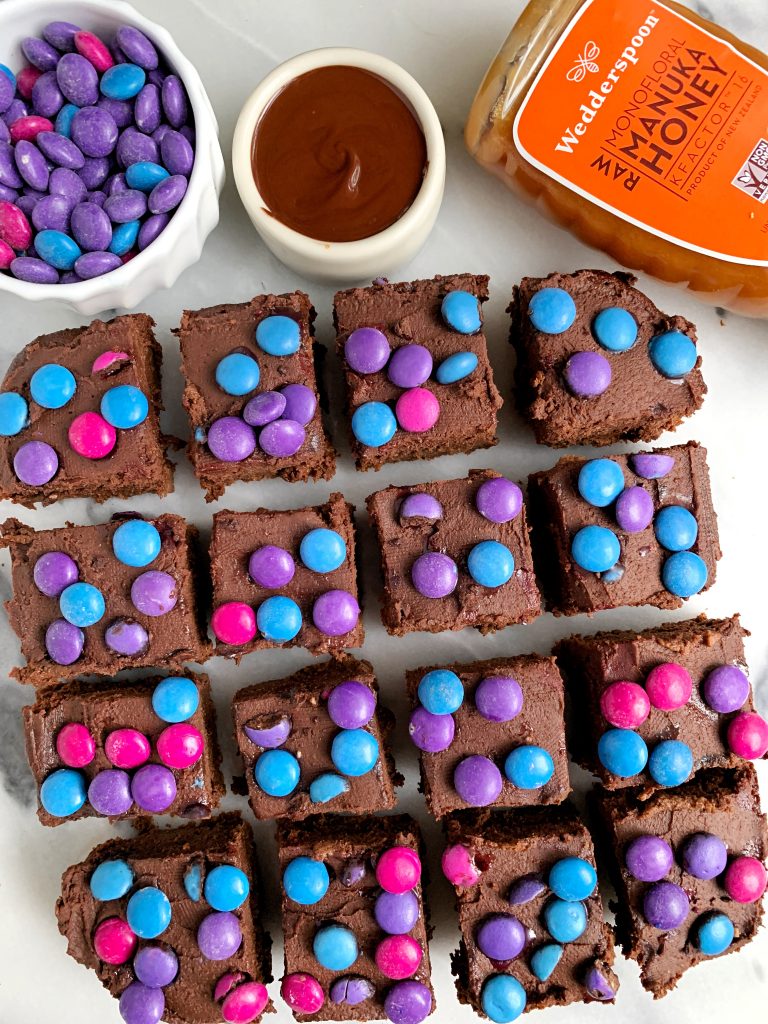 Print
Healthier Copycat Cosmic Brownies
Healthier Copycat Cosmic Brownies made with all paleo, gluten-free, egg-free and grain-free ingredients! Topped with a delicious homemade chocolate ganache frosting wth no refined sugar.
Prep Time:

5 mins

Cook Time:

35-40 mins

Total Time:

50 mins
Yield: 16 small brownies 1x
Brownies:
1 cup

creamy nut butter (any works)

1/2 cup

cacao powder

1/3 cup

coconut sugar

1/3 cup

+

2 tablespoons

almond flour

1/2 teaspoon

baking powder
Chocolate ganache topping:
Instructions
Preheat oven to 350 degrees and line an 8×8 baking dish with parchment paper
In a food processor, blend together brownie ingredients until smooth and creamy
Add to baking dish and bake for 35-40 minutes (time will vary based off the consistency of your applesauce)
While the brownies bake, begin making the chocolate ganache by warming the milk in microwave for 1 minute in a microwave safe bowl
Mix in the chocolate, honey and coconut flour until fully combined
Add to fridge and keep mixing every 5-10 minutes until ganache is formed
Spread ganache onto brownies, sprinkle some candy on top if desired and enjoy!
Notes
*Store leftovers in fridge for 5 days or freezer
xx, Rach
Thank you Wedderspoon for sponsoring this post. I love creating recipes with your amazing honey and spreading the word about them!