Healthier Gluten-free "Nutella" Fudge Brownies made with vegan and dairy-free ingredients for an easy and healthy low sugar brownie recipe!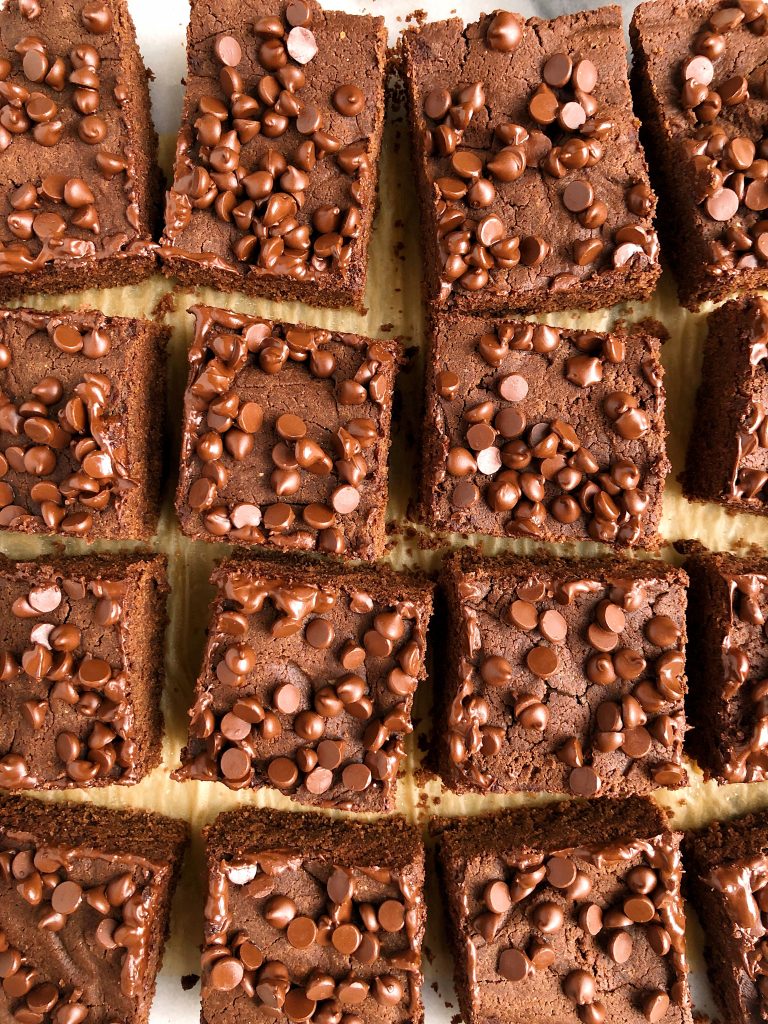 If you are craving a super fudgey brownie, you are in for a treat my friends.
I am sharing these Gluten-free Nutella Fudge Brownies today on the blog. They are pretty much a game changer if you ask me.
But what do I love about these nutella brownies you may ask?!
For starters they are completely vegan, gluten-free and have no added sugar in them besides the chocolate chips! They are definitely not on the sweet side so if you're looking for a lower sugar dessert option, I gotcha covered with these bad boys. Extra fudge, no sugar but still a ton of flavor.
I love keeping these in the freezer and eating them frozen and also when they are super hot and the chocolate gets all melty and dreamy on top. I like to call that a win-win in my book.
What do we need to make these low sugar brownies?
Let's chat about what these brownies are made of though. We use a base of flax eggs (pasture-raised eggs definitely work too), coconut oil and some creamy hazelnut butter and REBBL's New Hazelnut Chocolate Protein (think nutella in liquid coconut milk form without all of the sugar). I am obsessed with this new flavor. It is such a game changer to their product line up and has less sugar than the other varieties, making it a great option for anyone craving something satisfying, a little rich but not too sweet.
REBBL is known for their super-herb elixirs and protein varieties that have adaptogens in them. I have been making recipes using their coconut-based milks for years now and they are truly one of my favorites! The Hazelnut Chocolate Protein has super-herb ingredients like maca, ashwagandha and reishi mixed in with the base of coconut milk, hazelnut butter and other dreamy and nourishing ingredients.
Once you enjoy some of these brownies, here are a few of my other recipes using REBBL on the blog: Gluten-free Chocolate Chip Banana Apple Bread, Paleo Lemon Berry Pound Cake and Vegan Dark Chocolate Chunk Protein Cookie Cakes.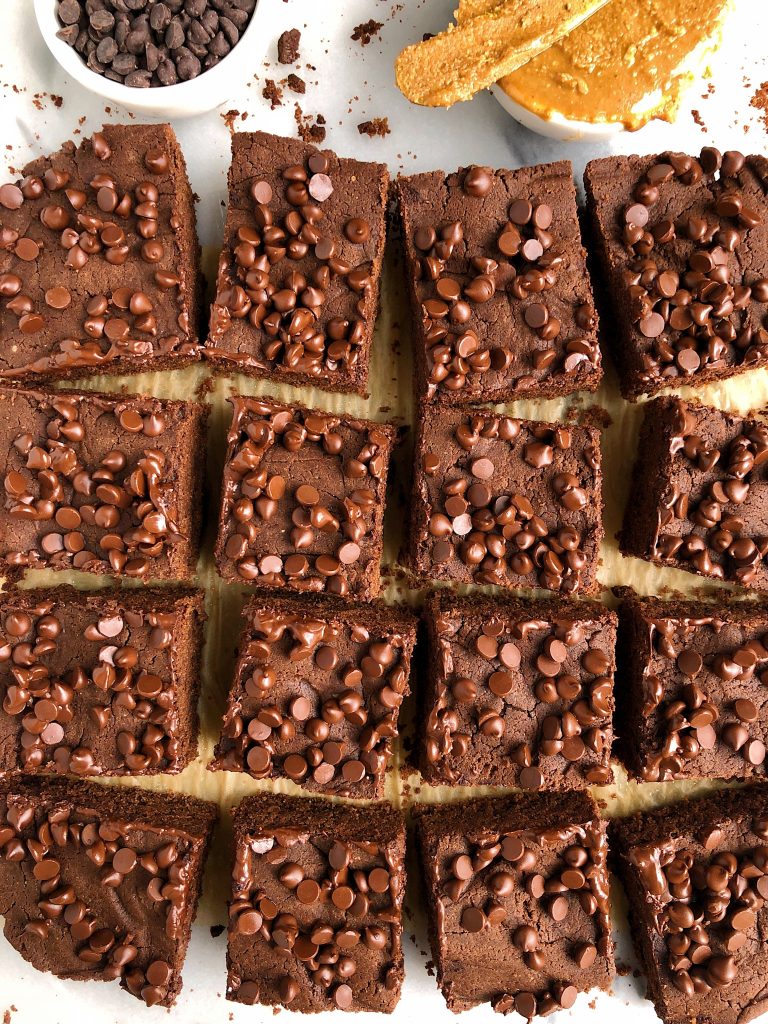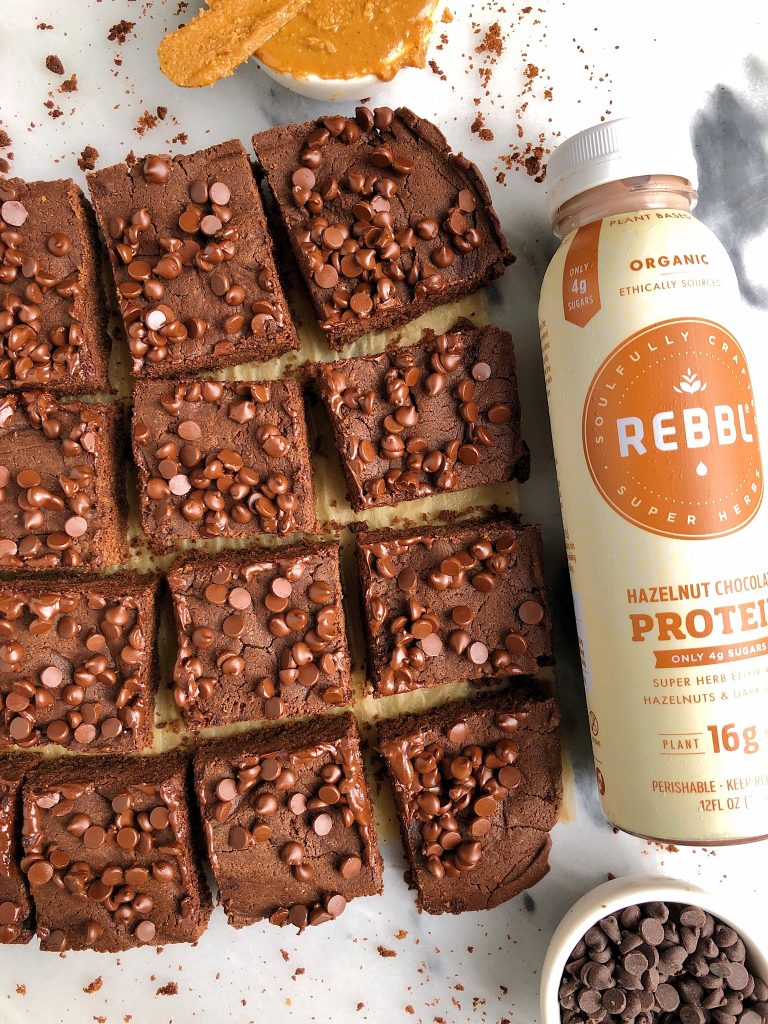 Print
Healthier Gluten-free "Nutella" Fudge Brownies
Healthier Gluten-free "Nutella" Fudge Brownies made with vegan and dairy-free ingredients for an easy and healthy low sugar brownie recipe!
Prep Time:

5 mins

Cook Time:

25 mins

Total Time:

30 minutes
Instructions
Preheat oven to 350 degrees and grease an 8×8 or 9×9 baking dish well
In a large bowl, mix the eggs, REBBL, hazelnut butter and coconut oil together until smooth and creamy
Mix in the brown rice flour, cacao powder, tapioca flour and baking powder until well combined (I used a hand mixer to make sure this was done well!)
Fold in chocolate chips then add batter to baking dish (batter will be thick and fudge-like and not your usual brownie consistency)
Bake in oven for 20-25 minutes
Notes
*You can sub with another nut milk but the extra chocolate + hazelnut flavor will be missing!
**Store leftovers in airtight container in fridge for 5 days and freezer for a couple months. Warm up before serving
xx, Rach
Thank you REBBL for sponsoring this post! It means so much to me to partner with brands I love and believe in.