Gluten-free Chocolate Chip Banana Apple Bread made with all plant-based and grain-free ingredients for a sweet banana apple loaf with dreamy dark chocolate chips!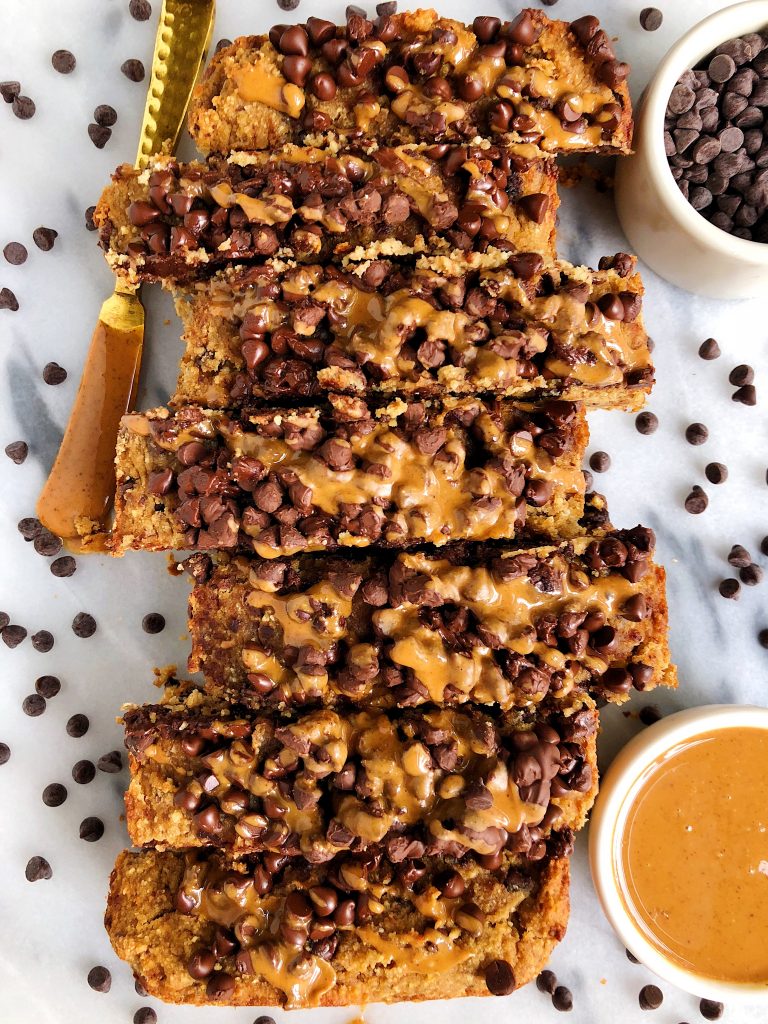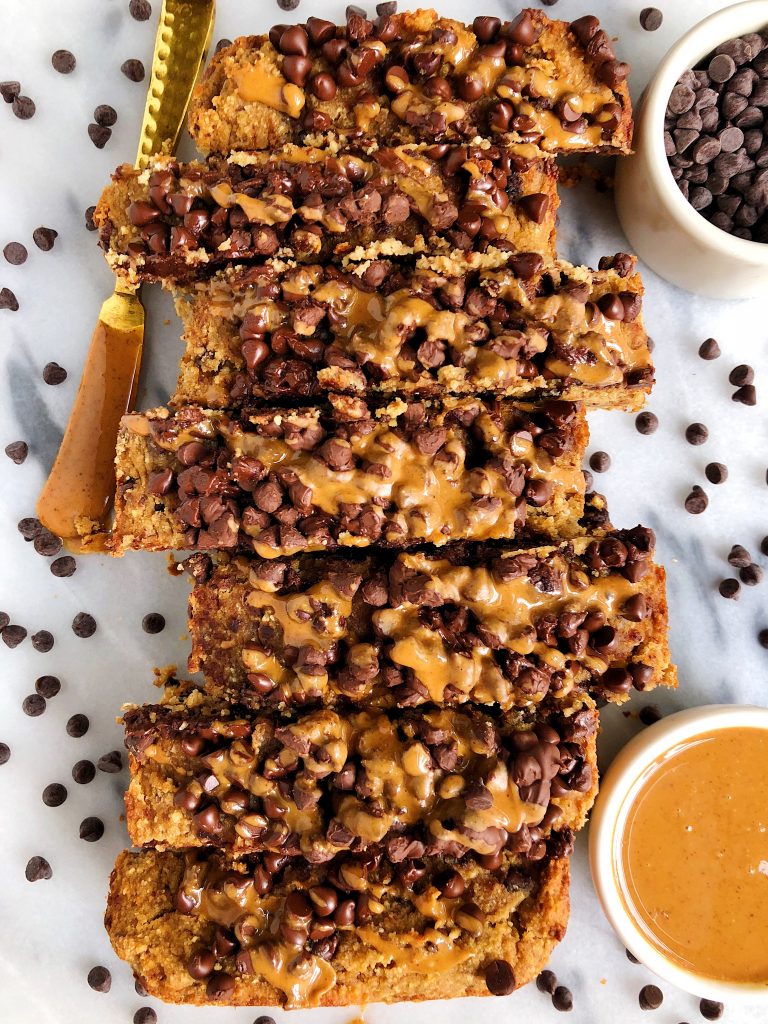 My banana bread and apple loving friends, IT'S HERE! My new banana apple bread and it is officially my new go-to loaf, especially during the next couple months for Fall.
Banana bread cravings hit all year around over here as you guys see. I try to eat "seasonally" whenever I can but when I love something, a season ins't getting in the way. I am on the hunt for juicy organic apples all year around but when it is finally September and they're at their prime.
This Gluten-free Chocolate Chip Banana Apple Bread is insane. It combines all the dreamy flavors and with the addition of apple chunks and chocolate chips in the loaf, you are in heaven with every bite.
You guys have likely seen me posting on Instagram stories about REBBL's Banana Nut Protein about 7x a week. It is my absolute favorite flavor EVER and it is even in this recipe! It is one of their 3 new flavors they launched that I was able to taste at Expo West then patiently wait until they launched this summer.
Let's chat more about the Banana Nut Protein though. Besides the fact that it has 12g of pant-based protein in it, it is also filled with adaptogens and super-herbs like REBBL's other flavors. It has turmeric in it, which is said to have anti-inflammatory properties and is used to support joint health and digestive wellness. It also has abhwagandha, which is really my favorite adaptogen since it is calming and support strength and vitality. After a sip of Banana Nut, you will think you are drinking banana bread (I'm not kidding). So just imagine how much flavor it adds to this bread! It is super creamy too thanks to the coconut milk base and brazil nuts they use (anyone else obsessed with brazil nuts?!). Thank you REBBL for this epic flavor. I don't think anything will ever top this one in my life.
If you guys decide to bake this loaf, don't forget to share with me on social media. I have a gut feeling you are going to love this bread as much as I do. Plus it is plant-based, gluten-free and doesn't call for a million ingredients – SOLD!
REBBLHere are also a few of my other favorite recipes using : Paleo Lemon Berry Pound Cake, Vegan Dark Chocolate Chunk Protein Cookies and Paleo Cacao Almond Flour Waffles.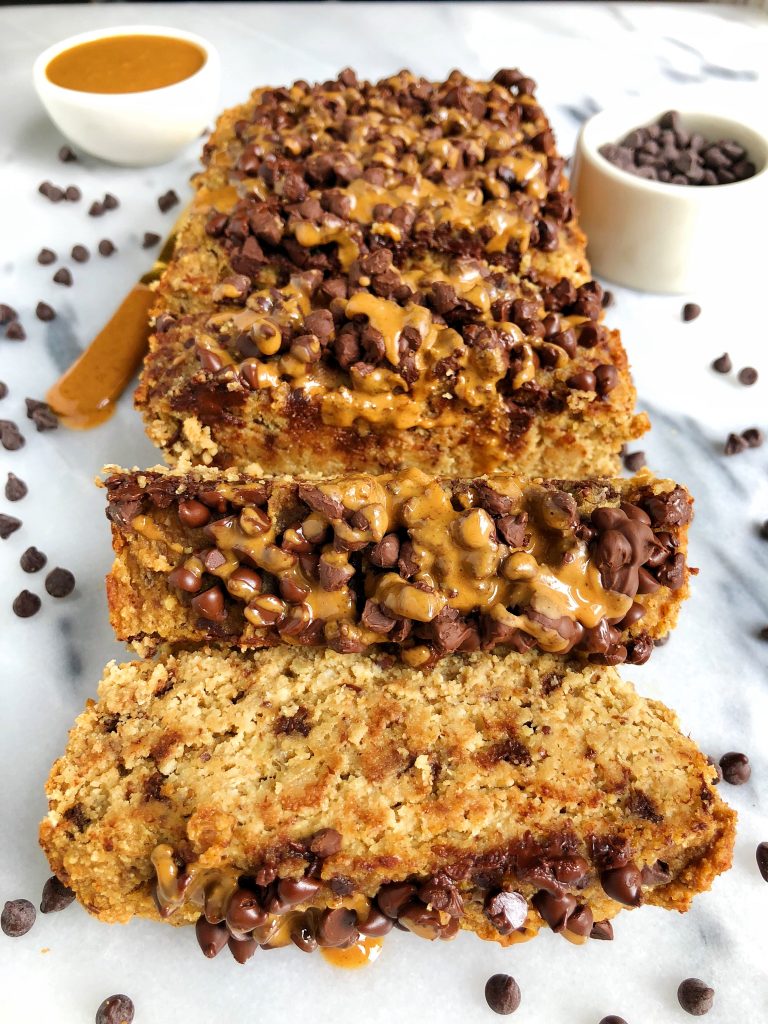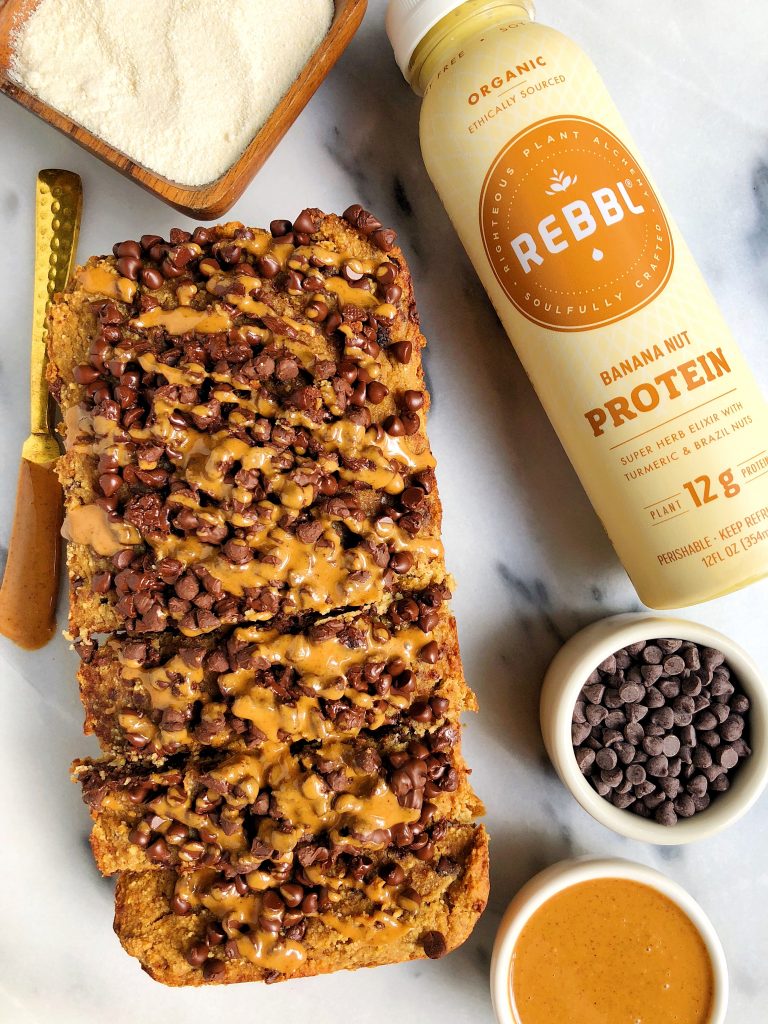 Print
Gluten-free Chocolate Chip Banana Apple Bread (vegan)
Gluten-free Chocolate Chip Banana Apple Bread made with all plant-based and grain-free ingredients for a sweet banana apple loaf with dreamy dark chocolate chips!
Wet ingredients:
2

flax eggs (

2 tablespoons

ground flax +

5 tablespoons

water OR use two pasture-raised eggs)

1 cup

unsweetened applesauce

1/2 cup

mashed banana

2 tablespoons

maple syrup

1 teaspoon

vanilla extract

2/3 cup

creamy almond butter (or your nut butter of choice)

1/2 cup

REBBL Banana Nut Protein
Dry ingredients:
1/2 cup

+

3 tablespoons

coconut flour

2 tablespoons

almond flour

1/2 teaspoon

all spice

1/2 teaspoon

cinnamon

1/2 teaspoon

nut meg

1 teaspoon

baking powder

1/2 cup

+ 1/3 cup dark chocolate chips (or any dark chocolate)

1/3 cup

organic apple, chopped
Instructions
Preheat oven to 350 degrees and line or spray a loaf pan with parchment paper
Mix together wet ingredients with hand mixer or spatula
Add dry ingredients to wet and mix with spatula
Fold in 1/2 cup dark chocolate chips and apple
Pour batter into a bread dish
Bake for 20 minutes, sprinkle 1/3 cup more chocolate chips on top and bake for another 20 minutes
Let cool for a few minutes and enjoy!
xx, Rach
SaveSave
Thank you REBBL for sponsoring this post! It means so much to me to work with brands I love and believe in on the blog!
SaveSave