Paleo Lemon Berry Pound Cake made with all paleo, gluten-free and nut-free ingredients for an easy pound cake loaf!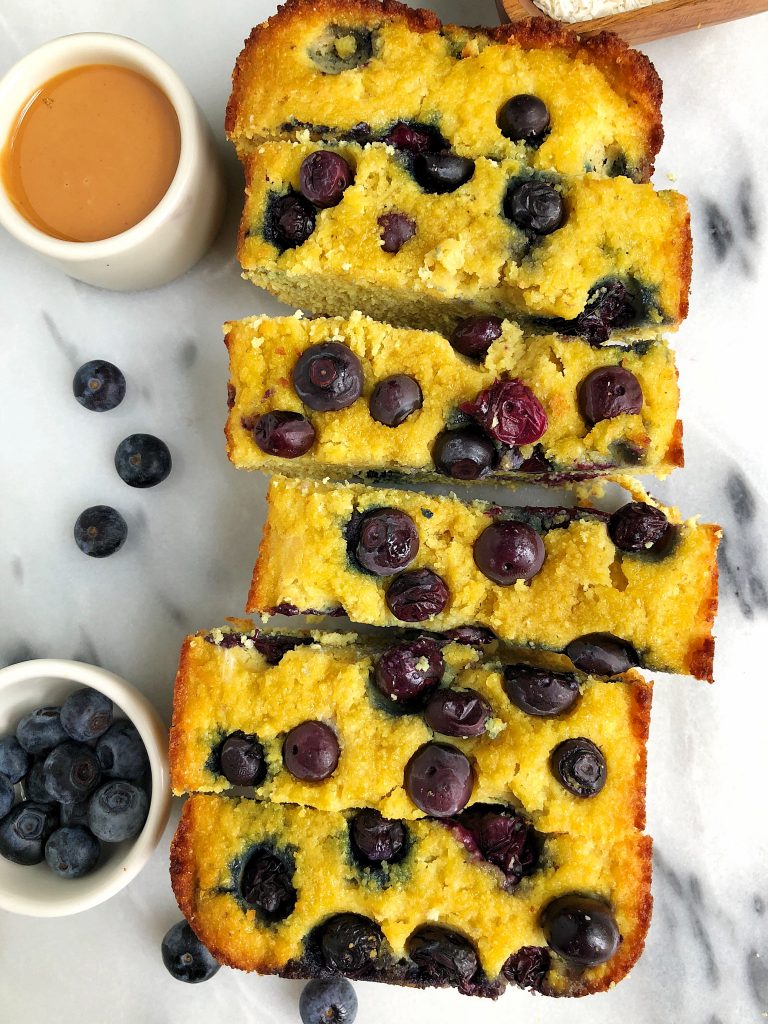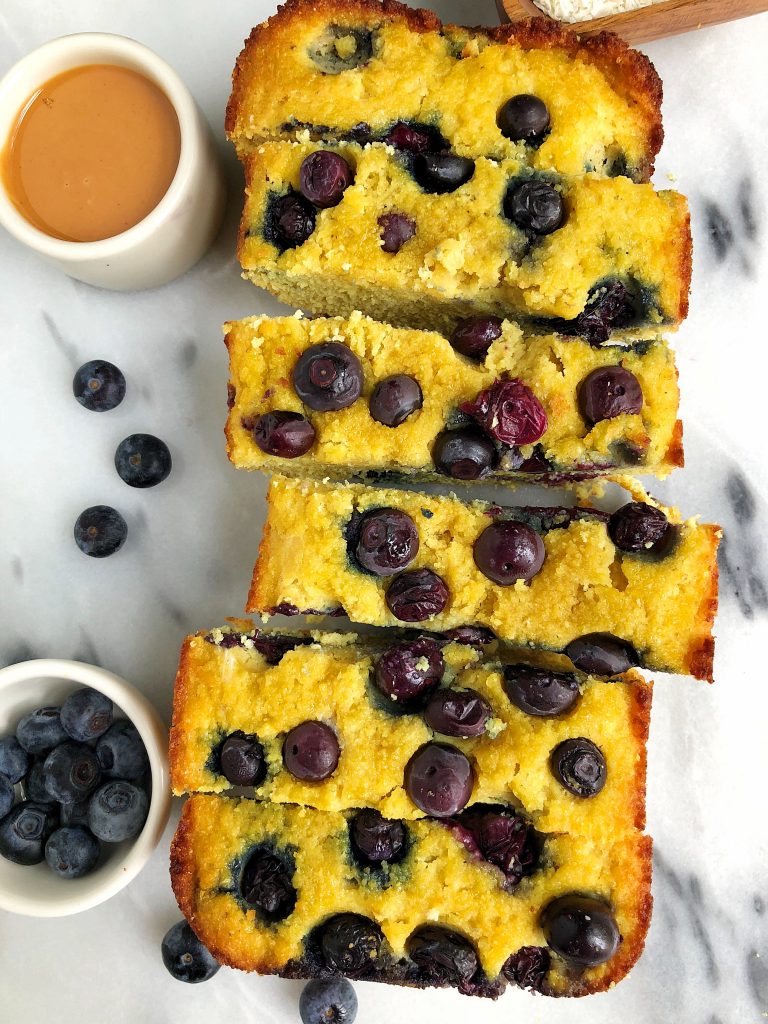 Why has it taken me so long to recreate pound cake?
For reals though, this Paleo Lemon Berry Pound Cake is a game changer. Let's chat about it a bit, shall we?
For starters it is both paleo AND nut-free, which all my nut allergy people know is pretty rare. We are using coconut flour as the flour here and instead of your traditional nut milk, REBBL! REBBL's Turmeric Lemon Creme was pretty much created just for this recipe I am convinced. Packed with anti-inflammatory turmeric and a splash of lemon, that elixir tastes like you are drinking a lemon cream cheesecake of sorts. Which I almost made this month using it, but randomly started to crave pound cake so we ended up here friends.
You guys know my love for REBBL anything runs deep. I use them in many of my baking recipes here on the blog and for drinking when I am on the run (pretty much daily). A few of my go-to REBBL recipes are those Healthier Chocolate Cookie Dough Fudge Bars, Chocolate Chunk Protein Cookie Cakes and Healthy Bakery Style Banana Spice Muffins. In case you are wondering what the beep REBBL is, they are coconut milk-based protein beverages and elixirs that also have adaptogens in it. Their Dark Chocolate Protein and Reishi Chocolate pretty much taste like grown up chocolate milk. But by using their Turmeric Lemon Creme (used to be known as Lemon Tart!), it adds the best flavor to the cake.
Plus with the added blueberries for a little tarty + sweetness, I fell in love with my first bite. Then proceeded to eat two slices lathered in coconut yogurt and some peanut butter (the perks of recipe testing!).
You will notice this recipe calls for many more eggs than the usual loaf and that is because of coconut flour (read more about that here). I also used grass-fed butter but for any of my dairy-free friends, liquid coconut oil works well too!
I recommend storing the leftovers in the fridge to prevent it from going bad. I have found that coconut flour recipes stay best when you leave them in the fridge instead of on the counter. You can also freeze half the loaf and defrost it for breakfast in a few weeks!
Don't forget to share the REBBL love and keep me posted if you make this recipe over on Instagram.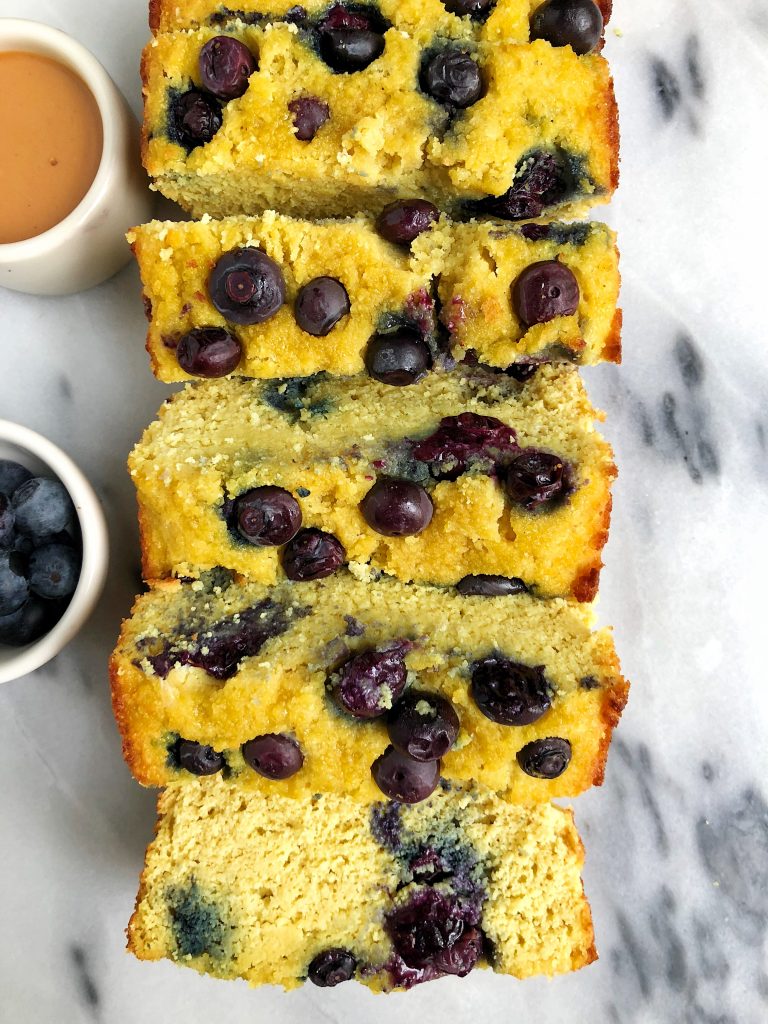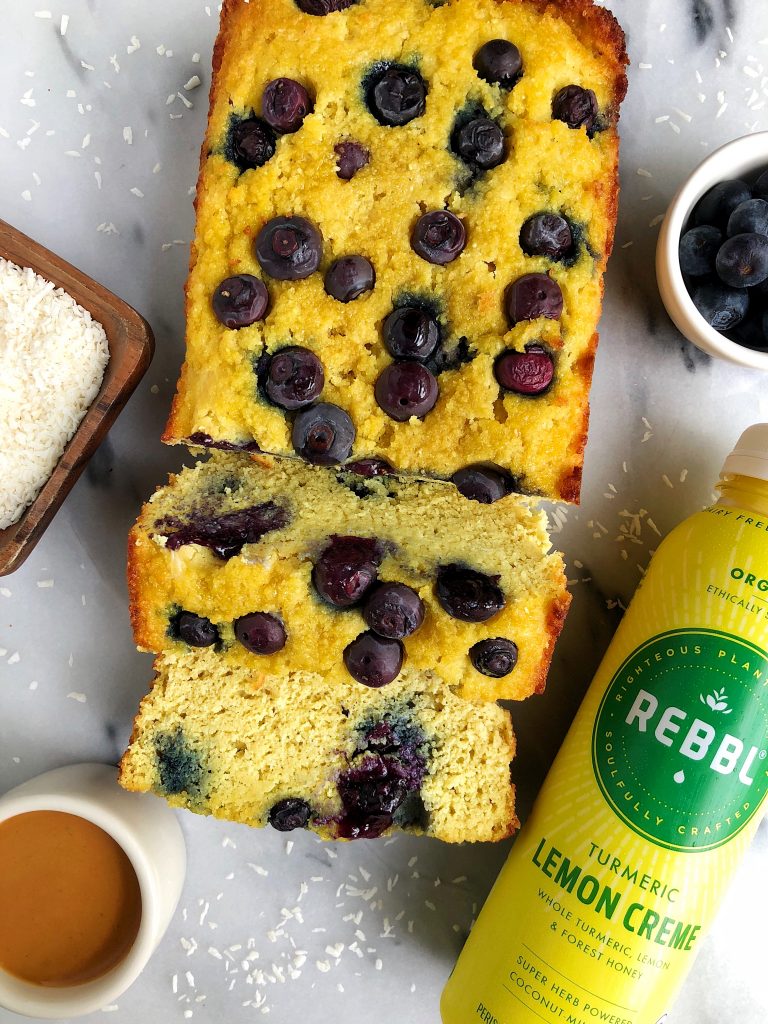 Print
Paleo Lemon Berry Pound Cake
Paleo Lemon Berry Pound Cake made with all paleo, nut-free and gluten-free ingredients
6

pasture-raised eggs (I do not recommend flax egg for this!)

1/2 cup

REBBL Lemon Turmeric Creme (if you do not have REBBL, sub

1/2 cup

nut milk and add

1 tablespoon

lemon juice)

1/3 cup

maple syrup or honey

1

stick (7-8 tablespoons) grass-fed butter, softened

3 teaspoons

vanilla extract

1 cup

coconut flour

2 teaspoons

baking powder

1/2 cup

fresh organic blueberries (blackberries would be great too)
Instructions
Preheat the oven to 350 degrees and grease a loaf pan with coconut oil or grass-fed butter

Beat eggs with REBBL, butter, honey and vanilla extract with a hand mixer until smooth.

Add coconut flour and baking powder and mix until smooth batter forms

Fold in the blueberries and save some to sprinkle on top

Pour batter in to the loaf pan and bake for a half hour then cover and cook 30 minutes or until the pound cake is ready (stick a toothpick in to see)

Allow the pound cake to cool completely before removing it from the loaf pan
Notes
Store in fridge for up to 5 days or freeze for a couple of months
xx, Rach
Thank you REBBL for sponsoring this post. It means so much to me to work with brands I love and believe in!
SaveSave
SaveSave
SaveSave
SaveSave