Healthy Chocolate Chip Avocado Pancakes that are vegan, gluten-free and a great low sugar stack!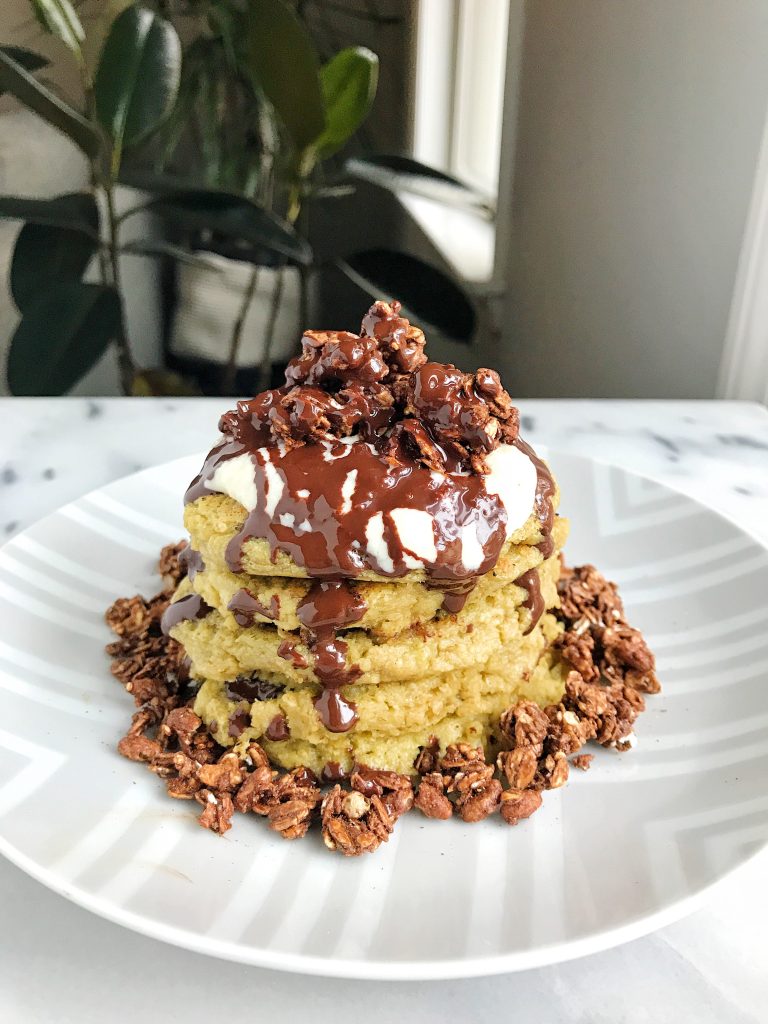 AVOCADO PANCAKES. Pancakes clearly have no limits anymore friends.
You are likely reading this and shaking your head that we are making pancakes made with avocados in them, but just hear me out.
These pancakes may be green and have avocado in them. And yes it may be kind of weird eating a stack of green pancakes for breakfast, but they do not taste green or savory or anything like that. They remind me of making vegan banana pancakes and they are a healthy stack of cakes that are waiting to be topped with your favorite coconut yogurt and chocolate sauce.
I love that these pancakes are entirely plant-based and made with just a few ingredients. No, they are not like your traditional pancakes and they do need to be flipping a bit more gently than a stack of Bisquick.
These Chocolate Chip Avocado Pancakes are also made with oat flour and not your traditional flour. I also don't use any nuts or nut flour in this recipe making it nut-free! Instead I made oat flour from One Degree Organics Sprouted Rolled Oats. We spoke about my love for One Degree Organic's oats in my Vegan Cinnamon Coffee Cake Loaf and their sprouted spelt flour in the Chocolate Dipped Peanut Butter Cookies. I am seriously obsessed with their products you guys. And even my brother and dad are now on board. I brought them a handful of tortillas and breads from One Degree Organics and they cannot get enough!
What I love most about these pancakes is how minimal the ingredients are. You just need to quickly make oat flour of of the sprouted rolled oats, which takes a couple of minutes. Simply add the oats to the blender or food processor and pulse until it is in a fine flour-like form.
But why avocado? Why am I using avocado for something sweet instead of guacamole or avocado toast? Well friends, I want to give us plenty of recipe options. Recipes that are moderate in sugar and recipes that are lower in sugar like this one. Adding avocado to this stack instead of banana cuts the sugar content for us.
You can absolutely add some extra maple syrup or sweetener if you prefer, but I think these taste amazing as is. Especially with some chocolate sauce and some of One Degree Organic's granola on top! I hope you love them as much as I do. Don't forget to post about them on social media if you make them and join the rachLeats tribe on Facebook if you want! We are chatting all things food, wellness and more DAILY!
WHAT YOU NEED
Avocado
One Degree Organics Sprouted Rolled Oats (not quick oats)
Full fat coconut milk
Lemon juice
Coconut oil
Water
Maple syrup
Chocolate chips (I melted this chocolate on top! code rachLcoconutcups)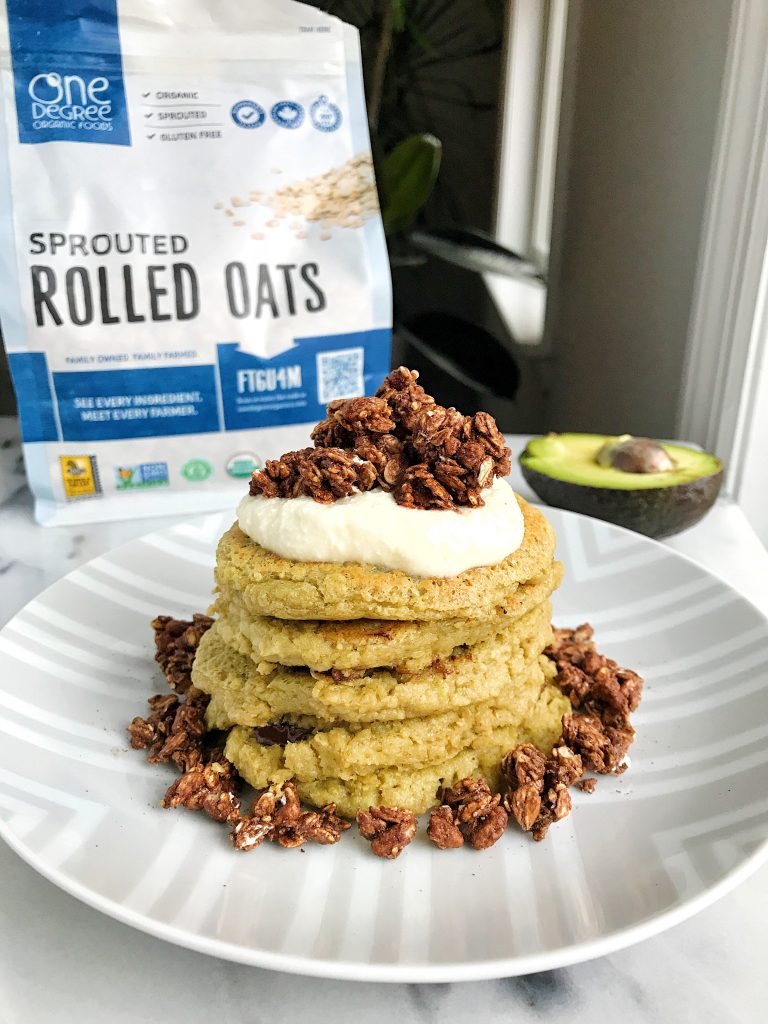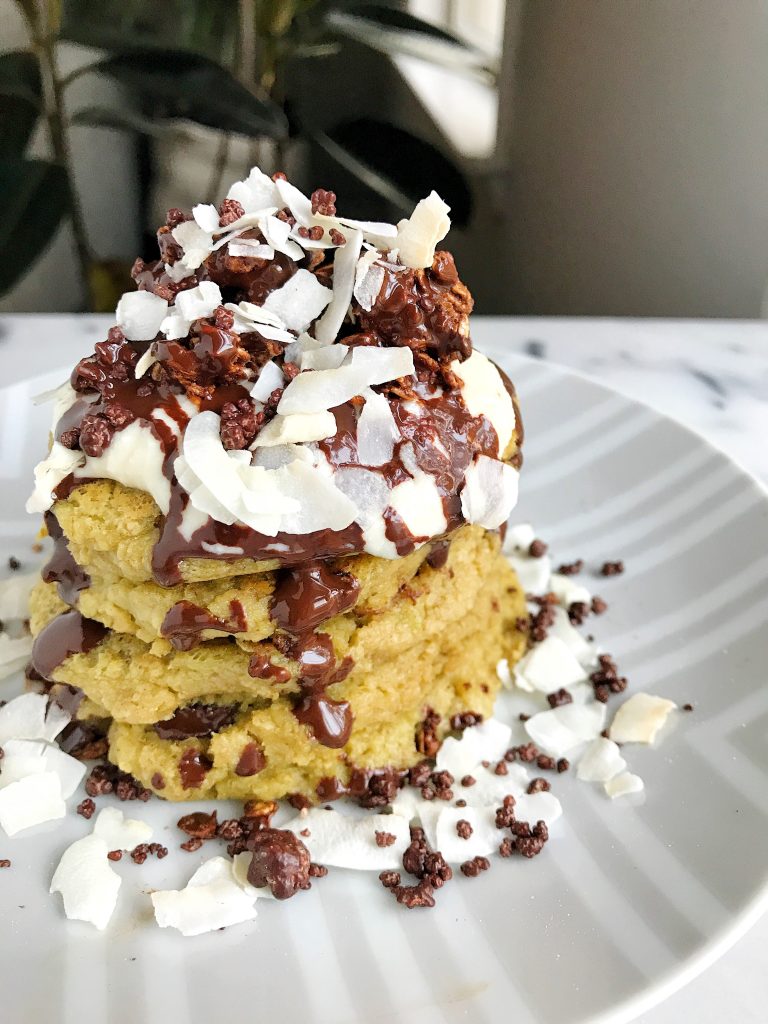 Print
Healthy Chocolate Chip Avocado Pancakes (vegan)
Prep Time:

10 mins

Cook Time:

10 mins

Total Time:

20 mins
Yield: About 5 small pancakes 1x
1/2

ripe avocado

1/2 cup

full fat coconut milk

1 tablespoon

liquid coconut oil

1 tablespoon

water

2 tablespoons

maple syrup (optional)

1 1/4 cup

oat flour (made from One Degree Organics Rolled Oats – not quick oats!)

1 teaspoon

baking powder

1

flax or chia egg (

1 tablespoon

flaxseed meal +

2.5 tablespoons

water)

1/4 cup

dark chocolate chips
Instructions
Combine flax egg ingredients and mix together and let it sit for a few minutes
Add rolled oats (uncooked) to the blender and process until into a fine flour
Add in the avocado (remove skin and pit), coconut oil, water, maple syrup (if using) and baking powder
Blend until creamy and well combined
Scrap the edges of the blender to make sure all the batter is together and mix in chocolate chips
Next let it set for a few minutes (max 10 minutes)
On a large skillet add oil or butter of choice and grease the pan
Turn onto medium heat and once the pan is warmed, add about 2-3 tablespoons of batter per pancake onto the pan and cook for about 3 minutes on each side (PLEASE flip gently or they will break, they are more fragile than typical cakes)
Remove from heat once cooked and enjoy with your favorite toppings!
let the batter sit for 5-10 minutes to
Author:
Category:

vegan, gluten-free, low sugar

Cuisine:

breakfast, pancakes
xx, Rach
Thank you One Degree Organic Foods for sponsoring this post. It means so much to me to work with brands that I love and who support rachLmansfield!
SaveSave
SaveSave
SaveSaveSaveSave