Healthy Chocolate Cookie Dough Truffles that are nut-free, vegan and made with simple ingredients!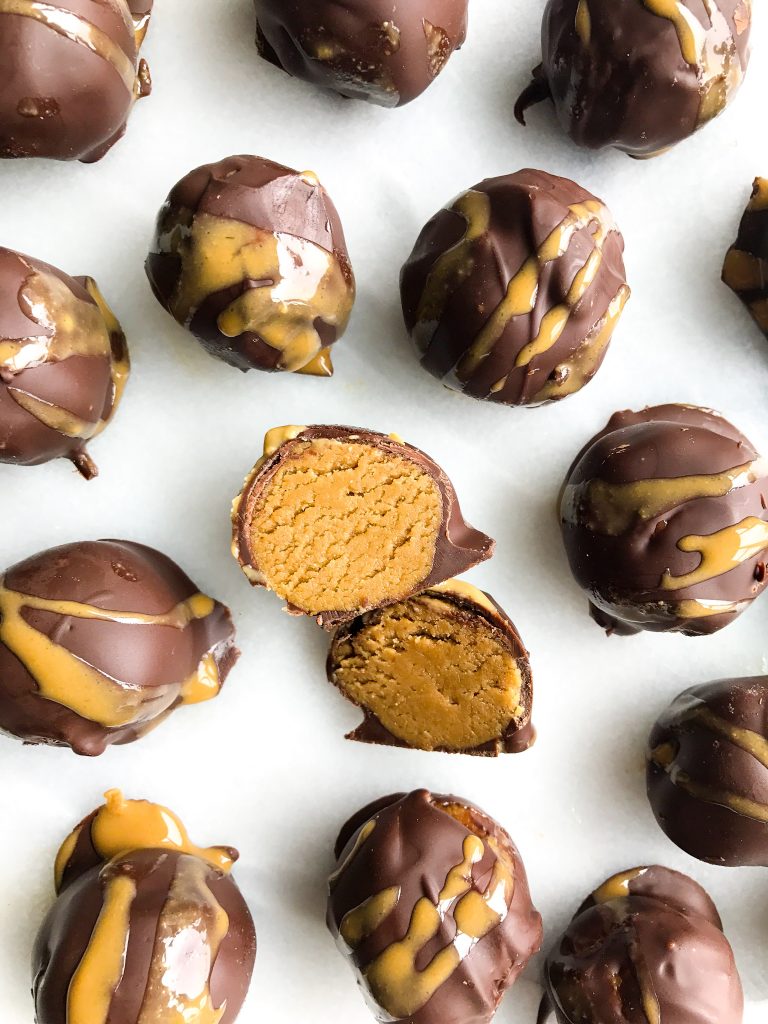 These truffles are filled with things you would never expect in the same recipe.
First of all they are healthy. When it comes to truffles, they are usually filled with sugar, cream, etc. aka they are not so clean if you ask me. Remember those cream cheese oreo truffles when you mix a package of cream cheese and crushed oreos together to make a truffle batter? Yup, those happened one too many times way back when.
Second of all they are NUT FREE people. No nuts in these chocolate chip cookie dough truffles. Usually when we make something a bit healthier, some form of nut is involved. Especially when they are vegan (like these) but the doughy inside is filled with SunButter.
SunButter Organic is a staple in my pantry. I use in it so so many recipes. Like that Paleo Chocolate Chip Banana Bread that basically gives me my monthly page view spike (no joke), The Best Soft Paleo Chocolate Chip Cookies and that Grain-free Chocolate Granola.
SunButter is completely peanut and tree nut free. No soy, no GMO's, NADA! Just the amazing roasted sunflower seeds in their organic jar. You can pretty much sub any recipe that has nut butter with SunButter to make it nut free. My mom used to make my brother SunButter & Fluff sandwiches as I ate my peanut butter version. So perfect for nut-allergies and for school lunches too.
Lastly these truffles are also completely grain-free and vegan. They are the perfect dessert for that Hallmark holiday around the corner too. I froze a few for Jord to try once his Whole30 is done TOMORROW. The poor kid hasn't had sweets in 30 days, I'm so curious what will happen after that first bite of dessert.
Stay tuned on that front..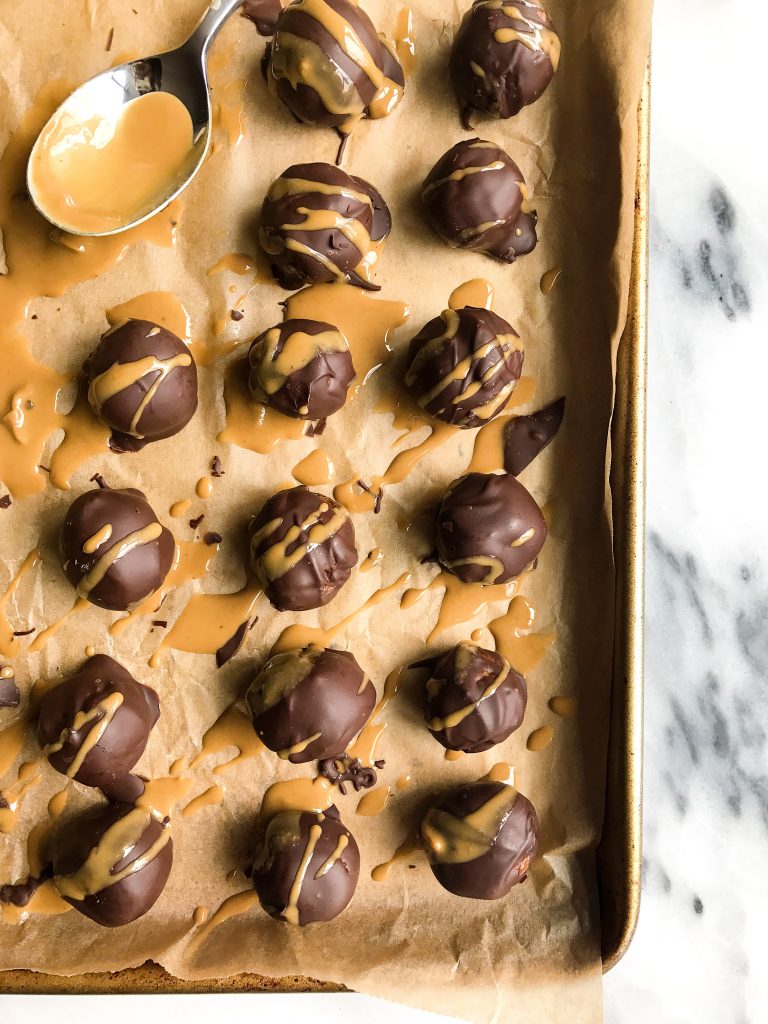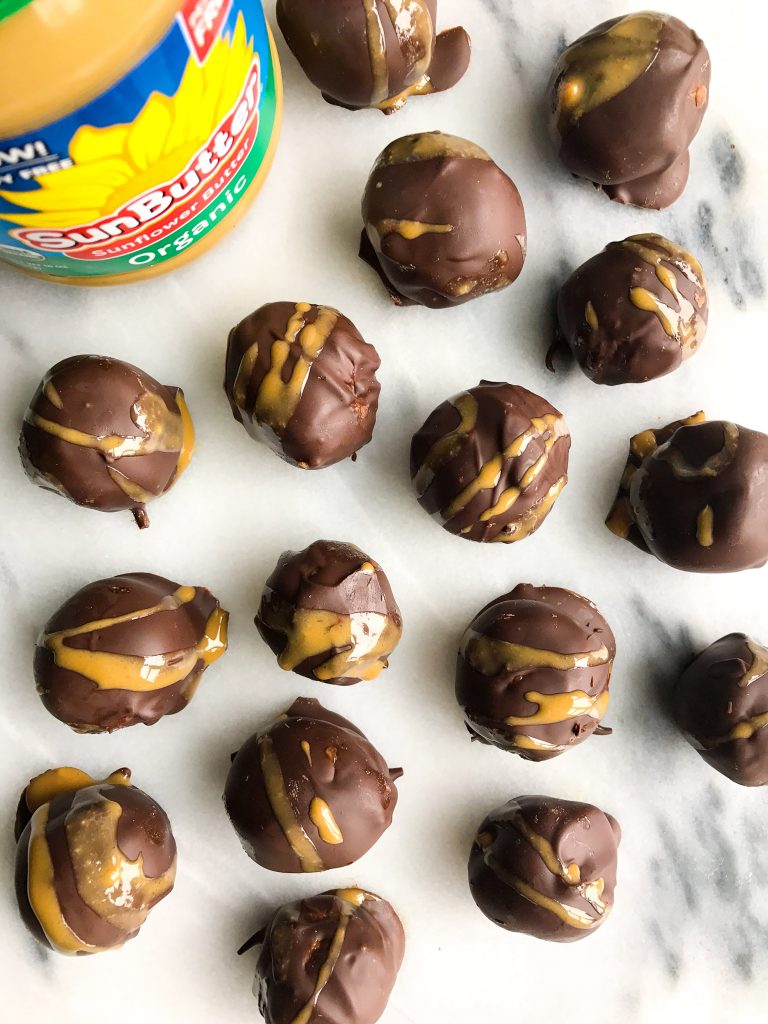 WHAT YOU NEED
SunButter (sunflower seed butter)
Coconut flour
Vanilla extract
Maple syrup
Dark chocolate chips (you can also use this brand – code rachLcoconutcups for free chocolate surprise with order!)
Coconut oil
QUICK NOTES
If you do not have a nut allergy or prefer using another nut butter, feel free to do so. The recipe will still be delicious! The creamier the nut butter the better
These freeze really well and I actually enjoy them frozen for a little after dinner or midday treat
Otherwise store in the fridge for a few days (they likely won't last too long 😉 )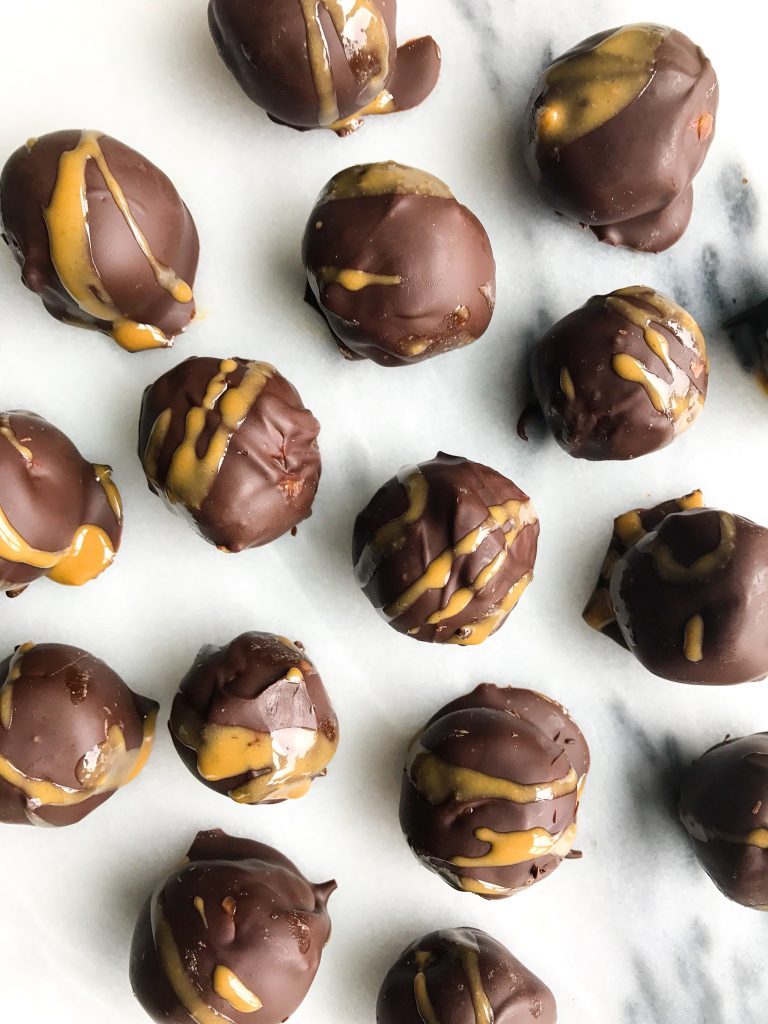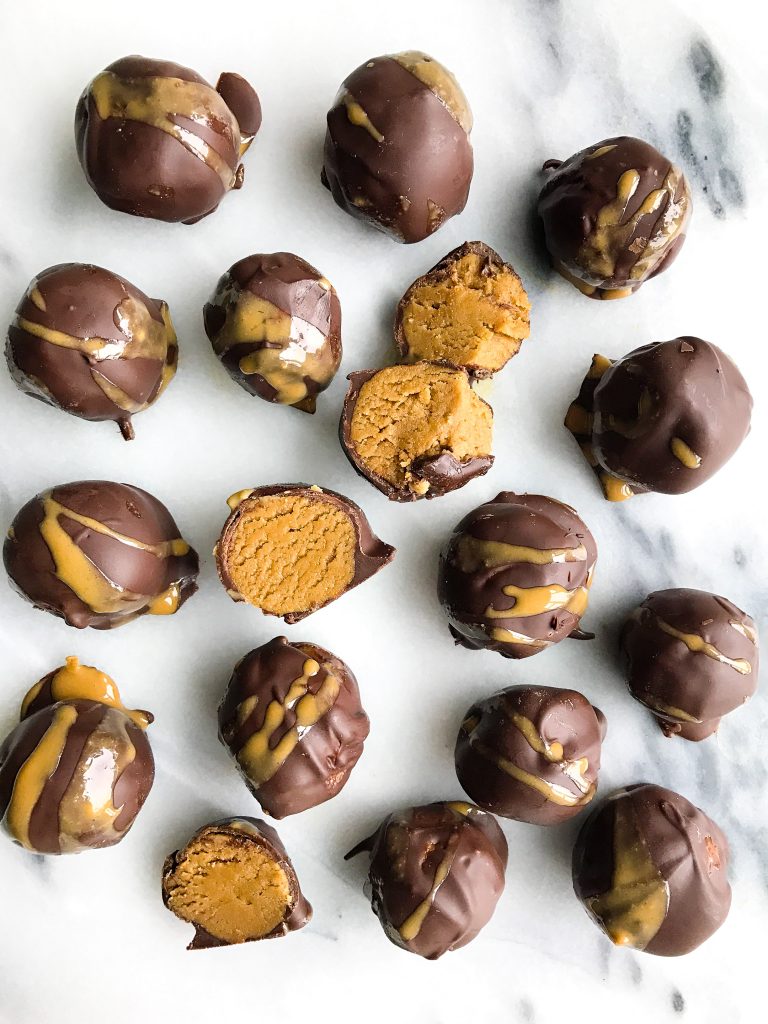 Print
Healthy Chocolate Cookie Dough Truffles (nut-free)
Yield: About 10-12 truffles 1x
3/4 cup

SunButter (I used organic)

1/4 cup

coconut flour (have not tested other flour)

2 teaspoons

vanilla extract

2 tablespoons

maple syrup (honey will work)

1/2 cup

dark chocolate chips

1 teaspoon

coconut oil
Instructions
In a food processor, pulse together SunButter, coconut flour, vanilla extract, maple syrup until completely blended (mine formed into a little ball)
Line a baking tray or cutting board with parchment paper
Using a cookie scooper or your hands, form about 1 tablespoon of dough into a ball
Continue until all dough is used
Place in freezer for about 15-30 minutes
In a microwave safe bowl, melt dark chocolate chips and coconut oil in 30 second increments until melted (stir in between)
Dip each truffle in the chocolate and cover completely
Line back on baking tray and place in freezer for another 30-60 minutes and enjoy!
*Will stay good in fridge for about a week or freezer for a couple of months
Author:
Category:

vegan, gluten free, grain free

Cuisine:

dessert, snack, truffles
xx, Rach

Thank you SunButter for sponsoring this post. It means so much to me to work with brands that I love and who support rachLmansfield!
SaveSaveSaveSave