Homemade Paleo Chocolate Crack Bars made with all vegan and gluten-free ingredients for a delicious healthy dessert!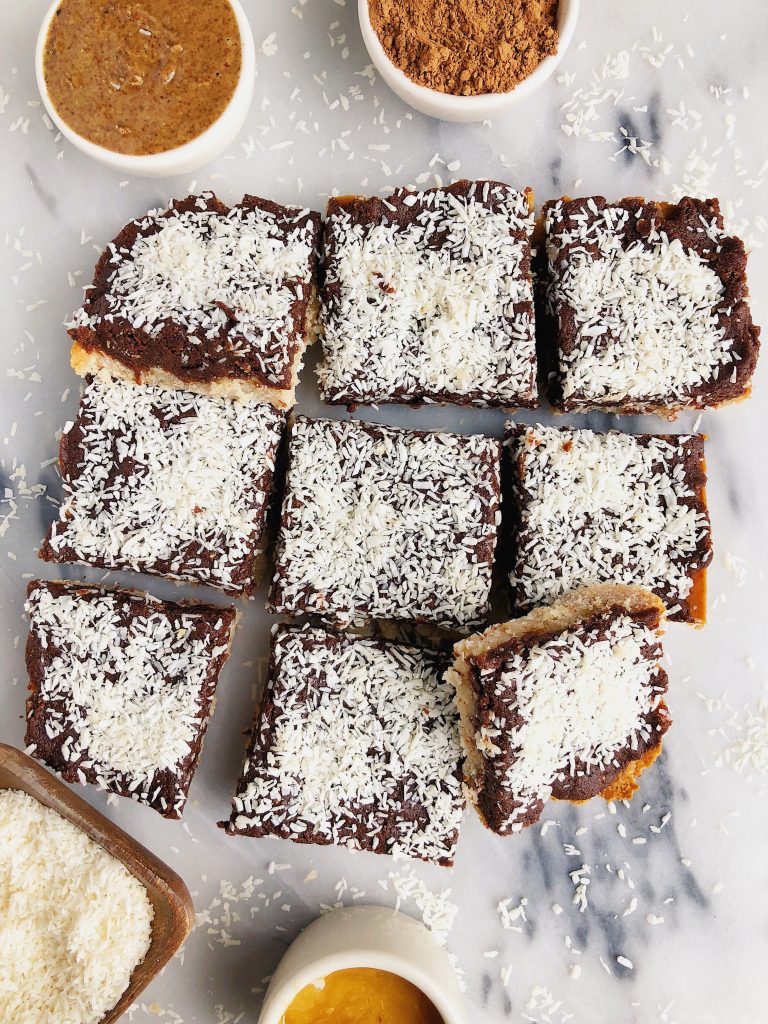 When you make something that is incredibly addicting and you can't stop eating it.. here it is!!
I know it can be an awkward word for some but please do not take this seriously friends. Light hearted name for a recipe that I am absolutely addicted to like we saw with those Chocolate Cookie Dough Crack Bars.
These Homemade Paleo Chocolate Crack Bars are vegan, gluten-free and absolutely delicious. The bottom layer is a coconut shortbread cookie that is made with a few simple ingredients like shredded coconut, tapioca and coconut flour and Nutiva Organic Liquid Coconut Oil.
Liquid Coconut Oil is a complete game changer you guys. I really only keep liquid coconut oil in my pantry these days since it saves me the hassle of having to melt solid coconut oil and let it cool. I use liquid coconut oil for all my baking (no canola oil over here) and for roasting some veggies like sweet potatoes.
Nutiva's Organic Liquid Coconut Oil is certified organic, non-GMO and it contains concentrated levels medium-chain triglycerides. Nutiva extracts the fats from the virgin coconut oil that remains solid at room temperature. This results in an oil that remains liquid, even at a cooler temperature. It is used for any and all cooking or baking needs up to 350°F. Nutiva also offers a garlic flavor in addition to their original flavor. I love using that for my savory dishes!
The chocolatey topping of these bars is made a few ingredients like nut butter, sweetened with dates and a little honey (full list below). The best part is they freeze really well. I love making these and storing in the freezer to enjoy whenever I am craving something chocolate, satisfying and delicious.
Don't forget to tag me on Instagram and #rachLeats when you try this recipe and any other recipes from the blog.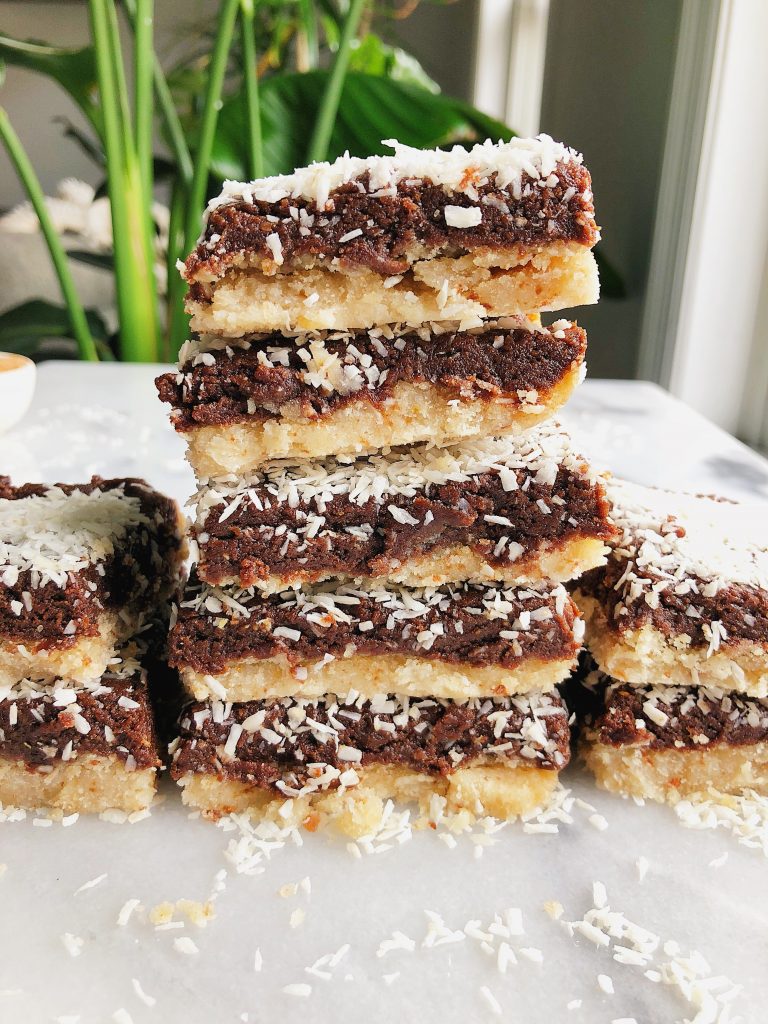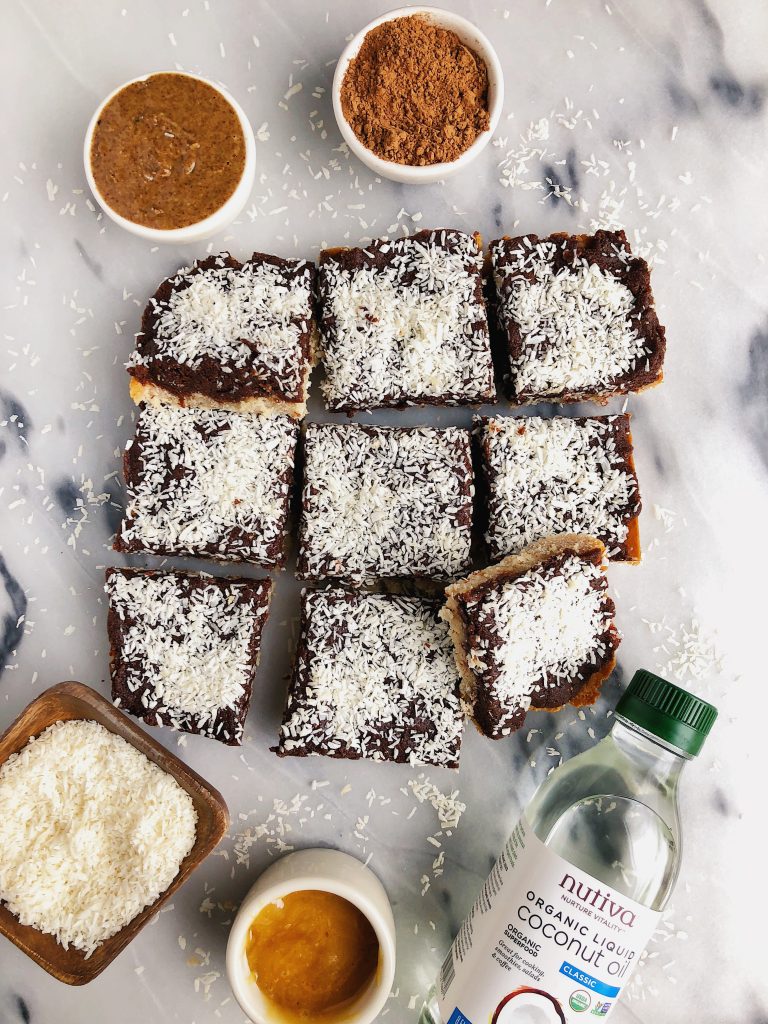 Print
Homemade Paleo Chocolate Crack Bars
Coconut cookie crust:
Chocolate topping:
Coconut flakes for topping
Instructions
Preheat the oven to 350 degrees and grease an 8×8 baking dish well with coconut oil
Add the coconut cookie crust ingredients to a food processor and pulse until creamy and well combined (it took me about 2-3 minutes of blending)
Scoop out the dough and add to the baking dish and press down to form the crust in the dish
Bake in the oven for 15-20 minutes or until the crust feels firmer and has golden edges
While the cookie crust bakes, add the 10 dates to a bowl and cover with boiling hot water
Add the remaining ingredients to the food processor. Strain out the dates then add to food processor
Pulse the topping ingredients until dough forms into a large ball or until well combined
Remove crust from oven once ready and allow it to cool for about 30 minutes then add the chocolate topping and press down gently
Add the bars to the freezer for about 30 minutes to set, slice into bars and enjoy!
350 degrees for 15-20 minutes
freezer for 30 minutes or fridge overnight
Notes
Will stay good in the freezer for a few months or store in the fridge for about a week!
xx, Rach
Thank you Nutiva for sponsoring this post! It means so much to me to work with brands that I love and believe in!
SaveSave