Maple Sesame Glazed Cauliflower Wings made with all gluten-free, paleo and soy-free ingredients for a delicious and healthy asian-inspired recipe!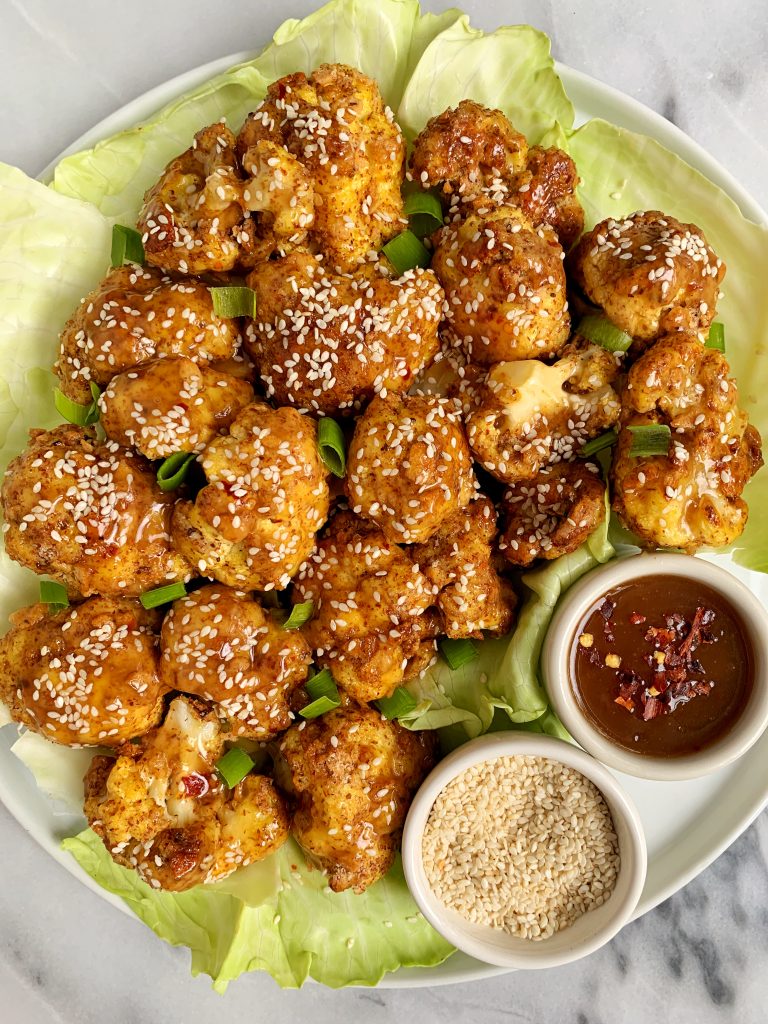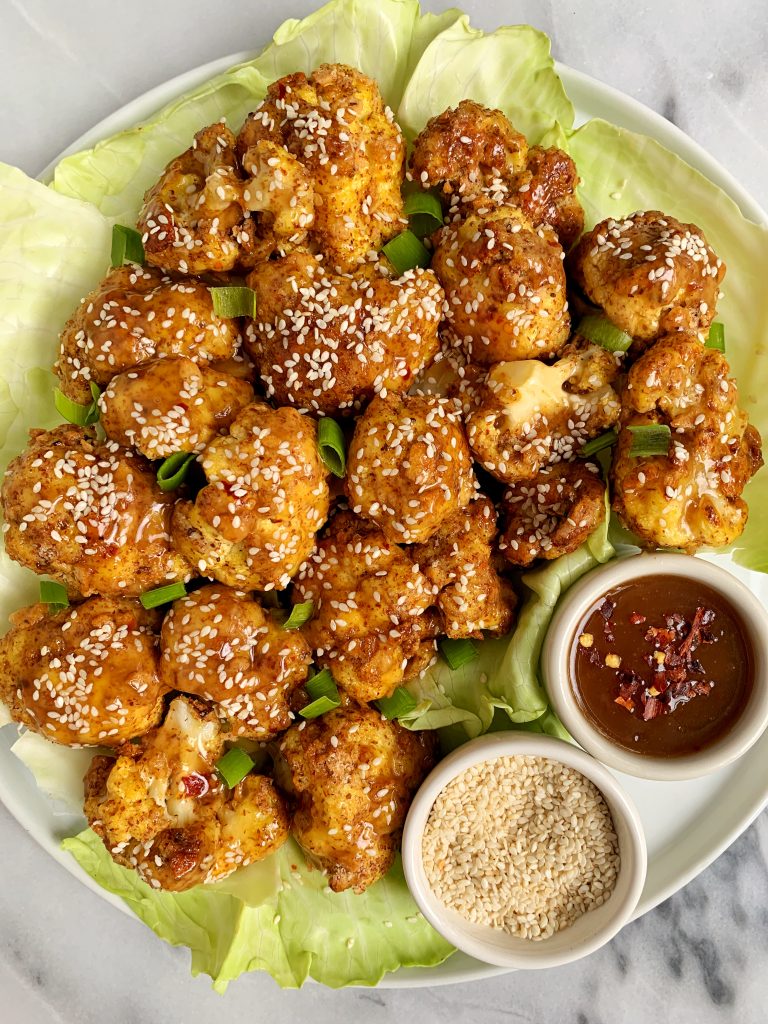 Raise your hand if you used to go to PF Chang's and the Chinese food restaurant on the regular…
(I'm raising both hands and starring at my mama).
My mom and I used to go to the Chinese buffet after or before shopping, whenever my dad was out of town (ha!) and pretty much go crazy over what was always offered. I loved loved General Tso's chicken and pretty much anything and everything crispy and deep-fried. Oh and don't even get me started on my egg roll love affair. Going to do a deconstruct egg roll bowl one of these days.
Let's make a healthy version of asian food with these maple sesame cauliflower wings..
Lately the asian-flared food has been a serious craving over here. I made these Maple Sesame Glazed Cauliflower Wings after hearing someone talk about chicken lettuce cups from PF Chang's recently when I was on the train. I immediately had a craving for some and out came these cauliflower wings.
I'm always in awe by how easy it can be to turn some more "indulgent" sounding recipes into something healthier and still make it taste delicious. Like these Maple Sesame Glazed Cauliflower Wings, which you can totally use chicken instead if cauliflower isn't your think.
First you bake the crunchy coated cauliflower in the oven then toss it into the glaze to get that shiny and glow on top.
The sauce even has no soy in it, which is a key ingredient in most asian recipes. Instead I use coconut aminos (I love cooking with this) and a few other unexpected ingredients like Bonafide Provisions Organic Chicken Bone Broth. You can really use any of their broths for this but I always have the chicken on hand. I use this just like you would water or veggie broth in recipes. It's packed with nutrients and so much flavor (more on my bone broth love affair here).
Hope you guys love this recipe as much a I do. Let me know what you think!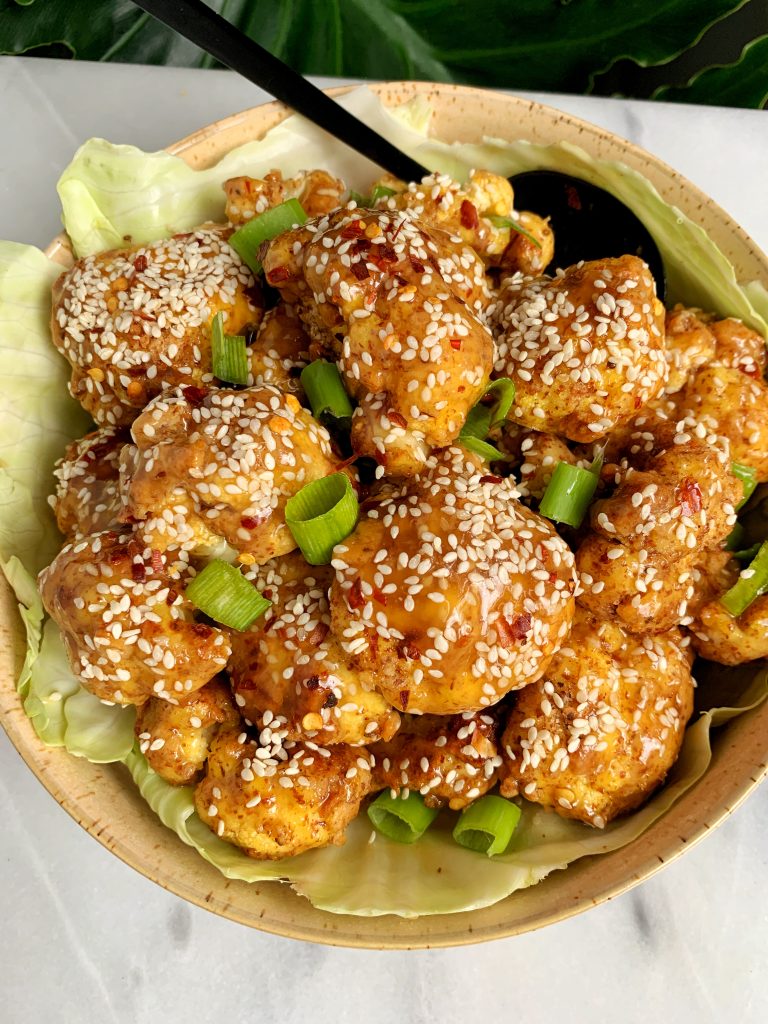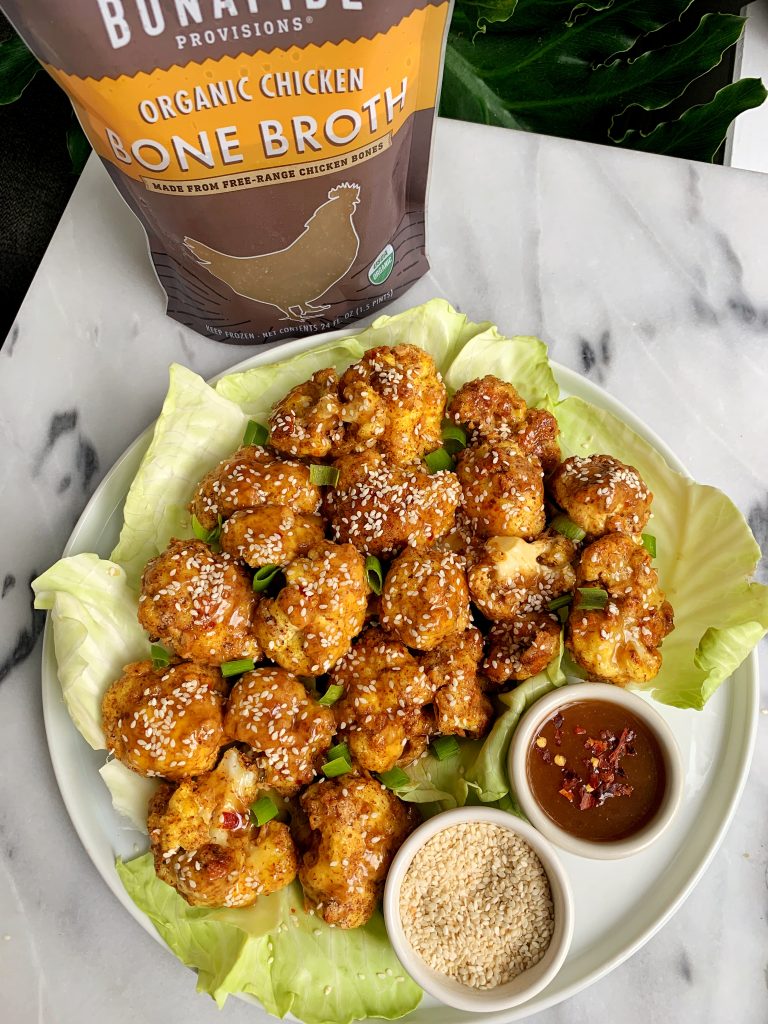 Print
Maple Sesame Glazed Cauliflower Wings
Maple Sesame Cauliflower Wings made with all gluten-free, paleo and soy-free ingredients for a delicious and healthy asian-inspired recipe!
Prep Time:

10 mins

Cook Time:

25 mins

Total Time:

35 minutes
Baked Cauliflower:
2 cups

organic cauliflower florets

2

pasture-raised eggs

3/4 cup

almond flour

1/4 cup

crushed gluten-free crackers or breadcrumbs (code RACHL for free shipping)
Maple Sesame Glaze:
3 tablespoons

coconut aminos

1/4 cup

maple syrup

1 tablespoon

apple cider vinegar or rice vinegar

1 tablespoon

sesame oil

1/2 teaspoon

red pepper flakes

1/2 teaspoon

ground ginger

2 tablespoons

tapioca flour (or sub arrowroot or corn starch)

Sesame seeds
Instructions
Preheat oven to 425 degrees and line a baking sheet with parchment paper
Whisk together the eggs in a medium bowl
Stir together the almond flour and breadcrumbs
Dip each cauliflower floret into egg mixture (let some of the egg drip off)
Then dip into flour mixture and place on baking sheet and repeat for each piece of cauliflower
Bake in oven for 25 minutes or until golden, flipping the cauliflower half way through
As the cauliflower bakes, begin making the glaze by mix together all ingredients except the tapioca flour and sesame seeds and warm over medium/low heat for about 3-5 minutes
Stir in the tapioca flour and turn to low heat and stir well for about 2 minutes
Turn heat off and let the glaze sit until cauliflower is done baking
Once cauliflower is complete, add to a large bowl then pour the glaze on top and mix well
Sprinkle sesame seeds on top and enjoy!
Notes
*Store leftovers in fridge for 5 days and reheat in oven
**I like to have these as lettuce wraps or with some sticky rice and some protein of choice
xx, Rach
Thank you Bonafide Provisions for partnering with me on this post! It means so much to me to spread the love about brands I love and believe in!