Mini Dark Chocolate Stuffed Red Velvet Brownies made vegan and gluten-free!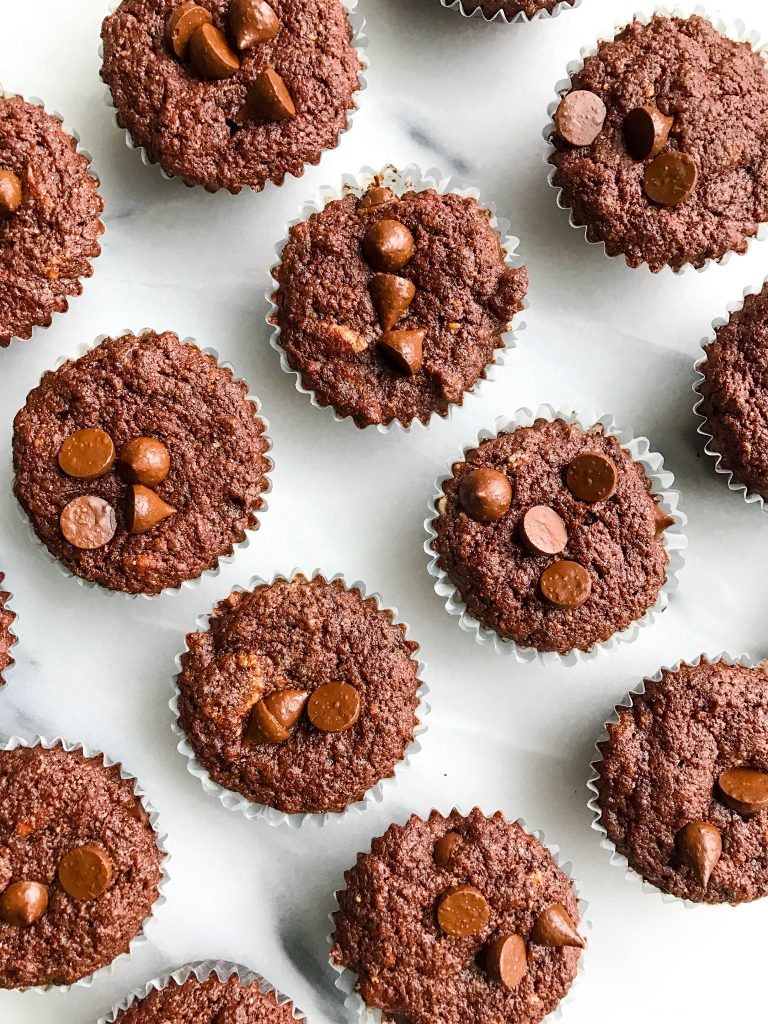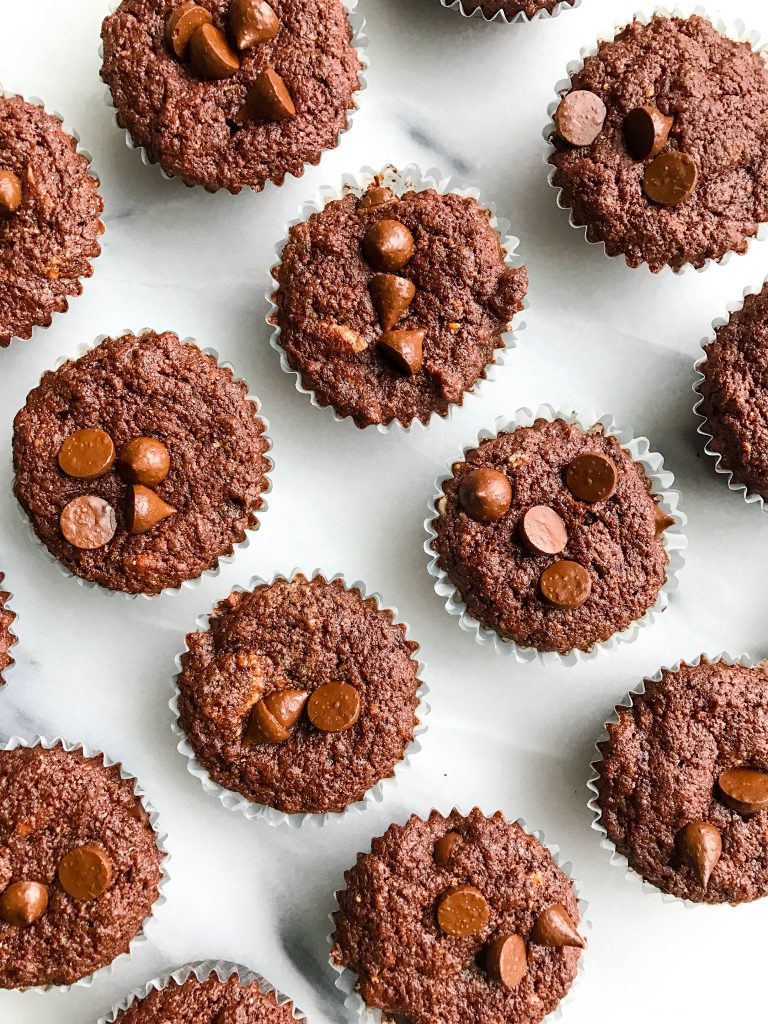 You guysssss it's Valentine's Day! I have to say I never have been a huge fan of this holiday but each year longer I am with Jord, the more and more I look forward to it.
In elementary school I just waited Reese's Hearts and to get and give Valentine's cards to all my friends in class. Remember that? It was so cute to give cards to everyone in their mailboxes. Mine would be of Disney princesses or something else completely cliche.
My parents also would give my brother and I are favorite candy and a present. My mom loved giving me heart socks and other cute things (that I still wear) and peanut butter m&m's (don't judge me). Don't worry it eventually evolved into Justin's Dark Chocolate PB Cups and my favorite dark chocolate bars.
I made a few different desserts this year for Jord as a Whole30 celebratory treat. Yesterday's Healthy Chocolate Cookie Dough Truffles were the first. Now we have these Mini Dark Chocolate Stuffed Red Velvet Brownies.
And dammmnnn they are so good and EASY. Plus they have an ingredient you wouldn't expect for an extra nutritional boost.
Beet powder.
You are likely wondering what in the world beet powder is. I certainly was when I first heard about it, but Love Beets just launched their own beet powder. Made with 100% beets. Beet powder is loaded with the same potent vitamins, minerals and nutrients as red beets. It is super rich in antioxidants, fiber, calcium, iron, flat and more so it adds a ton of extra goods to your food. Plus you don't really need much. One teaspoon of the powder is equal to one beet so a little goes a long way.
It helped food color these red velvet brownies and the flavor with the coca powder helped subdue the beet's earthy flavor.
Love Beets is my-go beet company every single time. They have such delicious beet options and baking with their beets is amazing. They have the best flavor and texture. Remember those Red Velvet Cupcakes? Yup, all that red comes from beets too!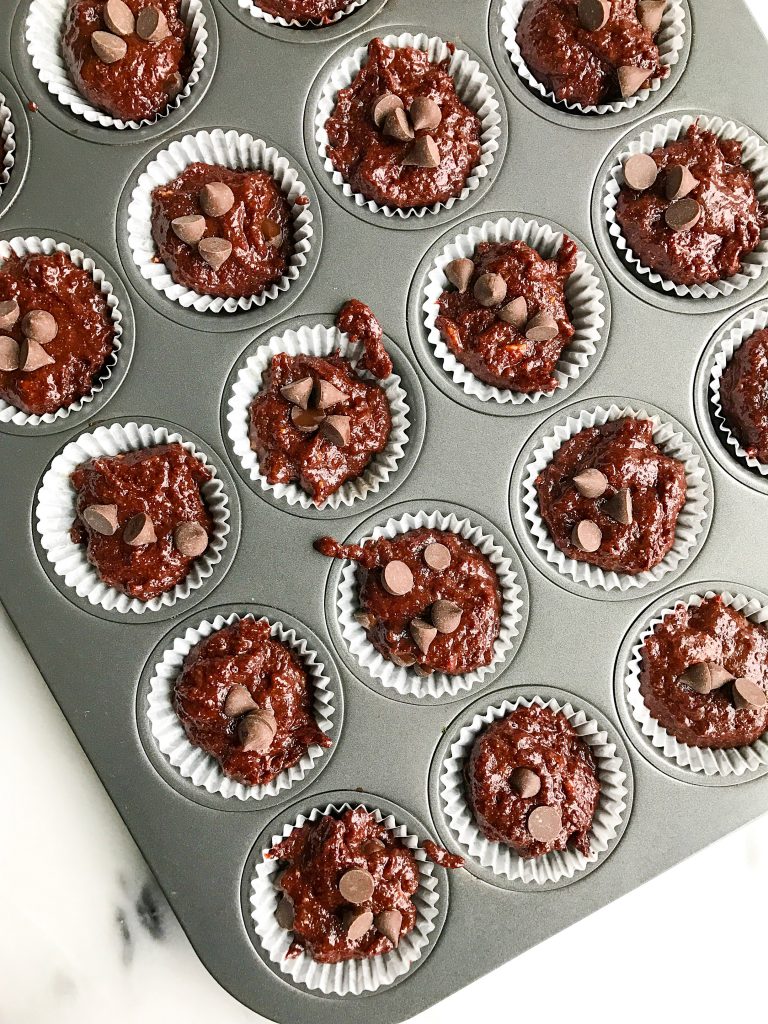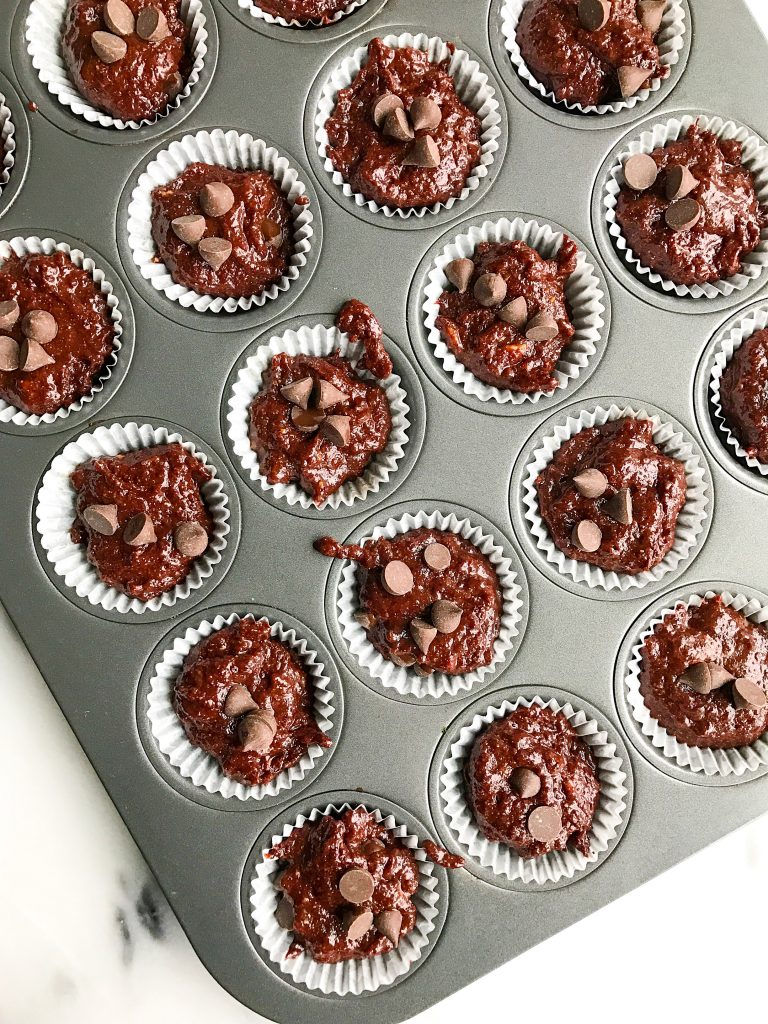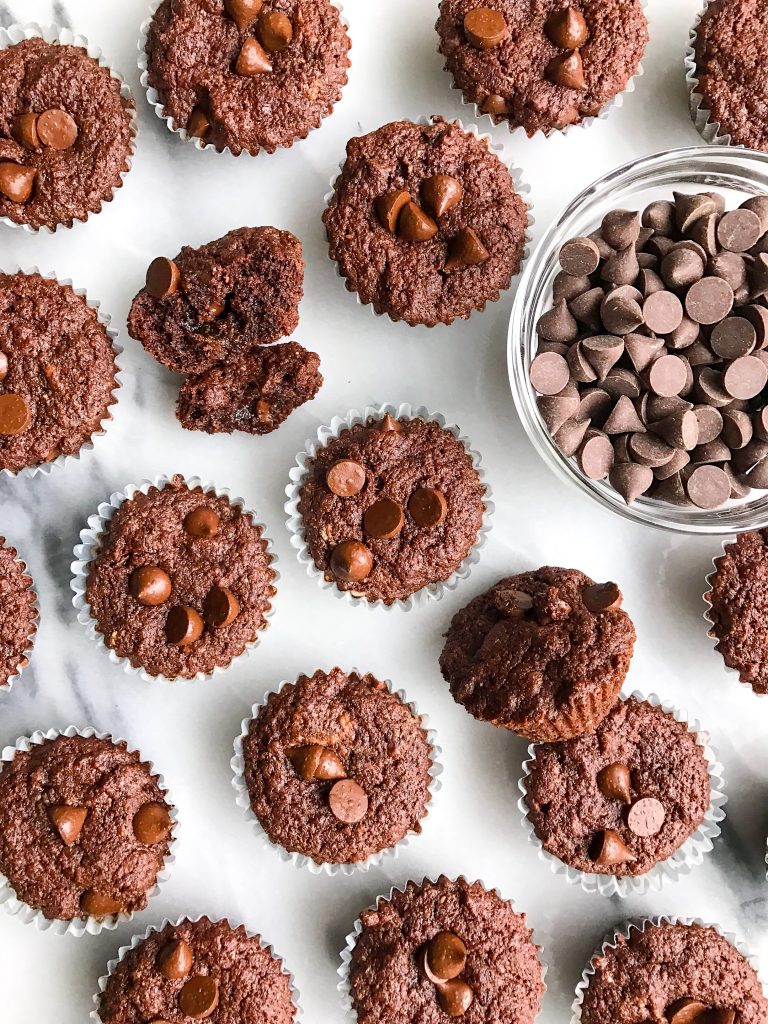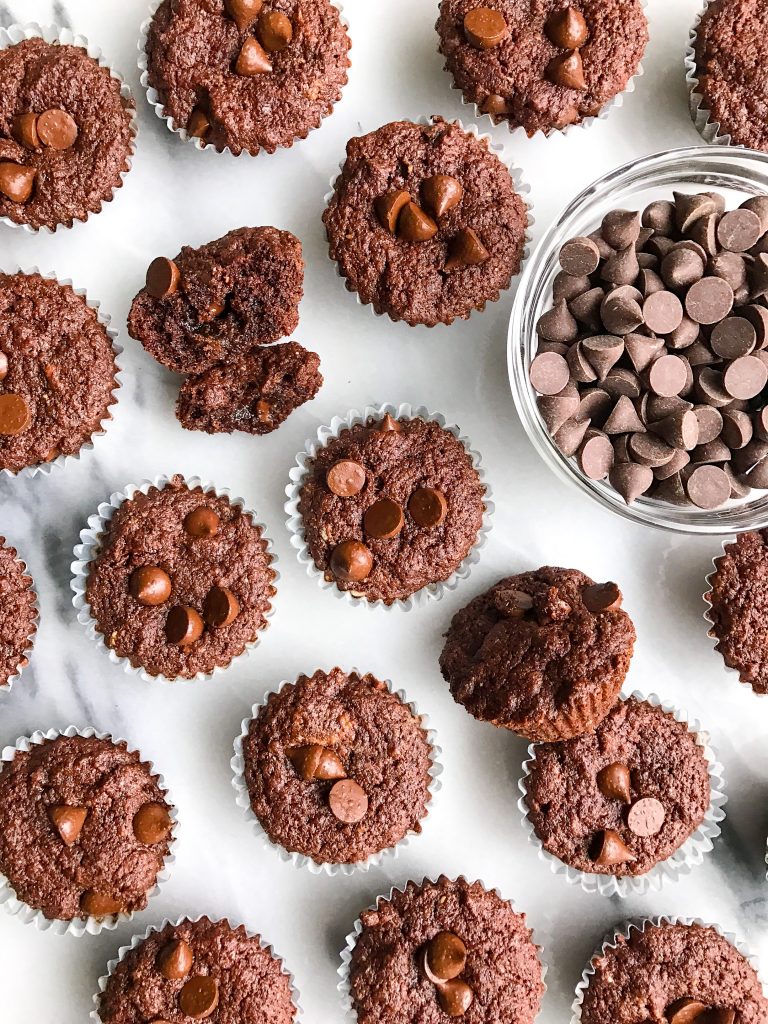 WHAT YOU NEED
Creamy almond butter (more oily the better)
Coconut sugar
Maple syrup
Vanilla extract
Flax eggs (or regular egg)
Coconut oil
Cacao powder
Beet powder
Baking powder
Oat flour
Dark chocolate chips
QUICK NOTES
I made these into mini brownies but you can also bake in an 8×8 baking dish. Just eye ball the timing as I haven't tested it yet. Use the tooth pick test 😉
Oat flour works best in the recipe but you can likely sub gluten-free flour
Almond butter, cashew butter or sun flower butter are best options for the nut butter here. Peanut would work but will be very overpowering
These freeze very well so feel free to store and defrost as you wish
If beet powder isn't accessible near you, just add more cacao!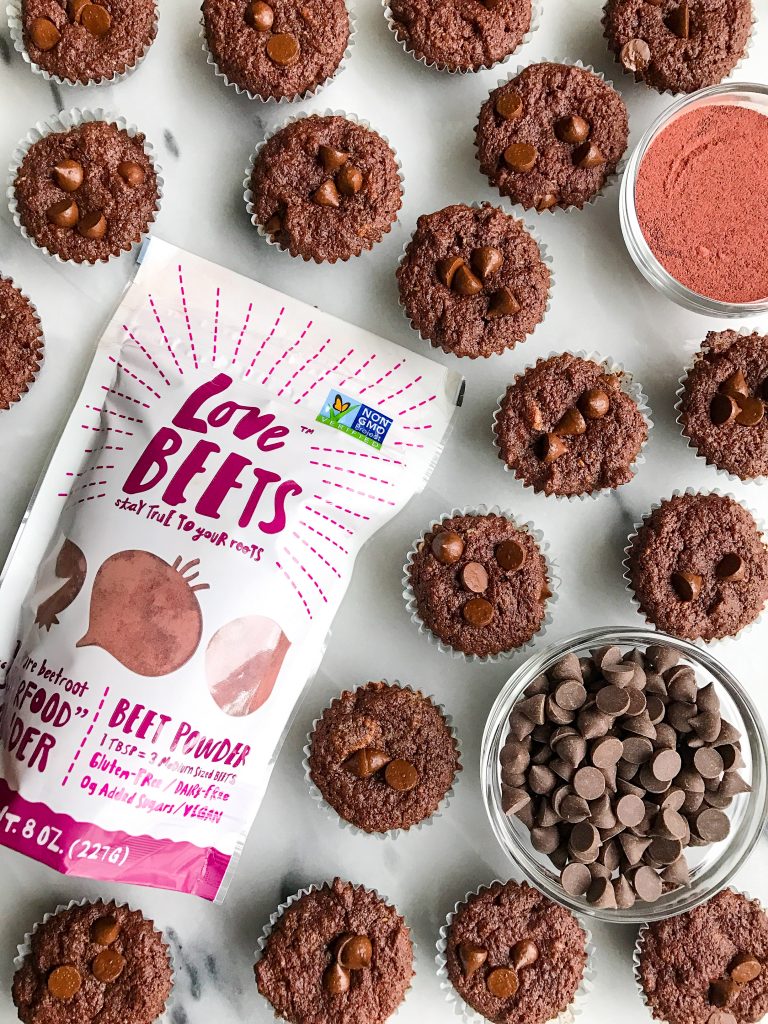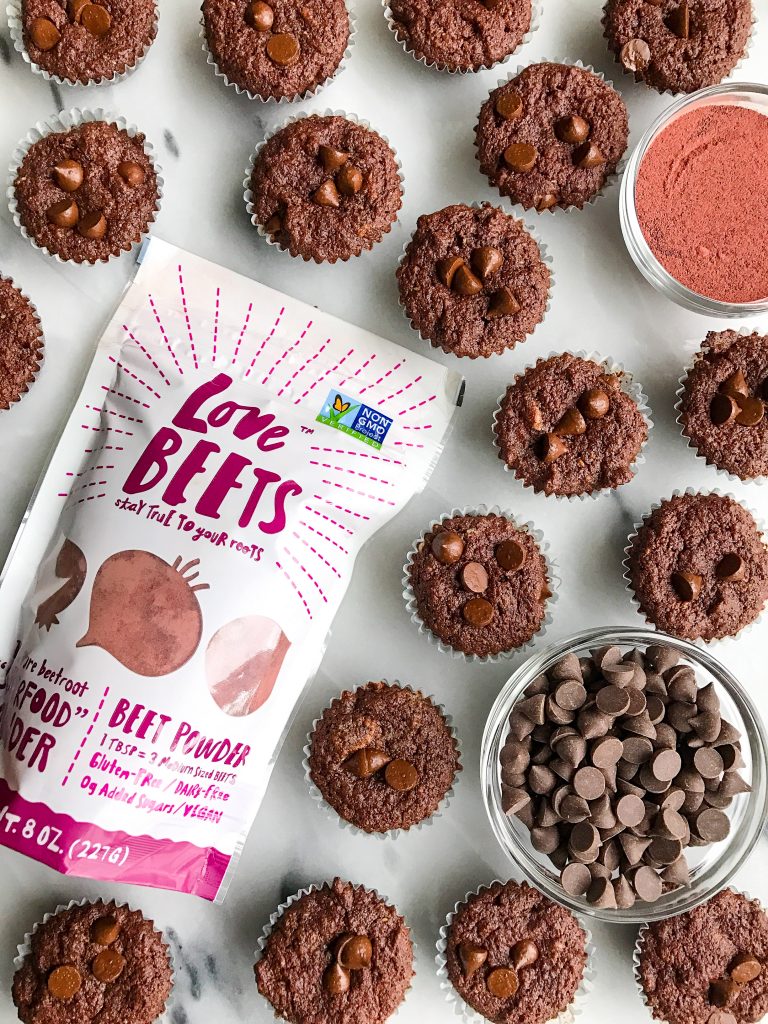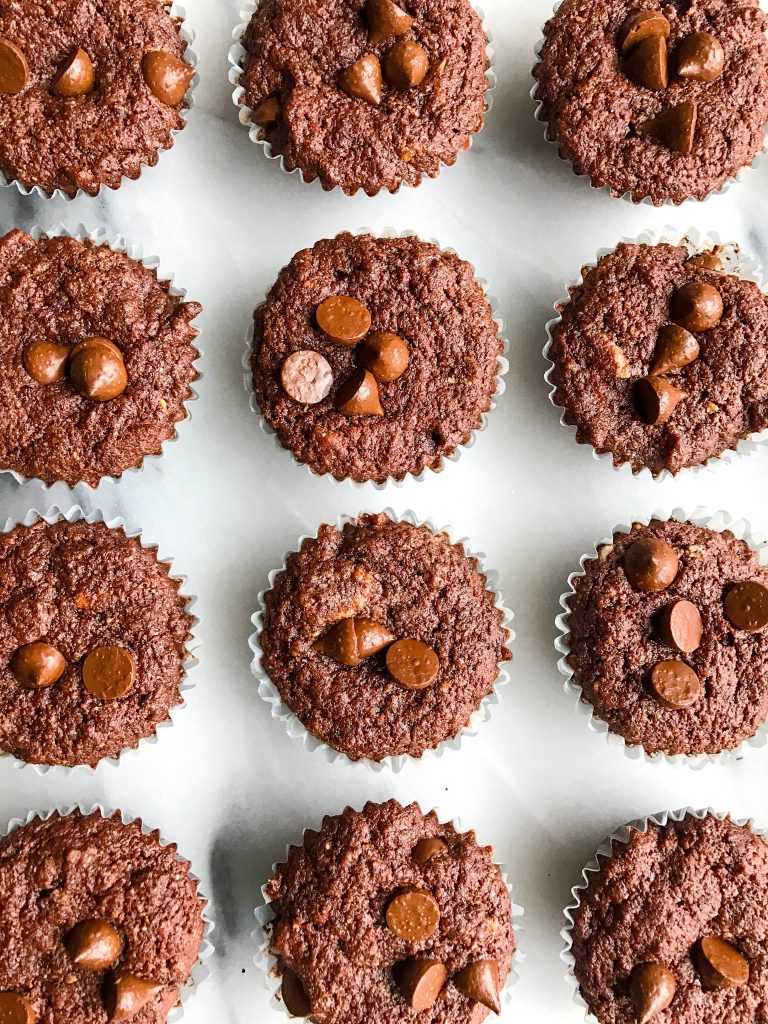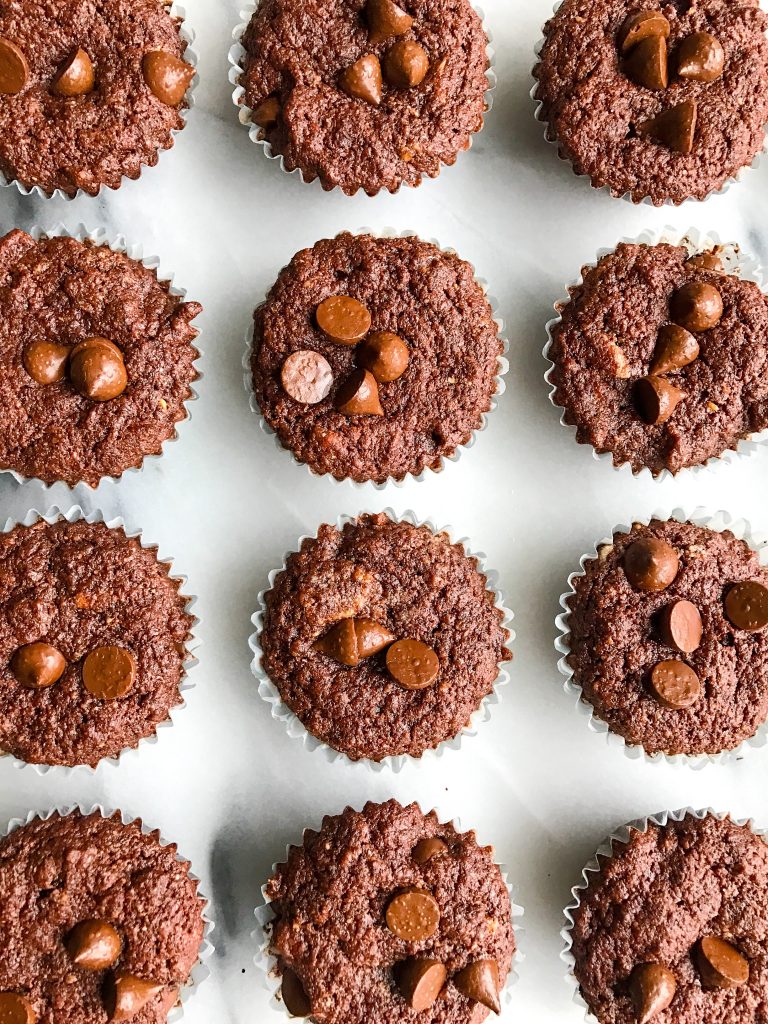 Print
Mini Dark Chocolate Stuffed Red Velvet Brownies (vegan)
Prep Time:

10 mins

Cook Time:

10 mins

Total Time:

20 mins
Yield: 18-20 mini brownies 1x
Wet ingredients:

¼ cup

creamy almond butter (more oily the better!)

⅓ cup

coconut sugar

⅓ cup

maple syrup

1 teaspoon

vanilla extract

2

flax eggs (

2 tablespoons

ground flax +

6 tablespoons

water whisked together, set in fridge for 10 mins)

¼ cup

+

2 tablespoons

melted coconut oil

¼ cup

unsweetened cacao or cocoa powder

½ cup

Love Beets Beet Powder (can sub more cacao powder or oat flour)

1 teaspoon

baking powder

¼ cup

+ 2 tablespoons oat flour (can sub gluten-free too)

½ cup

dark chocolate chips
Instructions
Preheat oven to 350 degrees
Line a mini muffin tray with liners or grease well
In a medium bowl, mix together wet ingredients with Kitchen Aid until creamy
In a small bowl, mix together dry ingredients (make sure there are no clumps)
Combine dry ingredients to wet and mix well with spatula
Pour 1/2 tablespoon of batter into each muffin tin then fill with a few dark chocolate chips
Add more batter to each mini muffin tin to fill
Bake for 10-12 minutes and enjoy!
*Will stay good in airtight container for 5 days or freeze for longer
Author:
Category:

vegan, gluten-free

Cuisine:

dessert, brownies
xx, Rach


Thank you Love Beets for sponsoring this post. It means so much to me to work with brands that I love and who support rachLmansfield!