Zucchini Bread Smoothie made with just 5 ingredients. This one of my favorite ways to sneak in extra veggies and a have nutritious snack in minutes.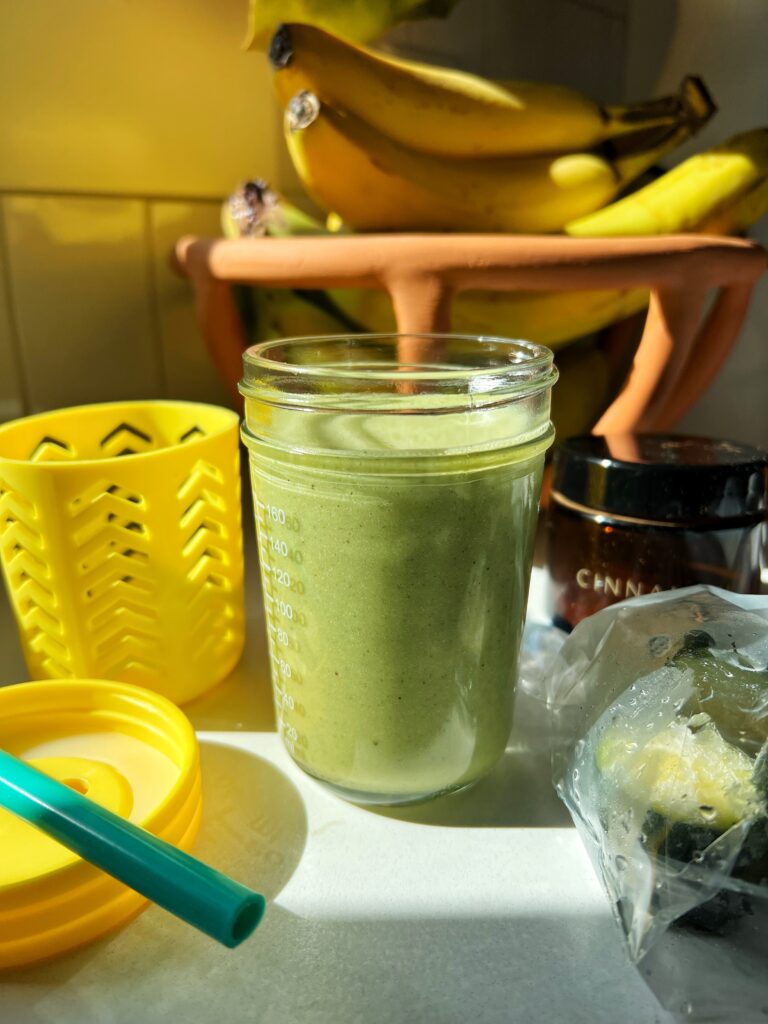 SMOOTHIES!!! Let's flipping go baby. Here's how you get veggies into your kid's daily eats without actually them knowing they are having veggies.
So as you guys know – I personally am not the biggest smoothie fan. But I love the concept of a smoothie especially for kids. And my husband drinks one every single day and *loves* it. I just personally prefer chewing over drinking ya know?
But as you guys also know – Ez loves food and eating and drinking and all of the things. So I am always trying to get him to have something nutrient packed so at least if he is eating all the time – he is having something nutritious too. And this zucchini bread smoothie is by far his favorite!
What ingredients are in this zucchini bread smoothie:
Frozen banana – I only had 1/2 of one to keep the sugar lower here. But you can add more or less. The frozen banana adds creaminess and also the only form of sugar in this smoothie!
Frozen zucchini – your kid won't even know there is zucchini in here. I leave the skin on too when I freeze it. Just cut into quarters and add to your freezer.
Baby spinach – you can use fresh or frozen here too. I always add extra spinach to the freezer if it is starting to go bad.
Non-dairy milk – I like using this instead of water. But you can also add water if you prefer. Use the code RACHL for 15% off my go-to non-dairy milk.
Yogurt of choice (dairy or non-dairy works)
Dash of cinnamon if you'd like – I love adding this to stable blood sugar
FAQs about making smoothies for kids:
When do you give you kid smoothies? I like to for a snack between meals! Ezra loves to eat so for a meal itself, this doesn't really work well for him. But between lunch and dinner, he likes to have this with some crackers or whatever else. Plus that way I know he has veggies too.
Do you use water or milk in smoothies for kids? I prefer using a non-dairy milk for creaminess and flavor here but you can add water too
Is there anything you don't like adding to smoothies? Anything with too much sugar. The point of this is to get a healthy snack and sneak in veggies so I try to limit how much fruit and sugar goes in. Usually the only sugar is from fruit when I make smoothies.
Can you make prep smoothies in advance? I like to make them and drink within 24 hours or so! Just keep it in the fridge and enjoy when ready.
What cups do you use for smoothies? We have these – I am not obsessed because they spill easily but I haven't found another we love.
A few other toddler-friendly recipes to make:
Cinnamon Pear Baked Oatmeal Cups (gluten-free)
Good Morning Gluten-free Breakfast Cookies!
The Best Homemade Chicken Meatballs
The Easiest No-Boil Baked Pasta Recipe (gluten-free)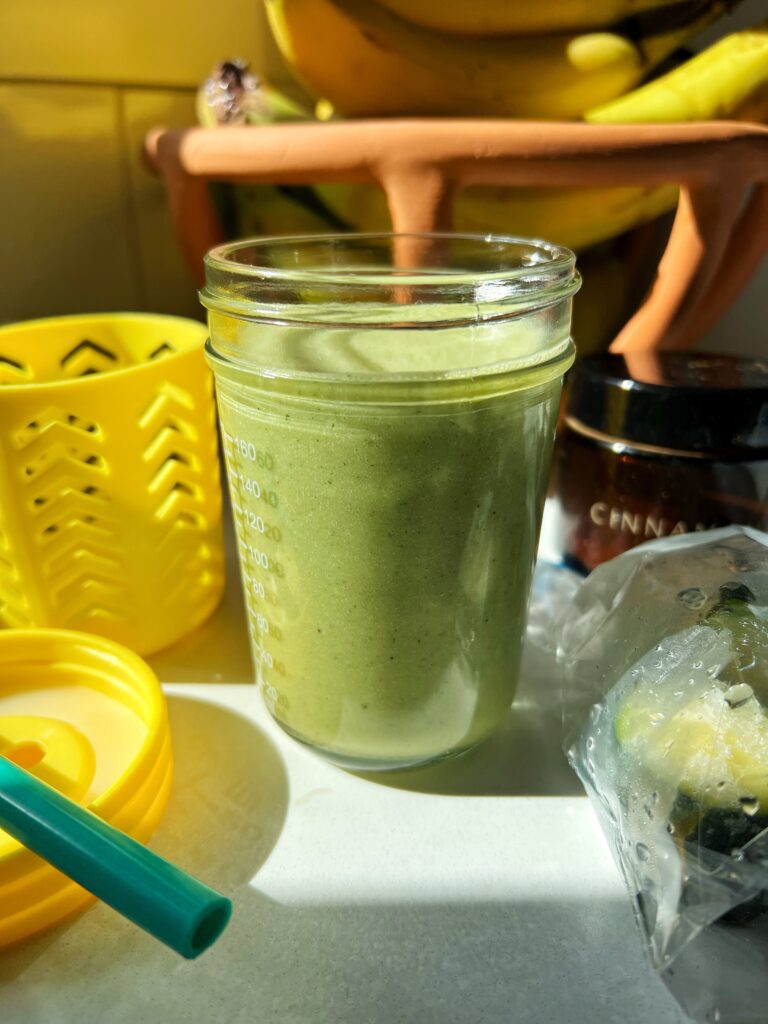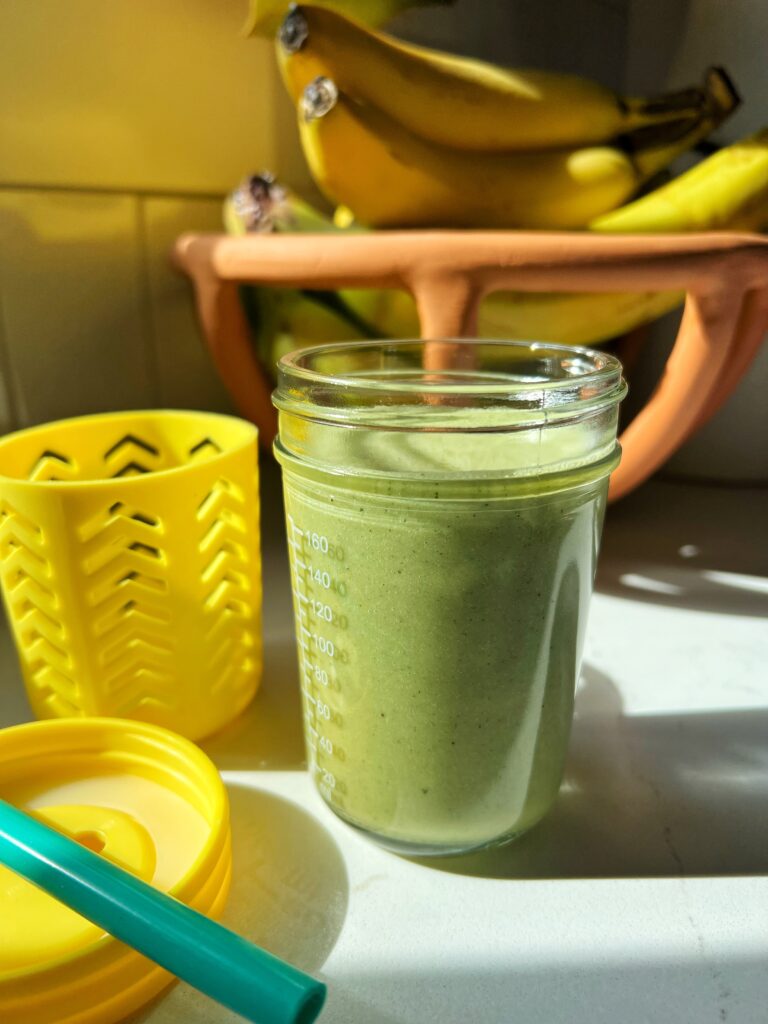 Print
My Toddler's Favorite Zucchini Bread Smoothie
Zucchini Bread Smoothie made with just 5 ingredients. This one of my favorite ways to sneak in extra veggies to my kid's daily eats.
Prep Time:

5 mins

Total Time:

5 mins
Yield: Serves 1 toddler 1x
1/2

frozen banana

1/4 cup

frozen zucchini (mine is cut in quarters)

1/4 cup

baby spinach

1/2 cup

non-dairy milk (code RACHL for 15% off)

1/4 cup

yogurt of choice (dairy or non-dairy works)

Dash of cinnamon if you'd like
Instructions
Add ingredients to blender of choice and blend until smooth and full combined
Serve cold in smoothie cup or glass of choice. We have these smoothie cups!
Notes
*Store in fridge for 24 hours