One-Skillet Vegetarian Fried Forbidden Rice ready in less than 20 minutes!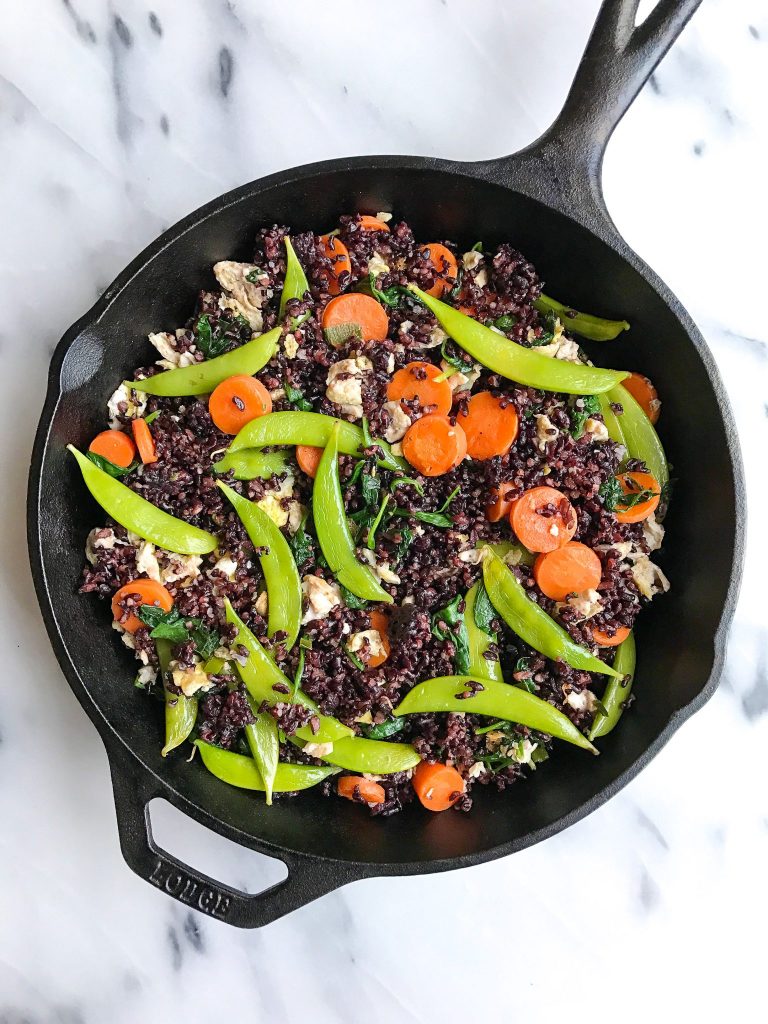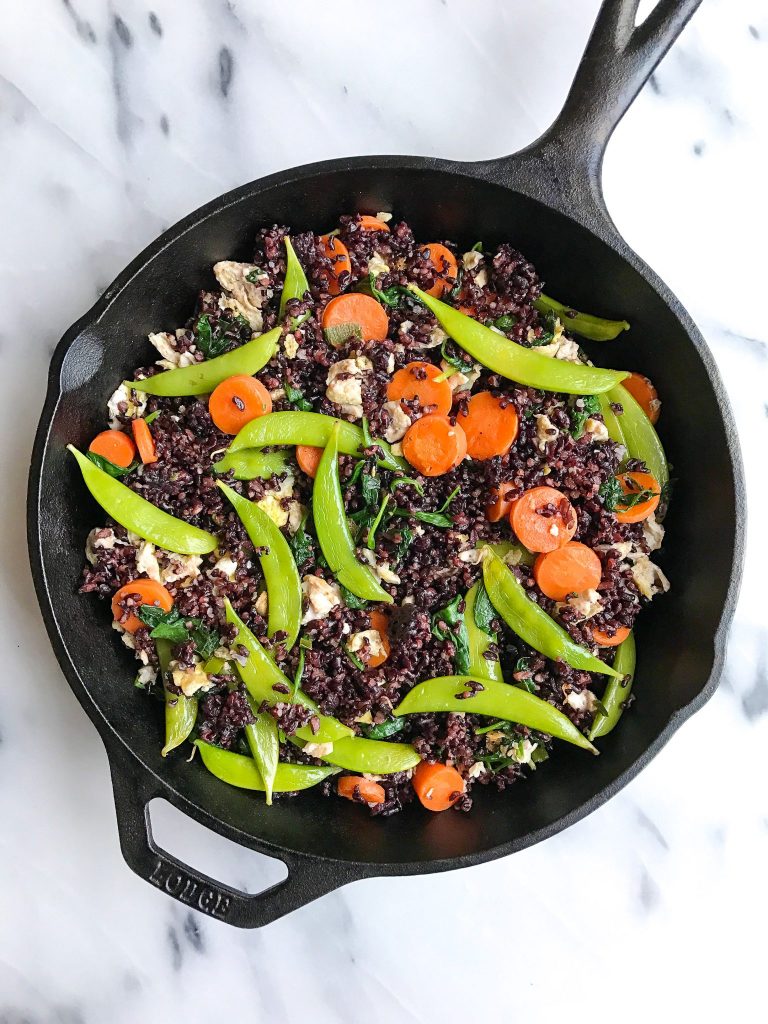 Up until about a month ago, I never had or even heard of forbidden rice before. I tried it in an asian-flared tofu dish and was immediately hooked.
I went to Whole Foods the next day looking for it and at was shocked there weren't many options. Only one brand made forbidden rice that was sold there! I bought a few packages (it isn't cheap BTW) and immediately whipped up this fried rice.
I am a fried rice lover. I definitely do not eat it often or order take out from Chinese restaurants much, but when I was younger, OMG. I would order the pork fried rice (HA good times) or the chicken fried rice if I was feeling "healthy". Then I found out how much sodium and unnecessary fat was in it and wanted to puke, so my Mom started making us healthier versions at home.
We would use brown rice, some fresh veggies, eggs and whatever protein we were craving.
Now I am making One-Skillet Vegetarian Fried Forbidden Rice and feeling oh so fancy. Except this dish couldn't be easier to prepare.
It is filled with veggies (organic when possible), pasture-raised eggs and mixed with my homemade fried rice sauce. It is a vegetarian fried rice heaven. Who needs take out now, right?
I also added some fresh greens to sauté in this dish too from Organic Girl. I used the Super Spinach because it also had baby bok choy and kale in it. Pretty much the trifecta of greens. Plus it's triple washed and always stocked up in my Whole Foods. I use Organic Girl in a variety of my dishes as you see here.
This One-Skillet Vegetarian Fried Forbidden Rice is the ultimate healthy quick dish to make on weekdays. You can eat it warm or cold (I personally love it cold). Make a big batch on Sunday's and pack it for lunch for work or just have it waiting for you for dinner. Either way you will love.
You can also add another protein besides the eggs if preferred. I love that this is veggie-filled but Jord wanted some meats in there of course 🙂
If you do make this dish, don't forget to share with me on social. You babes are going to love!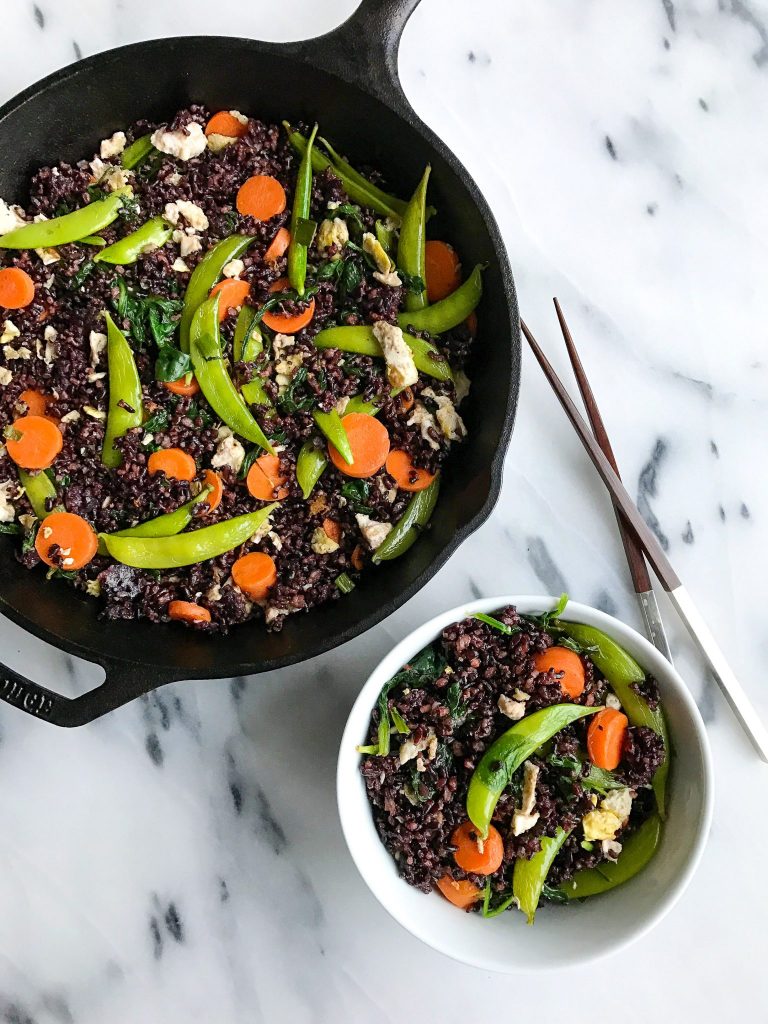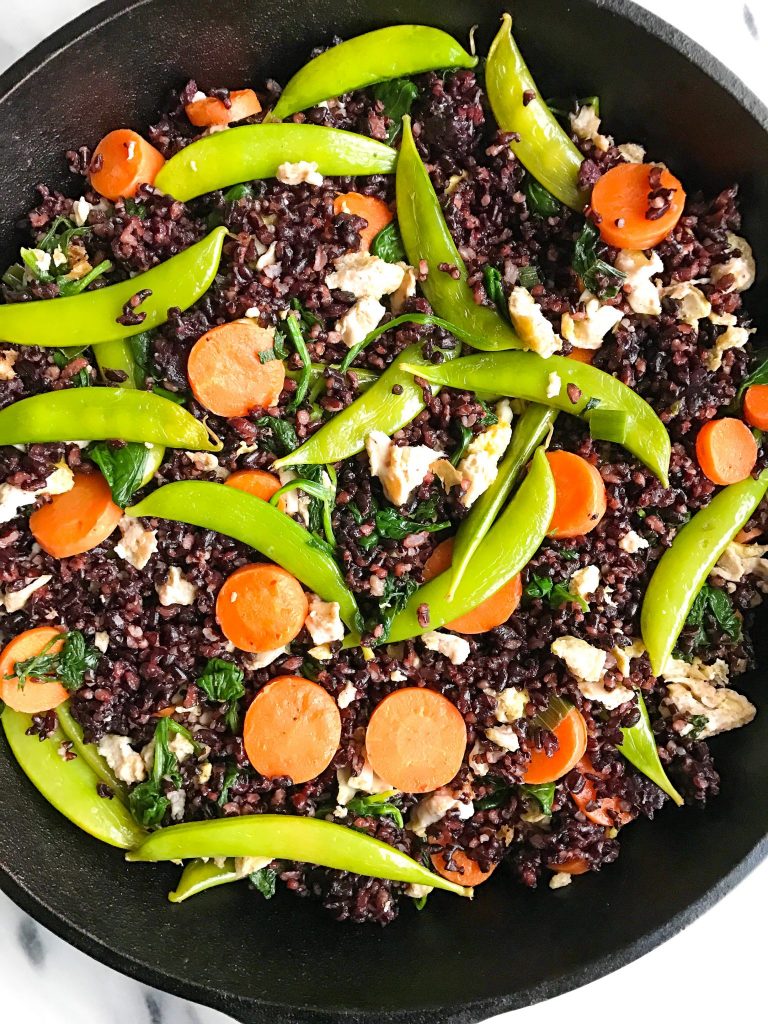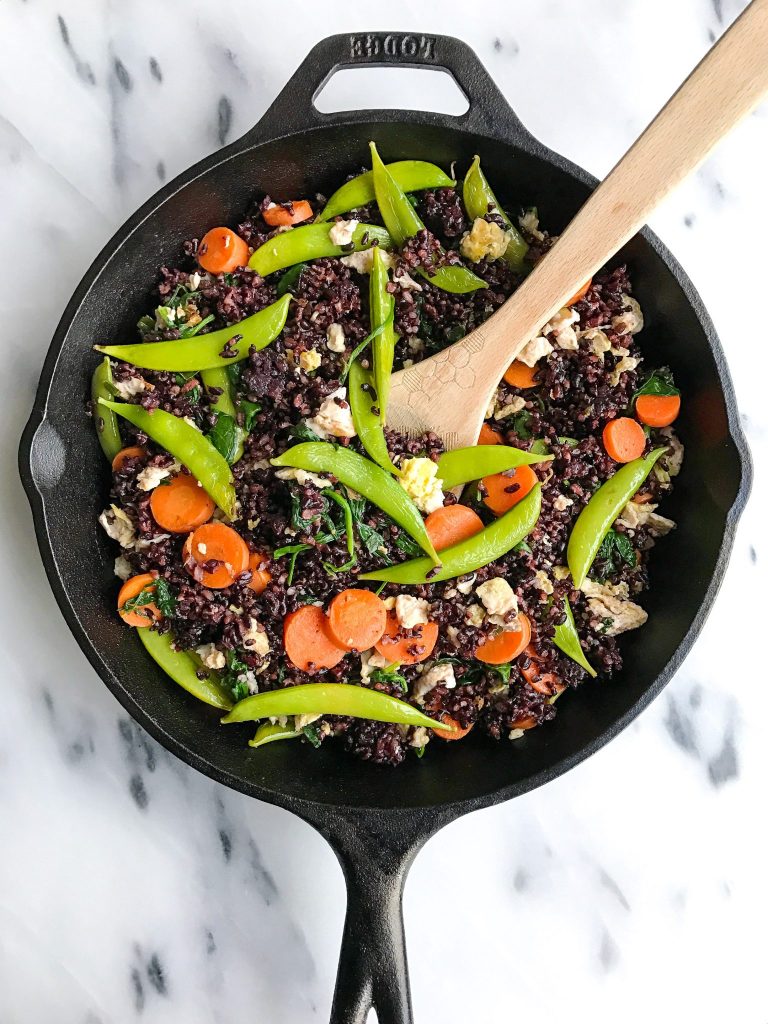 Print
One-Skillet Vegetarian Fried Forbidden Rice
Prep Time:

10 mins

Cook Time:

10 mins

Total Time:

20 mins
Fried rice:

2

eggs lightly whisked

1

package of Organic Girl Super Spinach Greens

1

clove garlic, minced

1/2 cup

carrots, sliced into quarters

1/2 cup

snap peas

1/4 cup

scallions, chopped

1 cup

black forbidden rice (

3 cups

cooked)

Sauce:

3 tablespoons

liquid aminos (you can use soy sauce if preferred)

1 teaspoon

chili sauce

2 tablespoons

almond butter (or peanut butter)

Topping:

1 tablespoon

hemp seeds
Instructions
Prepare rice according to instructions on package (mine was already cooked!)
Combine sauce ingredients in small sauce pan and heat over medium heat, stir together and keep mixing until fully melted
Remove from heat and set aside
Grease medium pan with oil and scramble the eggs over medium heat, breaking apart so it is in smaller pieces
Remove from pan and set aside
In same pan, pour 1 tablespoon of avocado oil (or your preferred oil) and add garlic, carrots and snap peas and sauté for about 2 minutes
Add in package of Organic Girl Super Spinach and cook another 2 minutes
Add in cooked eggs, rice, scallions and mix well on medium heat
Pour in sauce and mix well for about a minute
Remove from heat and serve with hemp seeds
Author:
Category:

vegetarian, gluten-free, dairy-free

Cuisine:

lunch, dinner
xx, Rach

Thank you Organic Girl for sponsoring this post. It means so much to me to work with brands that I love and who support rachLmansfield!