This Peach Bruschetta with Whipped Ricotta Crostini is the ultimate summer appetizer. Ready in under 10 minutes and easy to make.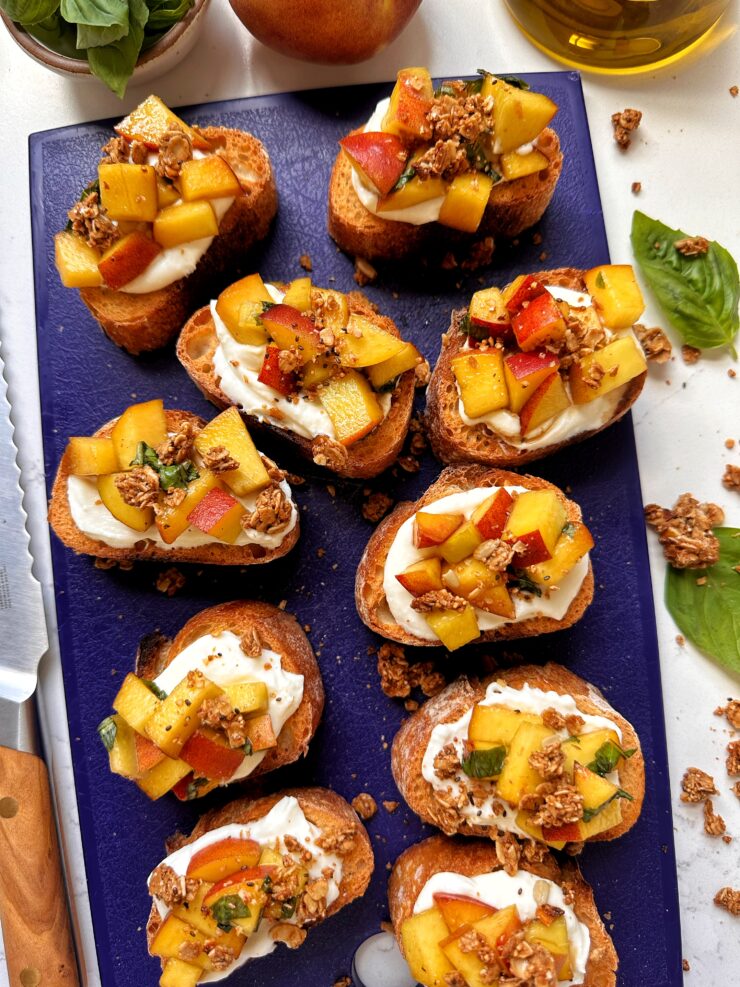 We absolutely love this peach bruschetta recipe! It is light, flavorful, and so dreamy spooned over some whipped ricotta on a toasted baguette. A must try summer crostini recipe to use some juicy peaches!
Peach season is truly one of my favorites. Well really, summer fruit is my favorite and peaches are a huge part of that. I love how you can do so many different things with peaches like my Grilled Peach Crumble, Peach and Burrata Pizza with Balsamic Glaze or make this Peach Bruschetta with Whipped Ricotta Crostinis!
This peach bruschetta is the perfect appetizer to serve. I love making it for happy hour, BBQs or a lunchtime snack during the week. My friends and family love it and my kids were also obsessed with it. Anything fruit, cheese and bread is usually a hit.
I love how this bruschetta doesn't have tomatoes. So technically it may not be considered bruschetta but as someone who doesn't favor tomato, this is my kind of bruschetta. Fresh peaches, basil and some honey and balsamic is all you need to make this.
We love eating seasonally in our house and this is one of those amazing recipes you'll come back to again and again!
What ingredients you need to make Peach Bruschetta with Whipped Ricotta Crostini:
Baguette – this is a great gluten-free one if you need. Or if not gluten-free, use baguette from the bakery part of grocery store or your local bakery
Olive oil – extra virgin olive oil is my recommendation here
Whole milk ricotta cheese – if you don't like ricotta, use goat cheese
Honey – a touch of honey is all this recipe needs because the peaches are sweet
Peaches – not too ripe but not too firm – just right!
Fresh basil – I usually grab from our garden but you can find at local grocery store too
Granola for topping – optional but I love the crunch that it adds to the crostinis.
Balsamic glaze for drizzling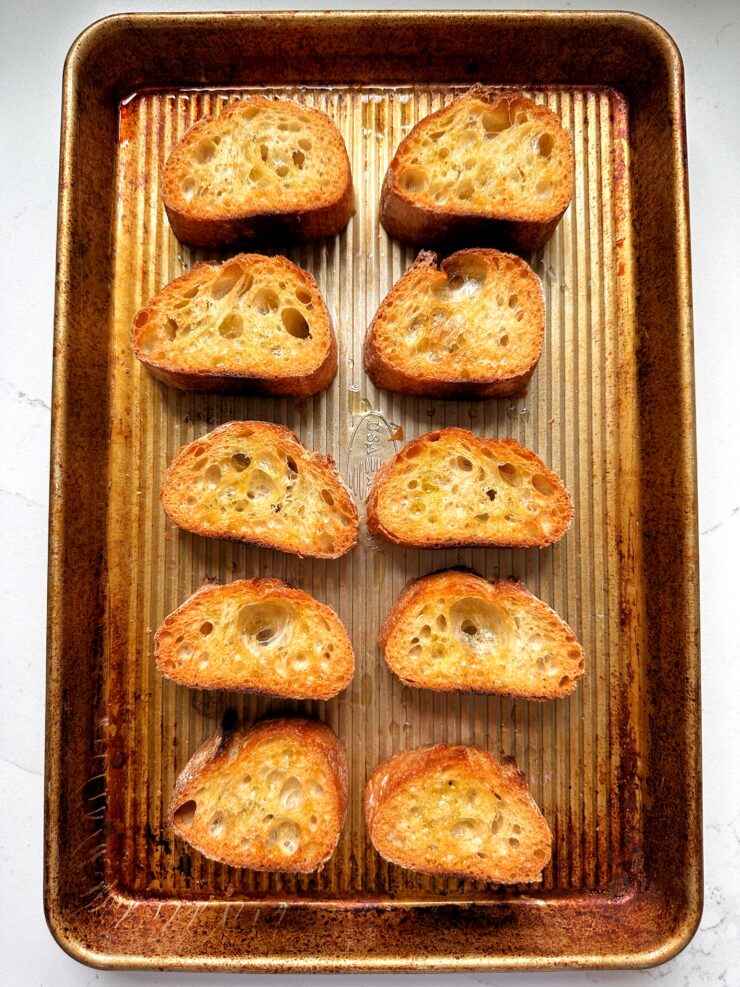 How to make Peach Bruschetta with Whipped Ricotta:
Lightly brush both sides of the bread with olive oil and set aside
Preheat oven to 350 degrees F and add the bread to baking sheet and toast until just golden (about 5-8 minutes)
While the bread toasts, add the ricotta cheese to a food processor and blend until smooth and creamy
Next make the bruschetta by mixing the honey, peaches and basil together in a large bowl
Assemble crostini's by smearing some whipped ricotta to each slice of baguette, add peach bruschetta on top and the granola for topping and drizzle with balsamic glaze if desired
FAQs on making Peach Bruschetta Crostinis with Whipped Ricotta:
Can I make this ahead of time? I don't recommend it. You can make the whipped ricotta a few hours in advance and leave in fridge until ready. The bread and bruschetta should be made right before serving.
I don't like ricotta cheese, what can I sub? Goat cheese is a great sub for this. I am not sure quantities so use your judgment.
Can I add tomatoes to the bruschetta? Absolutely! Just adjust quantities as needed.
Is this more sweet or savory? it is a mix of both. The ricotta is salty and more savory while the peach bruschetta topping is sweeter.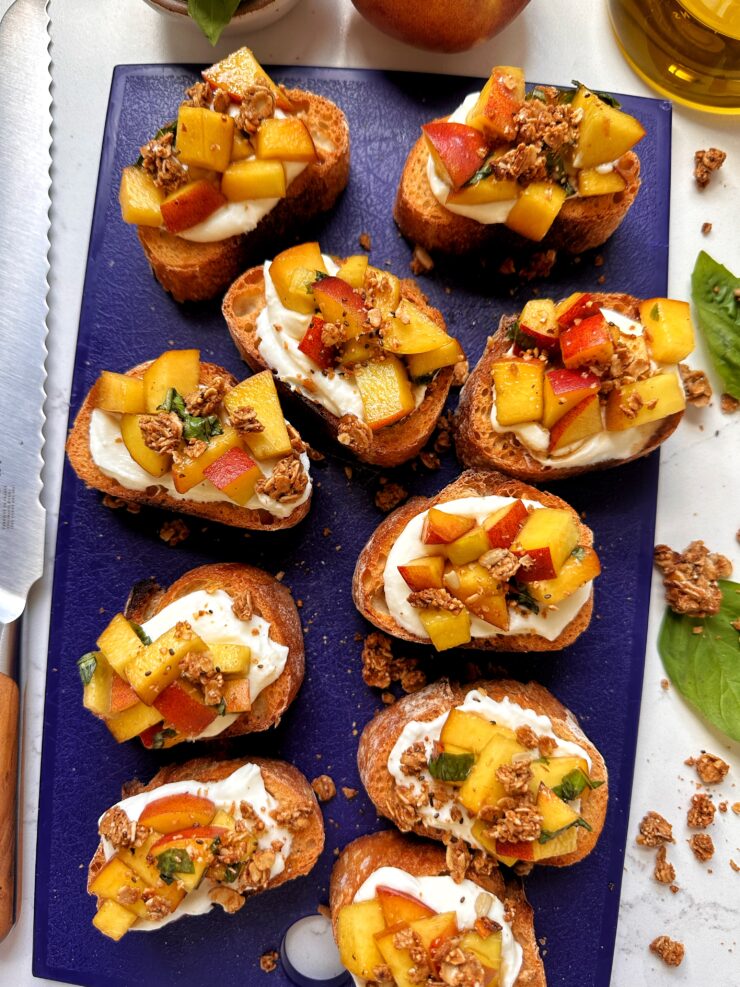 A few other delicious appetizers to try:
Spinach Artichoke Dip Cups (gluten-free)
Print
Peach Bruschetta with Whipped Ricotta Crostini
This Peach Bruschetta with Whipped Ricotta Crostini is the ultimate summer appetizer. Ready in under 10 minutes and easy to make.
Prep Time:

5 mins

Cook Time:

10 mins

Total Time:

15 mins
Instructions
Lightly brush both sides of the bread with olive oil and set aside
Preheat oven to 350 degrees F and add the bread to baking sheet and toast until just golden (about 5-8 minutes)
While the bread toasts, add the ricotta cheese to a food processor and blend until smooth and creamy
Next make the bruschetta by mixing the honey, peaches and basil together in a large bowl
Assemble crostini's by smearing some whipped ricotta to each slice of baguette, add peach bruschetta on top and the granola for topping and drizzle with balsamic glaze if desired
Notes
*Serve immediately or bread will be stale