The Best Paleo Banana Zucchini Bread made with almond flour, ground flaxseed and all gluten-free and dairy-free ingredients. No added sugar and sweetened with just banana.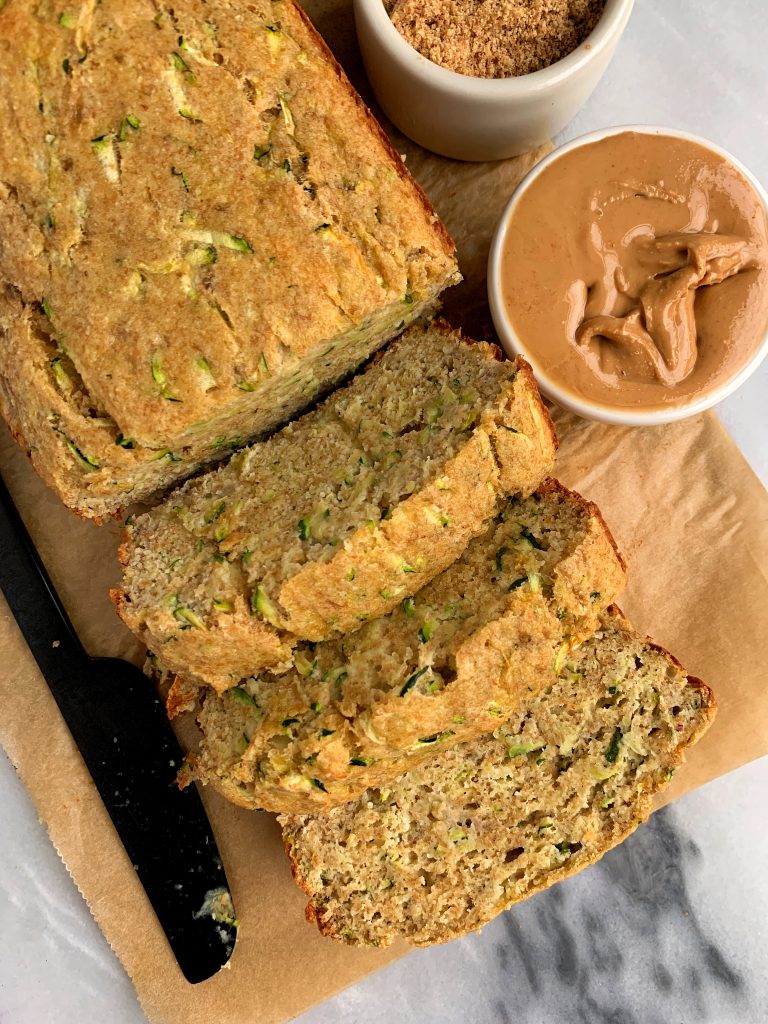 Earth to Rachel… WHY has it taken this long for classic zucchini bread recipe to come out on the blog?
As someone who lives for sweet breads for snacking and breakfast and all of things, it feels almost sinful I have only shared 1 other zucchini bread recipe on the blog.
But as they say "the best things in life take time".. I'm kidding I don't know really anyone who says that but this zucchini bread is one of the best healthy loaves I have ever had in the zucchini category. And it was well worth the wait if you ask me.
What I love most about this healthy zucchini bread is the banana addition.
Adding banana to this loaf added just the right amount of sweetness to the recipe. I didn't add any extra sugars like maple syrup or coconut sugar, but you certainly can if you'd like the recipe to be sweeter than it is. I like to cut back on Ezra's sugar while I still can and stick to fruits mostly. Plus the riper the banana, the sweeter the loaf will be so wait for those perfectly freckled bananas.
Making this zucchini bread is a great way to sneak in extra vegetables to your baked goods. Especially if you have any picky kids or significant others. This is a recipe the whole family enjoys.
What we need to make the best paleo zucchini bread…
Organic zucchini – pretty obvious but you will need zucchini here. Grate it then squeeze out all of the excess moisture!! This is so key
Ripe banana – the riper the better. It adds sweetness to this recipe
Pasture-raised eggs – I haven't tried an egg substitute or flax egg yet but if you do, please let me know!
Almond flour – the main flour here. I don't recommend coconut oil as a sub. You can likely do some gluten-free oat flour but use a little less
Ground flaxseed – one of my favorite ways to sneak in these power seeds to your daily eats!
Spices – I love adding cinnamon to this.
If You Care Baking Sheets – the most necessary kitchen prop in the world. I use these sheets for absolutely everything. They line my baking sheets when I roasted veggies, bake cookies and I line my loaf pan with them to help for an easy removal. You can also use their loaf pan too to make it even easier! If You Care is theeee best! Also stock up on their sandwich bags and roasting bags and the baking cups!
A few of my other family favorite breakfasts: Simple Almond Flour Banana Bread (paleo) and Healthy Banana Oatmeal Breakfast Bars (nut-free)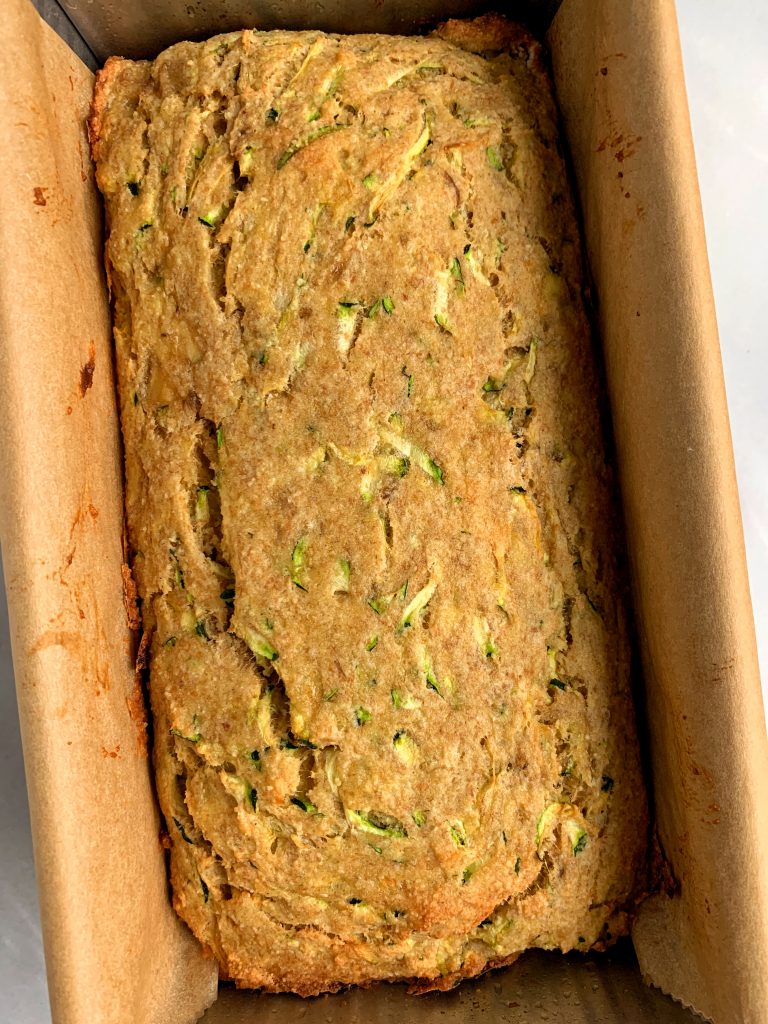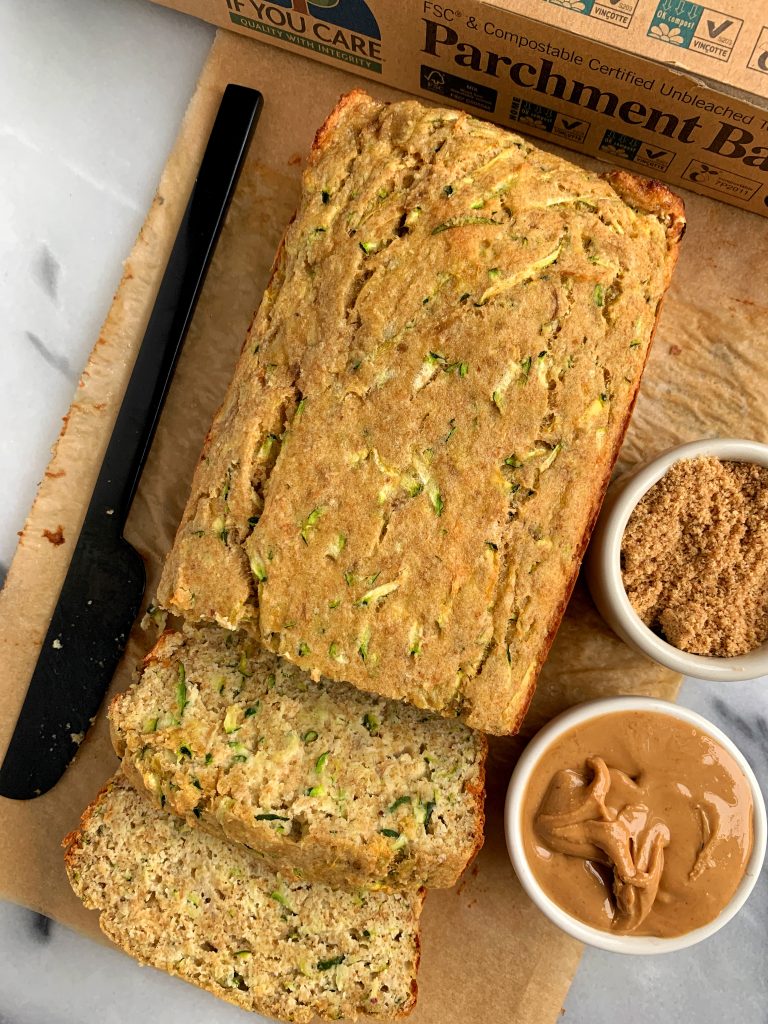 Print
The Best Paleo Banana Zucchini Bread
The Best Paleo Banana Zucchini Bread made with almond flour, ground flaxseed and all gluten-free and dairy-free ingredients. No added sugar and sweetened with just banana.
Prep Time:

5 mins

Cook Time:

45 mins

Total Time:

50 mins
1 cup

mashed banana

1 cup

shredded zucchini (squeeze out excess moisture)

3

pasture-raised eggs*

2 cups

almond flour*

1/2 cup

ground flaxseed

1 teaspoon

baking powder

1/2 teaspoon

cinnamon
Instructions
Preheat oven to 350 degrees and line a loaf pan with an If You Care Baking Sheet (helps prevent bread from sticking!!) and grease a little coconut oil on top
In a large bowl whisk together banana, zucchini and eggs until smooth
Mix in almond flour, flaxseed, baking powder and cinnamon until creamy
Add batter to loaf pan and bake for 45-50 minutes (or until toothpick comes out clean)
Allow the bread to cool for a few minutes then slice and enjoy
Notes
*I haven't tested an egg or flour sub
**Store leftovers in fridge for 5 days or freezer for longer
Thank you If You Care for sponsoring this post!