How to make the Tiktok Grinder Salad Sandwich! This sandwich recipe is going viral on social media and it truly is the most delicious combination.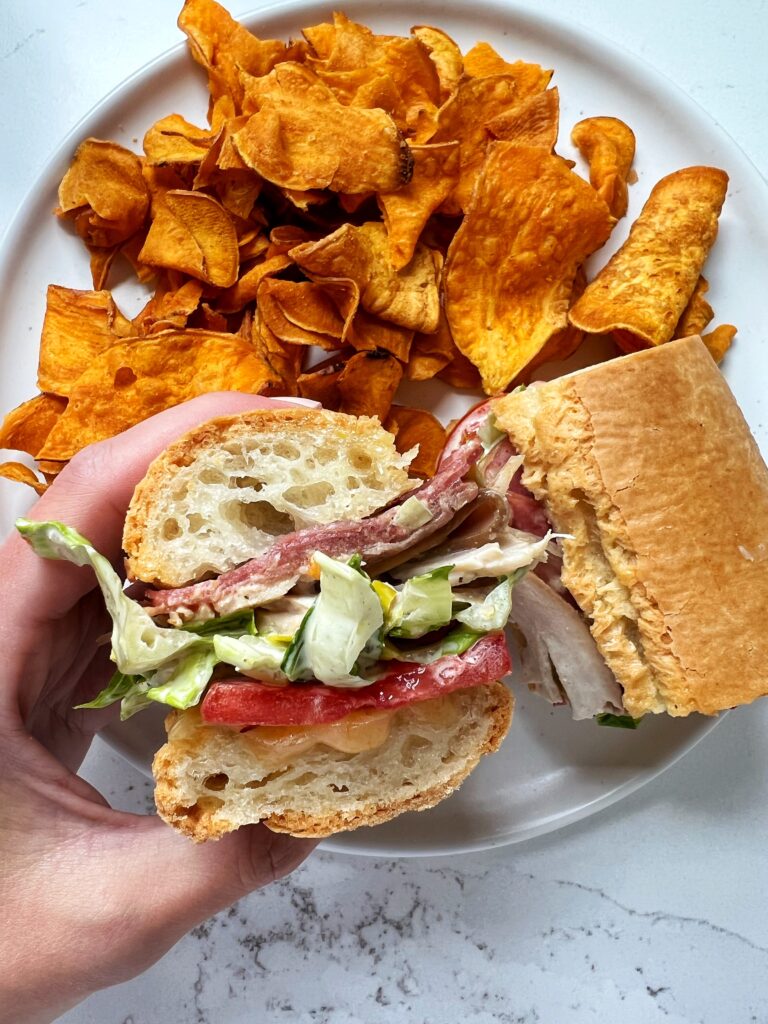 THIS is the sandwich I have been waiting for.
I kept seeing it all over TIktok and I had to try it. I was a little hesitant at first but this combination is insane. And of course Jordan loved it too. I turned it into a salad the next day and scooped it with some chips so if you want to try it that way – also highly recommend it!
I cannot wait to hear what you guys think of this recipe!! Don't forget to tag me on Instagram and Tiktok if you try it.
What ingredients are in the Tiktok Grinder Salad Sandwich:
Baguette of choice – I found a gluten-free one in the freezer section but you can use anything you want! I bet even fresh sourdough would be delicious for this too.
Mayonnaise – this serves as the base for the dressing. But if you don't love mayo, a plain greek yogurt of sorts would work too
White wine vinegar or red wine vinegar
Dijon mustard – or even a spicy brown mustard of sorts would work well here
Garlic clove – I used shallot because it's all I had on hand but garlic is technically what the recipe calls for
Iceberg or romaine lettuce – the crunchiness is what you want here
Pepperoncinis – we always have these on hand because my husband is obsessed. They're a crowd favorite here.
Salami, prosciutto and I used cold cut turkey
Cheese of choice – I used pepper jack because it's all I had
Tomato – seasoned with salt and to make it less watery
How to make the Grinder Sandwich:
Add the mayo, vinegar, mustard, garlic, oregano salt and pepper to a small bowl then mix in the lettuce and the pepperoncinis and set aside
Slice the baguette in half lengthwise and add the meats to one side and the cheese to the other piece of bread
Warm in oven at 350 degrees for 5 minutes
Remove from heat and add the lettuce mixture on top of the meat and add the bread with the cheese on top to sandwich
Cut and enjoy while fresh out of the oven
FAQs on the Grinder Salad Sandwich:
What is a grinder salad sandwich?? A creamy grinder salad that you add to the sandwich. It cuts the texture of the bread leaving it crunchy yet soft. And it is a mayo-based dressing that you add some pepperoncinis and onions if desired too.
But what exactly is a grinder? A Grinder is an Italian American sandwich that uses a long crusted bread roll, filled with meats, cheeses, vegetables and salad. In New England and Pennsylvania, a grinder is normally referred to as a hot submarine sandwich and a cold sandwich is called a sub. Most common names are the submarine sandwich, subs, hoagie, hero, wedge, spukie or the simple Italian sandwich.
What is this Tiktok sandwich? This recipe is going viral right now on Tiktok. That is how I found out about it and made it. And now I am hooked on the addition of the grinder salad to my sandwiches!
A few of my other favorite "viral" recipes to make:
Easy Blueberry Yogurt Bark (with protein + vegan-friendly)
The Viral Custard Toast Recipe!
The Best Vegan Avocado Pesto Pasta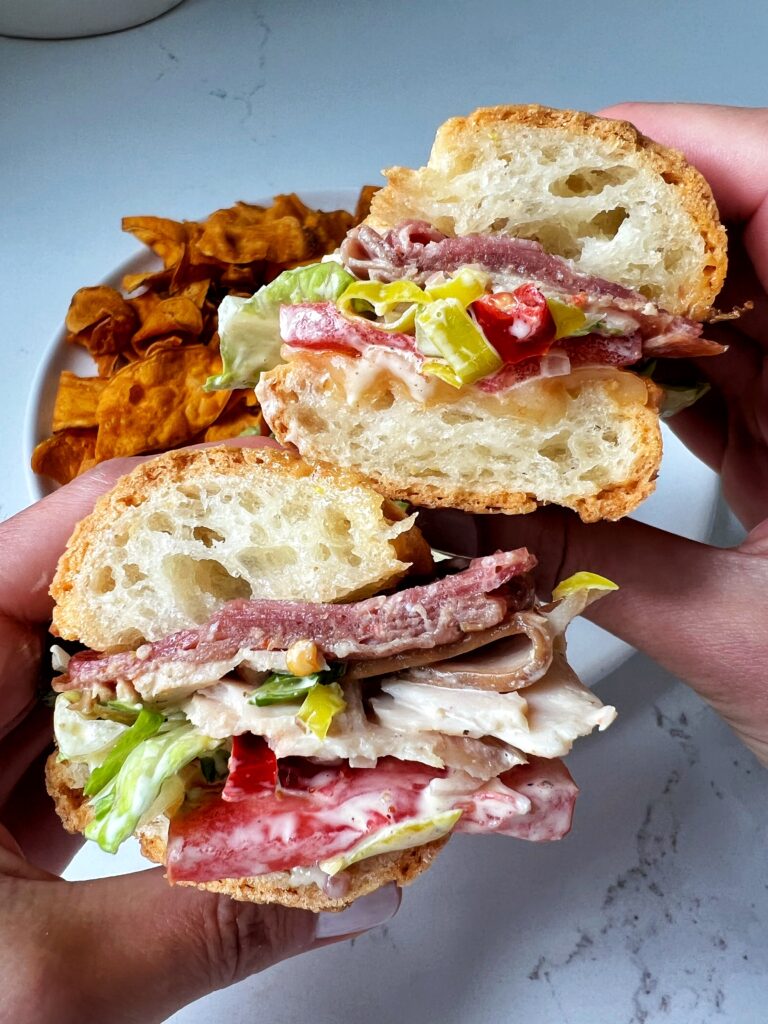 Print
Tiktok Grinder Salad Sandwich
How to make the Tiktok Grinder Salad Sandwich! This sandwich recipe is going viral on social media and it truly is the most delicious combination.
Prep Time:

5 mins

Cook Time:

5 mins

Total Time:

10 mins
6

inch baguette of choice

1/4 cup

mayonnaise

1 tablespoon

white wine vinegar or red wine vinegar

1 teaspoon

dijon mustard

1/2

garlic clove, minced (I used shallot)

1 teaspoon

oregano

Sea salt and pepper to taste

1

bunch iceberg or romaine lettuce, chopped

2 tablespoons

pepperoncinis, chopped

3

pieces salami

3

pieces prosciutto

2

pieces cold cut turkey

2

pieces cheese of choice (I used pepper jack because it's all I had)

1/2

tomato, thinly sliced
Instructions
Add the mayo, vinegar, mustard, garlic, oregano salt and pepper to a small bowl then mix in the lettuce and the pepperoncinis and set aside
Slice the baguette in half lengthwise and add the meats to one side and the cheese to the other piece of bread
Warm in oven at 350 degrees for 5 minutes
Remove from heat and add the lettuce mixture on top of the meat and add the bread with the cheese on top to sandwich
Cut and enjoy while fresh out of the oven