The Most Insane Buffalo Chicken Salad Sandwich that is absolutely delicious! It hits the spot every time and is the best way to use leftover chicken.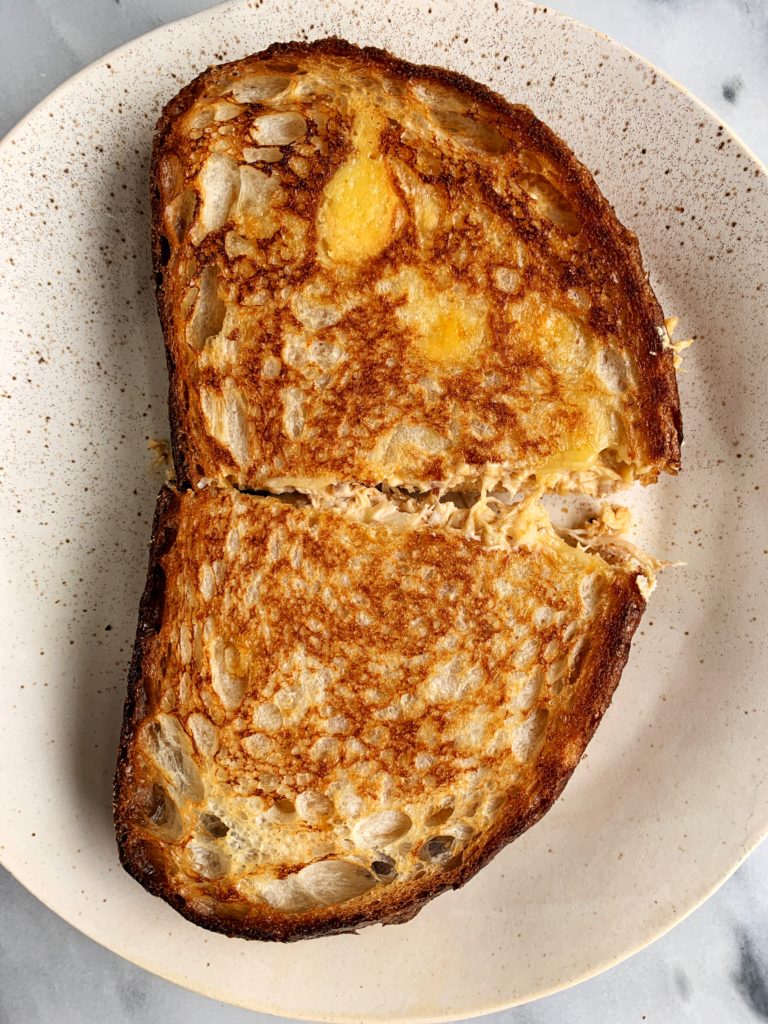 Using up leftovers in a tasty way has me feeling like I accomplished a whole lot just by making one meal.
Then after taking the first bite of this Buffalo Chicken Salad Sandwich – I really felt a whole new kind of way.
This sandwich combo is the ultimate sammie to make when you are craving a grilled cheese type of meal but want a little spicy twist to it. And some extra protein added to make it a bit more satisfying.
I used all ingredients I had in the house like leftover chicken we had roasted earlier in the week, pulled out some condiments from the fridge, leftover cheese and went to town.
The key to getting this sandwich crispy though is greasing the pan really really really good.
Using butter or ghee is my personal preference for cooking this sandwich, but you can also use avocado oil as well. Getting the whole pan greased and cooking no higher than medium heat is so key here. If the heat is higher, the sandwich will burn too quickly.
Another tip to get the sandwich perfectly pressed down: add a skillet or plate on top of the second piece of bread so there is a heavy weight pressing down on the sandwich.
Jordan taught me that tip so I definitely cannot take credit for it. But damn does it work! Just be careful that you use an oven mitt or dish towel when you remove the skillet on top of the sandwich because it will be hot!
Let's run through the ingredients needed to make your Buffalo Chicken Salad Sandwich:
Leftover chicken – breast, thighs, anything! I used leftover roasted chicken from my cookbook, Just the Good Stuff.
Buffalo sauce – hot, mild, anything!
Mayo – any type works
Dijon mustard – just a bit for flavor
Bread – I used sourdough but you can use any and gluten-free if needed
Cheese – I used leftover cheddar but anything works
A few of my other favorite quick and easy meals: One-Skillet Whole30 Cauliflower Fried Rice, 10-minute Sesame Stir Fry Noodles + Healthy Broccoli Mac & Cheese (gluten-free)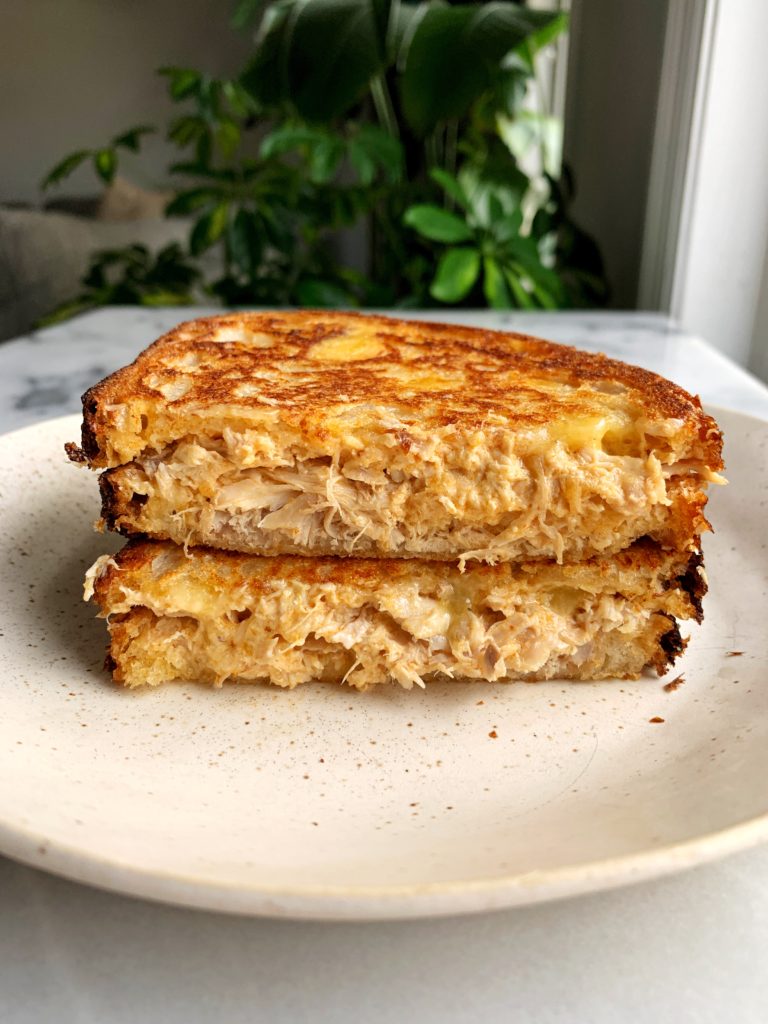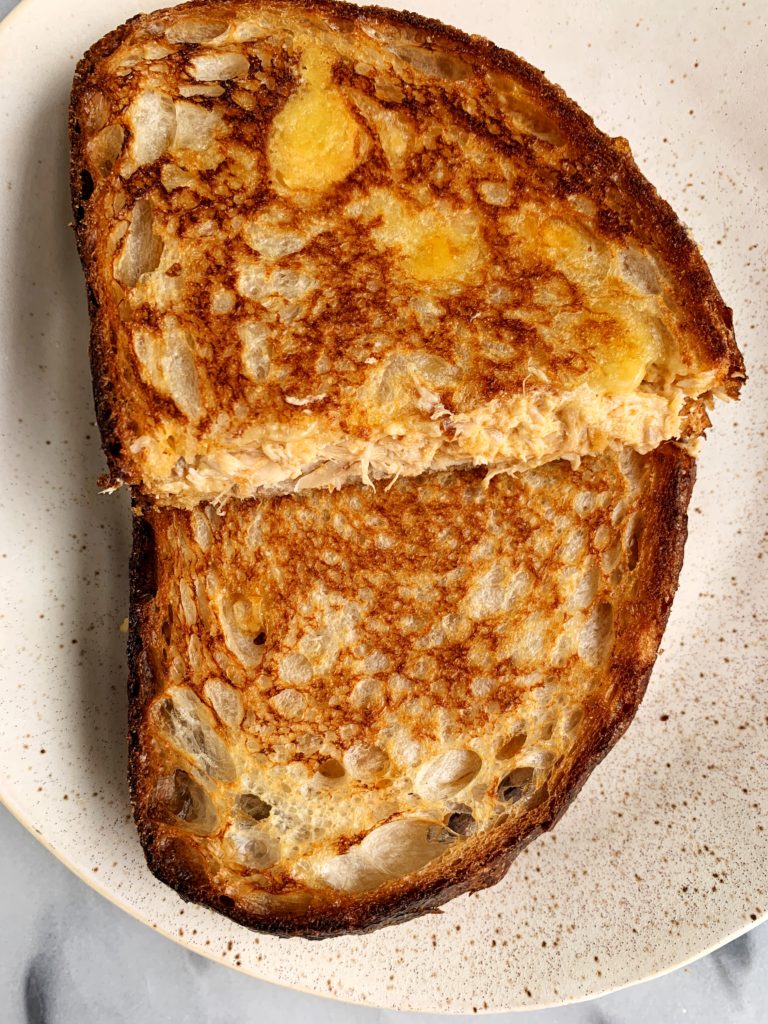 Print
The Most INSANE Buffalo Chicken Salad Sandwich
The Most Insane Buffalo Chicken Salad Sandwich that is absolutely delicious! It hits the spot every time and is the best way to use leftover chicken.
Prep Time:

5 mins

Cook Time:

10 mins

Total Time:

15 mins
About

3/4 cup

leftover chicken (I shredded leftover roasted chicken from JTGS with a fork!)

1.5 tablespoons

mayo of choice

1.5 tablespoons

mild or hot buffalo sauce (adjust to taste)

1/2 tablespoon

dijon mustard

Sea salt + black pepper to taste

2

slices cheese of choice (optional but so good)

2

slices bread (any works – I used sourdough!)

Avocado oil or butter or ghee to grease the pan
Instructions
In a small bowl, mash down the chicken a bit and cut so it is in smaller pieces (some what similar to canned chicken or tuna)
Add in the mayo, buffalo sauce, dijon and sea salt and pepper and mash all together
Heat a large skillet with the oil or butter and make sure it is evenly coated
Turn the heat down to low and add one slice of bread then add the chicken salad on top if it followed by the cheese then the other slice of bread
Turn heat to medium and crisp for about 3-5 minutes then turn over and cook for another 3 minutes or until crispy
Remove from heat and enjoy while warm!