Travel Guide to Charleston: What to see and do for a quick few days down in South Carolina!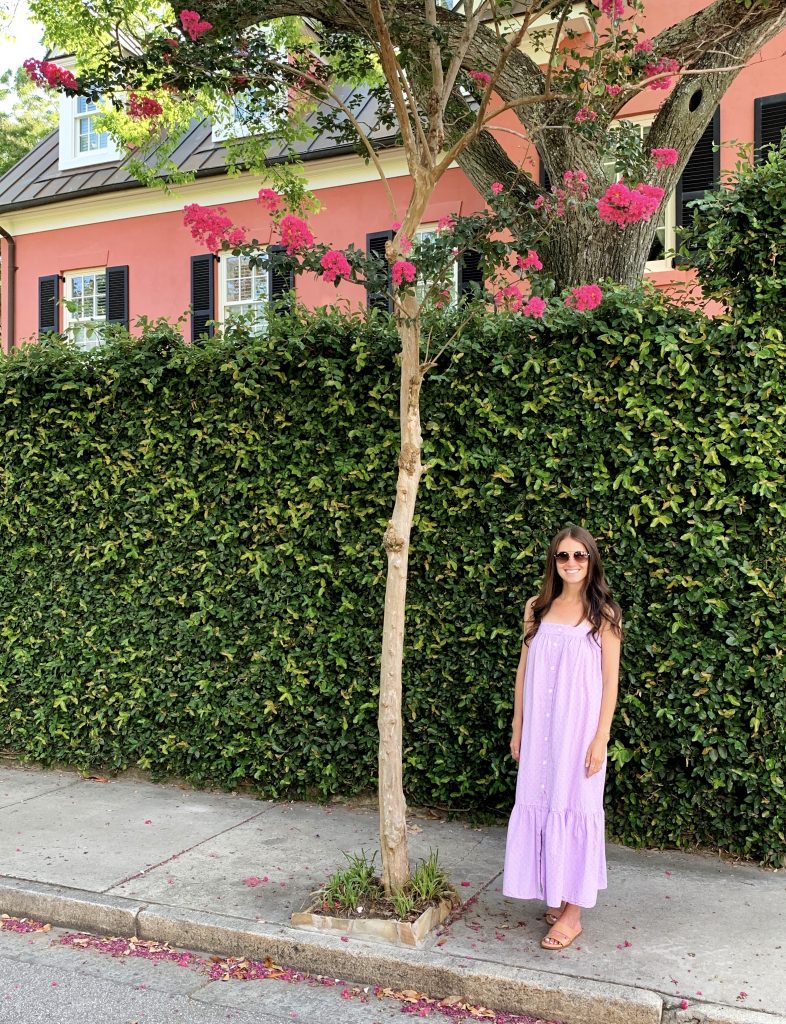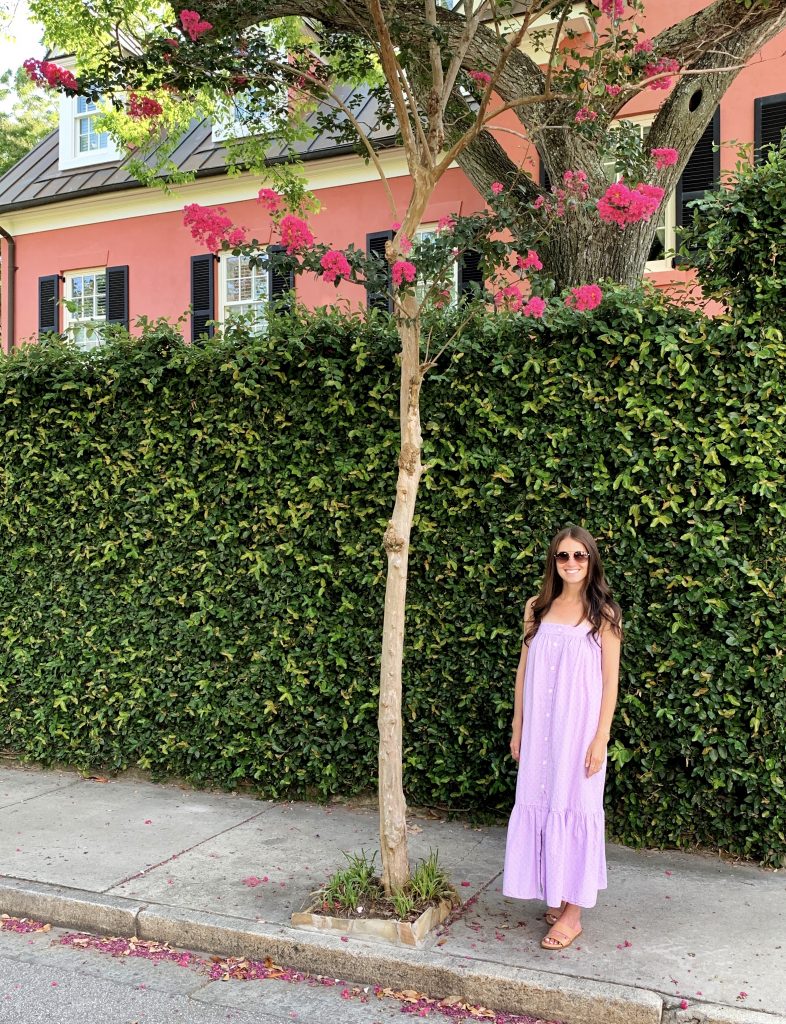 Our third family trip is in the books! After taking Ezra to the Sonoma Coast and San Fransisco when he was just shy of 3 months, we were feeling a bit ballzy enough to take him away again with us to Charleston. Jordan and I had both never been and it has been on our bucket list for far too long. We intentionally saved some of the more feasible travel destinations for when we did have kids, since we knew it would be easier to bring them somewhere that is a short plane ride away.
Overall we were really impressed with the city. It was very hot and humid, but we both love the heat. One day the weather app said "feels like 105". Yes we sweat a lot and looked like wet puppies walking around but loved every moment. Ezra was in the stroller with his fan blowing on him every time we were outside though. Next time I will come back as a 5 month old with a dad like Jordan who basically has an air mister blowing on him..
I felt the city itself was very child-friendly and there were a ton of families around plus the dozens of bachelorette parties we saw on the sidewalk everyday. A mix of different people and groups visiting for sure. Charleston is absolutely stunning too and the houses are beyond gorgeous – believe the hype. All of the pastel colored homes and easy access to the water views when walking were beautiful. It is also very very clean and well kept. I felt everything was really accessible around and there was a lot to see/do/eat (more on that in a minute!).
We hope to go back again to see even more of it but I highly recommend headed that way if you haven't been before! Maybe next time sans baby so we can have a bit more of a nightlife and not eat takeout in the hotel bed every night 😉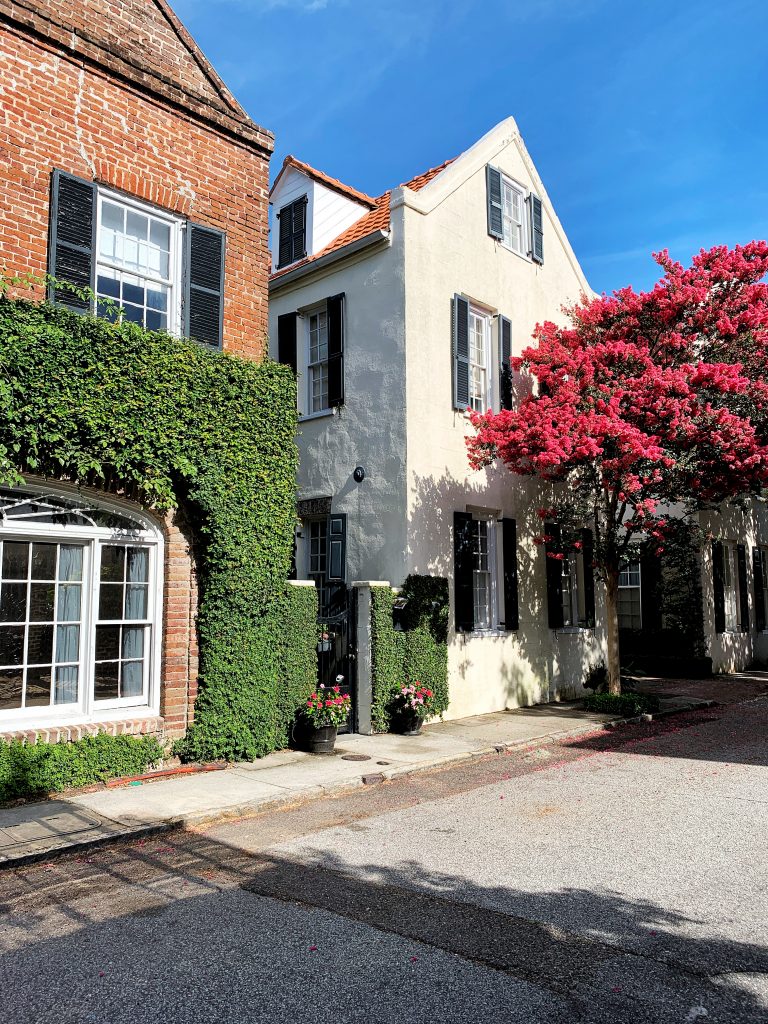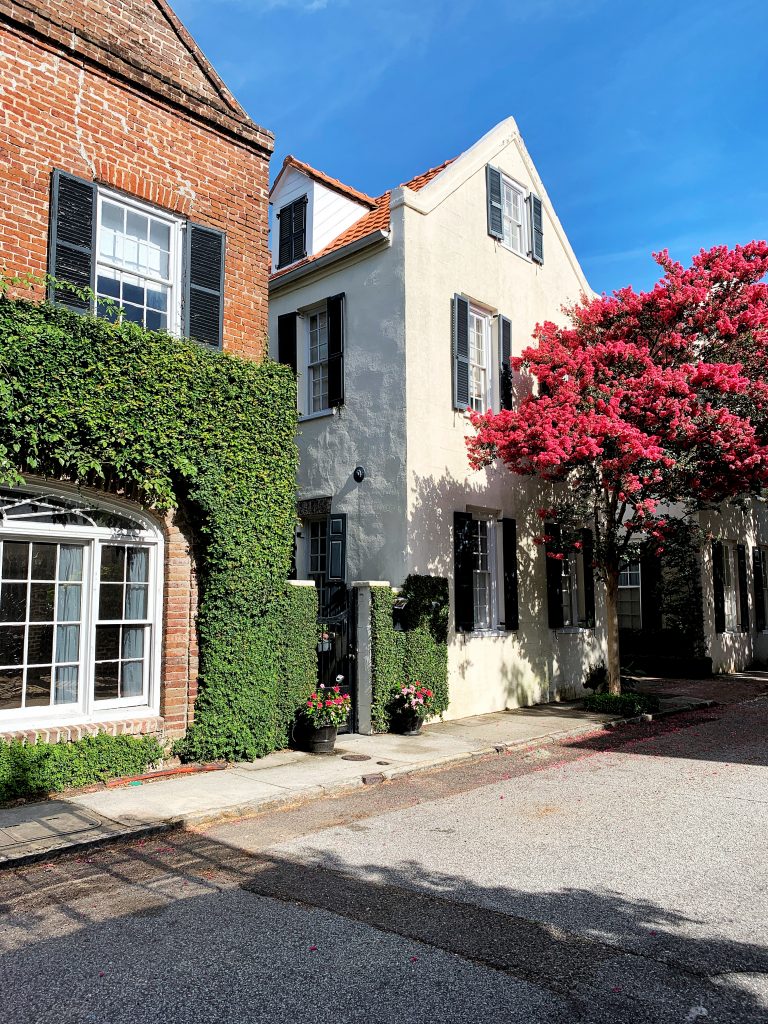 The run down on traveling to Charleston, SC:
How to get there:

We flew from Newark airport right into Charleston International. It was an hour and a half trip – super easy! And the city's downtown was only a 20 minute drive from the airport too. So convenient to get to and huge perk that there was no traffic to or from each way.

Where to stay:

We looked at many hotels when we were planning the trip. I also polled the experts (aka my Instagram community) and so many people said Belmond Charleston Place. I did some reading and stalking about the hotel and was so impressed after hearing nothing but amazing things. And they completely exceeded our expectations by a long shot! The hotel itself is located in an awesome area, especially if you're new to to Charleston. We were able to walk to a lot of the places we wanted to see and this made it easier for us to go in and out of the hotel all day with Ezra too. The staff was so warm and welcoming and at first I thought it was just someone lucky at the front desk but every single person we encountered from the staff was so kind. Also a huge shoutout to the bartender who let me keep my freezer packs in the freezer overnight before I traveled home with breastmilk – you are the MVP!
Our room during our stay allowed us to utilize the club access aka unlimited food and drinks pretty much all day. Our room was next door to this area and needless to say, it came in handy when you put your babe down at 7pm and want to have access to the outside world and the nightly dessert bar was insane. Every meal and snack time, Jord and I would pile our plates with so many options. Out of any concierge-type offerings from hotels we have had in the past, they had such an impressive amount for guests. Breakfast had a variety of warm dishes, biscuits, pastries, bagels, lox, fruits, everything you want in a hotel breakfast. Jordan's favorite was tea time (not kidding) which was when they had some more biscuits too (extra crunchy he said). We'd also go for dinner and dessert to bring food back to the room. Their peanut butter cookies were so soft and delicious. Jord was too busy obsessing over the organic beer at the bar. I highly recommend adding this option to your stay if it works for you! It came in handy every single day.
The overall size of the Belmond Charleston Place was also quite large for Charleston. It has a small mall of sorts on the first floor of the hotel with many shops. Again a huge perk with bringing Ezra because there were plenty of areas to push the stroller around in the air conditioning! And when it cooled down a bit, we went to hang out on the pool level where there was a rooftop patio/bar. It was a such a treat for us to hang out outside since we don't have any outdoor space here in Hoboken. Most of the hotels we also looked at were a bit smaller and we knew we needed something with a bit more space.
If you're traveling to Charleston soon – highly recommend staying here!

How to get around:

This is where we messed up a bit. At first we didn't' think we would need a car since we were only going for 3 days and everyone said it was pretty walkable. Most of Charleston is indeed walkable but there are definitely places we wanted to go to like Sullivan's Island or even restaurants a little north of where we stayed. It's a pain to take an Uber with the car seat (we don't have a travel one yet – need to get!) so next time we'd probably rent a car if Ez was with us.

What to do:

Walk around King street – there are a ton of shops and it stretches a good amount of Charleston for you to see. Plus there are a lot of cute side streets off King that have food spots and pretty areas to walk around.
Rainbow Row – go early if you can. The homes were the most gorgeous color but honestly the hype was a bit much in my opinion. Definitely worth seeing but it wasn't anything "oh my gosh".
City Market – same as Rainbow Row. Worth strolling through but it gets crowded so we went earlier.
South of Broad – loved walking around this area. Super residential if you head south towards the water and you can get lost looking at the homes there. There are so many side streets and things to see. We took our morning walks around here.
College of Charleston – on our way to lunch one day we strolled through the campus. It was cute and there are places to sit and hang. You can tell the city really supports the college too. Tons of branding for it around the city, which was so nice to see.

Where to eat:

Callie's Hot Little Biscuits – you can't go to the south and not get biscuits according to Jordan. Callie's was absolutely delicious and one of the most recommended stops from many people during our trip. They have two locations: one on King street and another in the City Market. We went to the City Market one since it was closest to our hotel. We got the 3 biscuit special where you can try a few of their varieties. We did buttermilk, cheddar and bacon. They were insane and well worth going to if you want to try a real biscuit. The staff that works there was also really sweet and helpful in trying to decide what to try. We went for a little snack but next time going for a meal to try the biscuit breakfast sandwich – it looked insane!
Jeni's Splendid Ice Creams – you have likely seen Jeni's in the grocery store but Charleston has a scoop shop! We headed there right off the plane because of course that was our top priority. They had their new dairy-free flavors. I got the texas sheet cake and sadly the dark chocolate truffle was all out. Jordan got a cone with dairy-free cold brew with coconut cream and biscuit with peach jam. We loved it and the waffle cone was great. The only downside was the staff here. We felt they were pretty rude and rushed you, which after speaking with many locals – they said that is the usual crew there. Love the corporate team though, just wish the shop was as kind!
Basic Kitchen – we ate here 3 times pretty much because we loved the menu and it was .3 miles from the hotel. We both got the burgers (100% grass-fed) and they were delicious. Also got the basic bowl with salmon, which was very season-heavy but good and the buffalo cauliflower, which was amazing. I don't recommend the avocado toast because it was really underwhelming and I was still hungry after. The bread was thin and nothing special. I do wish I tried the sweet potato noodles with the peanut sauce though. The hours they were opened were also a bit off. Only serve snacks from 3-5:30pm and they close at 5:30pm on Sunday's. Definitely used to longer hours but that is because NYC doesn't sleep 😉
The Daily – LOVED the food here. Best avocado toast ever and the baked goods were delicious. My in-laws got me a gift card here for my birthday so I went insane ordering everything when we went. Tried the banana bread, sea salt cookie and the crumb cake – all so good. The cookie was one of my favorites ever for a classic cookie. The hash browns and sausage biscuit was great too and you can add bacon to your avocado toast, which in my opinion is genius. I wish we snagged some of their english muffins to go to try at home but totally forgot.
Swig + Swine – this place was highly recommended for BBQ food but it was kind of meh. Nothing too crazy and we wouldn't go back for the food. The staff there though was so kind and patient when I stood there for 10 minutes losing my credit card to then find it on the floor in front of me (story of my life)
Other places we wanted to try but didn't have time: Husk, Fig, 167 Raw, Butcher and Bee (owner of The Daily), Obstinate Daughter (on Sullivan's Island), Xiao Bao Biscuit, Lewis BBQ, Peace Pie, Jack's Tavern and Darling Oyster Bar
Also a heads up to anyone visiting Charleston on a Sunday – we had a really hard time finding somewhere to eat for dinner. Most of the city closes and there were basically no options for takeout by us. We also got Chipotle. We love Chipotle don't get me wrong – but we prefer to try new things when traveling!
Hope you guys enjoy your travels to Charleston!! Let me know if you try any of the places above 🙂 And if you're traveling with an infant soon – here is my go-to list of what to bring.
xx, Rach