Veggies in Smoothies 101 + My Absolute Favorite Zucchini Bread Smoothie!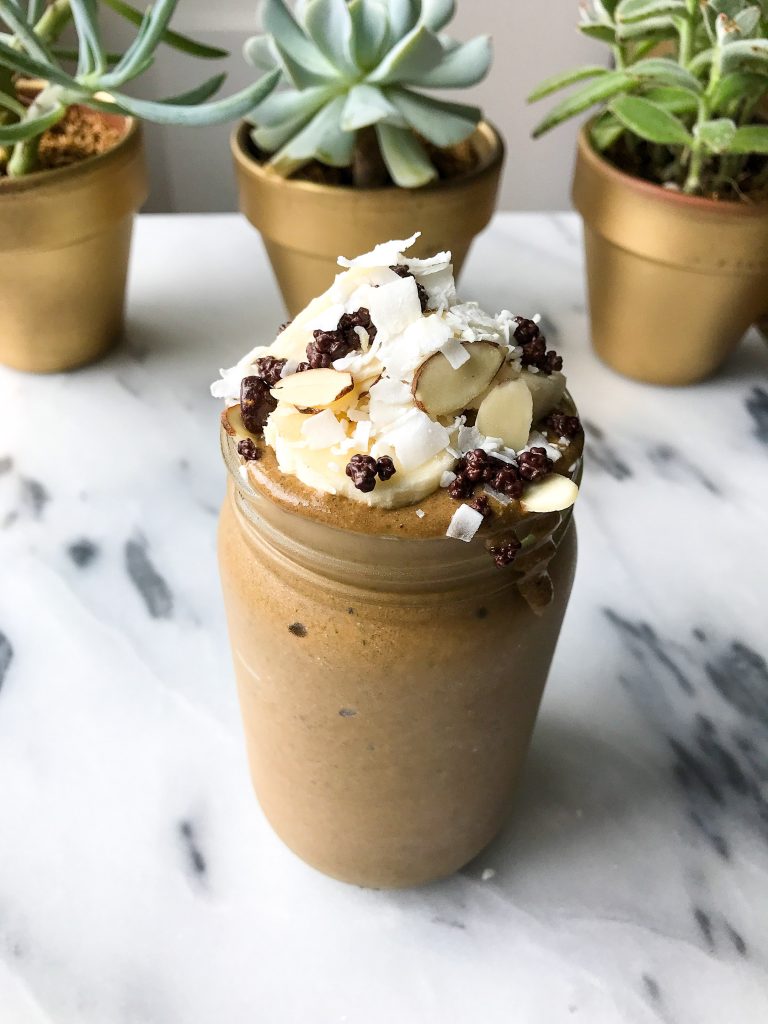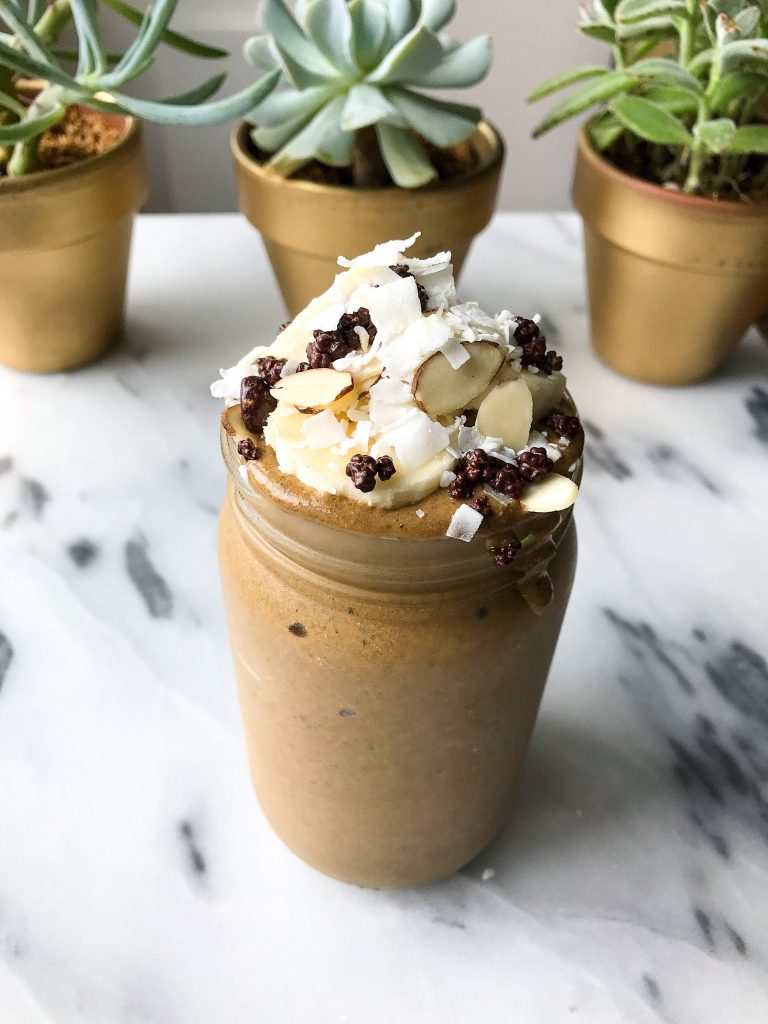 Smooooooooothie time.
You guys, I have officially converted. The girl who never liked smoothies and spent abut 20 years telling people that, officially is loving smoothies. But in my defense, I really only like smoothies thick enough to eat with a spoon. No straw drinking type smoothies are happening over here.
What I love about having smoothies is how much random goodness I can add to the blender to get more nutrients. I add anything from cauliflower to zucchini to GREENS in my smoothies. You don't taste any if it in there I promise. I add enough other tasty stuff so you won't even know there are vegetables in your smoothie.
This smoothie I am sharing with you today is My Absolute Favorite Zucchini Bread Smoothie. Like UNREAL favorite smoothie. I make it a few days a week and it is my go-to when I need an easy breakfast, afternoon pick me up or let's be real, when I don't want to make dinner and a smoothie sounds 100x easier.
But first, I want to walk you though my 3 go-to veggies to add to smoothies and how I prepare them for my smoothies. I get a TON of questions on this and want to outline it for ya'll to have here. If you have any other questions, comment on my IG or below and I will add more info here.
Veggies in smoothies 101
Cauliflower: Since late winter, I have been LOVING cauliflower in my smoothies. I purchase the frozen organic florets from Whole Foods. I boil a big pot of water, add the cauliflower in and cook for about 5-7 minutes. Then I strain in the sink, rinse in cold water in store in the fridge. You CAN use the cauliflower raw or frozen but I personally digest it better when it is steamed and NOT frozen (find what works for you!). I don't think you taste it when you use cauliflower, it really just adds a creamy consistency without added sugar. If you are hesitant, start with 1/2 a cup and mix with a banana! I also store it in the FRIDGE not freezer because I don't like to give my body all frozen food as soon as I wake up.
Zucchini: My personal favorite veggie to add to my smoothies. I slice up zucchini and then freeze it. I do not steam or cook beforehand although you absolutely can. I use these bags to keep them in the freezer! They are AMAZING.
Organic Girl Greens: I'm so bad at getting greens in more than once a day so adding any of Organic Girl's variety of greens really helps me get extra nutrients. I use them all raw but you can also cook and freeze them if you prefer. They will stay longer that way too!
Now for this Zucchini Bread Smoothie, I added Organic Girl Super Spinach, which blends baby spinach, baby bok choy and baby kale. SO GOOD! You can add any of Organic Girl's greens to the smoothie though. Get creative friends!
WHAT YOU NEED
Frozen banana (none frozen works or add a date)
Frozen Zucchini (I use raw but you can steam then freeze too)
Avocado
Nut butter
Chia or flax seeds
Cacao powder
Nut milk
Protein powder of choice
Collagen peptides (extra boost)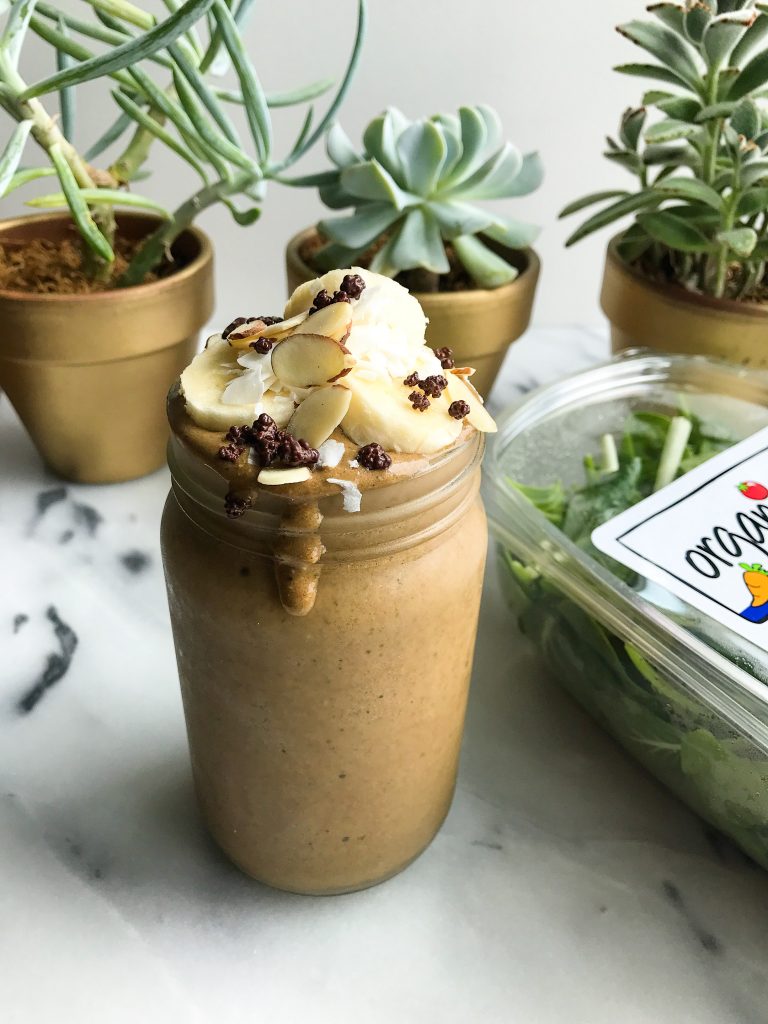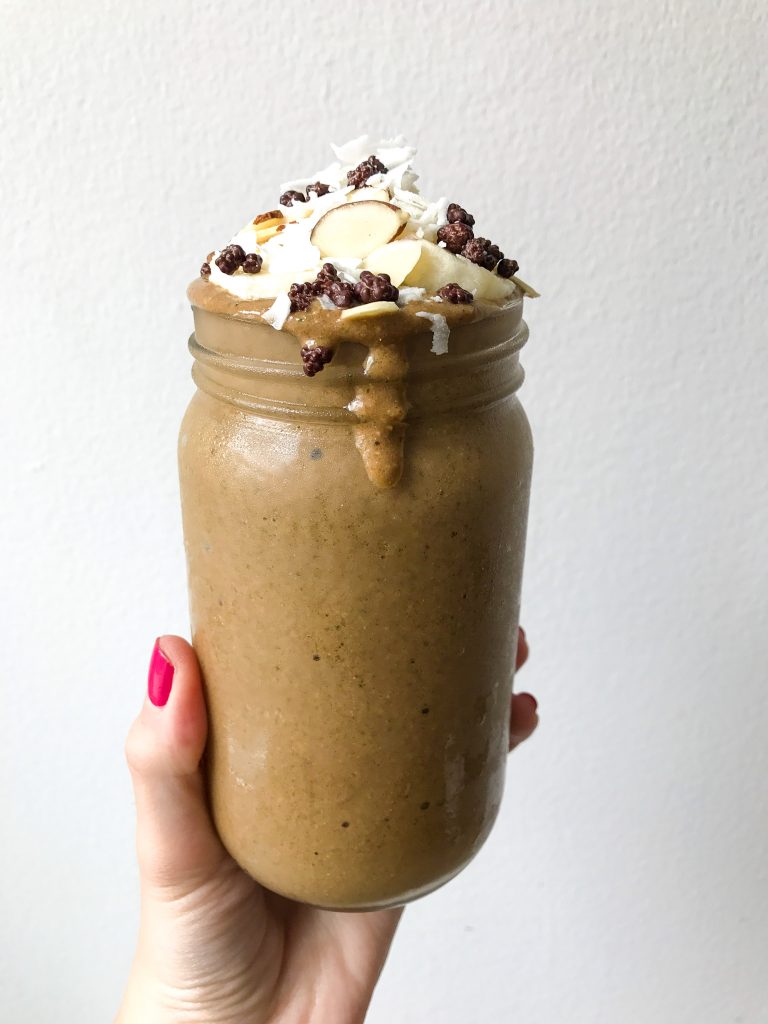 Print
My Favorite Zucchini Bread Smoothie
1

frozen banana (or a date)

1/3 cup

frozen zucchini

1/3

avocado

1/2 cup

Organic Girl Super Spinach

1 tablespoon

nut butter of choice

1 tablespoon

flaxseed or chia seed

1/2 tablespoon

cacao powder

1/3 cup

almond milk

1

scoop chocolate protein powder

Optional: 1 scoop collagen peptides
Instructions
Add all ingredients to blend and blend until completely combined (this may take a few minutes and you may need to use a spatula to break it up and mix)
Remove from blender and pour into glass of choice
Top with your preferred toppings, I used a little banana, coconut, almonds and chocolate chia seeds! Granola would be great too.
Author:
Category:

grain-free, vegan, dairy-free

Cuisine:

smoothie, breakfast
xx, Rach


Thank you Organic Girl for sponsoring this post. It means so much to me to work with brands that I love and who support rachLmansfield!
SaveSave