Whether it's your first time hosting Thanksgiving or you're a seasoned veteran, here is our most favorite menu to satisfy everyone at your table this year. And these options are all gluten-free, many dairy-free and allergen-friendly.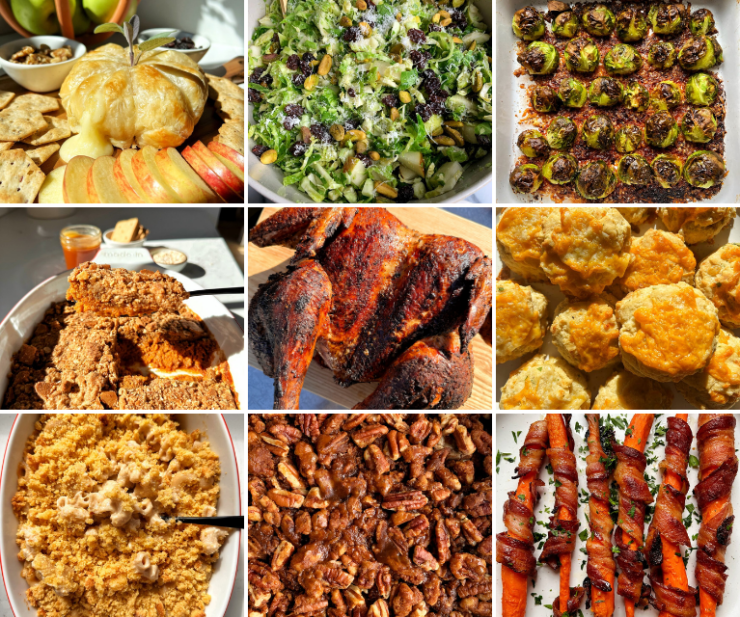 To make everyone's life a little easier for this Thanksgiving, we curated a full Thanksgiving menu for you and your family and friends. This should hit all the cravings and we hope you enjoy each of these dishes too.
This menu is 100% gluten-free but also has many great options for others with dietary restrictions.
Feel free to print this menu out and call it your own (I won't tell!!).
Thanksgiving Day Menu: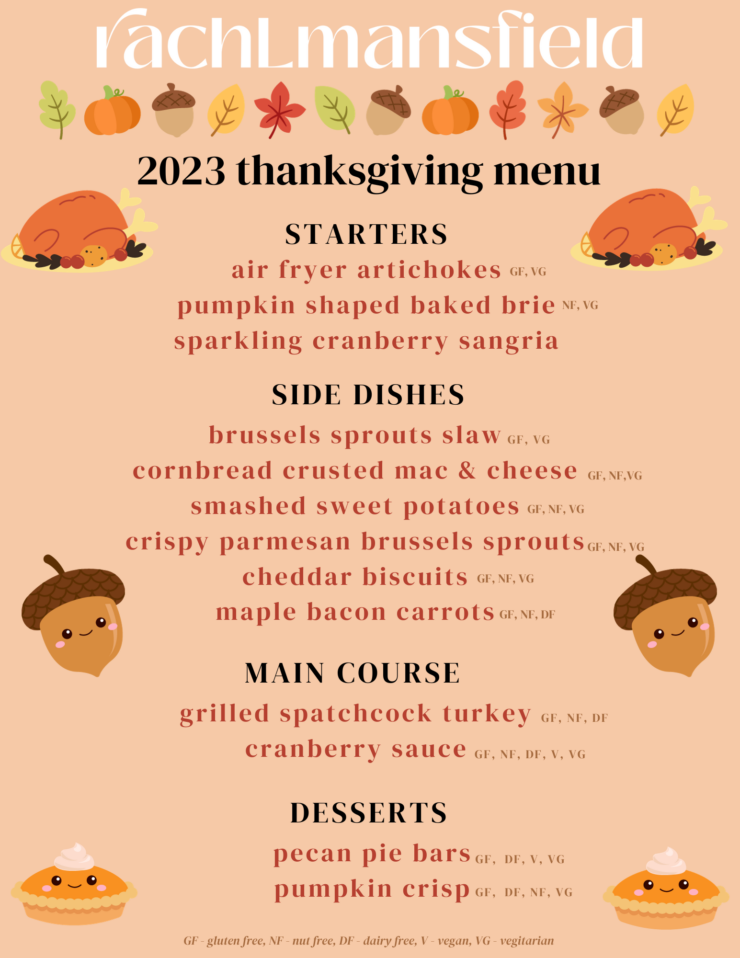 Thanksgiving Starters + cocktail:
Air Fryer Artichokes – This is a great finger food that won't fill you up before the Thanksgiving feast.
Pumpkin Shaped Baked Brie – Baked brie is always a family favorite at holidays, the pumpkin shaped puffed crust really takes it up a notch and will be sure to impress your guests.
Sparkling Cranberry Sangria – Have left over cranberries? Here's a delicious Thanksgiving inspired sangria to serve.
Thanksgiving Side Dishes:
Brussels Sprout Slaw – I think every meal needs some sort of salad and this is a great addition to the Thanksgiving menu.
Gluten-free Baked Macaroni and Cheese with Cornbread Crust – Macaroni and cheese is such a comfort food staple and the addition of the corn bread takes it to another level.
Smashed Sweet Potatoes – As these smashed sweet potatoes roast it naturally makes a candied crust which is AMAZING!
Crispy Parmesan Brussels Sprouts – The crispy parmesan crust will definitely be a hot commodity on your table.
Cheddar Biscuits – You can't go wrong with these melt in your mouth biscuits. Pro tip make a turkey and cranberry leftover biscuit sandwich then next day.
Maple Bacon Carrots – Not only is the presentation of this dish amazing but the flavor profile is spot on!
For the Main Course:
Grilled Spatchcock Turkey – I don't know why every turkey isn't cooked this way. After perfecting our spatchcock chicken I knew we would have to try it with Turkey come Thanksgiving. It cooks in less than half the time, stays juicy and tastes delicious!
Cranberry Sauce – Trust me make your own cranberry sauce.
Thanksgiving Dessert:
Pecan Pie Bars – This is by far one of my most requested desserts and pairs perfectly with a homemade whipped cream.
Pumpkin Crisp – You can't have a Thanksgiving without a pumpkin dessert and this new addition to my menu will sure hit the spot.
Couldn't find something you were looking for?
I have so many more delicious recipes that are great for Thanksgiving. Check out this round up of Healthy Thanksgiving Recipes To Make All Day!