This Pumpkin Crisp is the ultimate pumpkin dessert to make. It is made with gluten-free, nut-free and dairy-free ingredients and is my personal favorite over pumpkin pie!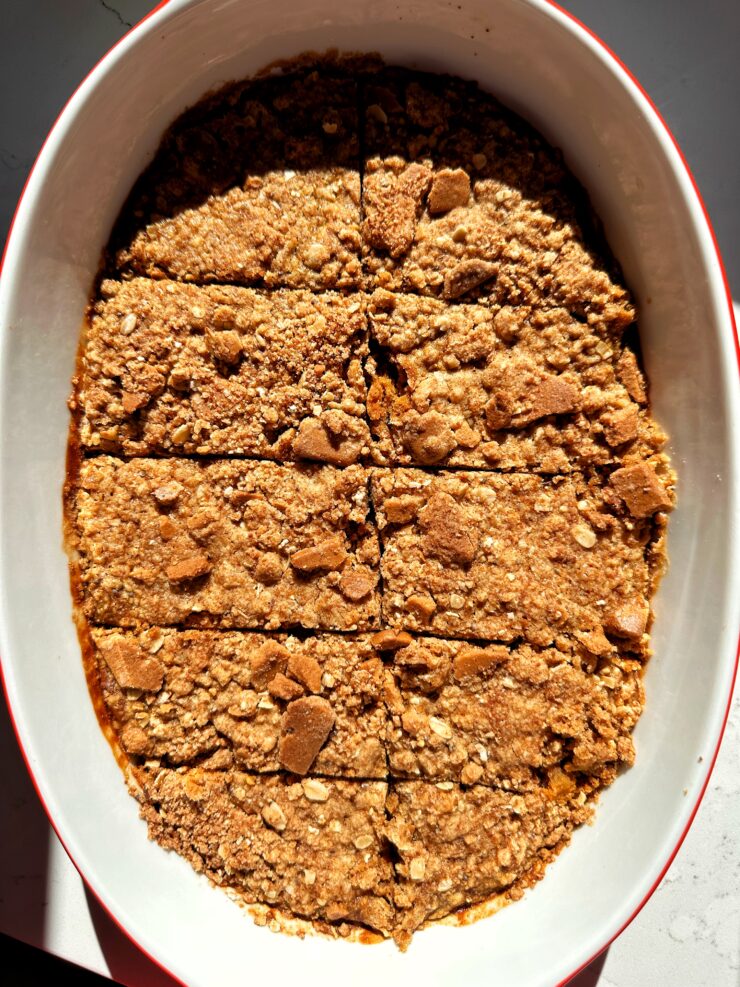 This Pumpkin Crispy is the new pumpkin dessert to make. Pumpkin pie is great and all but this is the dessert we make in our house over pumpkin pie. A fluffy light pumpkin filling topped with a crispy buttery crisp is just out of this world.
Pumpkin crisp outshines pumpkin pie in my opinion. It is more flavorful, easier to make and it is the ultimate vehicle for your favorite vanilla ice cream or a whipped creamy topping.
If you love pumpkin or are looking to make a pumpkin dessert of sorts for the holiday, give this one a try. It is really unique from most pumpkin desserts and it's my personal favorite. You can serve it warm from the oven with some delicious ice cream on on top. And the leftovers are just as delicious. I was standing in the kitchen eating this cold from the fridge and it was still absolutely amazing.
Even my husband who doesn't love pumpkin pie, was somehow obsessed with this too. I love how quick this recipe comes together and it's one you can prep the morning of or before you want to serve. Just make the filling and crumb topping then add together to baking dish right before making. Be sure to chill the filling though if you do this.
I cannot wait to hear what you think of this crisp. Let me know if you make it!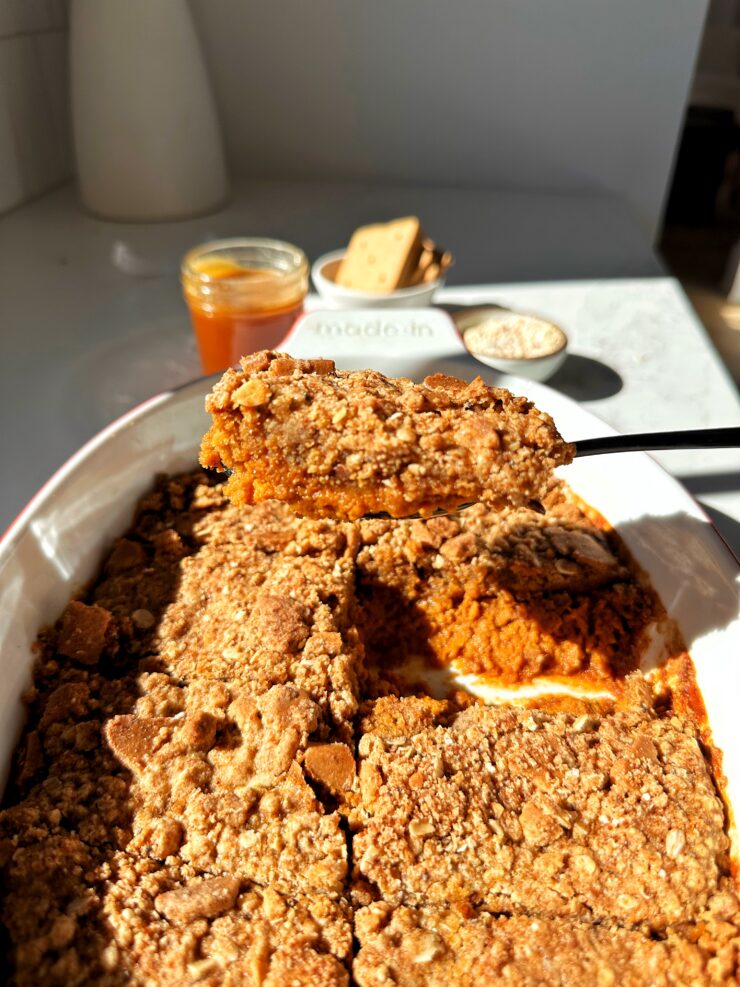 What ingredients you need to make Pumpkin Crisp:
Pumpkin puree – you can use canned puree or make your own if you prefer. We don't use pumpkin pie filling though (it is loaded with sugar)
Coconut sugar – if you prefer cane sugar you can use that for the pumpkin filling and then brown sugar for crisp topping
Eggs – or you can use flax egg if you prefer
Vanilla extract – a must for flavor in basically every dessert
Pumpkin pie spice – a staple for any pumpkin dessert
Full-fat coconut milk – cream from the top or use heavy cream
Gluten-free flour – or use all purpose flour if not gluten-free
Gluten-free graham crackers – I love adding these for flavor and texture
Gluten-free rolled oats or quick oats – either can work for the topping
Vegan butter or unsalted butter – you can use either vegan butter or unsalted butter for the crumb topping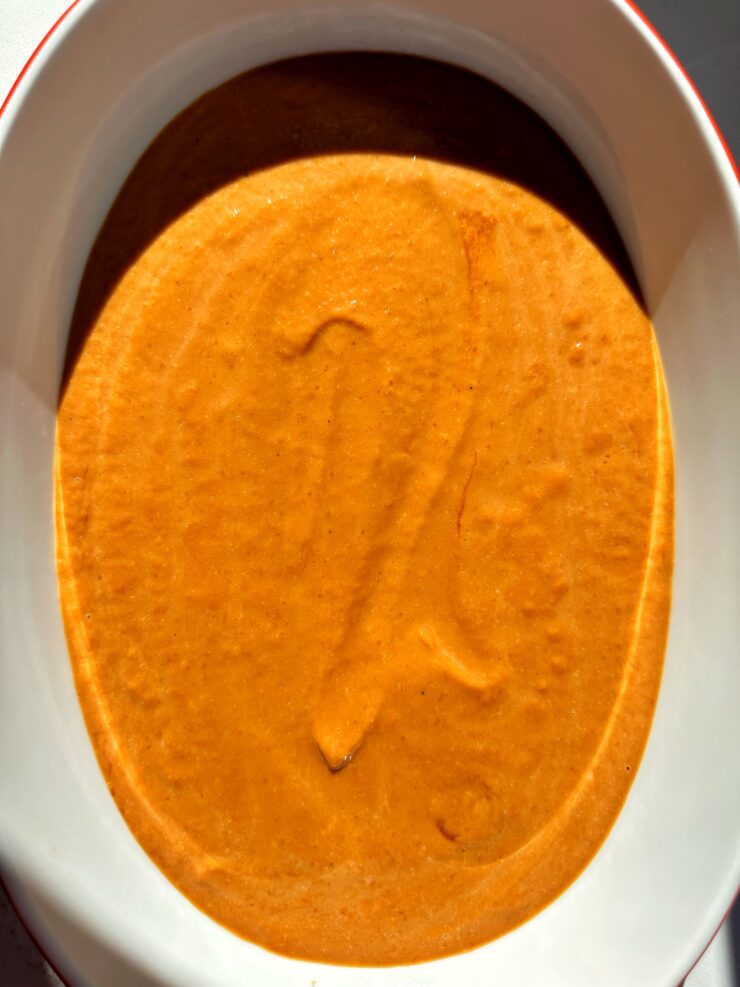 How to make the best Pumpkin Crisp recipe:
Preheat oven to 375 degrees F and take out a large baking dish
In a large bowl, whisk together pumpkin, sugar, eggs, vanilla, pumpkin pie spice and sea salt until smooth
Mix in coconut milk cream until smooth
Next make the crumb topping by adding butter, flour, sugar, salt, spice, graham crackers and oats to large mixing bowl and mix together until mixture is uniform and crumbly (use your hands or a fork)
Add the pumpkin mixture to baking dish and top with crumble topping
Bake in oven for 40-45 minutes or until the the top is golden and the dish doesn't jiggle when you shake it
Serve warm with ice cream or whipped cream
FAQs and tips on making Pumpkin Crisp:
What is a pumpkin crisp? Think pumpkin pie meets a cobbler crisp recipe. The texture of this crisp is different than pie as it's not as dense. The filling here is light and fluffy and kind of mousse-like. Such a delicious dessert for any pumpkin lover.
Can I prep this ahead of time? Absolutely. I recommend prepping the filling and crumb topping then assembling right before baking. Just keep the filling in the fridge until ready to cook.
Can I make this recipe vegan? Of course. Use flax eggs or your favorite egg substitute to make this vegan. You can use vegan butter too and we use coconut cream instead of heavy cream.
How many does this crisp serve? About 6-8 people for a smaller serving.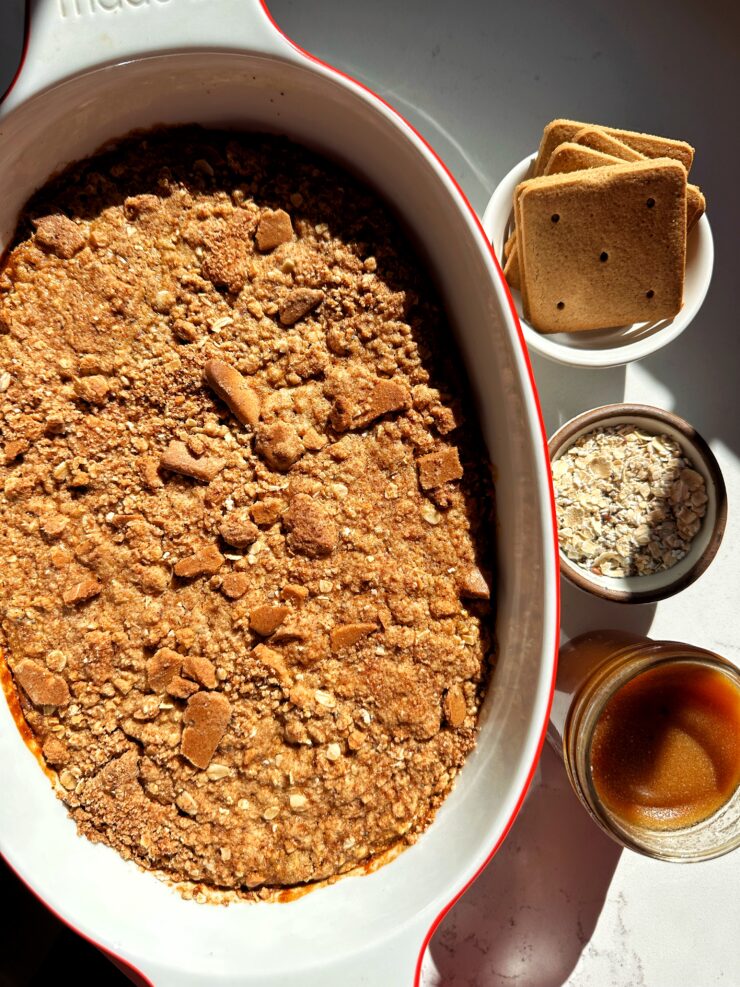 A few other delicious gluten-free fall dessert recipes to try:
Starbucks Pumpkin Cream Cheese Muffins (gluten-free)
Apple Fritter Cake (gluten-free)
Brown Butter Maple Pumpkin Bread (gluten-free)
Gluten-free Pecan Carrot Cookie Cake (egg-free +grain-free)
Print
The BEST Pumpkin Crisp Recipe (gluten-free)
This Pumpkin Crisp is the ultimate pumpkin dessert to make. It is made with gluten-free, nut-free and dairy-free ingredients and is my personal favorite over pumpkin pie!
Prep Time:

10 mins

Cook Time:

45 mins

Total Time:

55 mins
Pumpkin filling:
15

-ounce can pumpkin puree

1 cup

coconut sugar

3

large eggs or flax eggs

2 teaspoon

vanilla extract

1 1/2 teaspoon

pumpkin pie spice

2/3 cup

full-fat coconut milk (cream from the top or use heavy cream)
Crisp topping:
Instructions
Preheat oven to 375 degrees F and take out a large baking dish
In a large bowl, whisk together pumpkin, sugar, eggs, vanilla, pumpkin pie spice and sea salt until smooth
Mix in coconut milk cream until smooth
Next make the crumb topping by adding butter, flour, sugar, salt, spice, graham crackers and oats to large mixing bowl and mix together until mixture is uniform and crumbly (use your hands or a fork)
Add the pumpkin mixture to baking dish and top with crumble topping
Bake in oven for 40-45 minutes or until the the top is golden and the dish doesn't jiggle when you shake it
Serve warm with ice cream or whipped cream
Notes
*Store leftovers in fridge for 5 days and warm up in oven or microwave before serving