Browned Butter Chocolate Chip Cookie Sheet made with gluten-free and nut-free ingredients for a healthier cookie recipe!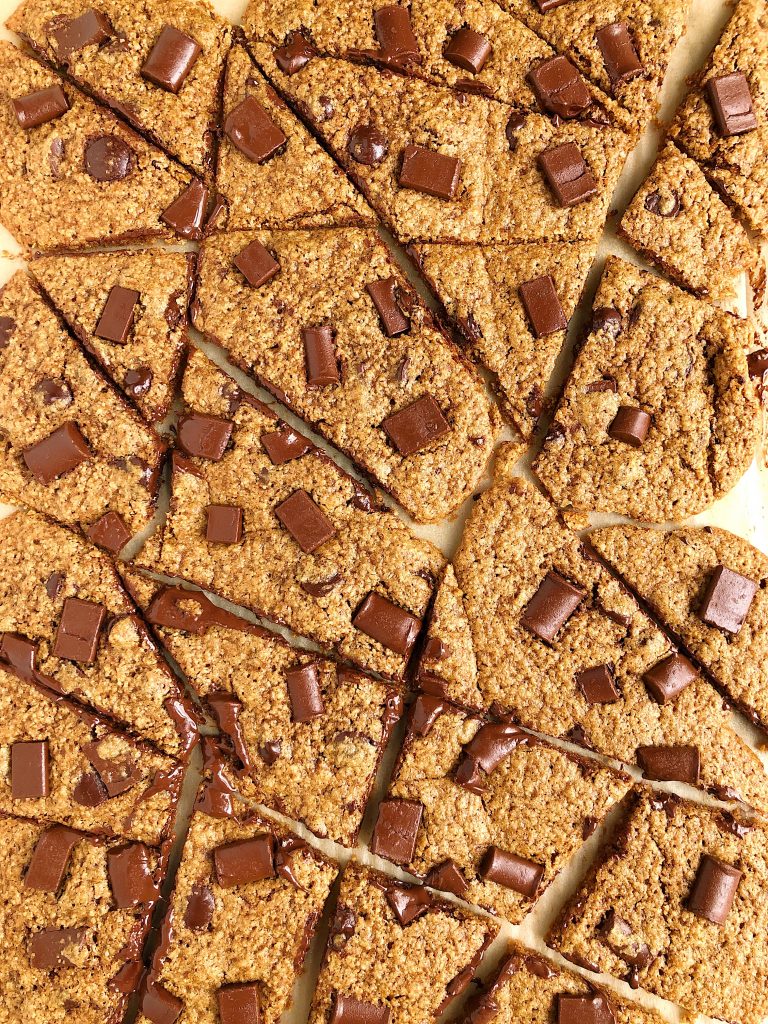 There is something about baking cookies that have butter in them.
Whenever I bite into a cookie that has butter in it, I know there is without even seeing the ingredient list. It adds the best flavor and texture to cookies that truly is unlike baking with anything else.
I'd be lying if I said that I didn't go through the whole "don't eat butter, it's bad for you" phase. It happened a few years ago when I was beyond confused on what I "should" and "shouldn't" eat. Like there was supposed to be a rule book to go along with it. Spoiler alert: there is no rule book when it comes to eating. Eat what you want and what makes you feel good. And more often than not for me, that's enjoying a good old buttah-filled COOKIE.
Browned butter is a baking game changer friends.
I don't just use any butter though. I am a bit biased in that department and always have Vital Farm's Pasture-Raised Butter on hand. There are boxes and boxes of it in my freezer but that is how much we use it. I like to keep a mix of Vital Farm's Sea Salt and Unsalted varieties on hand, but usually baking with the Sea Salt one is my go-to. Especially when it comes to baking with chocolate. It gives it that touch of salty flavor with the sweet taste that I love with my cookies.
I also use Vital Farm's Pasture-Raised Eggs in this recipe, but you guys already know my love affair for their products. We have made everything from that big mama Cinnamon Roll Skillet to Blueberry Cinnamon Rolls and more on the blog. We also sear our steaks in their butter on the skillet and fry up there eggs probably a dozen times a week. They're an amazing brand producing quality product that I truly love using (and eating).
But let's get back to this Browned Butter Chocolate Chip Cookie Sheet.
You may be scratching your head wondering what that even means. Imagine a large cookie with a crispy outside and a soft-chewy center broken up into bark-like pieces. Ya, it is that good.
You may be deceived when you first make these because you do shape them into individual cookies at first. But when they bake in the oven, it'll turn into the most perfectly chocolatey cookie sheet you have ever seen.
When you take a bite of the cookie sheet and taste the browned butter flavor, you'll know why we take the extra few minutes to make it in the beginning. It's a game changer and enhances the buttery flavor and makes it a bit more nutty and caramel like in taste – so good!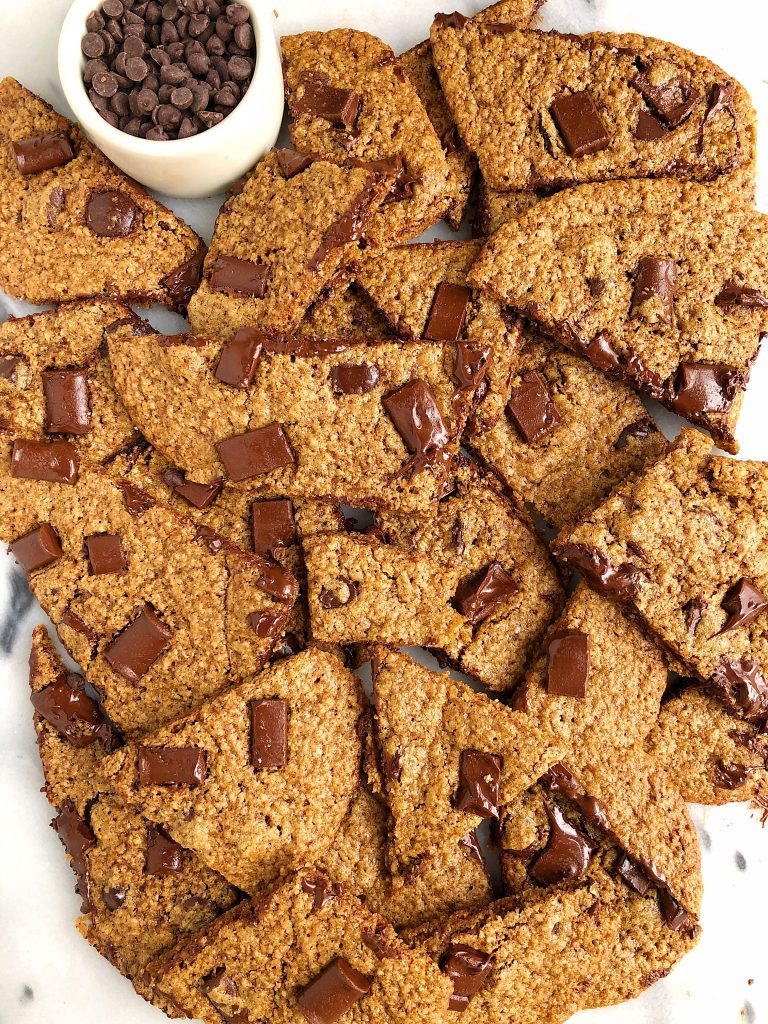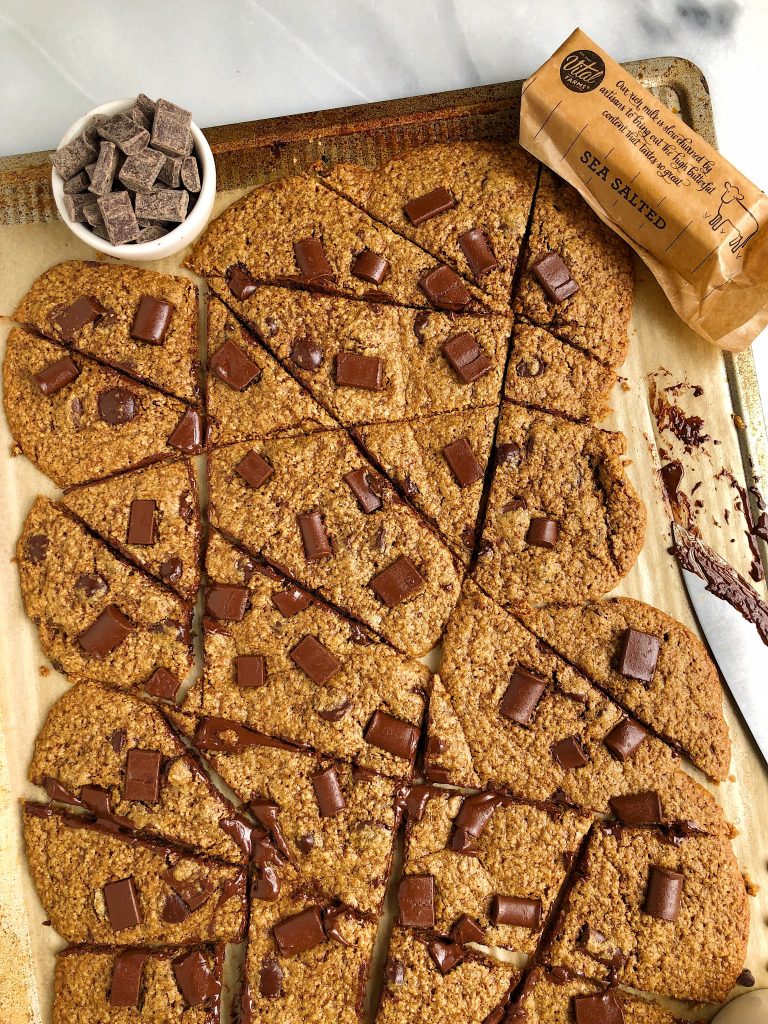 Print
Browned Butter Chocolate Chip Cookie Sheet
Browned Butter Chocolate Chip Cookie Sheet made with gluten-free and nut-free ingredients for a healthy crispy on the outside, chewy center cookie recipe.
Prep Time:

20 mins

Cook Time:

12 mins

Total Time:

32 minutes
Instructions
Place the stick of butter in a saucepan and warm over medium heat
Cook until butter is melted (stirring frequently) until butter is melted and starting to turn gold-ish/brown
Once melted turn heat down to low and continue to keep on eye out it so it doesn't burn
The butter will start to bubble and form and once it is ready you'll see little golden brown bites on bottom of pan. The browned butter will also smell a bit nutty
Remove butter from heat and pour into a small bowl and place in the freezer or fridge to cool (takes about 5-10 minutes in freezer)
Preheat oven to 350 degrees and line a large baking sheet with parchment paper
In a large bowl, mix together the browned butter and coconut sugar with hand mixer until mixed well
Add in the egg and vanilla extract and mix again
Add in the flours and baking powder and mix until evenly combined and dough is formed
Fold in the chocolate chips then begin scooping out individual sized cookies and placing them on the tray about 1/2-1 inch apart. Flatten the cookies down a bit. They will grow as they bake and form into the large sheet (do not form these into a large sheet or it won't bake as well)
Bake in oven for 12-15 minutes until the edges are golden brown. Allow the sheet to cool for a few minutes (a must do) then break into bark-like pieces and enjoy
Notes
*Store leftovers in airtight container for 5 days or in freezer for a couple of months
xx, Rach
Thank you Vital Farms for sponsoring this post! It means so much to me to partner and spread the word about brands I love and believe in!