Soft and Chewy Gluten-free Chocolate Chip Banana Bread Cookies made with nut-free ingredients.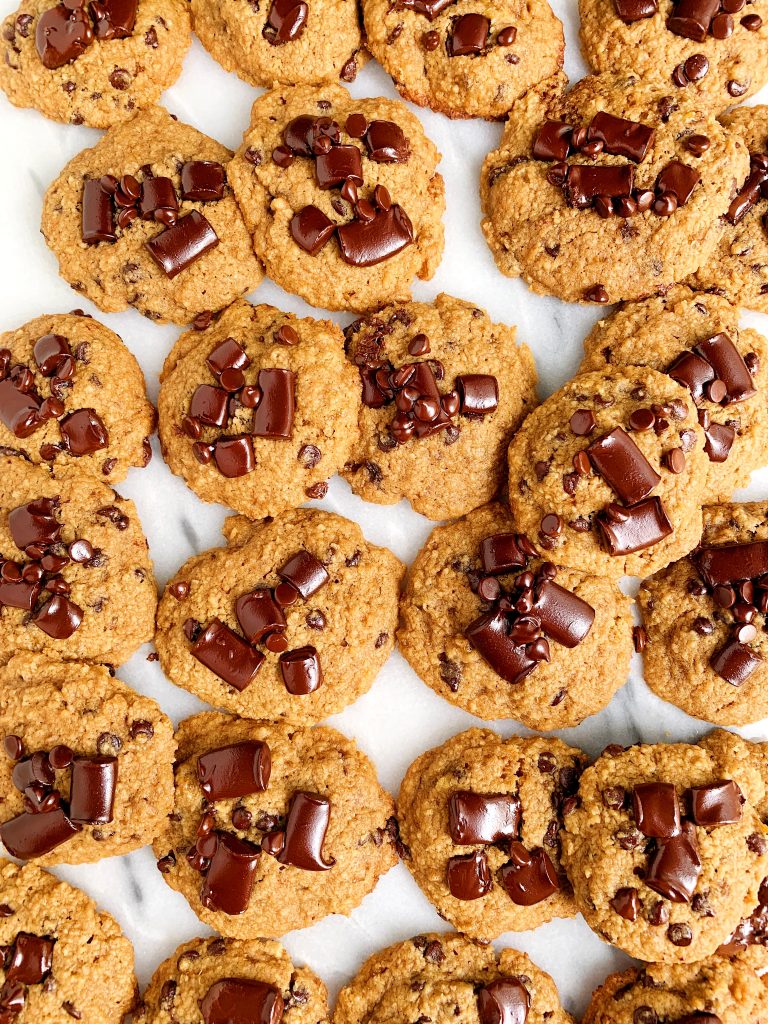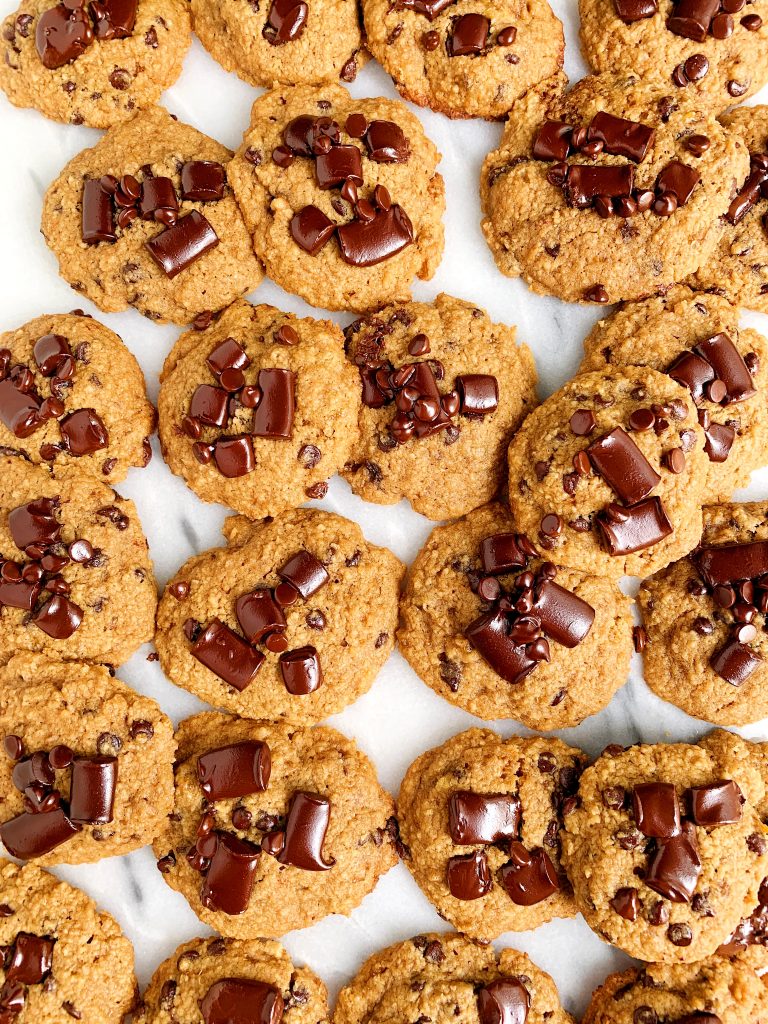 What has taken me so long to combine two of life's greatest foods in the whole world.
Banana bread, meet chocolate chip cookies.
Chocolate chip cookies, meet banana bread.
Healthy and nut-free COOKIES – heyyyooo!
I think you guys will be the best of friends. In fact, I know you are the best of friends already after eating a dozen of these cookies in two days (but actually).
I made these super soft and chewy banana bread cookies and they are officially going on the dessert rotation. You know, the list of my go-to recipes when I am craving dessert and want to make something for myself or for a friend (if they're lucky…). These cookies are super flavorful and have that dreamy banana bread consistency (extra moist – yup!) but still taste and hold up like a chocolate chip cookie.
They are gluten-free, nut-free and made with just a few simple ingredients that you likely already have on hand if you are a usual baker over here on the blog.
A couple months ago, we chatted all about Vital Farm's and their amazing pasture-raised butter in the Browned Butter Chocolate Chip Cookie Sheet . And guess what friends? It is time to chat all about the buttah again. I am hooked on baking with Vital Farm's butter and once you taste the flavor it brings to any recipe, you will see why.
I also use their pasture-raised eggs in this recipe, which are my go-to for breakfast lunch or dinner 99% of the time. Life with an infant means quick and easy meals so we consumed many many eggs each week. Every Sunday we stock up on 2-3 dozen and it lasts us about a week and a half between my baking obsession and just cooking with them.
We chatted all about Vital Farm's in a few of the recipes on the blog like those Healthy Homemade Blueberry Cinnamon Rolls, Giant Gluten-free Cinnamon Roll and my Paleo Chocolate Chip Sweet Potato Bread. They're my go-to butter and egg brand and there's a very likely chance you will find them in your local grocery store!
I hope you guys love these cookies as much as I do. They taste absolutely amazing frozen too and dipped in nut milk – just saying…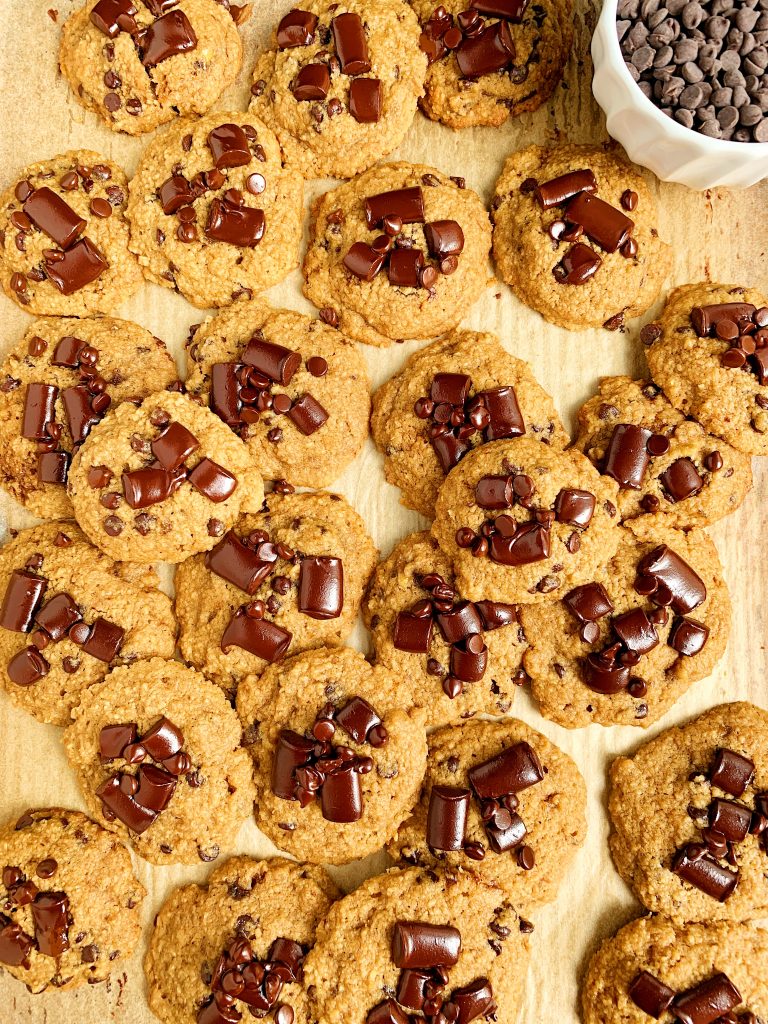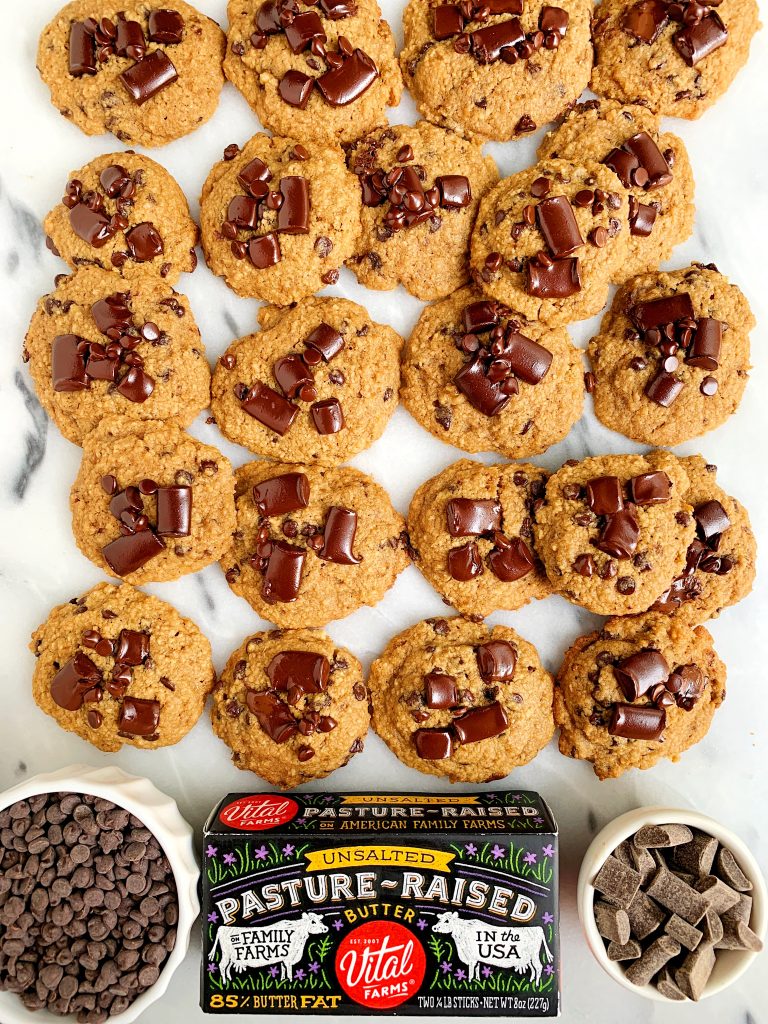 Print
Soft and Chewy Gluten-free Chocolate Chip Banana Bread Cookies
Soft and Chewy Gluten-free Chocolate Chip Banana Bread Cookies made with healthy ingredients for a delicious nut-free banana bread cookie recipe!
Prep Time:

1 hour

Cook Time:

10-15 minutes

Total Time:

70-75 minutes
Yield: 2 dozen cookies 1x
1 1/2

sticks Vital Farms Pasture-Raised Butter at room temperature (I used the Sea Salted)

1 cup

coconut sugar (don't recommend subbing maple syrup!)

2 teaspoons

vanilla extract

1 1/4 cup

mashed banana (about

2

large ripe bananas)

3 cups

gluten-free oat flour or all-purpose flour

2 teaspoons

arrowroot or tapioca flour/starch (do not recommend a sub)

2 teaspoons

baking powder

1 cup

dark chocolate chips (code RACHL for free shipping)
Instructions
In a large bowl, cream together the butter and sugar until creamy and well combined (I used hand mixer)
Mix in the egg, vanilla and mashed banana and mix again
In another bowl stir together the flours and baking powder
Add the dry ingredients to wet and mix well to evenly combine
Fold in dark chocolate then add bowl to fridge so the dough sets for an hour (I do not recommend skipping this!)
Preheat oven to 350 degrees and line 2 baking sheets with parchment paper
Drop about 1.5 tablespoons of dough per cookie onto the sheets
Bake in oven for 10-15 minutes
Allow the cookies to cool for a few (if you can resist) then enjoy!
Notes
*Store leftovers in an airtight container for 5 days on counter or freeze for a couple of months!
xx, Rach
Thank you Vital Farms for partnering with me for this recipe! It means so much to me to partner with brands I love and believe in.