Giant Gluten-free Cinnamon Roll made with simple, delicious and healthier ingredients. An epic brunch or breakfast recipe that tastes cinnamon rolls to the next level.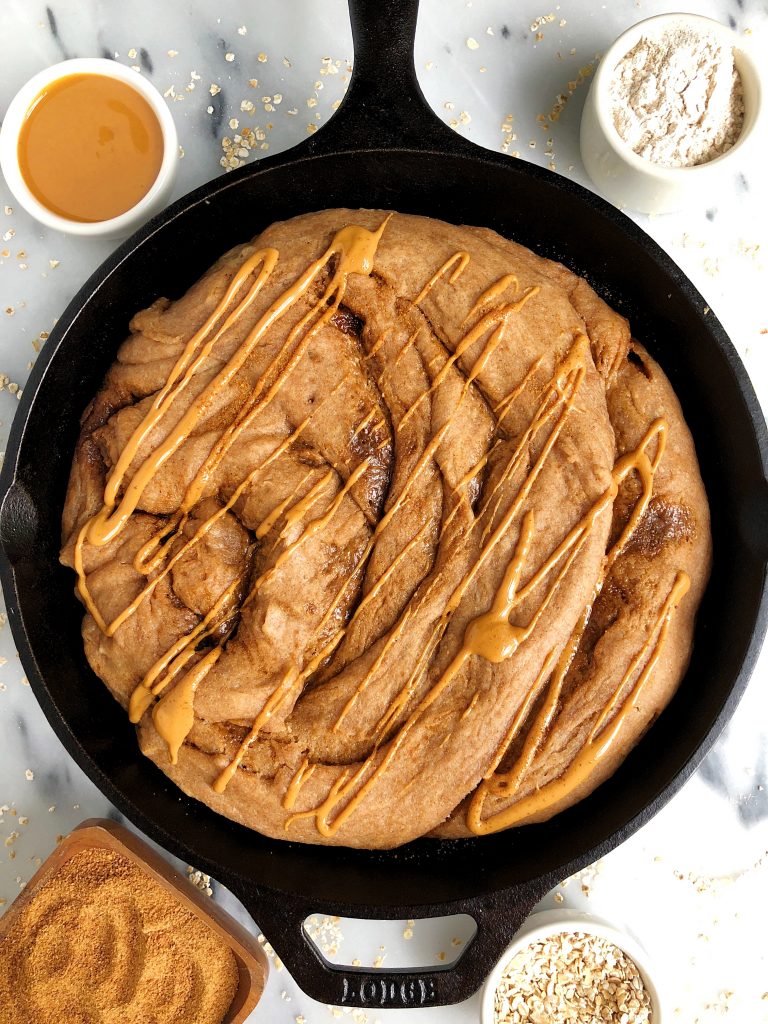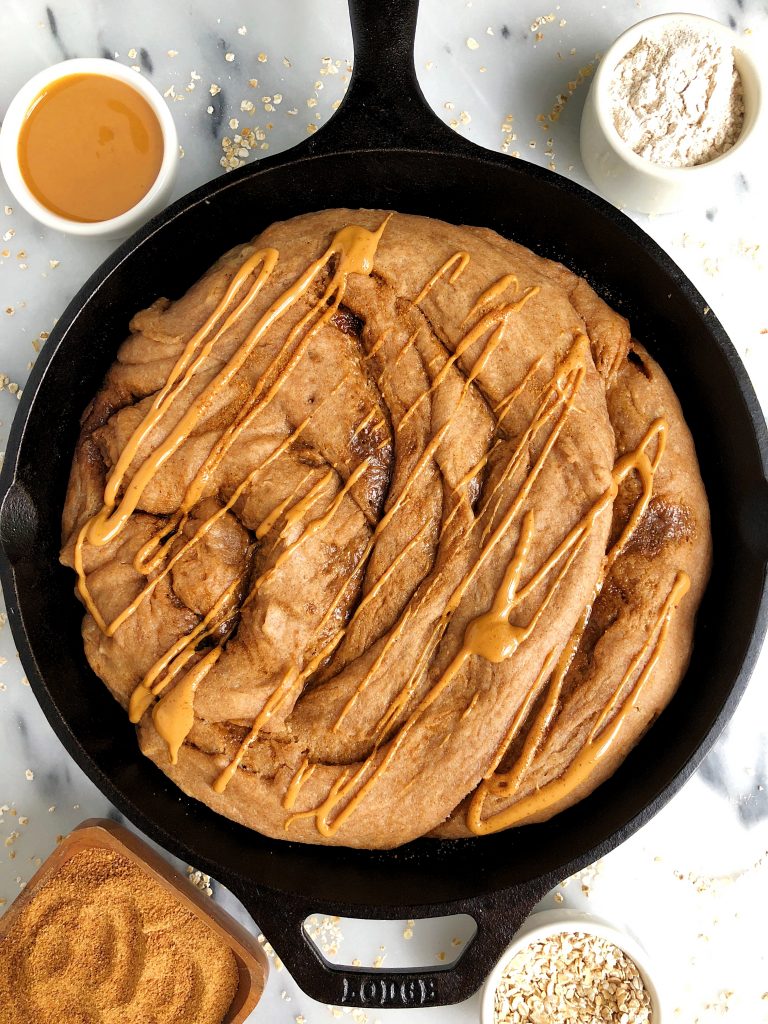 Hands down one of the hardest things I have had to do is keep this giant cinnamon roll recipe from you guys.
I am kidding (but not really). I made this recipe in early June since I knew I was going to be traveling in Europe for the first half of July and wanted to get a head start on my recipes for the rest of the month (anal much?). Any who I did not expect for this GIANT Cinnamon Roll to turn out as great as it did. It is gluten-free, refined sugar-free and it is the most epic to make for brunch, breakfast or heck when you just want a big a$$ cinnamon roll like I did.
This recipe is kind of more labor intensive than others (don't hate me) but only because rolling the cinnamon roll into one giant piece requires patience and some muscle. You'll see the full directions below but just go with it. I promise it is worth it.
Also let's chat about how cinnamon rolls aren't complete without some butter. Sorry but the rolls just aren't the same without a little grass-fed butter involved. I use pasture-raised butter and it is amazing. It's butter I trust and that actually helped me get over my butter fear. You would have thought my head would fall off if I ate it in the past.
Any of my veg heads, you can use coconut oil too or ghee if you prefer. Even a vegan butter. .
Don't forget to share this recipe with me on social or just show up at my door with a giant cinnamon roll – whichever you prefer.. 😉 And here are a few of my other fave cinnamon roll recipes for ya: Healthy Vegan Cinnamon Rolls, Mini Sweet Potato Cinnamon Rolls and Dark Chocolate Cinnamon Buns.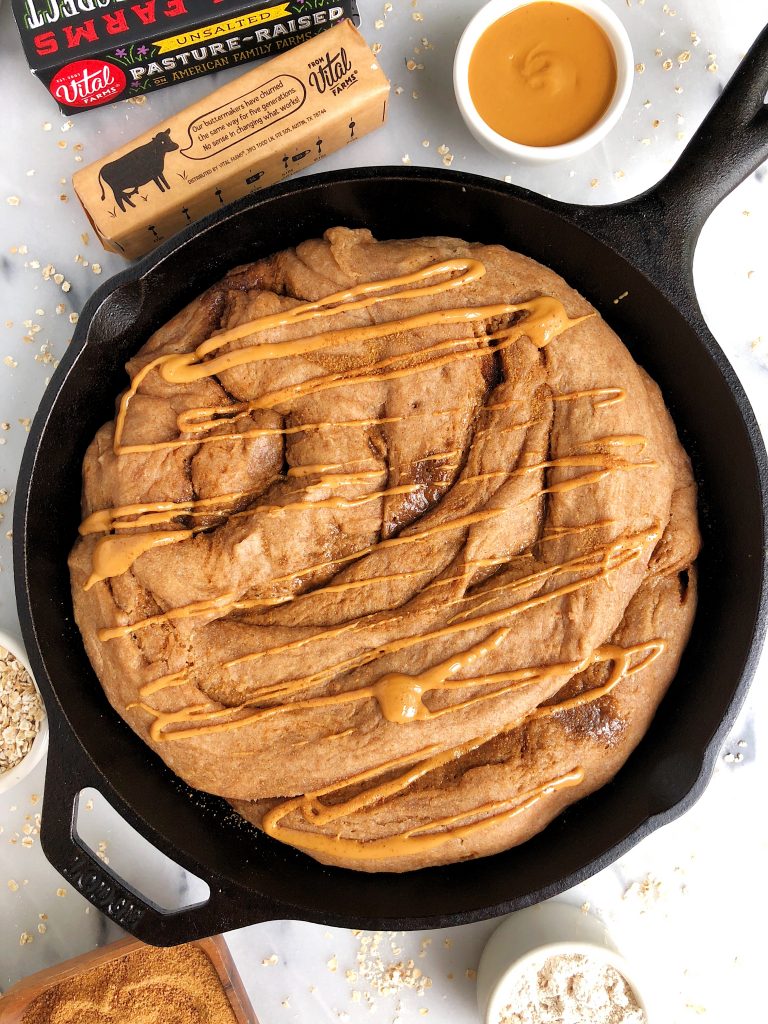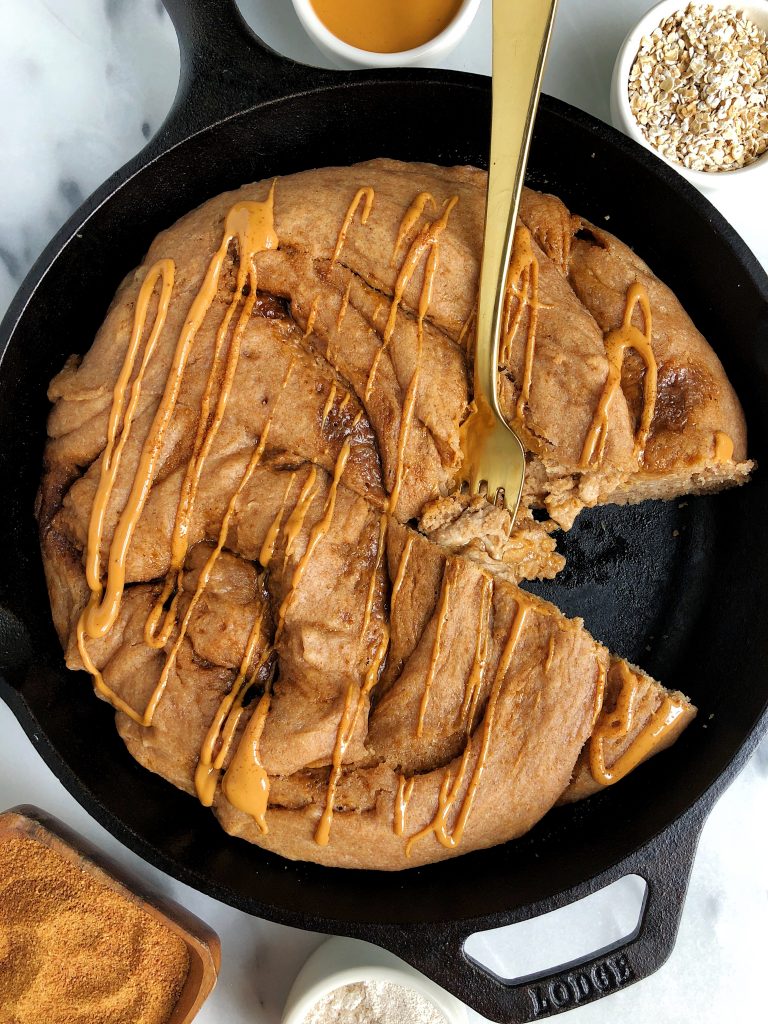 Print
Giant Gluten-free Cinnamon Roll
Giant Gluten-free Cinnamon Roll made with simple, delicious and healthier ingredients. An epic brunch or breakfast recipe that tastes cinnamon rolls to the next level.
Prep Time:

40 mins

Cook Time:

15 mins

Total Time:

55 minutes
Cinnamon roll dough:
Cinnamon sugar filling:
1/3 cup

coconut sugar

4 teaspoons

cinnamon

1/4 cup

pasture-raised butter, softened (salted or unsalted)
Instructions
Preheat oven to 400 degrees and grease a cast iron skillet with a little butter
Whisk together the nut milk and apple cider vinegar in a medium bowl and set aside for 5-10 minutes
Add in the vanilla extract then coconut oil and mix again
In a large bowl, mix together 4 cups of the flour, baking powder and coconut sugar
Then pour the wet mixture into the dry and gently mix with a spatula
Add in the other 2/3 cup flour and mix well
Let the dough sit for 30 minutes (cover bowl with paper or dish towel)
Form the dough into a round sphere and add to a floured-surface and sprinkle some on top to roll it out (you can use a water bottle like I did and used about 1/3 cup additional flour total between top and bottom)
Roll out the dough so it is a large rectangle about 1 – 1.5 inch thick
Once the dough is in a large rectangle, mix together the butter, coconut sugar and cinnamon then spread on top of the dough, evenly distributing across the rectangle
Slice the dough into four rectangles (width wise) then roll the bottom rectangle up from one side to another creating one small roll
Add that roll on top of the following rectangle and roll again
Repeat until one large cinnamon roll is formed
Gently add to the cast-iron skillet and bake in oven for 15 minutes or until the top feels firm (don't over cook or it will be dry!)
Allow the skillet to cool for about 12-15 minutes then slice and enjoy while warm
Notes
Store extras on the counter for a couple days then in the fridge for up to a week! You can also freeze and warm up when you'd like to eat!
xx, Rach
Thank you Vital Farms for sponsoring this post! It means so much to me to work with brands I love and believe in!
SaveSave
SaveSave