Healthier Mini Sweet Potato Cinnamon Rolls that are gluten-free, vegan and nut free-friendly!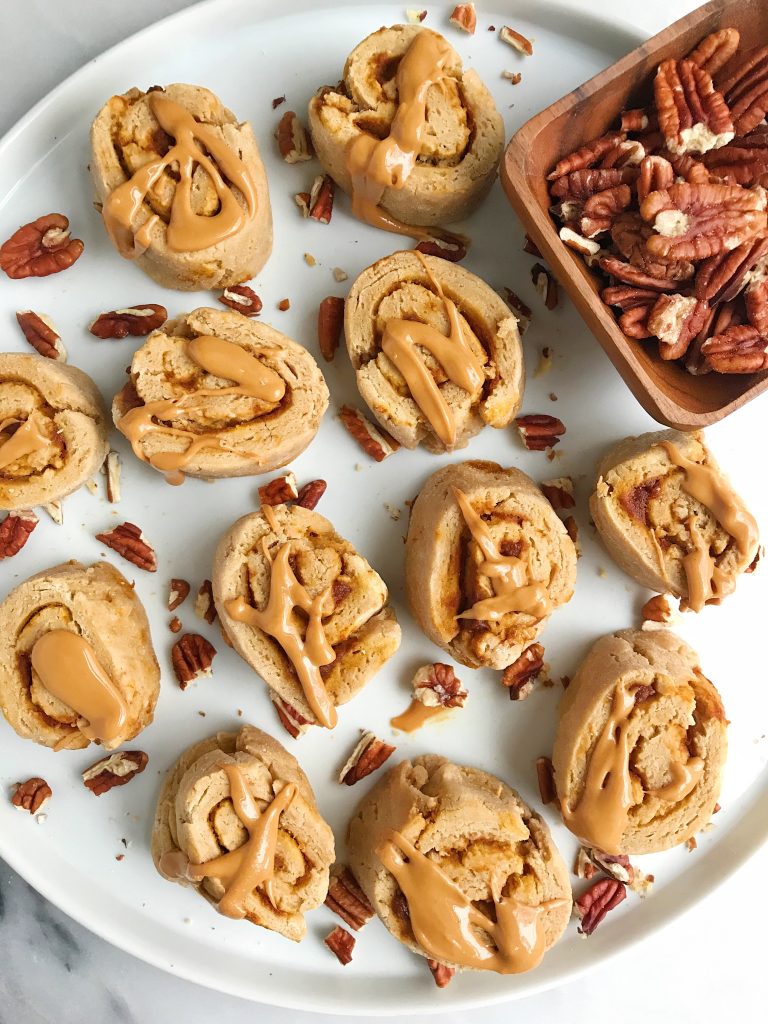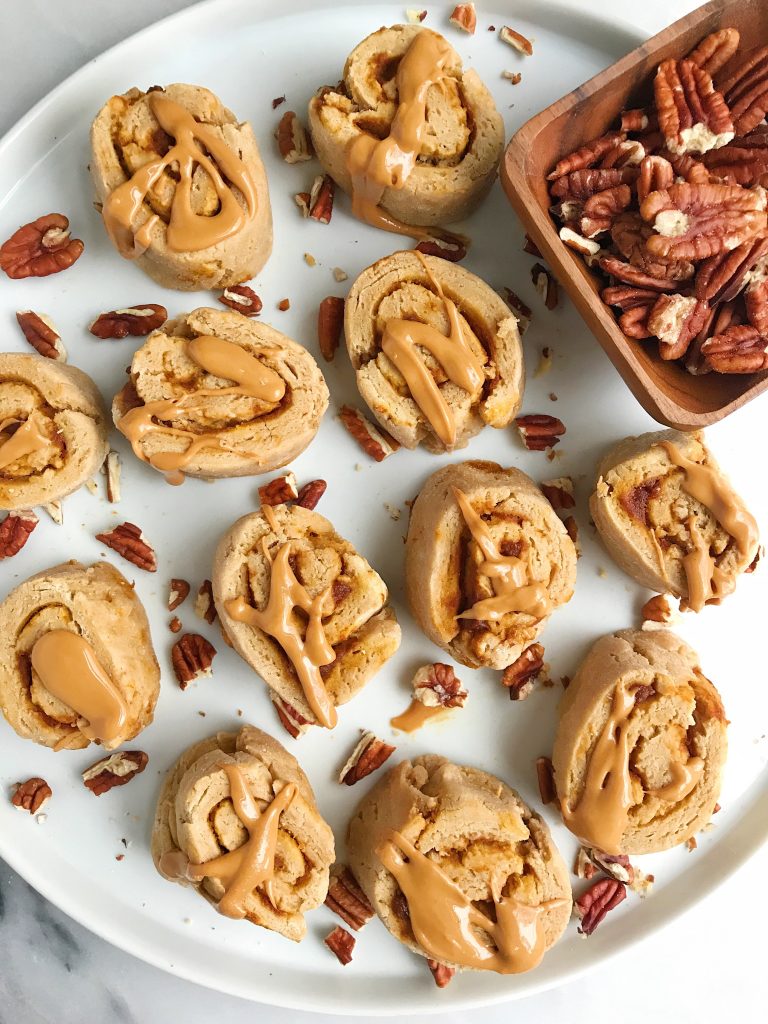 Have you made my Messy Dark Chocolate Cinnamon Rolls or Banana Bread Cinnamon Rolls yet? They have set us up for these dreamy Mini Sweet Potato Cinnamon Rolls today.
I have also been on such a sweet potato kick lately, which is so unlike me. I spent the first 26 years of my life dreading having sweet potatoes and didn't enjoy them in any capacity. Now I am over here craving sweet potato fries, sweet potato brownies, sweet potato quiche, squash pasta and more (you get the point). I am pretty much making up for lost time over here.
What I love most about using sweet potato is how diverse it is. You can use it in recipes just like you would banana or applesauce and it can be made in a sweet dessert or a savory recipe of sorts.
These Mini Sweet Potato Cinnamon Rolls are vegan-friendly and gluten-free as well. They require minimal steps and are so simple to make. When I asked you guys what you wanted more of this year, there were many different request but some common ones include: vegan recipes, nut free recipes and recipes you can make with minimal ingredients. Well friends, this recipe has all of that going on and then some.
I love that you can use gluten-free baking flour or oat flour in them. You can use regular butter, vegan butter or even ghee. And they are sweetened with coconut sugar for the most delicious healthy bite.
They also have my two baking staples in them, Simply Organic Cinnamon and Vanilla Extract. I don't have any recipes on the blog that don't include these two gems! We have made a handful of healthy recipes on the blog featuring Simply Organic like those Mushroom Tacos, Paleo Brownie Batter Truffles, Paleo Chocolate Ginger Cookies, Super Simple Turmeric Falafel and more!
Simply Organic and I have partnered for 2018 to bring you even more delicious recipes featuring their spices and more. You have seen my insane Simply Organic collection via my stories and I love the quality products that they offer.
WHAT YOU NEED
Simply Organic Vanilla Extract
Butter or ghee (sub vegan butter if needed)
Nut milk of choice
Coconut sugar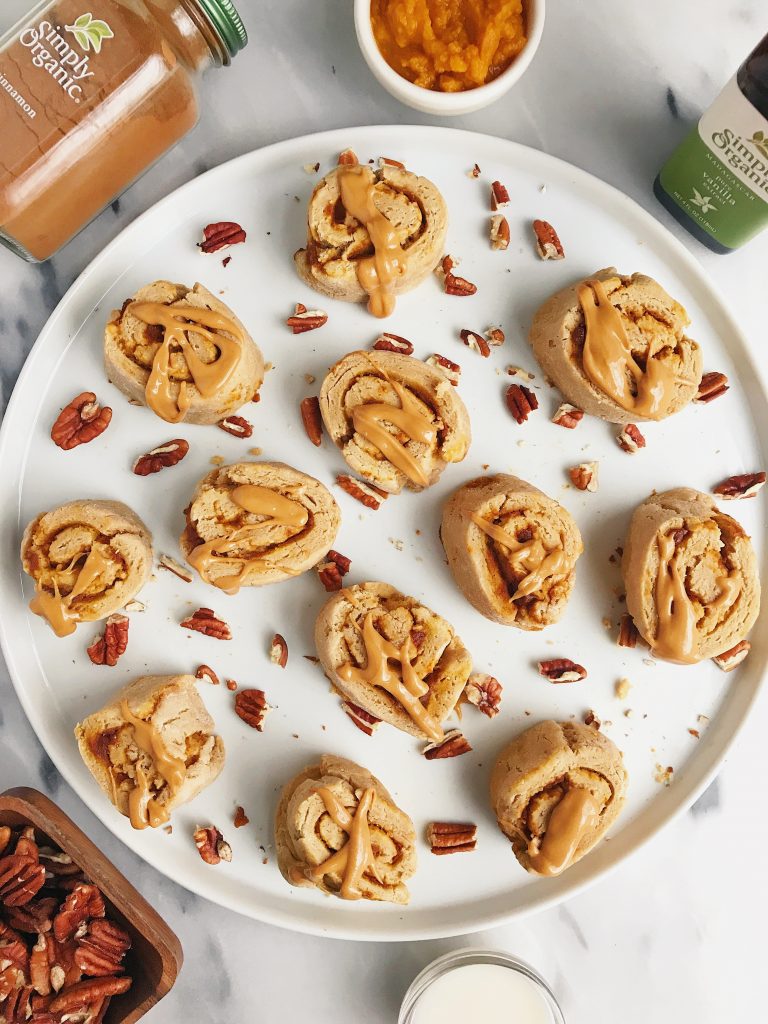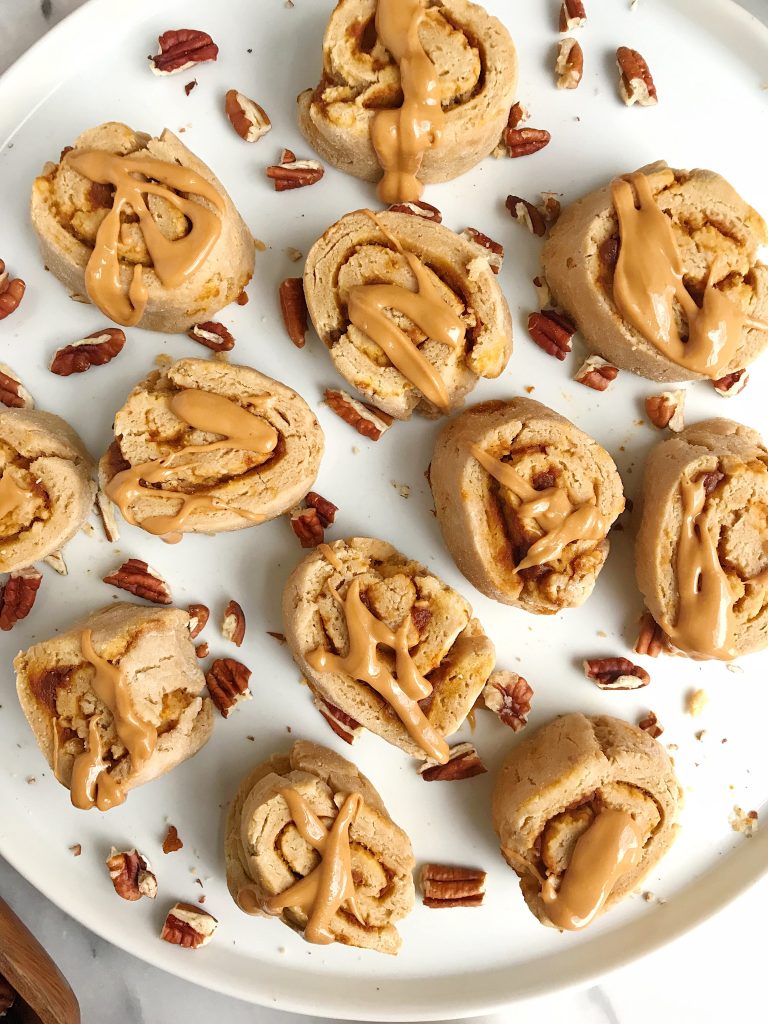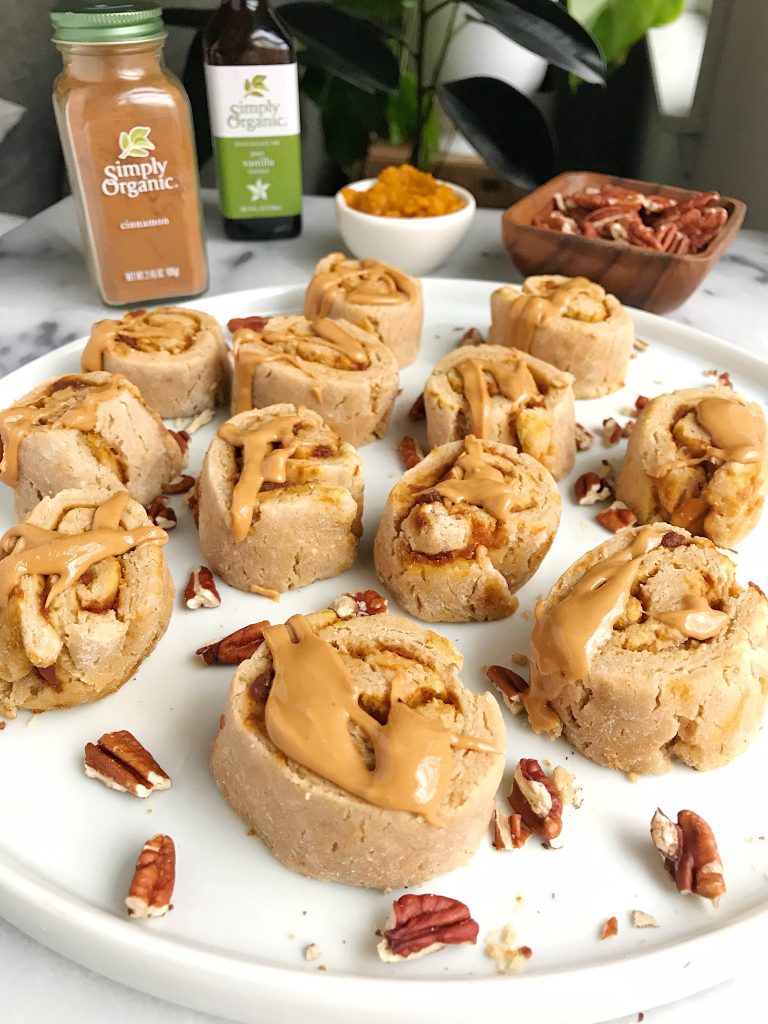 Print
Mini Sweet Potato Cinnamon Rolls (vegan + gluten-free)
Prep Time:

5 mins

Cook Time:

20 mins

Total Time:

25 mins
Yield: 12 small cinnamon rolls 1x
Sweet potato filling:

1/4 cup

sweet potato puree

1/4 cup

coconut sugar

1 1/2 teaspoons

Simply Organic Cinnamon

1 teaspoon

Simply Organic Vanilla Extract

Dough:

2 cups

gluten-free flour (oat flour can also work)

2 tablespoons

coconut sugar

4 teaspoons

baking powder

1 teaspoon

kosher salt

3 tablespoons

butter (vegan butter or regular butter or ghee works)

1 cup

coconut milk (or your preferred milk)
Instructions
Preheat oven to 350ºF and grease a baking dish (any size will work but I used 8 inch round)
In a large bowl, combine all ingredients for dough
Next add the dough out onto a floured surface (I used a large cutting board)
Sprinkle a rolling pin with flour and begin to roll it out into a long rectangle (you may need to add more flour as you roll so the dough doesn't get sticky! You can also use a water bottle if you don't have a rolling pin)
In a small bowl, mix together the filling ingredients
Spread mixture over rolled out dough and roll up dough into cinnamon roll shape and cut into 12-ish rolls
Place in baking dish and bake for about 20 minutes or until the dough seems firm and the inside is still gooey and dreamy!
*Will stay good in airtight container for about 5 days
Author:
Category:

vegan, gluten free, nut free-friendly

Cuisine:

breakfast, dessert, cinnamon rolls
xx, Rach
Thank you Simply Organic for sponsoring this post. It means so much to me to work with brands I truly love and believe in to share with you! xx
SaveSave
SaveSave
SaveSave