Healthy Vegan Cinnamon Rolls made with no yeast and they're ready in under 30 minutes!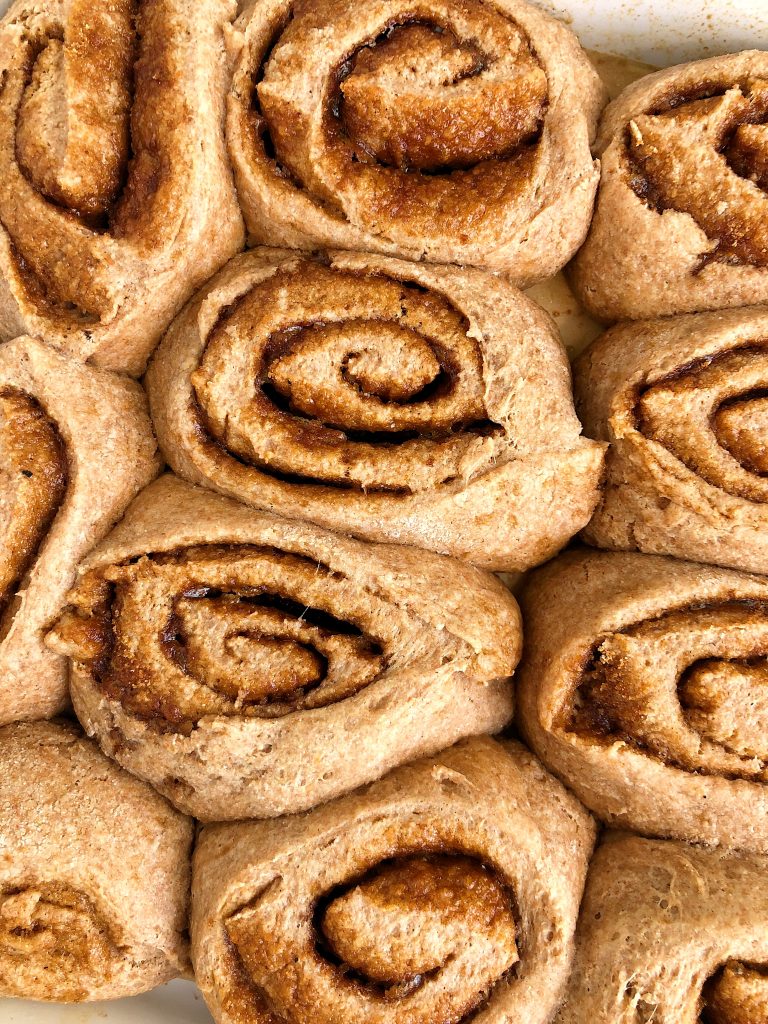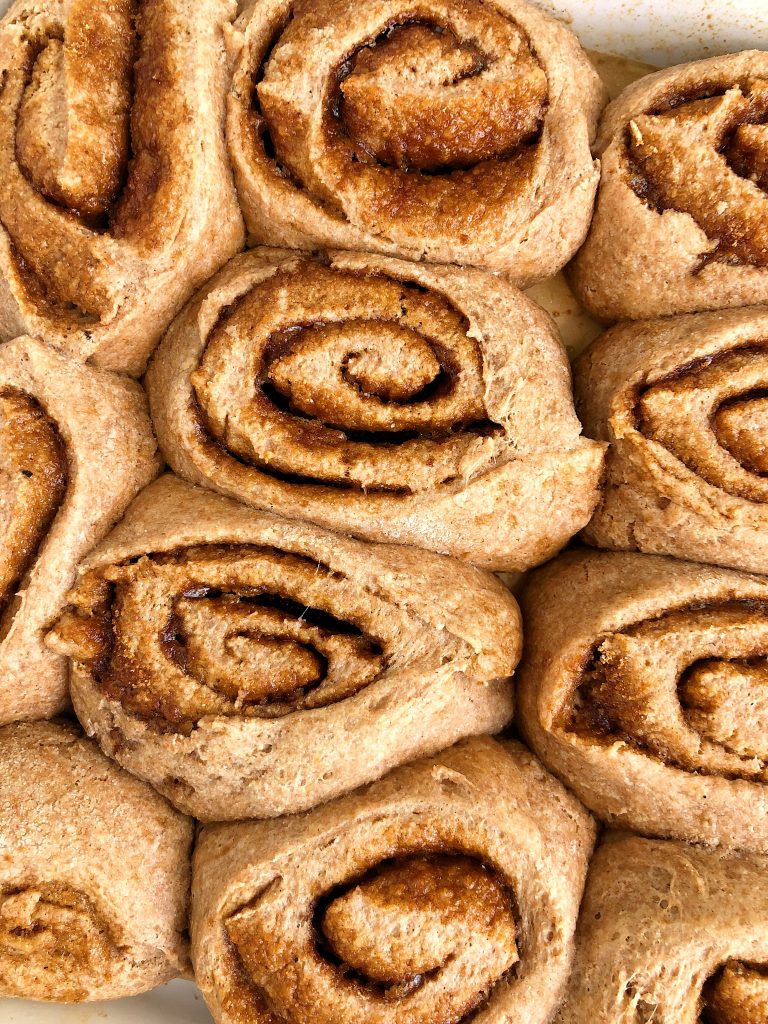 I have a serious, unconditional love for all things cinnamon and cinnamon rolls.
It's the one sweet treat that doesn't have chocolate in it that really satisfies my sweet tooth craving. And these new cinnamon rolls on the blog, well they are an ultimately dream come true. They're vegan, refined sugar-free they have no yeast. A yeast-free, FLUFFY cinnamon roll? I know, crazy.
These Healthy Vegan Cinnamon Rolls are filled with a coconut sugar-sweetened center and are the type of good you want straight out of the oven. When the center is oozing with sweet cinnamon goodness and the cinnamon roll is bursting with heat.
How do these cinnamon rolls get so fluffy without yeast you may ask? Well I use Sprouted Spelt Flour, which honestly is one of the best baking flours ever. I love how simple and easy it is to use for baking. It is very subtle in flavor and not over powering.
You will notice a lot of spelt flour here on the blog and in my cookbook coming out in 2020 (scary but that is the timing!). It is such a great flour to use and I love how EASY it is too!
Don't forget to tag me on social when you make these cinnamon rolls and #rachLeats. Plus here are a few other delicious recipes: One-Bawl Healthy Vegan Carrot Cake Loaf, Stovetop Vegan Onion Rings and Healthy Chocolate Chip Avocado Pancakes.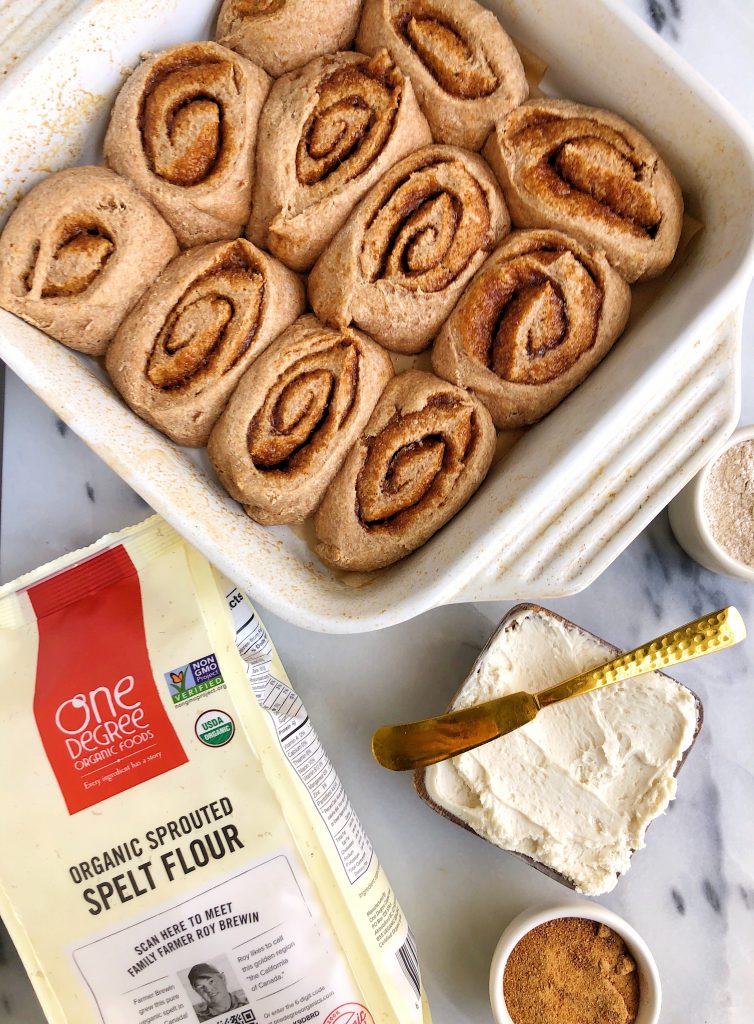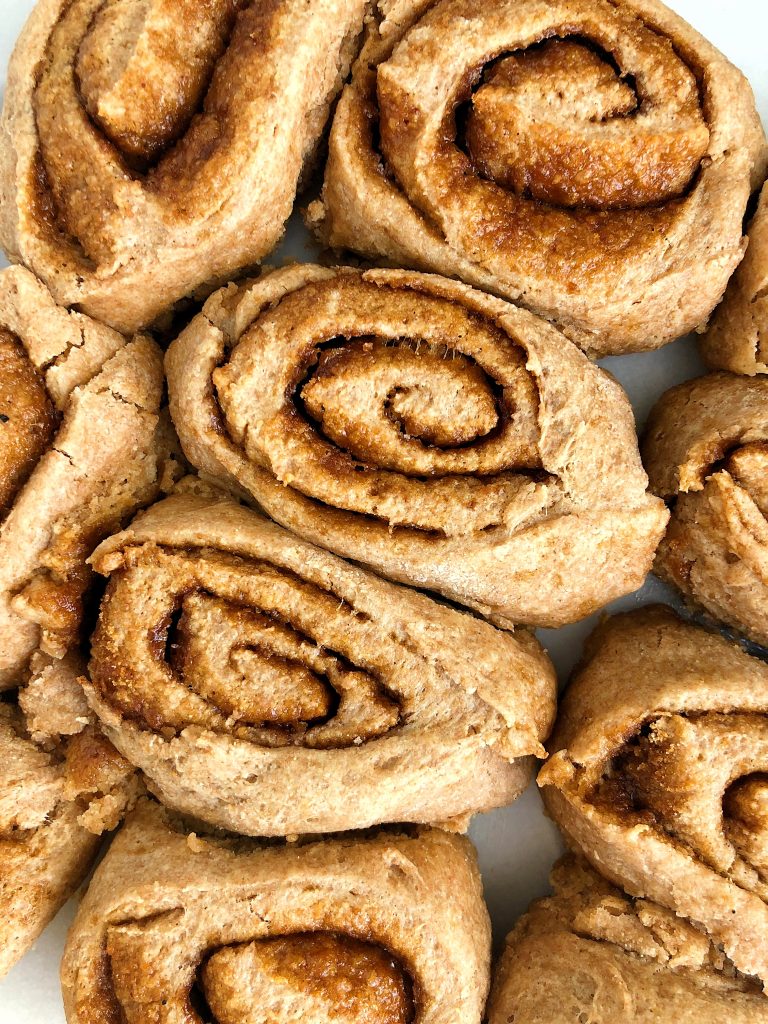 Print
Healthy Vegan Cinnamon Rolls
Cinnamon rolls:
2

and 3/4 cups One Degree Organic Sprouted Spelt Flour (can sub oat or gluten-free AP flour)

3 teaspoons

baking powder

3 tablespoons

coconut sugar

1 cup

unsweetened non-dairy milk (almond, oat, anything!)

2 teaspoons

apple cider vinegar

2 teaspoons

vanilla extract

6 tablespoons

liquid coconut oil
Cinnamon sugar filling:
1/4 cup

coconut sugar

2 teaspoons

cinnamon

1/4 cup

softened non-dairy butter (or you can use ghee or grass-fed butter)
Instructions
Preheat oven to 400 degrees and line a 9×9 baking dish with parchment paper
Whisk together the nut milk and apple cider vinegar in a medium bowl and set aside for 5-10 minutes
Add in the vanilla extract then coconut oil and mix again
In a large bowl, mix together the spelt flour, baking powder and coconut sugar
Then pour the wet mixture into the dry and gently mix with a spatula
Form the dough into a round sphere and add to a floured-surface to roll it out (you can use a water bottle like I did!)
Once the dough is in a large triangle, about 1 inch thick, gently spread the vegan butter over the dough
Mix together the coconut sugar and cinnamon then sprinkle on top of the butter on the dough
Roll the dough from the bottom, up and make sure you seal it well so it all stays together
Gently slice into 8-10 rolls, then add to oven and bake for 10-15 minutes or until golden brown
xx, Rach
Thank you One Degree Organics for sponsoring this post! It means so much to me to work with the brands I love and believe in here on the blog!
SaveSaveSaveSave