These Dirt Cup Brownie Bites are the ultimate Halloween snack to make with all gluten-free and vegan ingredients! A brownie base filled with an easy homemade chocolate pudding.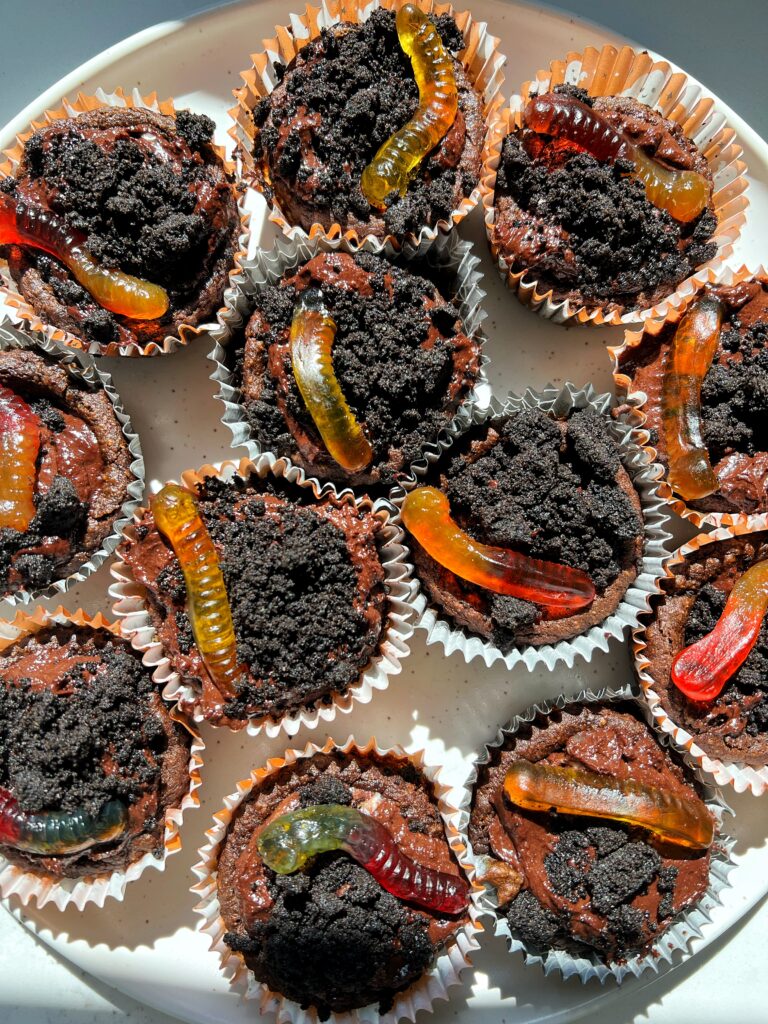 I don't like to pick favorites when it comes to recipes. But these dirty cups may have won my heart over guys.
I used to go to TGIFriday's all the time growing up and I always used to get the dirty cups for dessert. I loved the grilled cheese, their seasoned french fries and strawberry applesauce too. Nobody asked – but that was a dream order. OH and a Shirley Temple obviously.
These homemade dirt cups are incredibly easy to make. And to spice things up a bit we are making them in brownie cups too! They are topped with some crushed up chocolate cookies and of course topped with a gummy worm. And did I mention this recipe is also vegan and gluten-free too?! An absolute must-make for anyone but especially for anyone with allergies.
Tip: For optimal texture and consistency, make these the day you want to serve them! Otherwise store in fridge and serve at room temperature.
What ingredients you need to make these gluten-free and vegan dirt cup brownie bites:
Brownie recipe of choice or boxed brownie mix – either works here!!
Dark chocolate cookies – crushed cup into small pieces for the "dirt"
Gummy worms – or any gummies you want to add!
Full-fat coconut milk – MUST be full-fat farm a can! place in fridge overnight because we are using the cream on top
Cacao powder – to make the homemade pudding "chocolatey"
Powdered sugar or coconut sugar – either sugar works to sweeten the pudding a bit
Maple syrup – or you can sub honey if you prefer
How to make the dirt cup brownie brownies:
To make the brownies:
Mine a mini muffin tray with liners or grease well and fill each with brownie recipe and bake in oven for about 10 minutes or until ready (I make the pudding as they bake)
Allow them to cool for 5 minutes then take a spoon (I used a tablespoon) and press down each brownie bite to make an indentation to fill with pudding
To make the pudding:
Open the can of coconut milk from the fridge and scoop out all the coconut "cream" aka the thick part inside the can and add it to a medium mixing bowl (save the rest of the liquid for smoothes or overnight oats!)
Using a hand mixer, beat the coconut cream in a bowl for about 2-3 minutes or until it starts to thicken a bit
Add in the cacao powder, powdered sugar and maple syrup and beat again for 2 minutes
I like to add the pudding to the fridge to set/chill for a bit but totally optional
To assemble the dirt cups:
Add chocolate pudding to the brownie cups and sprinkle cookies on top and add worms
Serve immediately or store in fridge (they are best served at room temp or the pudding will get thick from fridge!)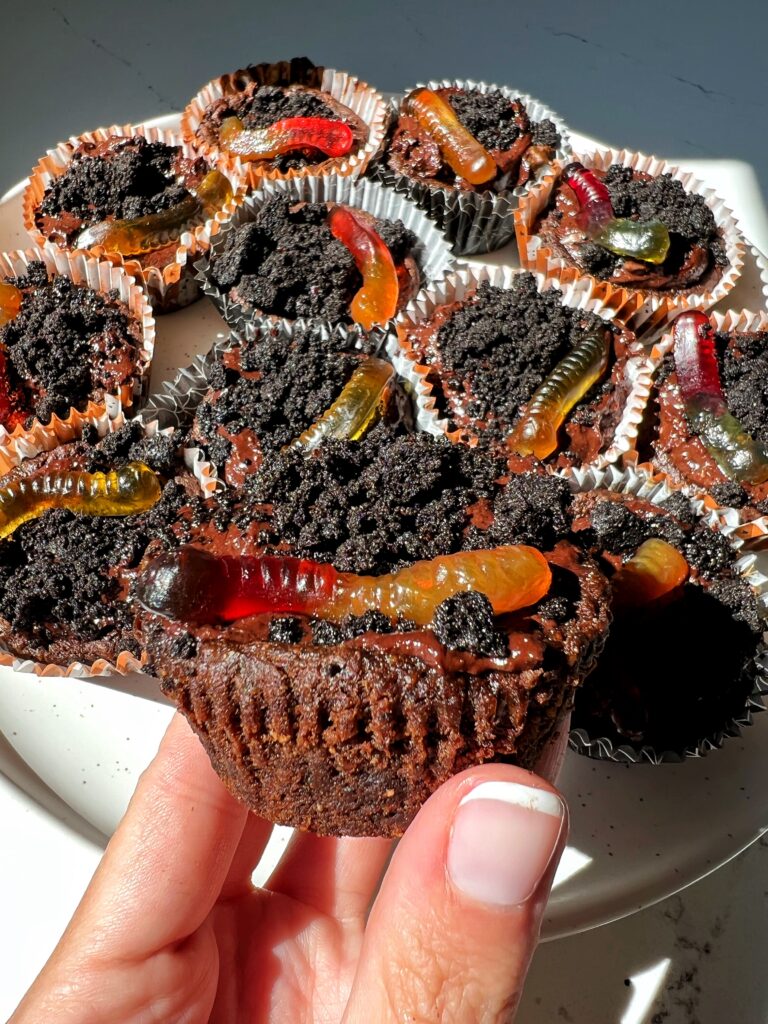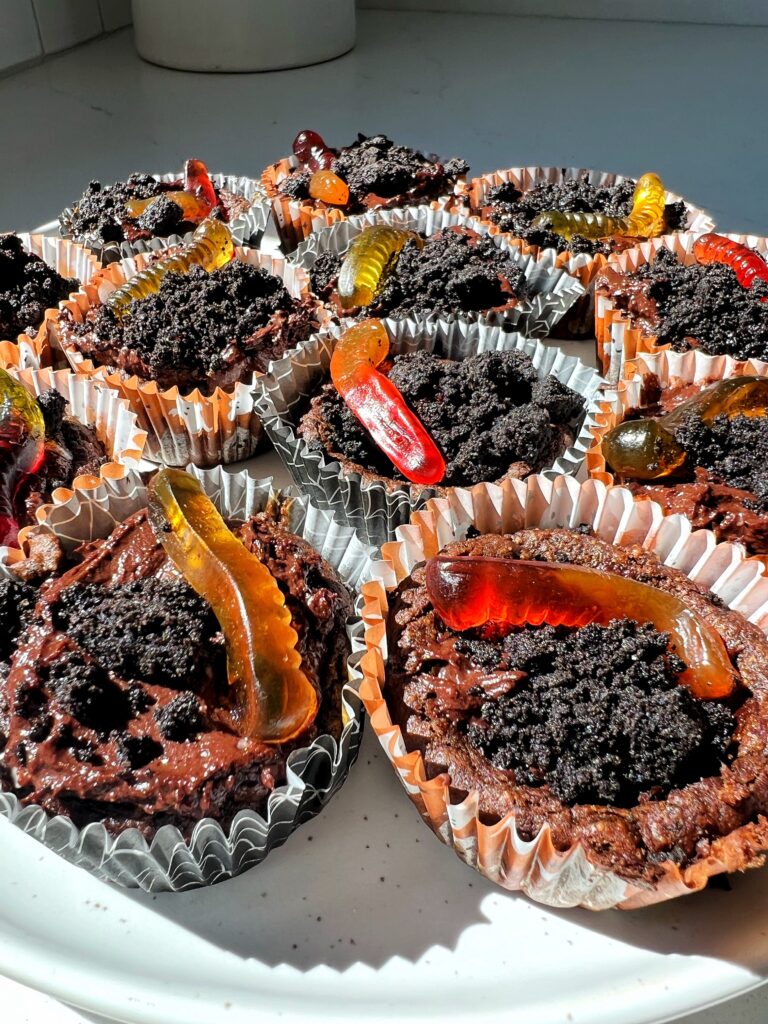 Tips for success making dirt cup brownie bites:
These are so easy to make for a Halloween party or for any occasion! The pudding recipe only has a few ingredients and you can make it in just a few minutes
You can use any boxed brownie mix or brownie recipe you prefer – I usually make my flourless brownie recipe.
These taste best the day of for texture and consistency but we do eat the leftovers from the fridge! Just store any left in fridge and you can warm in microwave for 10 seconds or so to soften the brownie a bit
These are a huge hit with kids! My babies love having this has a fun dessert idea (as do I!)
A few other Halloween-inspired desserts to make:
Copycat Vegan Butterfingers (gluten-free)
4-ingredient Reese's Pumpkins! (vegan)
Gluten-free Pumpkin Crumb Cheesecake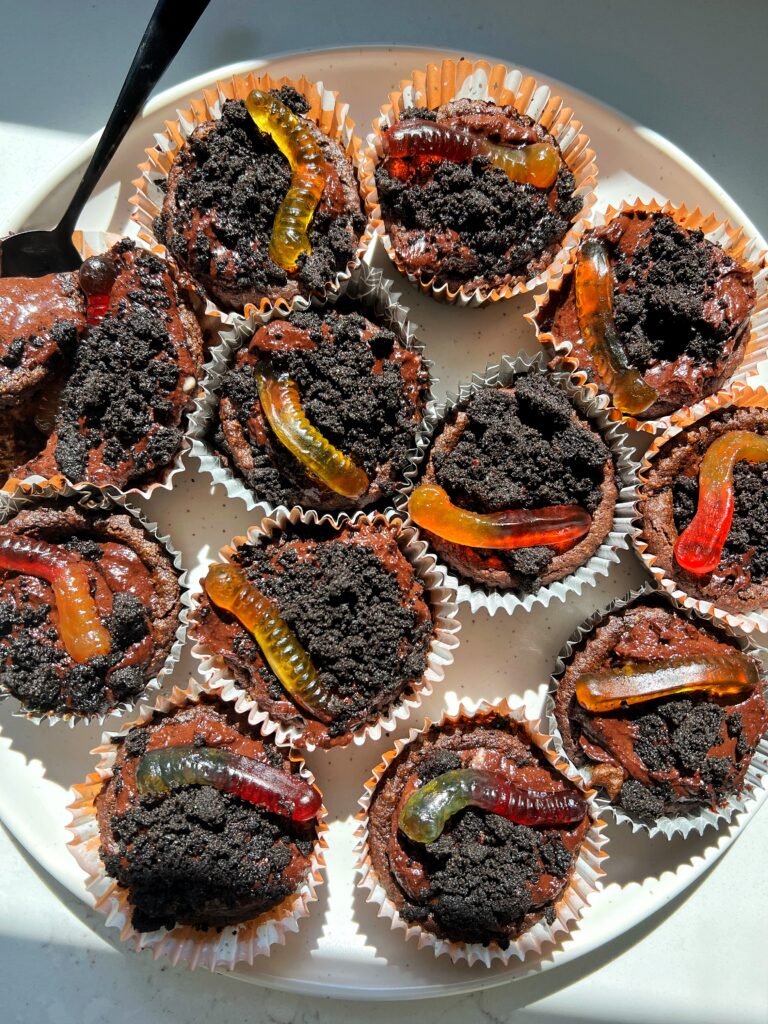 Print
Dirt Cup Brownie Bites (gluten + vegan)
These Dirt Cup Brownie Bites are the ultimate Halloween snack to make with all gluten-free and vegan ingredients.
Prep Time:

10 mins

Cook Time:

10 mins

Total Time:

30 mins
Yield: Makes 12 mini brownie cups 1x
Dirt cups:
Chocolate pudding:
1

15-ounce can full-fat coconut milk (MUST be full-fat farm a can! place in fridge overnight)

1/2 cup

cacao powder

3 tablespoons

powdered sugar or coconut sugar

2 tablespoons

maple syrup
Instructions
To make the brownies:
Mine a mini muffin tray with liners or grease well and fill each with brownie recipe and bake in oven for about 10 minutes or until ready (I make the pudding as they bake)
Allow them to cool for 5 minutes then take a spoon (I used a tablespoon) and press down each brownie bite to make an indentation to fill with pudding
To make the pudding:
Open the can of coconut milk from the fridge and scoop out all the coconut "cream" aka the thick part inside the can and add it to a medium mixing bowl (save the rest of the liquid for smoothes or overnight oats!)
Using a hand mixer, beat the coconut cream in a bowl for about 2-3 minutes or until it starts to thicken a bit
Add in the cacao powder, powdered sugar and maple syrup and beat again for 2 minutes
I like to add the pudding to the fridge to set/chill for a bit but totally optional
To assemble the dirt cups:
Add chocolate pudding to the brownie cups and sprinkle cookies on top and add worms
Serve immediately or store in fridge (they are best served at room temp or the pudding will get thick from fridge!)
Notes
*Store leftovers in fridge. I like mine room temp or I microwave for 10 seconds to soften! Just take out the gummy worm