Easy Sweet Potato Veggie Taquitos made with organic bone broth for a healthier gluten-free, dairy-free crispy taquito recipe!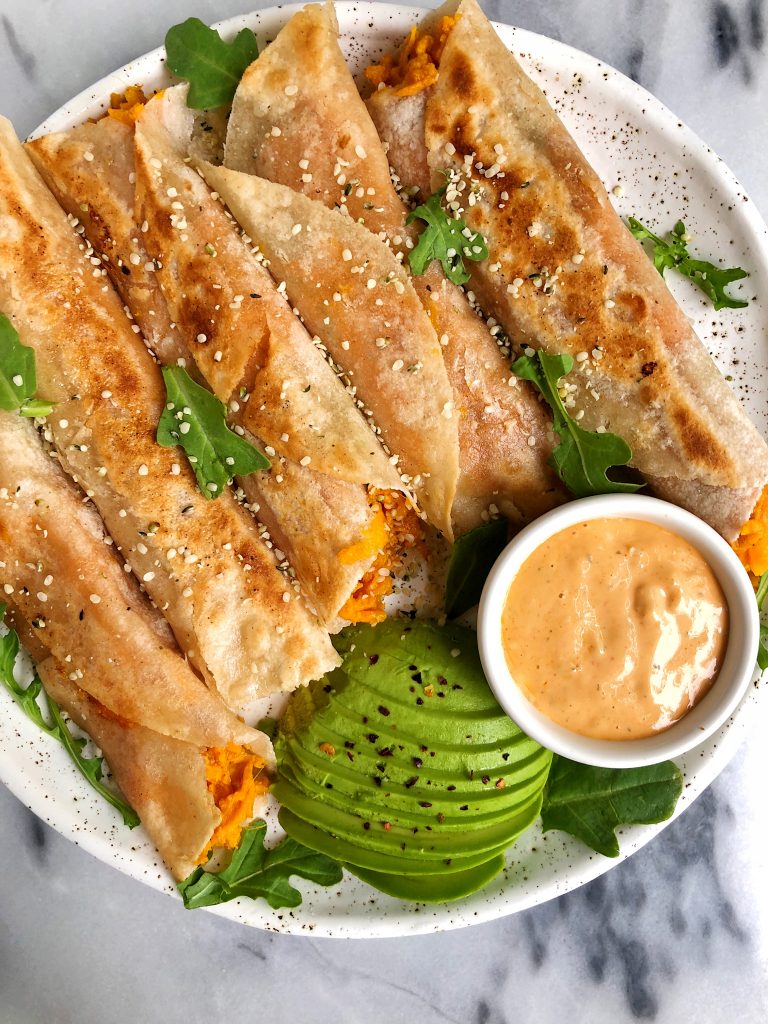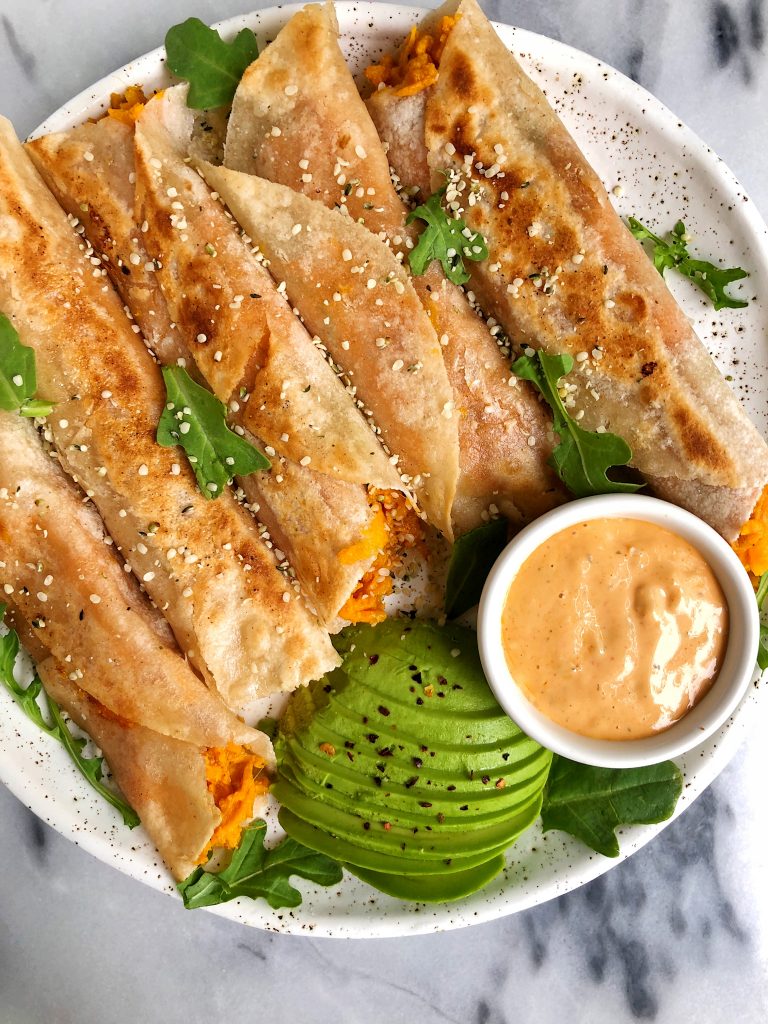 What is it about sweet potatoes you guys? I feel like such a basic constantly talking about them and eating them in a million different forms, but they are seriously the most versatile veggie.
You can make a Sweet Potato Bread, Sweet Potato Brownies, Sweet Potato Fries, Sweet Potato Croutons… you get the point.
And today we are making Sweet Potato Veggie TAQUITOS and I am flipping amped. I am new to the taquito world and haven't eaten one of these since I was in middle school and defrosted one and likely cooked it in the microwave (gross but true).
These healthier taquitos are filled with mashed sweet potato, onion, greens and all the spices! Plus they have an ingredient you'd least expect…
Bone Broth.
Yep, that is right. We are using bone broth in this recipe. I love cooking my veggies in it for extra flavor and juiciness then we also are crisping these taquitos over the stove in some avocado oil and broth combined. They get so crunchy and when I bit into my first taquito, I was going crazy.
I use Bonafide Provisions organic bone broth. It is nutrient-dense, quality and straight up delicious broth. In case you are wondering what bone broth is and why I use it, head on over here to read everything you need to know about bone broth.
What I really love about this recipe though is how versatile it is. Sure this recipe technically is meat-free besides bone broth, but you can add some shredded chicken, turkey, beef, anything you wish to bulk them up. I added some chipotle chicken when I made them again and I was in heaven. Closed my eyes and pictured myself eating chips and guac and drinking margaritas in the sand.
I hope you guys love this gluten-free, dairy-free and healthier taquitos! Don't forget to share your creations with me over on Instagram. I cannot wait to hear what you guys think!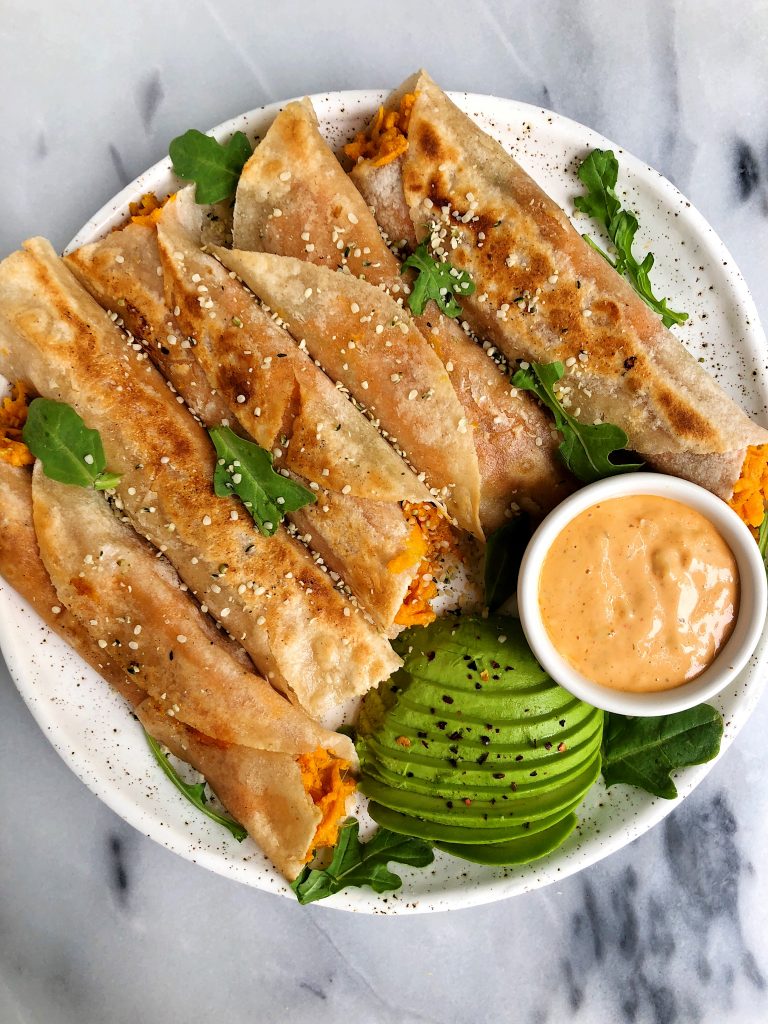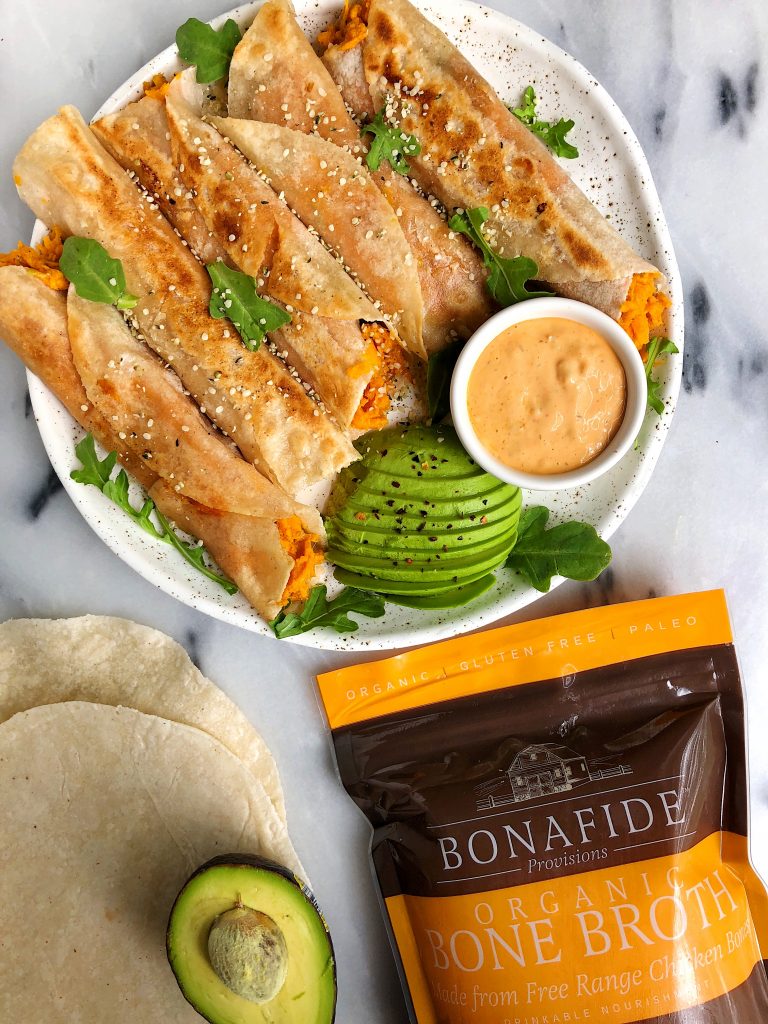 Print
Easy Sweet Potato Taquitos
Easy Sweet Potato Veggie Taquitos made with organic bone broth for a healthier gluten-free, dairy-free crispy taquito recipe!
8

tortillas of choice (I used these)

1

small organic white onion, chopped

1/2 cup

Bonafide Provisions Organic Bone Broth (any variety)

1 cup

mashed organic sweet potato

4 tablespoons

organic cilantro, chopped

Juice from

1

lime

1/2 teaspoon

garlic powder

1/2 teaspoon

black pepper

1/2 teaspoon

chipotle powder

2 cups

organic leafy greens

Avocado oil
Instructions
Add the onion and bone broth to a large skillet and cook until softened (about 10 minutes)
Remove from heat then allow to cool
In a medium bowl add the mashed sweet potato, onions, cilantro, lime juice, garlic powder, black pepper and chipotle powder and mix well so it is in a puree
Lay out a tortilla and add a couple spoonfuls of the sweet potato mixture to the side closest to you then add some greens on top and roll the taquito up (roll away from you)
Repeat for each tortilla (you may need more than 8 tortillas depending on how much you fill the tortillas with)
Add avocado oil to large skillet and an additional splash of bone broth if desired then crisp each taquito in the skillet for about 5 minutes (flipping half way through)
Serve with avocado and any other dips (I love using this!)
Notes
Store in the fridge, but these taste best day of!
xx, Rach
Thank you Bonafide Provisions for sponsoring this post. It means so much to me to work with brands I love and believe in!
SaveSave