This quarantine comes with a lot of snacks, let me tell ya.
I have always been a snack kween if you will. I don't leave home without them. I don't believe in not snacking between meals. And to be honest, I find so much joy in having some good snacks around.
One of the most commonly asked questions is..
What are your favorite healthy snacks?
And today, I am sharing a handful of my favorite packaged snacks and snack combos right now. Jordan and Ezra are sharing some of their favorites too. And I broke it down into sweet + savory as I know we all have our snackin' preferences.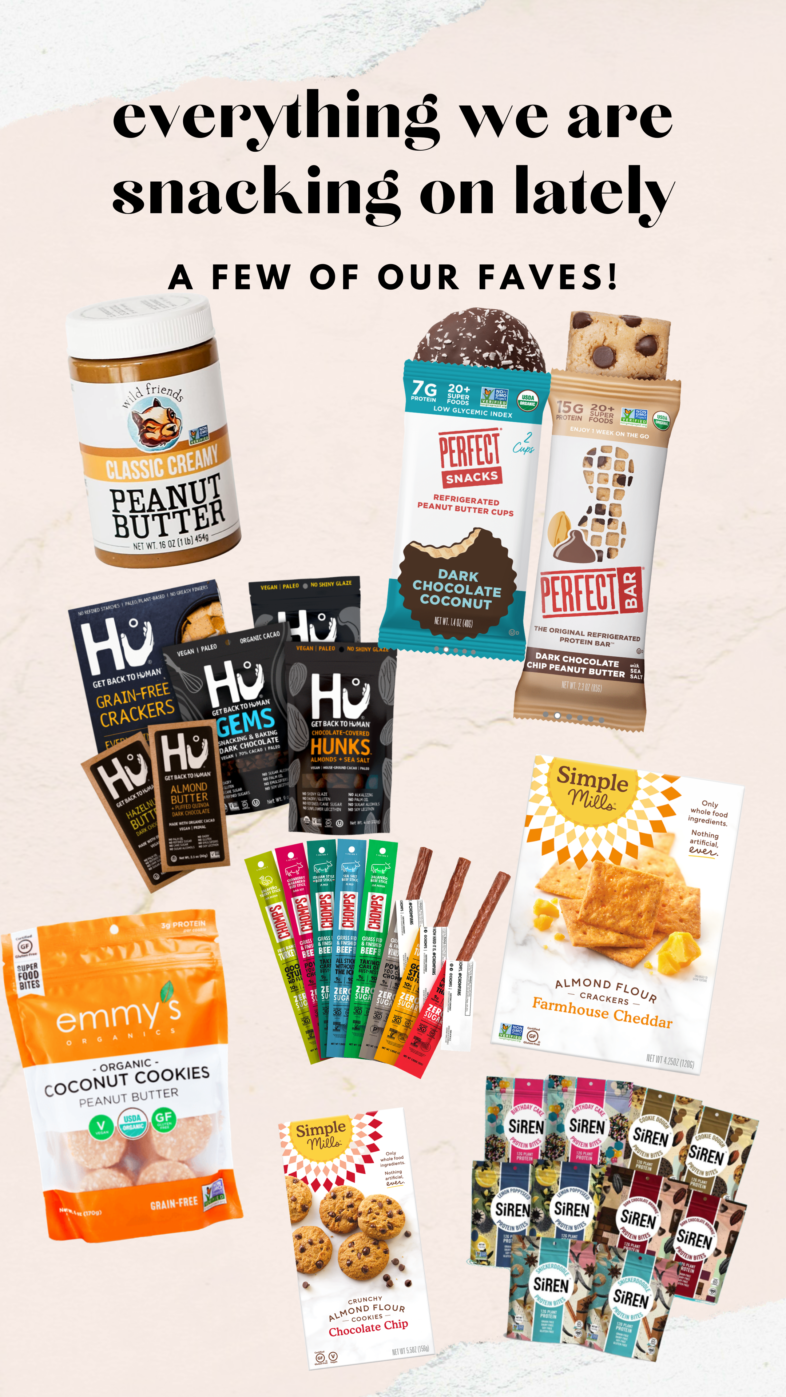 My favorite sweet snacks:
Perfect Bars – I mean.. DUH. Perfect Bars stole my heart years before I even posted them on Instagram. They are a staple in my daily eats and same with Jordan and Ezra. My top 5 favorite flavors: dark chocolate almond, chocolate peanut butter, blueberry cashew, chocolate mint + coconut peanut butter. Oh and don't forget about the cups and the kids line. I eat the cups after dinner when I don't have a baked good around. They're so good!
Banana or apple + peanut butter – kind of like my banana sushi vibes if you will. I love sprinkling some of my granola on top too for a crunch. really any nut butter I use but pb is golden.
Siren Snacks (code RACHL for 15% off) – I first fell in love with these when I was at Expo East a few years ago. They are the most delicious plant-based protein bites. I love the lemon poppyseed flavor so much! And the brownie but they are all so good. And a serving is 1 bag
Emmy's – my beloved coconut cookies! These are so delicious and I love their classic line of cookies and the new chocolate covered cookies. I crush up the cookies with nut milk and it makes for an insane snack. Keep the chocolate covered ones in the fridge.. you'll thank me.
Bowl of granola + nut milk or yogurt – this has been my go to snack for years now. I love granola clusters so much!
Hu chocolate + hunks + crackers (code RACHL for free shipping) – we love them all! The cashew hunks are my personal favorite and the cashew butter + vanilla bean bar. The everything bagel crackers are so delicious too! You can snack on them or crush them up as breadcrumbs.
Cookies – I love to bake my own like those Almond Flour Chocolate Chip ones + my Walnut Chocolate Chip cookies but we also stock up on these Simple Mills crunchy chocolate chip cookies and their soft baked ones too!
My favorite savory snacks:
Chips + guacamole – We love chips here. We go through bags of chips every week. I love the organic corn chips from Trader Joe's and the Siete chips!
Popcorn – my new found love for popcorn is out of control. We either make our own or get the organic olive oil one from Trader Joe's
Chomps – I love their meat sticks! They are grass-fed and such a great source of protein. My mom dips these in mustard too (pro tip)
Rice crackers with avocado or nut butter – this can either be sweet or savory depending on what you top it with. But I buy these rice crackers and top them with anything. Love love love! I love doing nut butter with banana and cinnamon and honey or savory ones with mashed avocado, some EBTB seasoning, etc.
Crackers – there are two crackers I stock up on and both just so happen to be paleo. I love the Hu crackers (code RACHL for free shipping) and the Simple Mills crackers. Both delicious and very different in their own way. The cheddar Simple Mills ones actually taste like healthy cheez its and I am here for it.
There are also soooo many snack ideas over in my cookbook, Just the Good Stuff!