These gluten-free Freezer Breakfast Sandwiches are the ultimate meal prep hack for breakfast. Easy grab-and-go breakfast that packs in protein and makes mornings 100x easier.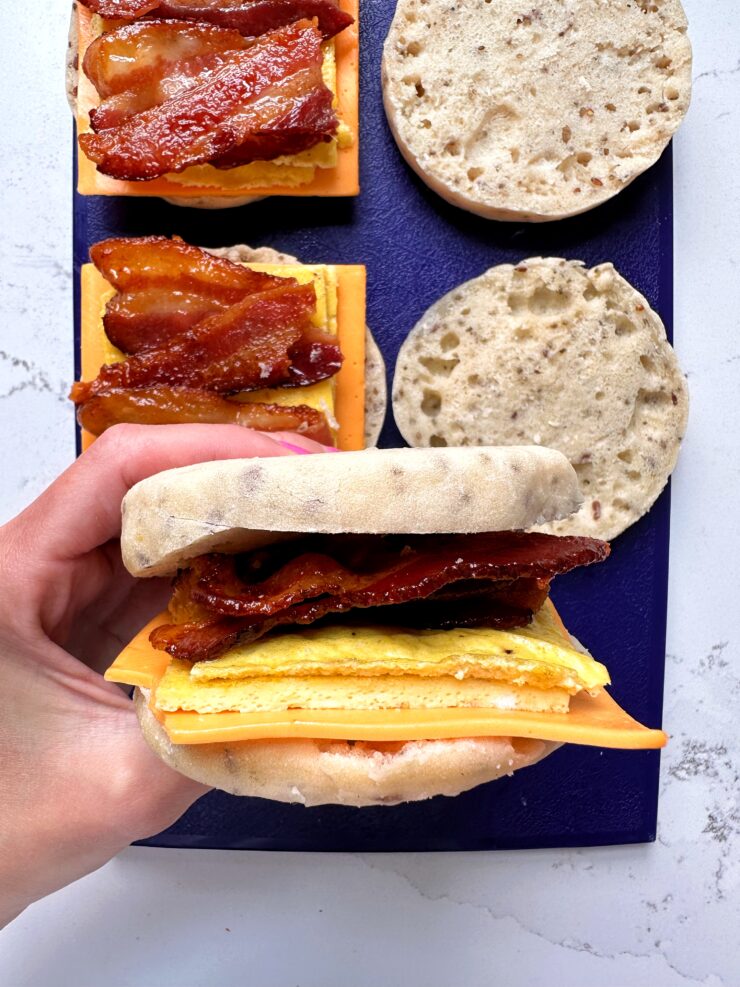 What could be better than waking up to breakfast already made? Especially something like these bacon, egg and cheese breakfast sandwiches. The ultimate sandwich for the morning (or really any time of day!). And this is a dream meal prep scenario and will change the game for your mornings that's for sure.
These breakfast sandwiches are made with gluten-free English muffins, eggs, bacon and cheese. All you need is about 30 minutes to prepare them and you freezer will be stocked and ready.
The beauty of these freezer breakfast sandwiches is that you don't need to make them over and over again. You can dedicate 30 minutes and have breakfast set for awhile. Plus you can always double the recipe too to prep even more sandwiches at once!
The sandwiches have eggs, cheese and bacon in them. But you can really do whatever you want with the sandwiches. Add in some veggies to the eggs or swap bacon for sausage or even omit the meat or use veggie sausage. I love how versatile they are.
And now when you are running out the door on busy mornings, you just need to quickly reheat one of these and you'll have a delicious meal in no time.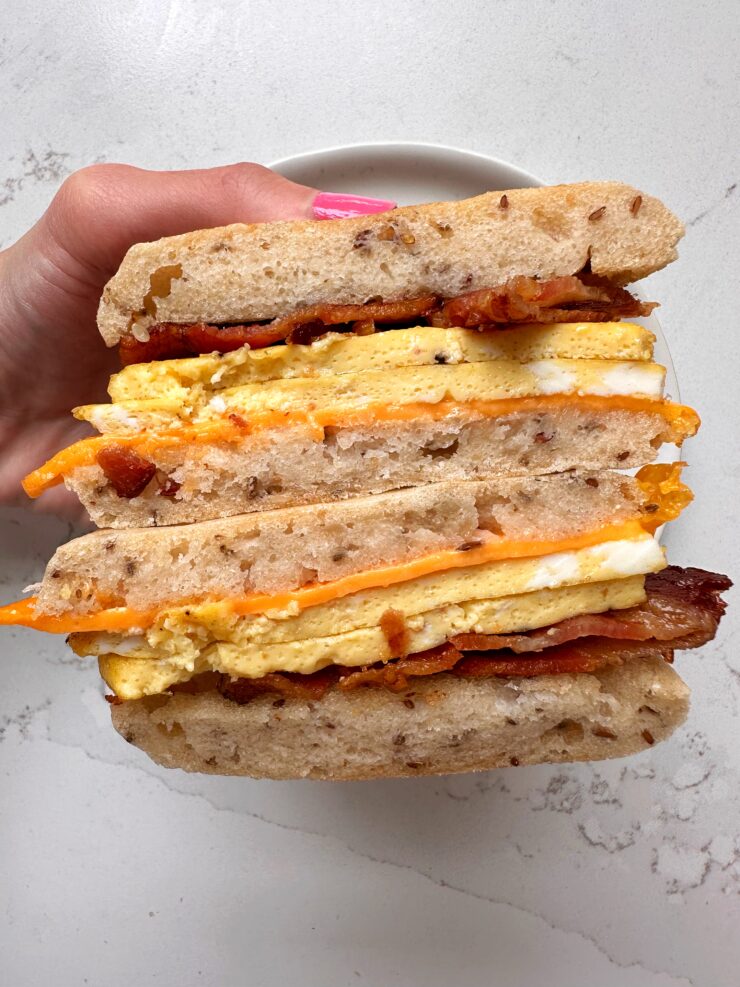 What ingredients are in these make-ahead breakfast sandwiches:
Gluten-free English muffins – or regular if not gluten-free. Either will work. You can even use bread or bagels if you prefer.
Eggs – feel free to add in other mix-in's to the eggs like veggies to make these even more nutritionally packed.
Milk of choice – I used almond milk the first time, flaxseed milk the next. Any unsweetened milk variety can rock.
Cheddar cheese – or preferred cheese. American cheese works too or even Swiss can be great.
Bacon – I always cook mine in the oven. Such a game changer for making bacon.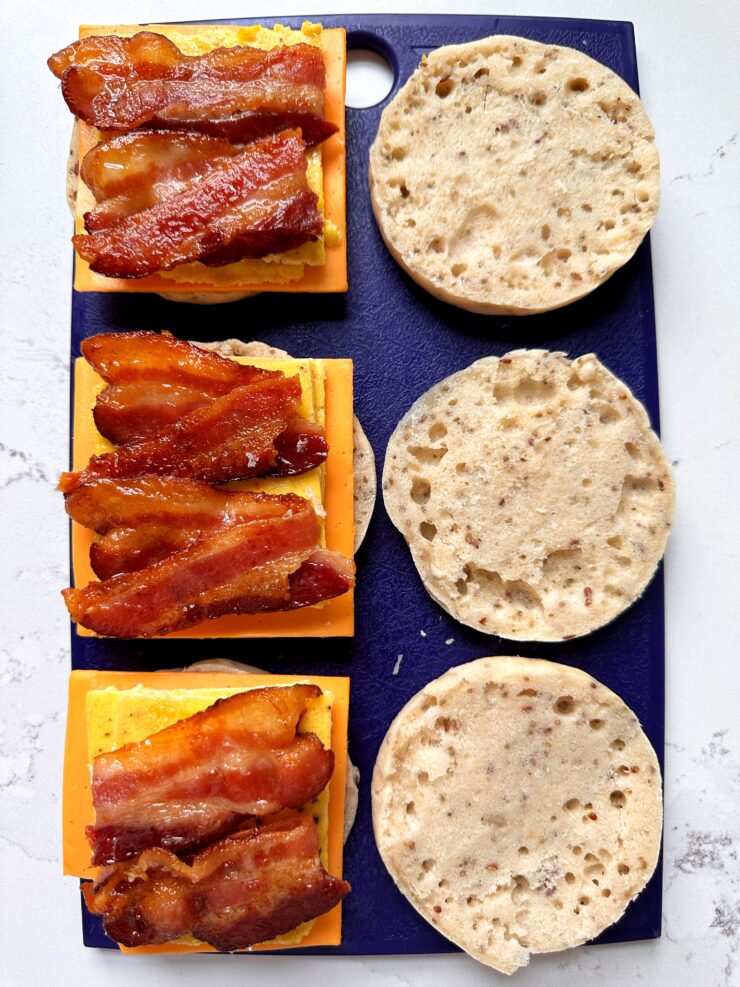 How to make breakfast sandwiches for the freezer:
To prepare sandwiches:
Preheat oven to 325 degrees F and grease a 9×13″ baking sheet
Whisk together the eggs, milk and salt and pepper until combined
Pour egg mixture into greased sheet and bake for 18-20 minutes, or until the center is set (you don't want to overcook!)
Remove from oven and allow to cool then cut into 12 squares
Slice each english muffin in half then top half with egg, cheese, bacon and other half of the muffin then wrap in foil or wrap of choice
Store in freezer in ziplock bag for up to 2 months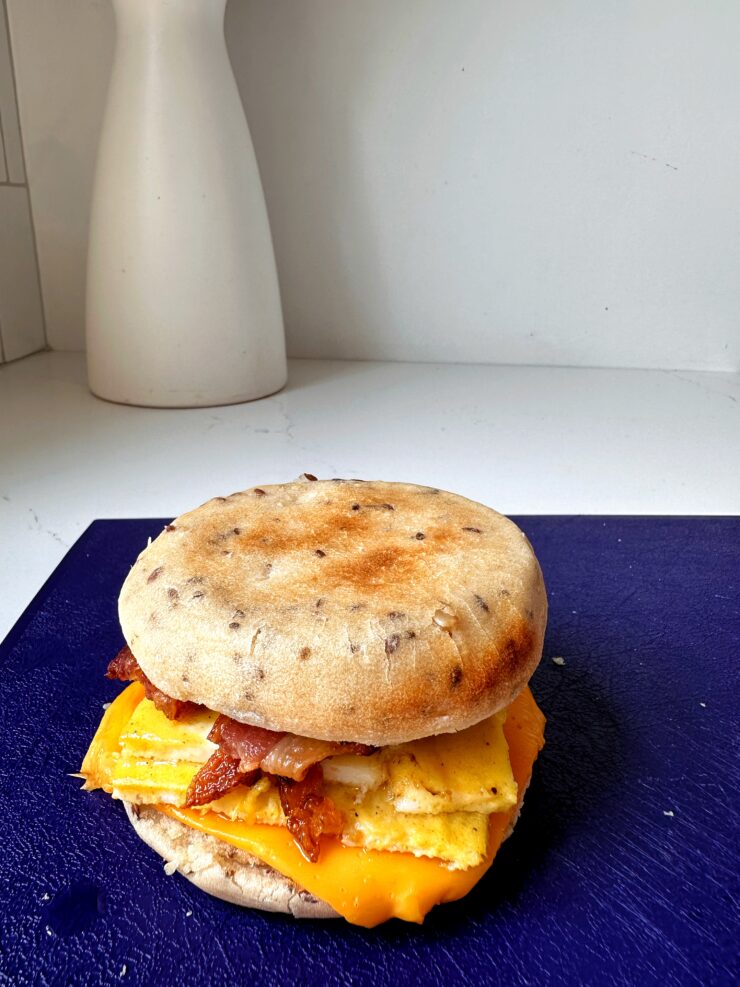 How to reheat freezer breakfast sandwiches:
Microwave: thaw in fridge overnight if possible. Remove foil and wrap sandwich in paper towel and microwave for 45 seconds to 1 minute then flip sandwich over and microwave for 15-30 seconds until warmed thorugh
Oven: reheat in oven at 350 degrees F for about 10-15 minutes on a baking sheet or in the toaster oven
FAQs on making breakfast sandwiches:
How long do these sandwiches last in the freezer? About 2 months but we always fly through them faster than that!
I am vegetarian, can I omit the bacon? Of course! Add in some veggies to the eggs when you cook them or even use a veggie sausage instead.
What condiments do you eat this with? Typically ketchup is most popular for these breakfast sandwiches.
Can I double this recipe to make more than 6 sandwiches? Absolutely! Double it up and make 12.
A few other breakfast recipes to prep:
Healthy Chocolate Chip Banana Bread Baked Oatmeal Bars
Frozen Yogurt Oatmeal Bars (gluten-free)
Easy and Healthy Egg Cups (gluten-free)
Print
Gluten-free Freezer Breakfast Sandwiches
These gluten-free Freezer Breakfast Sandwiches are the ultimate meal prep hack for breakfast. Easy grab-and-go breakfast that packs in protein and makes mornings 100x easier.
Prep Time:

5 mins

Cook Time:

20 mins

Total Time:

30 mins
6

gluten-free English muffins (or regular if not gluten-free)

6

eggs

Sea salt and black pepper to taste

1/4 cup

milk of choice

6

slices cheddar cheese (or preferred cheese)

12

slices bacon, cooked
Instructions
To prepare sandwiches:
Preheat oven to 325 degrees F and grease a 9×13″ baking sheet
Whisk together the eggs, milk and salt and pepper until combined
Pour egg mixture into greased sheet and bake for 18-20 minutes, or until the center is set (you don't want to overcook!)
Remove from oven and allow to cool then cut into 12 squares
Slice each english muffin in half then top half with egg, cheese, bacon and other half of the muffin then wrap in foil or wrap of choice
Store in freezer in ziplock bag for up to 2 months
To reheat sandwiches:
Microwave: thaw in fridge overnight if possible. Remove foil and wrap sandwich in paper towel and microwave for 45 seconds to 1 minute then flip sandwich over and microwave for 15-30 seconds until warmed thorugh
Oven: reheat in oven at 350 degrees F for about 10-15 minutes on a baking sheet or in the toaster oven
Notes
*Store in the freezer for 2 months