The best ever Paleo Blueberry Banana Breakfast Bread made with 8 ingredients!
Yes, another banana bread recipe in the family.
I wasn't joking on Instagram when I said I was contemplating making a blog centered around banana bread. Because not only is banana bread my favorite thing to eat, it is also my favorite to make and photograph.
This wasn't always case though. The first time I made banana bread, I was screaming and cursing at the banana bread for not "cooperating" with me. This does happen often when I have a certain vision or expectation and it comes out 100% differently than planned. I also tend to get discouraged easily when I don't know how to photograph something but I see that the other bloggers around me nail it overtime. While I know that is not good to compare myself to others (no one should), sometimes you can't help yourself.
So instead of giving up after photographing my first loaf, I told myself I would make some more and practice. As a result I have been cranking away banana bread recipes and now they are my favorite to photograph (and eat). Who would have thought, right?
This is my first banana bread without chocolate, but I promise you it still tastes amazing. This Paleo Blueberry Banana Breakfast Bread is also packed with fresh blueberries and basically tastes like summer in a sweet loaf of bread.
It was such a hit in my house that the loaf lasted a total of 3 days between Jord and I. I am not even kidding. My parents came a few days later and expected to try some and there was none left (oops, sorry guys).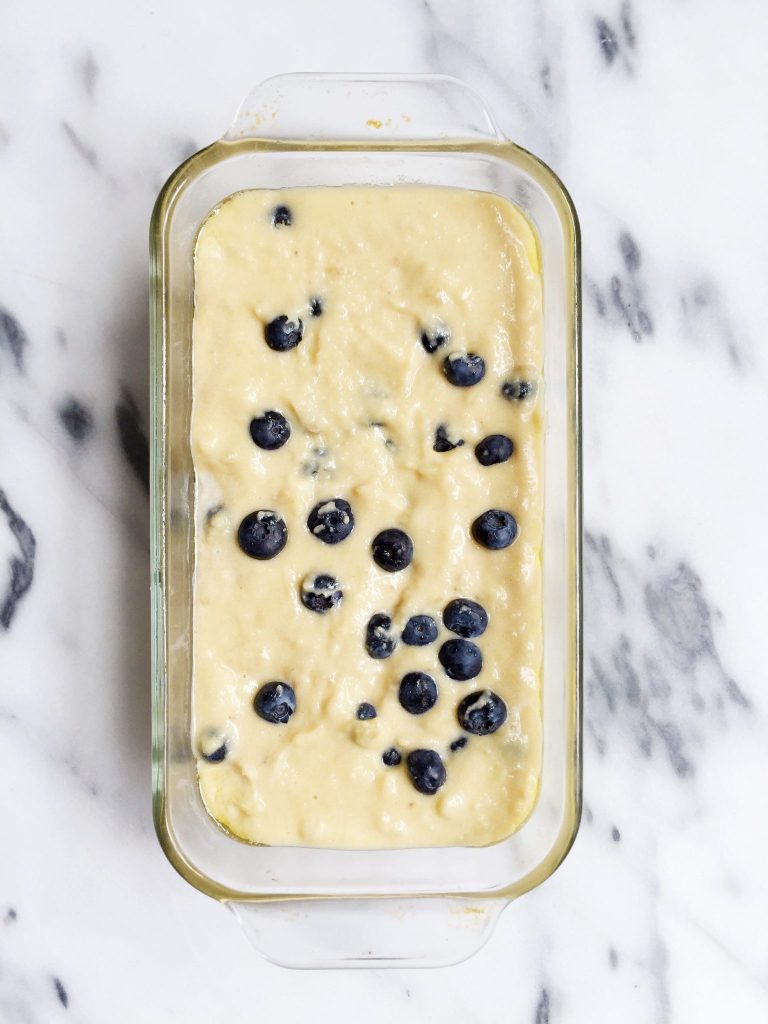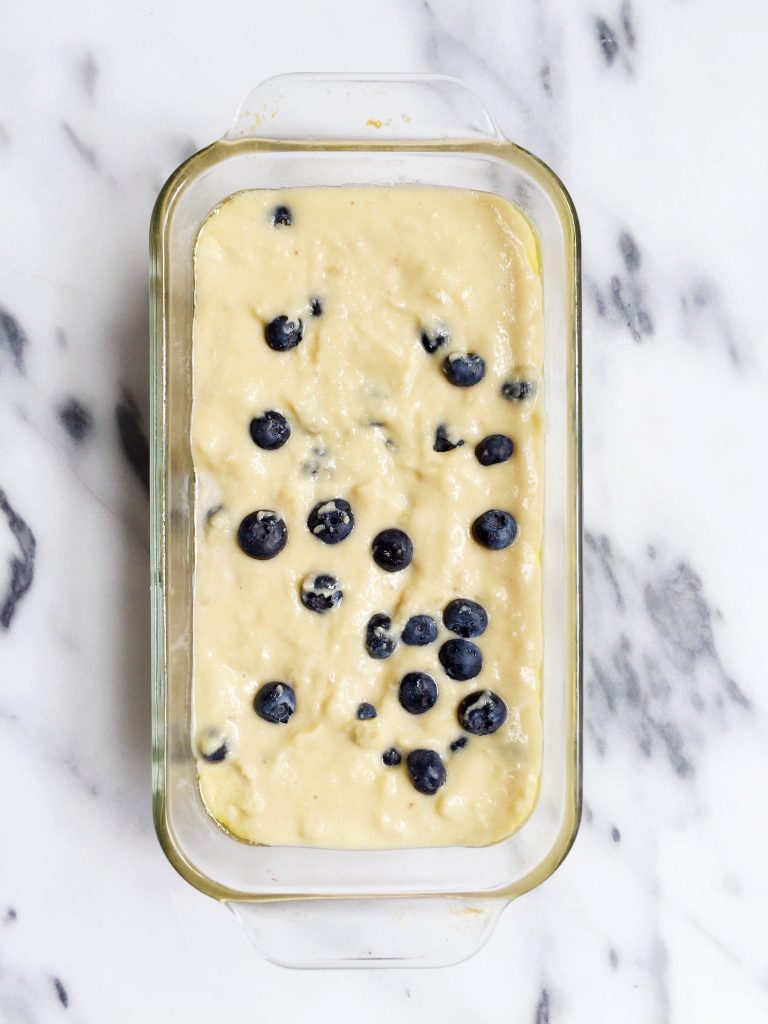 Best part about this Paleo Blueberry Banana Breakfast Bread? You only need 8 ingredients to make it and it is grain, dairy and also gluten-free.
For this recipe you will need: bananas, eggs, coconut oil, honey or maple syrup , vanilla extract, almond flour, baking powder and blueberries.
Print
Paleo Blueberry Banana Breakfast Bread
Author:
Yield:

8

-

10

slices

1

x
Category:

grain free, paleo, gluten free, dairy free

Cuisine:

breakfast, dessert, snack
Wet ingredients:

2

ripe bananas, mashed

2

eggs at room temperature (I haven't tested flax egg)

3 tablespoons

coconut oil melted & cooled

3 tablespoons

maple syrup (honey or agave will work too)
Splash of vanilla extract
Dry ingredients:

2 cups

almond flour (I do not recommend subbing any other flour)

1 teaspoon

baking powder
Add in's:

1 cup

fresh blueberries (I haven't tested with frozen and make sure these are dried off and not wet, it will effect consistency of the banana bread and make it mushy)
Optional:
Nuts, chocolate chips
Instructions
Preheat oven to 350 and line or spray a loaf pan with parchment paper (I used 8.5 x 4.5 x 2.5)
Place wet ingredients in a medium mixing bowl and mix with kitchen aid
Once mixed well, add dry ingredients to wet ingredients and continue to mix with kitchen aid
Fold in blueberries once everything is mixed well (I also saved some to sprinkle on top)
Bake in oven for 45-55 minutes (or until ends are golden)
Finally, enjoy with your toppings of choice or deliciously as is
*if your bread looks too mushy, keep baking
**If the batter is too liquidy when you are add to bread pan, add more almond flour! It shouldn't be thin batter
xx, Rach


SaveSave