Paleo Pumpkin Mini Muffins made with only 7 ingredients for an easy and healthy pumpkin snack with no added sugar!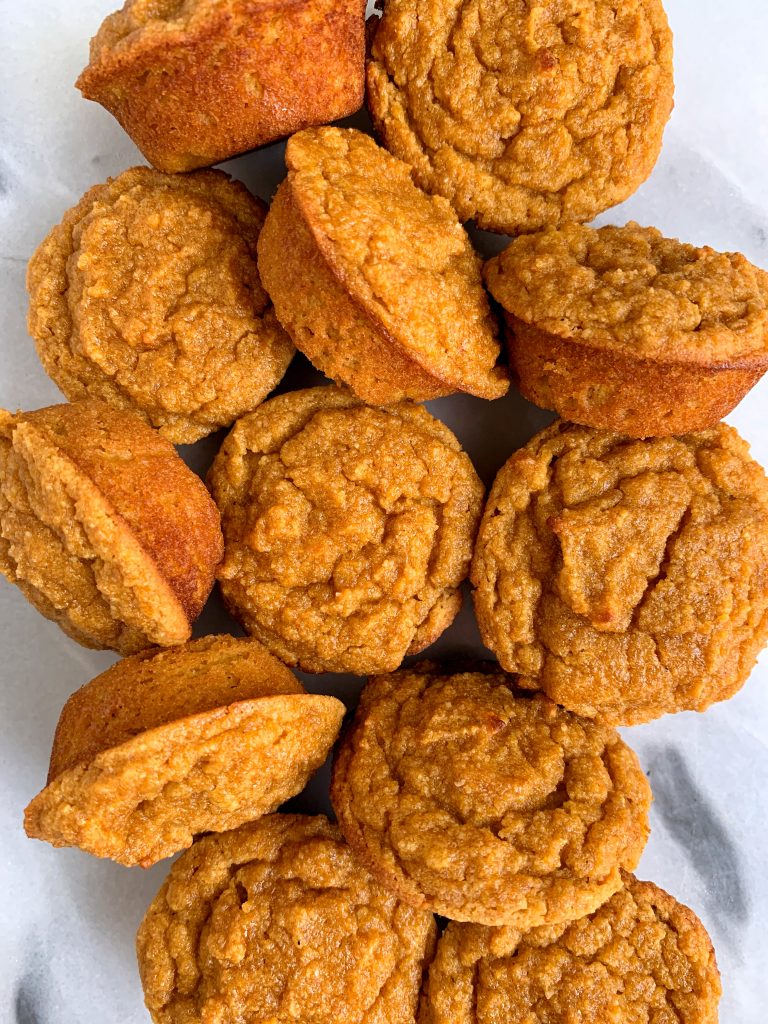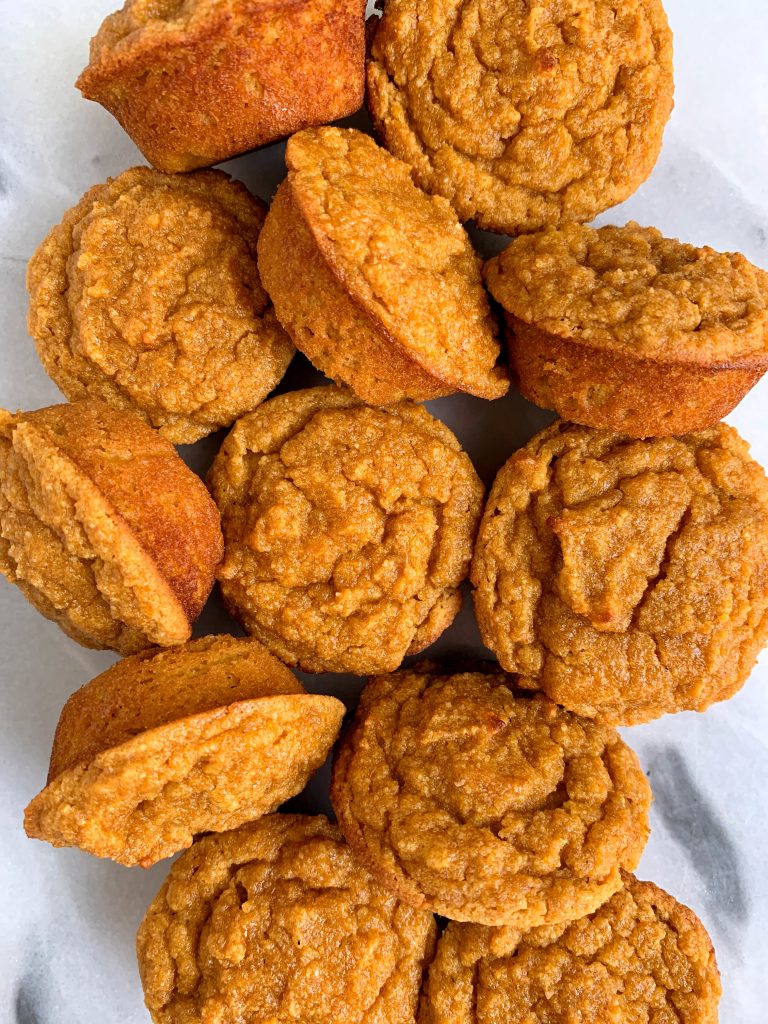 I went into fall thinking that I would share a couple of new pumpkin recipes, but not go too crazy.
Fast forward a couple of weeks and your girl is on a roll over here with pumpkin and fall everything. And the insane part is that I'm not even someone who craves pumpkin spice lattes and wearing my boots again. I love summer and sweating my tush off in the 100 degree weather.
But at the same time, I'm not one to say no to a muffin or bread or cookie of any kind, so allow me to introduce the newest pumpkin recipe…
Paleo Pumpkin MINI MUFFINS!
I don't know what I love about these more. The fact that they are made with 8 ingredients total or that Ezra pretty much ate the entire batch of these bad boys.
Seeing how much he loves baked goods seriously warms my heart. But at the same time I am not getting too used to him loving my cooking and baking because I heard it can get quite challenging to feed your bubbas when toddler time is here.
These cutie pumpkin muffins are adult and kid-friendly. You can pair a few with some nut butter for an easy snack for yourself. Or slice up some into smaller pieces to feed to the bubs in your lives. Ezra loved these with some cashew butter (code RACHL for free shipping in this nut butter!)
But no matter who is eating these and how they are eating them, I have a feeling they will love them!
Oh and for anyone craving even more fall recipes to bake this season (or really whenever), here are my go-to pumpkin eats!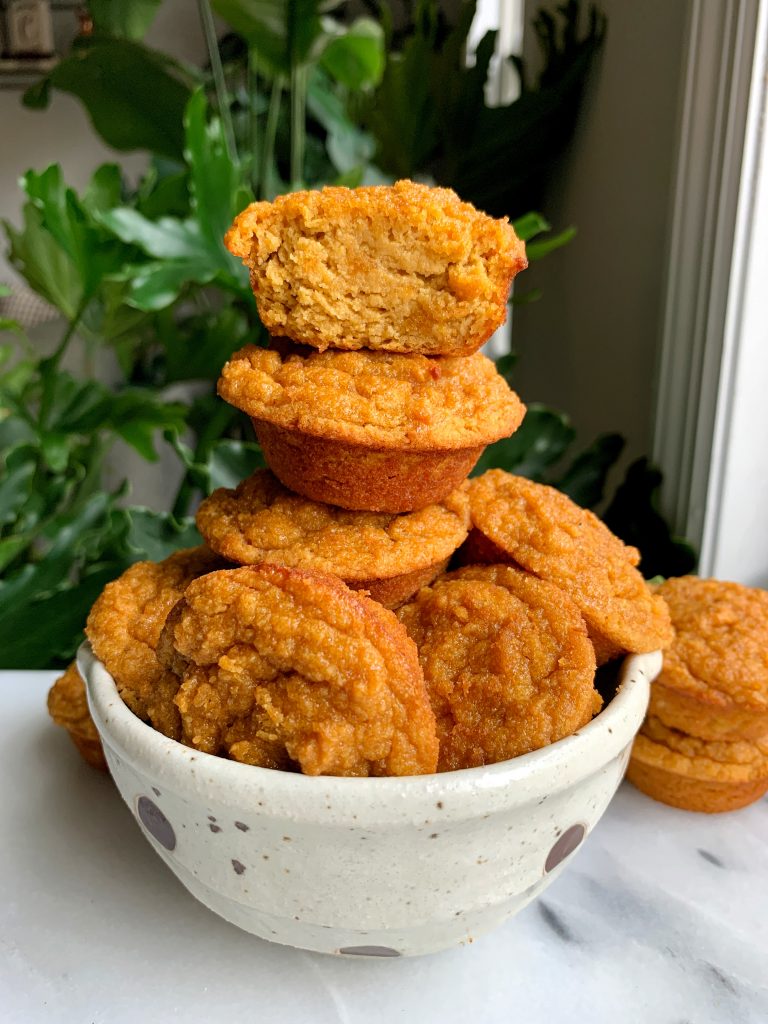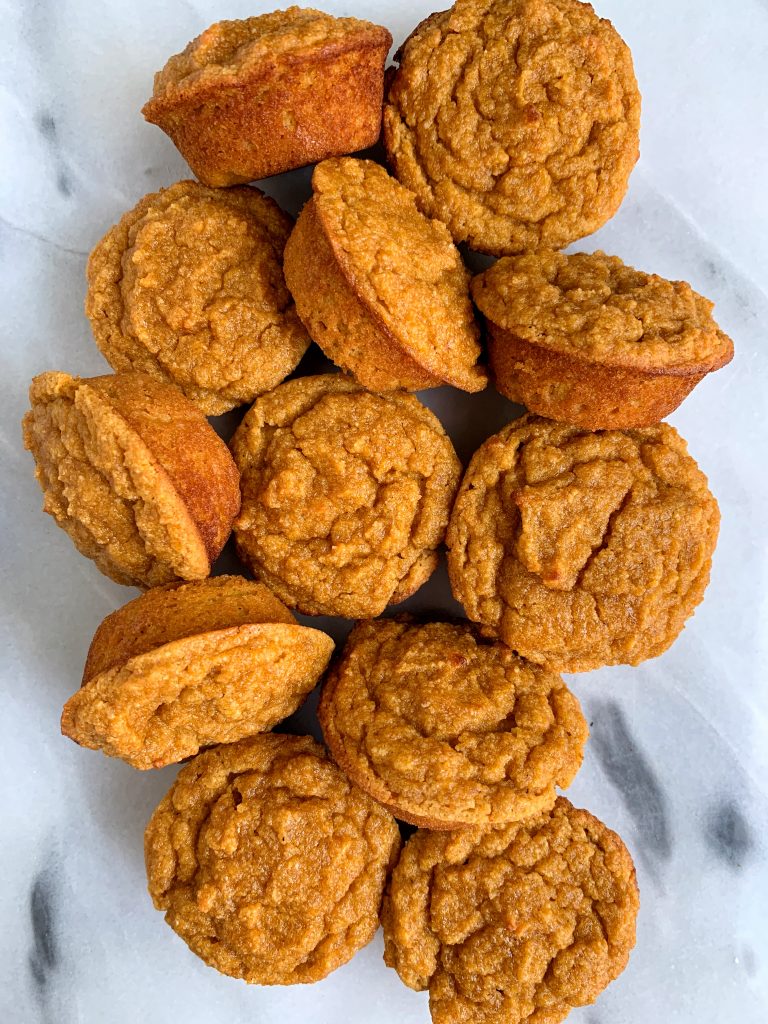 Print
Paleo Pumpkin Mini Muffins
Paleo Pumpkin Mini Muffins made with only 7 ingredients and no added sugar for an easy and healthy pumpkin snack! Very kid-friendly recipe too. My 8 month old loves these!
Prep Time:

5 mins

Cook Time:

20 mins

Total Time:

25 mins
Yield: 10-12 mini muffins 1x
1

pasture-raised egg

1/2 cup

organic pumpkin puree

1/2 cup

unsweetened organic applesauce (or sub more pumpkin)

2 tablespoons

melted and cooled coconut oil

1/2 teaspoon

vanilla extract

1/3 cup

ground flaxseed

2 cups

almond flour

2 tablespoons

tapioca flour (or sub arrowroot)

1 teaspoon

baking powder
Instructions
Preheat oven to 350 degrees and grease a mini muffin pan with coconut oil
In a large bowl, whisk together the egg, pumpkin, applesauce, oil and vanilla extract until well combined
Mix in the flaxseed, flours and baking powder and stir well so there are no clumps
Evenly fill each muffin cup with batter (they don't rise too much)
Bake in oven for 20-25 minutes
Allow the muffins to cool for a few before removing from pan
Notes
*Leftovers keep for about 5 days in airtight container
**I haven't tested other flours
xx, Rach