This healthy banana bread bake oatmeal is the perfect way to use up spotty brown bananas and make a vegan, gluten-free and dairy-free breakfast recipe.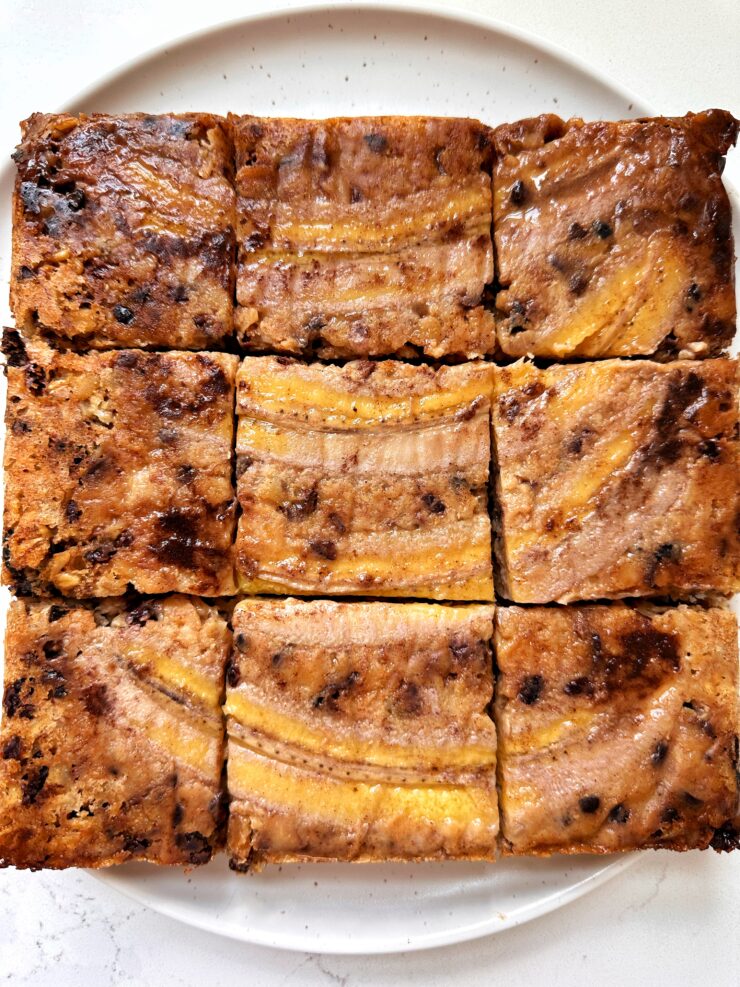 I am a huge banana bread girlie over here. I have so many different banana recipes on the blog and this Upside Down Banana Baked Oatmeal is a *must* try. Plus this is the ultimate breakfast dish to keep you fueled and satisfied for the mornings.
If you love banana bread and it doesn't always fuel you, try this baked oatmeal version. It is healthy yet decadent and tastes like dessert. And it seems 100x fancier than it actually is because of the banana topping.
This banana baked oatmeal is made with simple ingredients that are probably already in your pantry. This is a *great* meal prep recipe and it is also super kid-friendly. My kids love to eat this for breakfast or as a snack.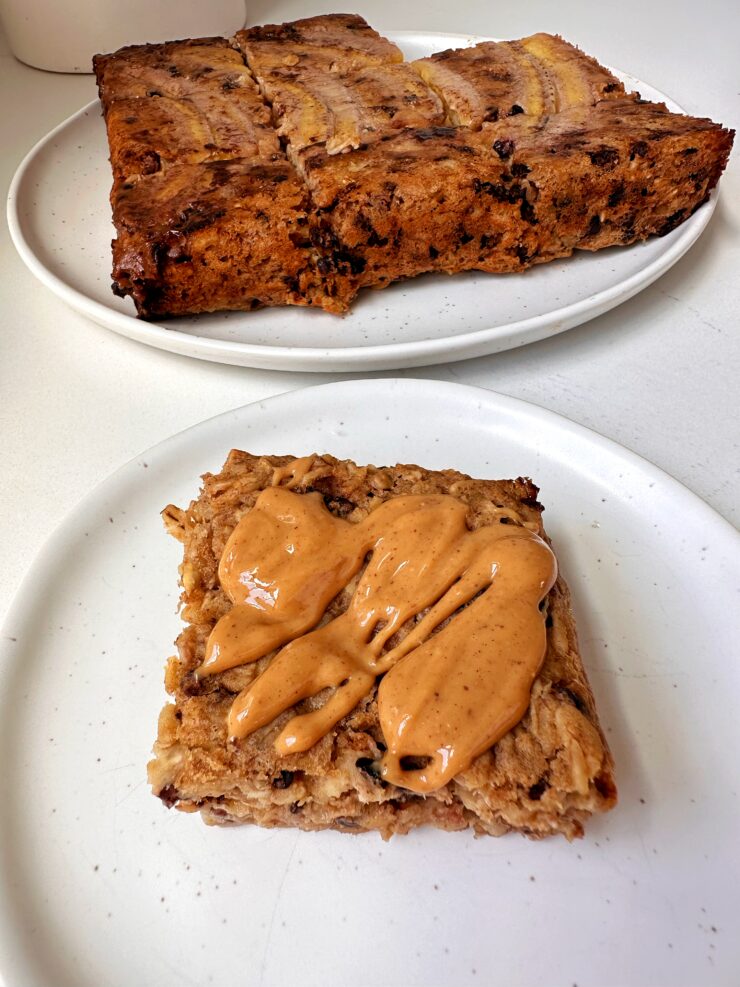 What ingredients are in Banana Baked Oatmeal:
Ground flaxseed – I use flax egg here to make it vegan/egg-free but you could use egg if you prefer
Bananas – extra freckled and ripe is best for this so the baked oatmeal is sweeter and moist
Creamy peanut butter – I love using peanut butter but you can use any creamy nut butter or tahini too
Non-dairy milk – any variety works. You can use almond, oat or even cow's milk if preferred
Vanilla extract – this is a must for this recipe! So delicious
Gluten-free rolled oats – if not gluten-free, use regular oats
Chocolate chips – you can also use cacao nibs if you prefer or omit the chocolate chip addition
Coconut sugar – this is the only added sugar besides chocolate chips and it's for the topping. Just a couple tablespoons to caramelized and sweeten the banana topping with
Cinnamon – you'll need this for the caramelized banana topping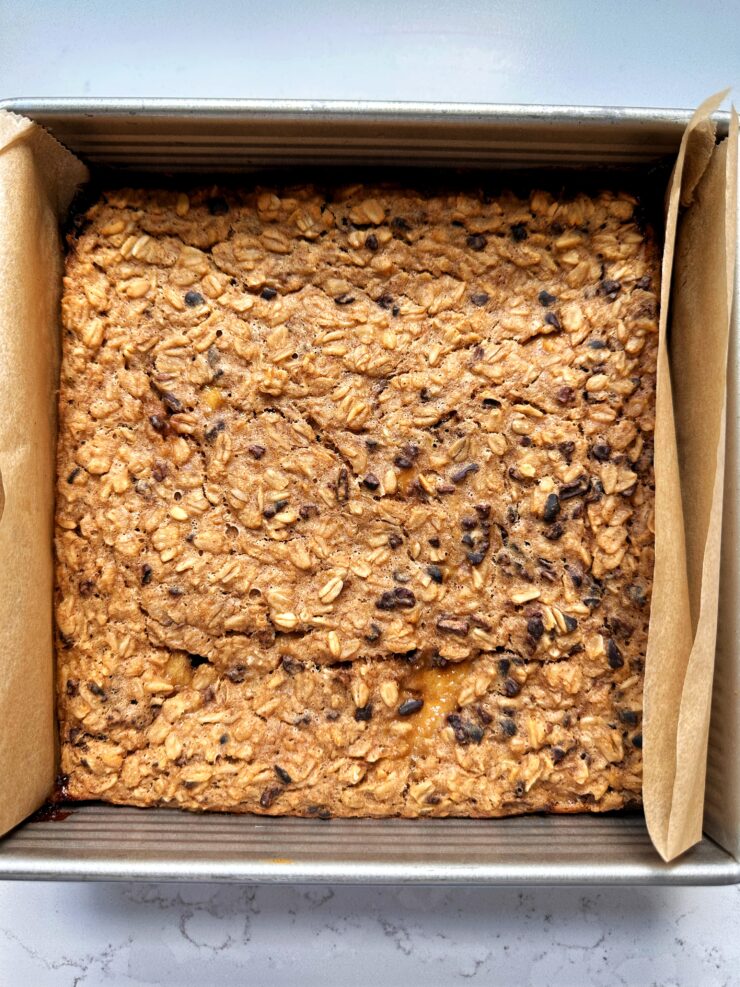 How to make Upside Down Banana Baked Oatmeal:
Preheat oven to 350 degrees and line an 8×8 baking dish
Make the flax egg by mixing together ground flaxseeds with 2 tablespoons water and set in fridge for 5 minutes
In a large bowl, mash together banana then add in peanut butter, milk, vanilla extract until smooth
Mix in oats, baking powder then fold in chocolate chips
In a small microwave save bowl, mix together coconut sugar, cinnamon and water for 30 seconds in microwave
Add the sliced bananas, cut side down onto baking dish then pour the coconut sugar water mixture on top
Add the oat mixture then bake in oven for 40-45 minutes or until fully cooked
Allow the baked oatmeal to cool for 30 minutes then top with cutting board and carefully flip and cut into pieces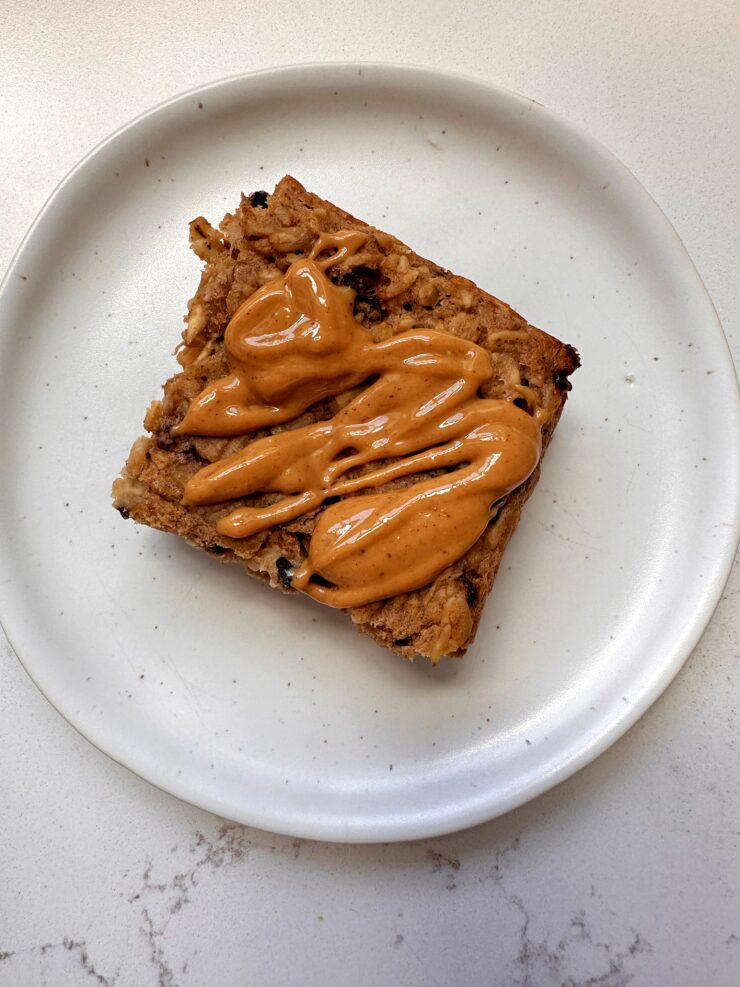 FAQs on making baked oatmeal:
Is banana baked oatmeal healthy? To us it is! These ingredients are simple, there is very little sugar in this. In fact no added sugar besides the chocolate chips in the baked oatmeal itself. It keeps us full and satisfied and if you wanted this to be even lower in sugar, leave out the chocolate chips and use cacao nibs (although I love them in here).
Can I use other nut butter instead of peanut butter? Yes absolutely! Any creamy nut or seed butter can work here. The creamier the better.
I don't care for flax egg, can I use real egg? Absolutely!
Is this baked oatmeal good to meal prep? Yes! It stays good in the fridge for 5 days and you can freeze it for up to 2 months.
I'm not gluten-free, can I use other oats? Any rolled oats work. I don't recommend steel cut for this. Quick oats could work well but I prefer rolled oats for this recipe.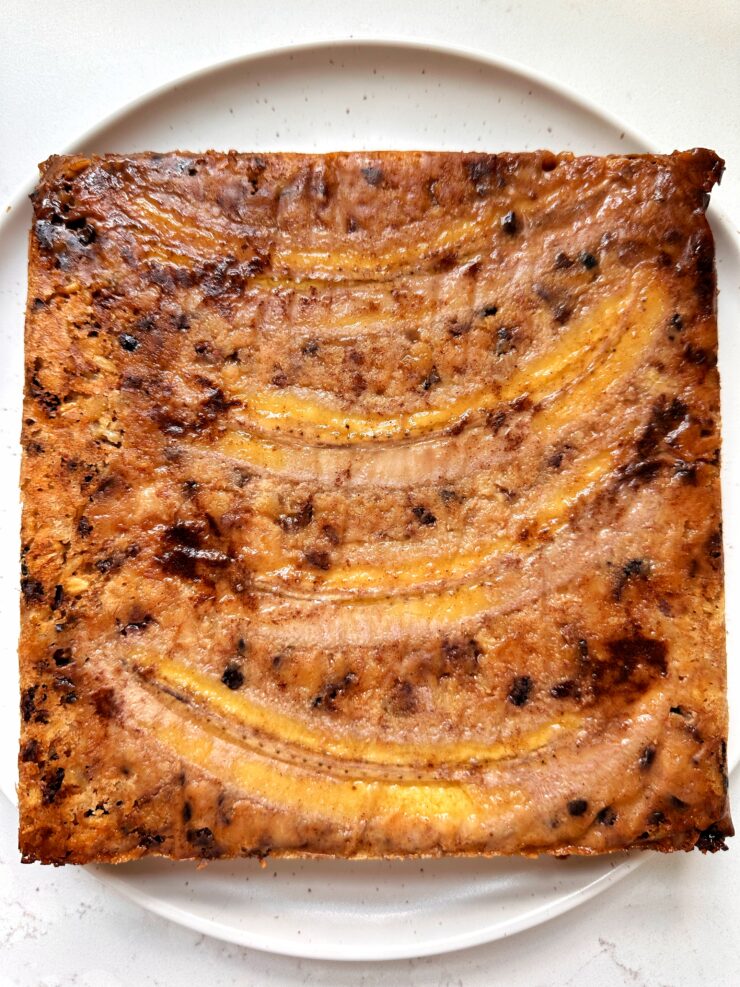 A few other banana recipes to try:
Gluten-free Birthday Cake Banana Bread Skillet
Gluten-free Strawberry Banana Bread
Vegan Cinnamon Roll Banana Bread Muffins
Print
Upside Down Banana Baked Oatmeal
This healthy banana bread bake oatmeal is the perfect way to use up spotty brown bananas and make a vegan, gluten-free and dairy-free breakfast recipe.
Prep Time:

10 mins

Cook Time:

45 mins

Total Time:

55 mins
Baked oatmeal:
Banana topping:
2

ripe bananas, sliced in half length wise

2 tablespoons

coconut sugar

1 teaspoon

cinnamon

2 tablespoons

water
Instructions
Preheat oven to 350 degrees and line an 8×8 baking dish
Make the flax egg by mixing together ground flaxseeds with 2 tablespoons water and set in fridge for 5 minutes
In a large bowl, mash together banana then add in peanut butter, milk, vanilla extract until smooth
Mix in oats, baking powder then fold in chocolate chips
In a small microwave save bowl, mix together coconut sugar, cinnamon and water for 30 seconds in microwave
Add the sliced bananas, cut side down onto baking dish then pour the coconut sugar water mixture on top
Add the oat mixture then bake in oven for 40-45 minutes or until fully cooked
Allow the baked oatmeal to cool for 30 minutes then top with cutting board and carefully flip and cut into pieces
Notes
*Store in fridge for 5 days or freezer for 2 months