Vegan Pumpkin Chocolate Chip Oatmeal Bars made with gluten-free ingredients for a healthy breakfast or snack bar!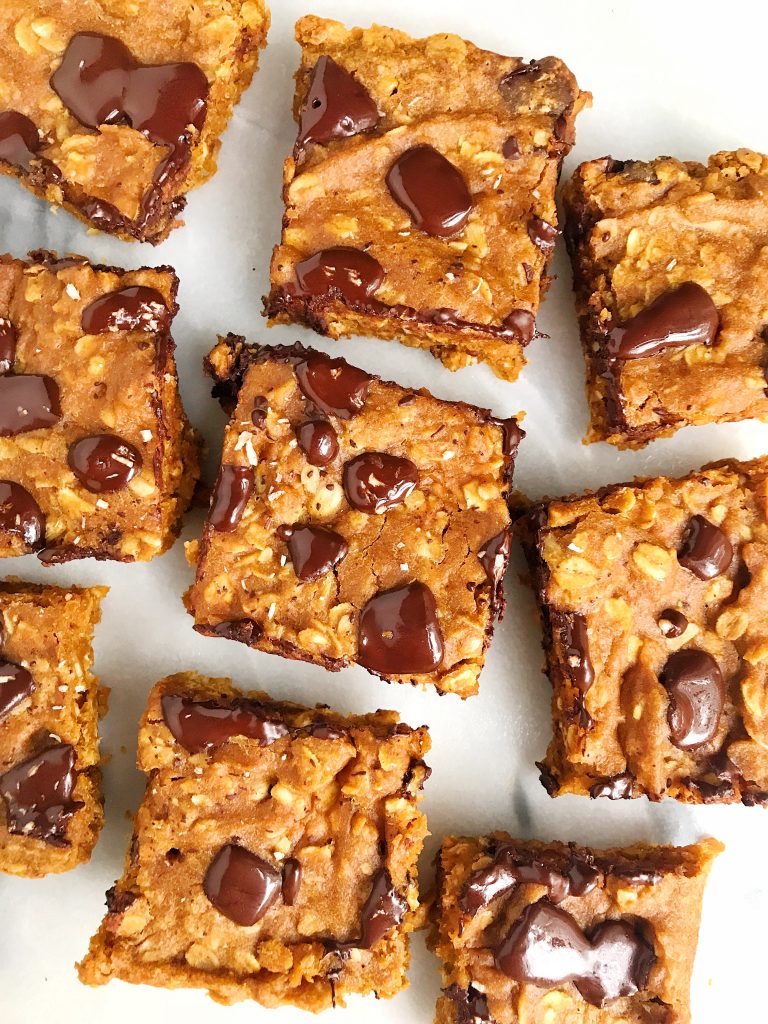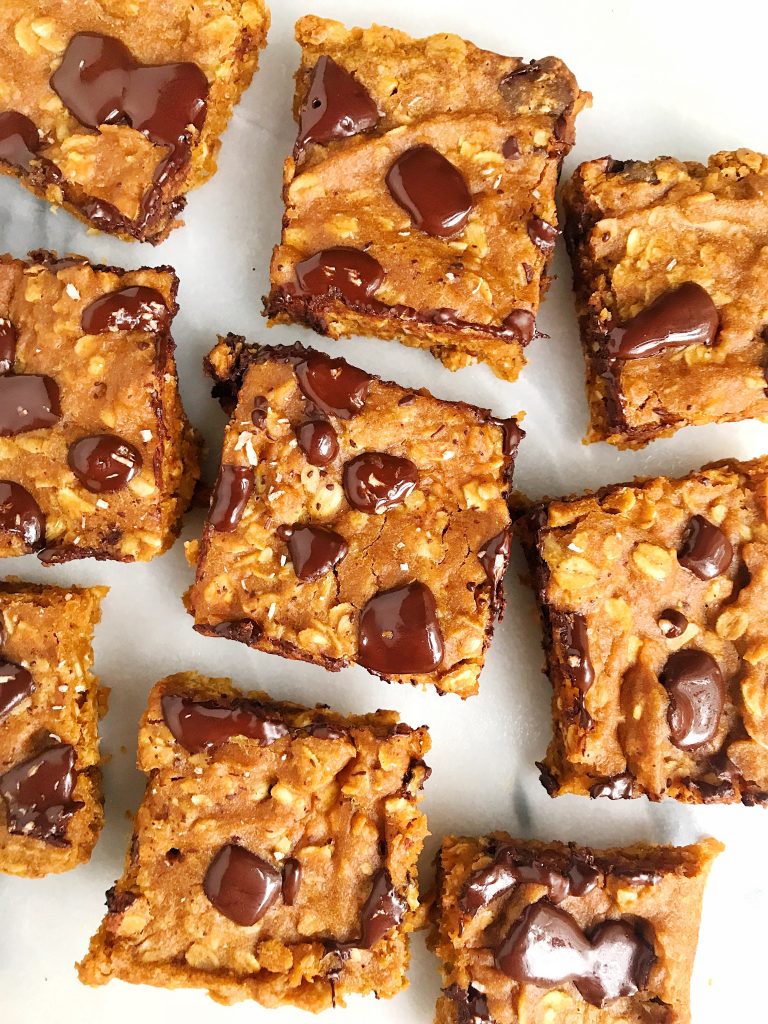 YOU GUYS! These healthy pumpkin oatmeal bars are EVERYTHING!
I had zero intention of adding this recipe to the blog. But then I get all crazy and started swooning over these Vegan Pumpkin Chocolate Oatmeal Bars and had to share this recipe.
I wanted to use up leftover pumpkin I was using for my Paleo Pecan Crumble Pumpkin Loaf and remember those insanely good Vegan Chocolate PB Oatmeal Bars I made awhile back. This recipe is so easy to modify and next think you know, these pumpkin bars are born!
So I am pretty much a sucker for anything pumpkin and chocolatey and to be honest, there is nothing more comforting than a cozy oatmeal bar when I am freezing my tush off and want a warm chocolatey snack of sorts.
What I absolutely love about these bars is that there is very little added sugar. I use just 2 tablespoons of maple syrup to sweeten the bars. But if you want to make them a little sweeter, just add an extra couple of tablespoons of maple syrup and use sweetened chocolate chips.
These bars are so dreamy served warmed up and with a little yogurt on the side. Or they are even delicious as is. I have a feeling these will be a hit for Thanksgiving morning for breakfast, which is why I wanted to share with you ASAP!
I cannot wait to hear what you think. Don't forget to tag me on instagram so I can see them too 🙂
WHAT YOU NEED
Oatmeal
Almond milk
Pumpkin puree
Peanut butter – this one is SO GOOD!
Maple Syrup
Dark Chocolate – code RACHL for free shipping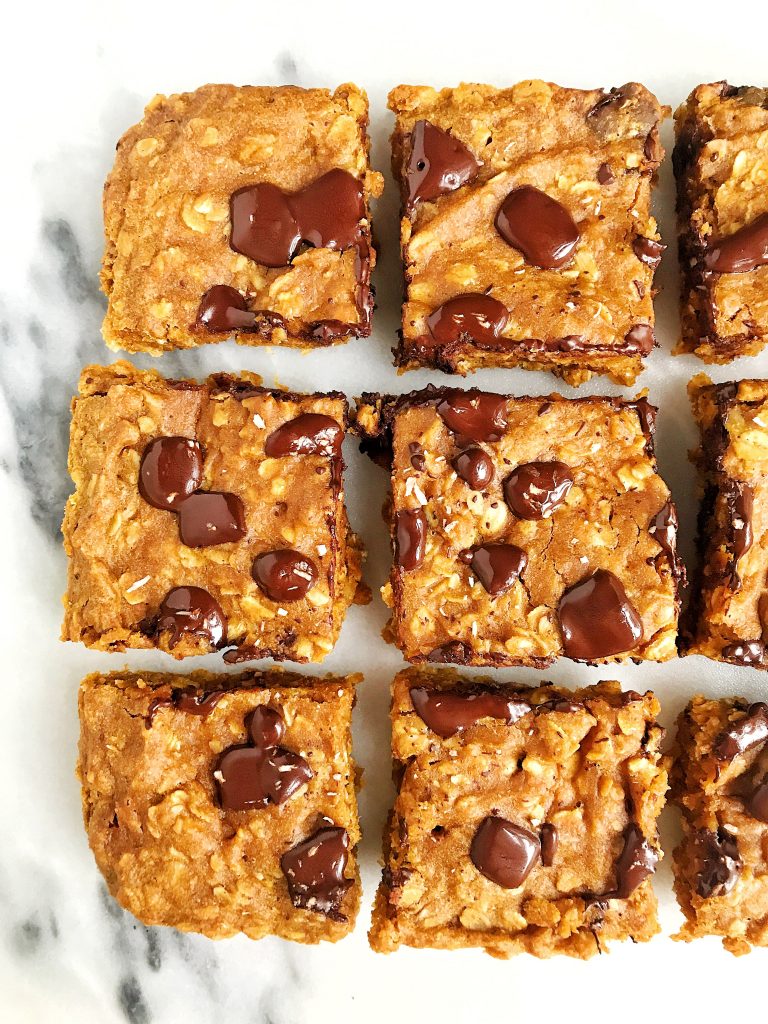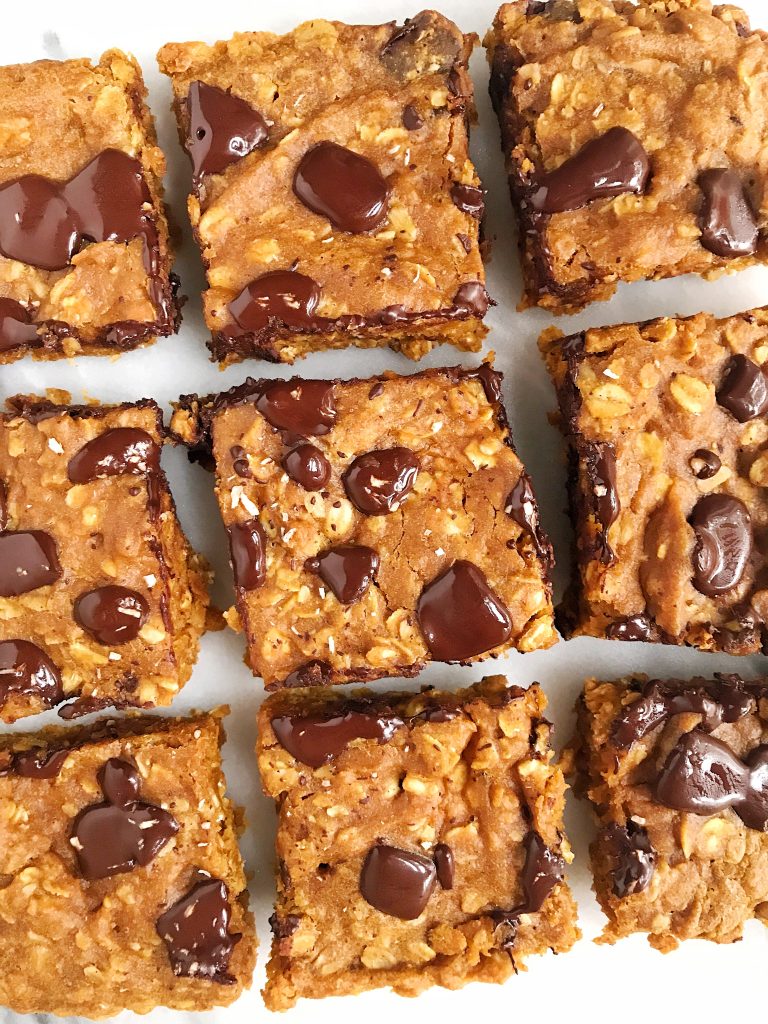 Print
Vegan Pumpkin Chocolate Chip Oatmeal Bars (gluten-free)
1 cup

old fashioned oatmeal

1 cup

oat flour (can sub gf flour too)

½ teaspoon

baking powder

Sprinkle of cinnamon

Splash of vanilla extract

3/4 cup

almond milk (or milk of choice)

1/2 cup

pumpkin puree (canned pumpkin)

1/3 cup

creamy peanut butter (creamier the better)

2 tablespoons

of maple syrup

1

bar of midnight chocolate (see above for what I use)
Instructions
Preheat your oven to 350 degrees
Grease an 8×8 baking dish
Combine oatmeal, oat flour, baking powder, cinnamon, vanilla extract and almond milk together and mix well
In a separate bowl, add the maple syrup, pumpkin and peanut butter together and mix with hand mixer or a wooden spoon until well combined
Mix the wet ingredients with dry and fold in chocolate
Bake for about 20 minutes
Let the bars cool for about 20-30 minutes
Cut & enjoy!
Author:
Category:

gluten-free, vegan, dairy-free

Cuisine:

snack, dessert, bar
xx, Rach
SaveSaveSaveSaveSaveSaveSaveSaveSaveSave
SaveSave
SaveSaveSaveSaveSaveSave
SaveSave
SaveSave