Dark Chocolate Peanut Butter Skillet Brownie that is grain, gluten & dairy-free!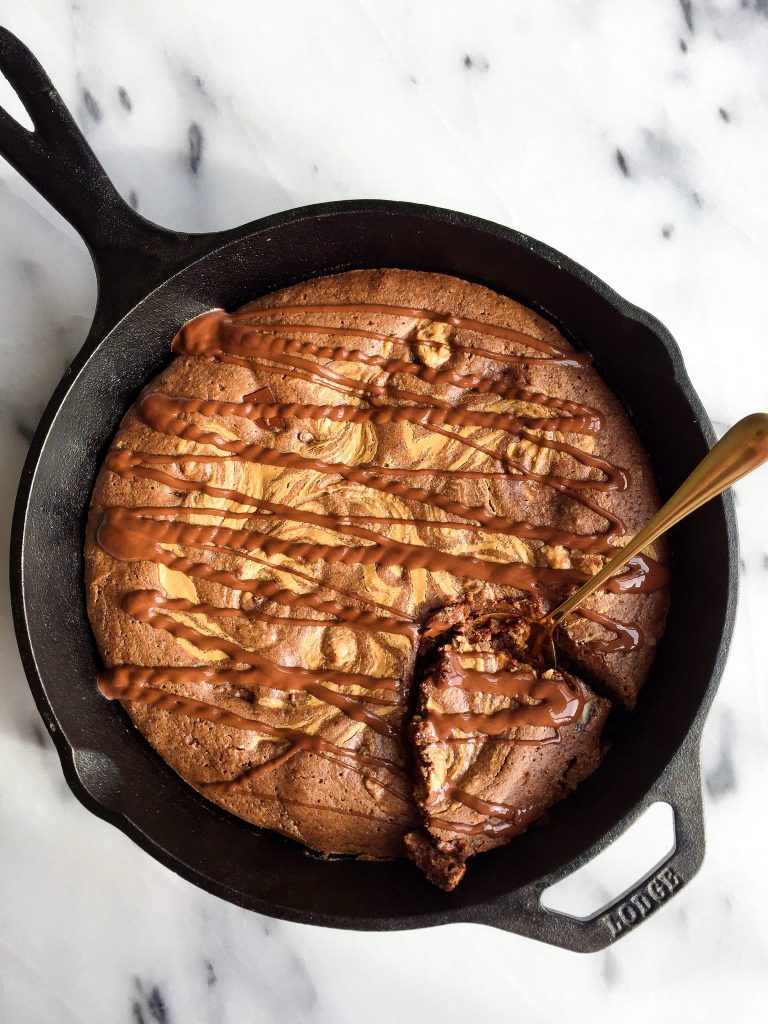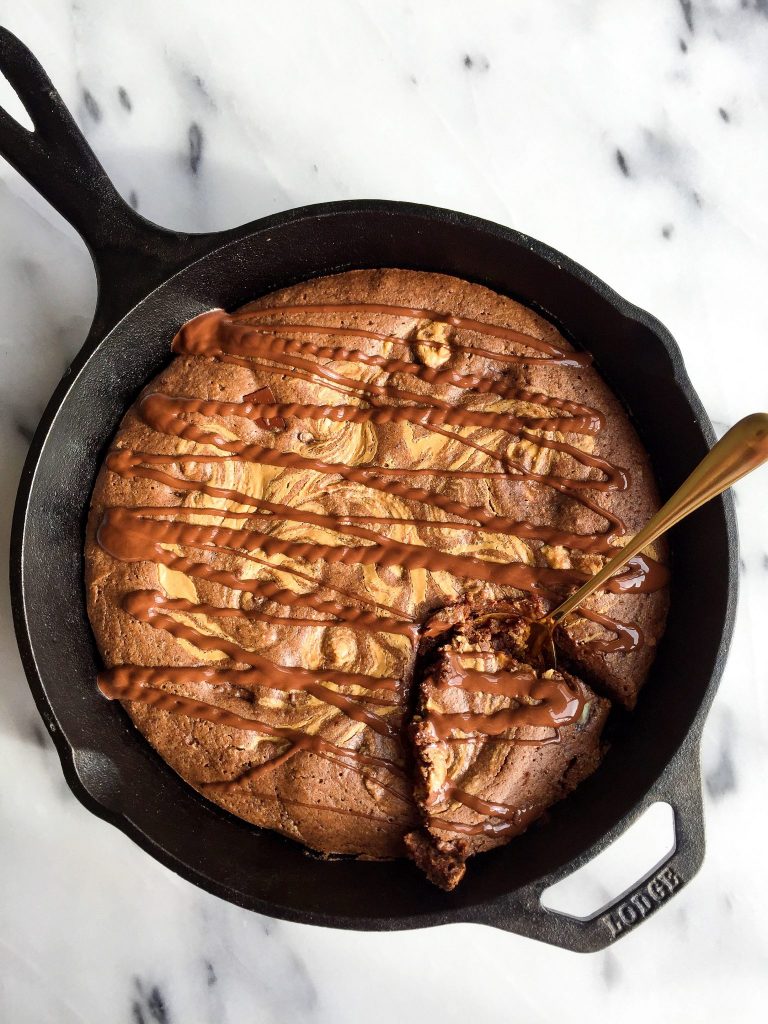 This Dark Chocolate Peanut Butter Skillet Brownie is seriously on a different level.
At this point, I have made a few brownies here on the blog, The Ultimate Heathy Brownies from last week, Strawberry Fudge Brownies and even No-Bake Brownie Cookie Bars.
Now I love all of my children (recipes=children) equally, but this one gets an extra gold sticker today.
It may just be the chocolate high I am on but I think that everything tastes better out of a freaking skillet people. Am I right? There is something about the way it cooks and these brownies are SO moist and fudgy yet after a couple of days they have a cake-like consistency (that is if this brownie skillet lasts that long).Plus it combines two of life's best food groups: chocolate + peanut butter. It doesn't get any better than that.
This brownie skillet is made with my favorite flour of the moment, almond flour. Bob's Red Mill Almond Flour/Meal is absolutely AMAZING. I go through bags of it a month because it is so versatile. It's like the better looking sibling in the paleo flour family. At least in my opinion because it is so much easier to work with than coconut flour (sorry coconut flour, still love you sometimes).
Bobs Red Mill Almond Flour is made from whole, blanched sweet almonds. Plus almonds have a ton of health benefits so baking with it adds an extra boost to our dishes! Almonds provide a good amount of manganese and vitamin E , as well as a healthy serving of monounsaturated fats in each 1/4 cup serving. They are also very low in carbohydrates, high in protein and inherently gluten-free.
Baking with it (like these brownies) can help bring benefits of almonds to your diet while you eat cookies, brownies, anymore. It is also a fabulous way to cut back in heavy carbs that many desserts. have. It is the ultimate flour for the paleo and grain-free lifestyle. Bobs Red Mill even just launched a paleo flour that I cannot wait to try too. I think that will be ammmaaazzzing for baking!
This Dark Chocolate Peanut Butter Skillet Brownie is perfect for an easy go-to brownie recipe and pairs amazingly well with your favorite ice cream might I add. A few dollops on top and you have yourself a grain-free brownie ala mode. BTW I felt very fancy just typing "ala mode".
Even if you don't have a skillet, you can still make this brownie. Just use an 8×8 dish or something similar and keep an eye on baking time so the brownies don't overcook.
Let me know if you make these and share with me on social. I have been posting on my Instagram stories when reader's make recipes and it makes me SO happy to see everyone enjoying the goods.
Happy Monday friends, and happy brownie eating!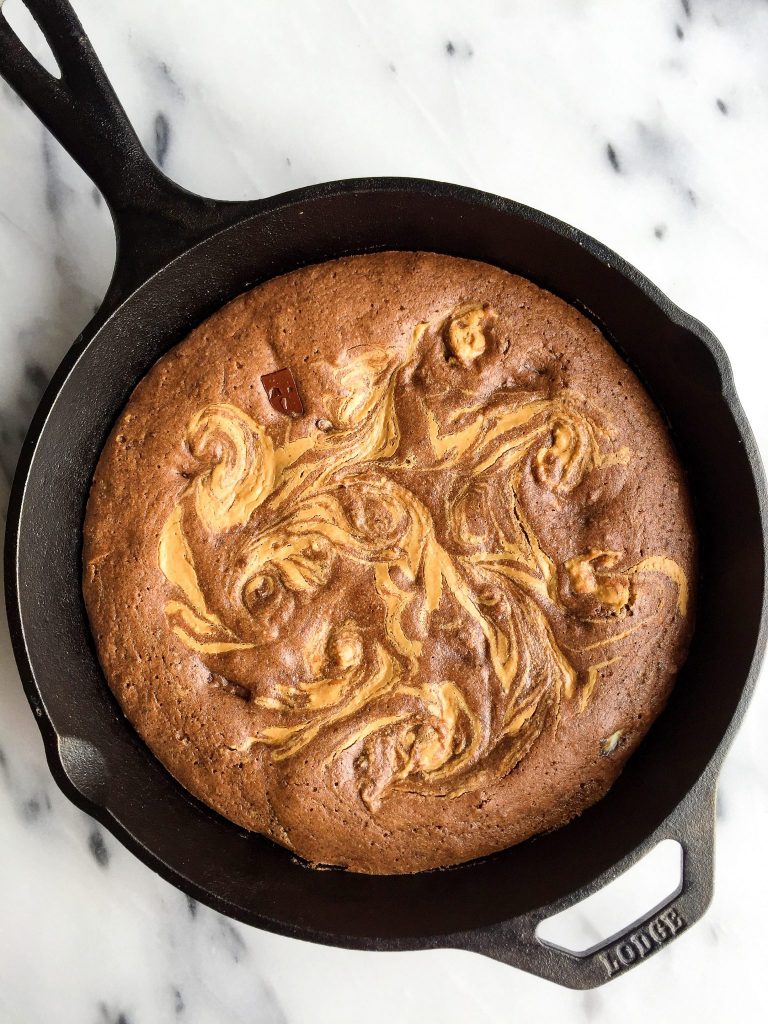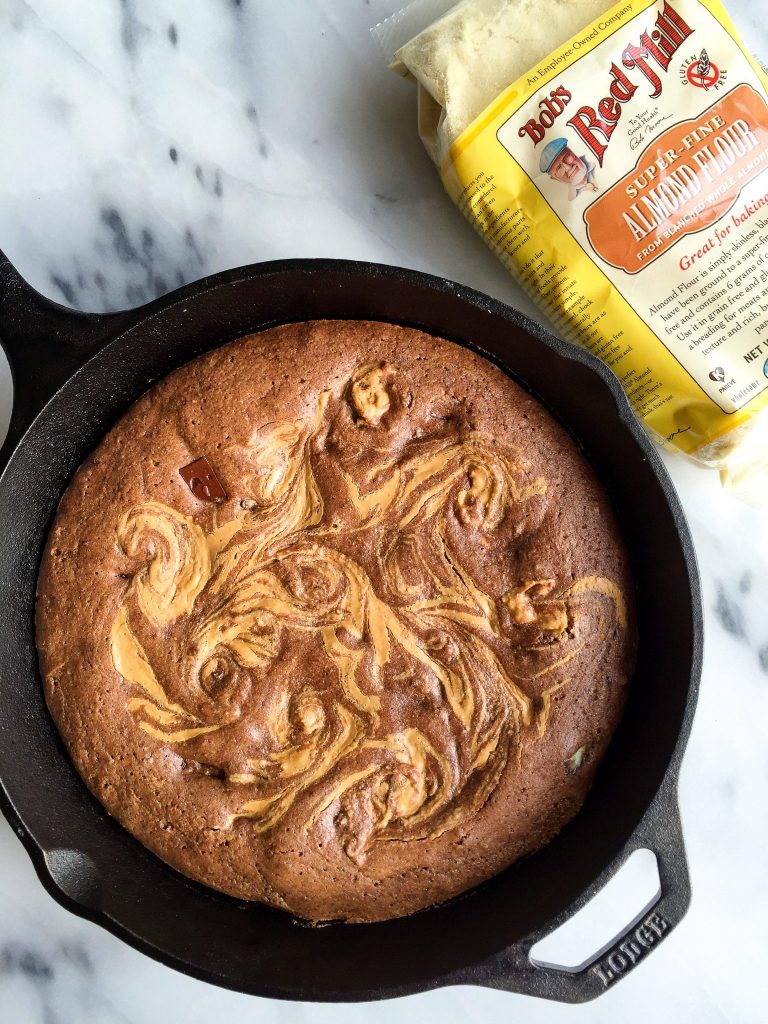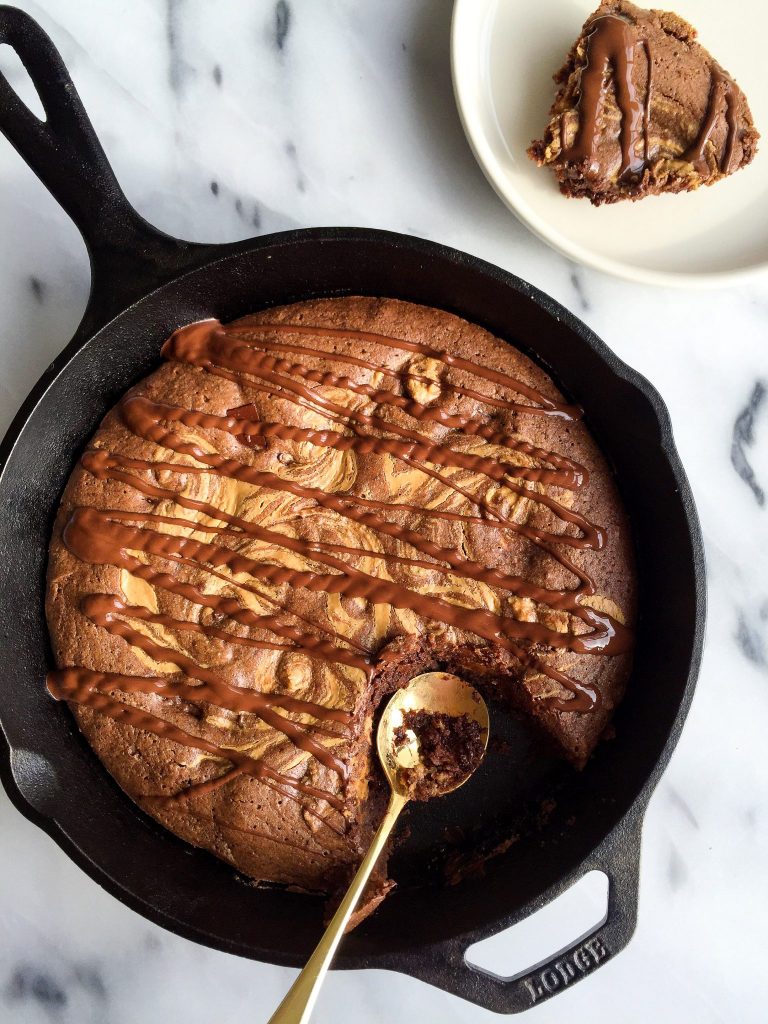 Print
Dark Chocolate Peanut Butter Skillet Brownie (grain-free)
Yield: 1 skillet (about 8 brownies) 1x
Dry ingredients:

1.5 cup

almond flour (have not tested other flours)

⅓ cup

coconut sugar

½ cup

cacao powder

½ teaspoon

baking powder

Wet ingredients:

3

eggs (have not tested flax or chia egg)

⅓ cup

maple syrup (honey or agave will work)

½ cup

coconut oil, melted and cooled

Mix-in's:

1/2 cup

dark chocolate chocolate chips

6 teaspoons

creamy peanut butter
Instructions
Preheat oven to 350 degrees
Lightly grease your skillet with coconut oil
Mix together dry ingredients in a medium bowl and set aside
In another bowl, mix together wet ingredients (I used a Kitchen Aid)
Add dry ingredients to wet and mix well
Fold in dark chocolate chips then pour onto skillet
Add dollops of peanut butter (about 6) throughout the brownie then swirl using the end of a spoon or toothpick
Bake in oven to 20-25 minutes
Enjoy with your favorite ice cream or as is!
*Will stay good in airtight container for 5 days or freeze for longer!
Author:
Category:

grain free, gluten free, dairy free

Cuisine:

dessert, brownie, snack
xx, Rach


Thank you Bob's Red Mill for sponsoring this post. It means so much to me to work with brands that I love and who support rachLmansfield!