Easy Collagen Breakfast Crepes made with gluten-free and dairy-free ingredients for a simple and healthy breakfast crepe!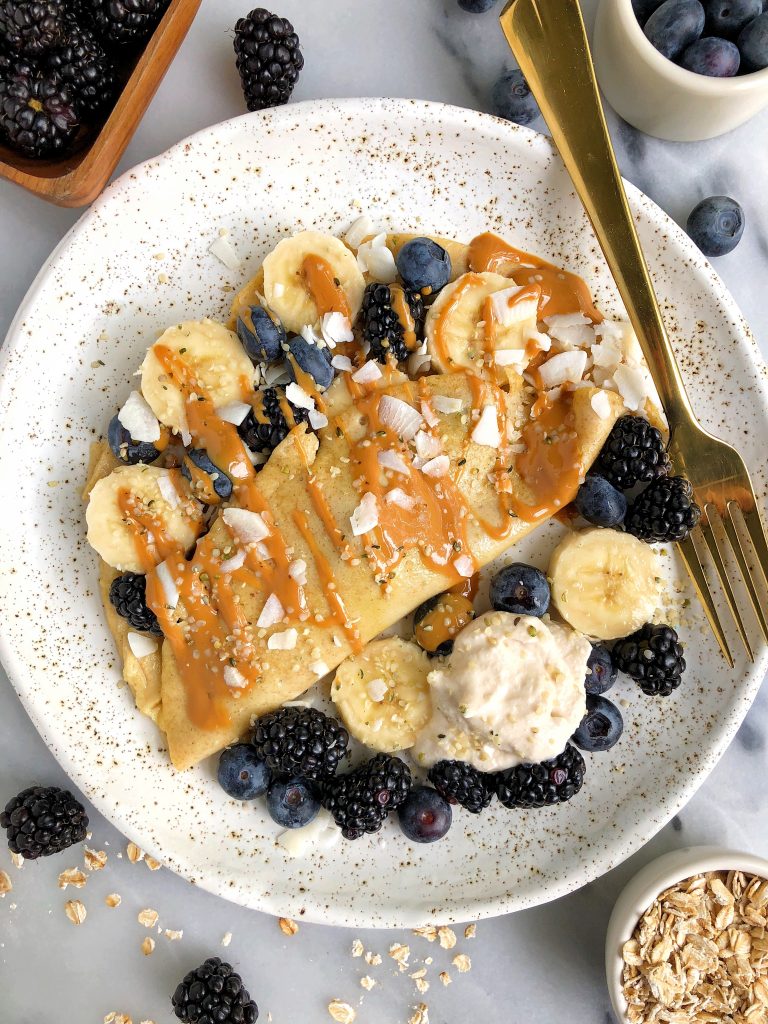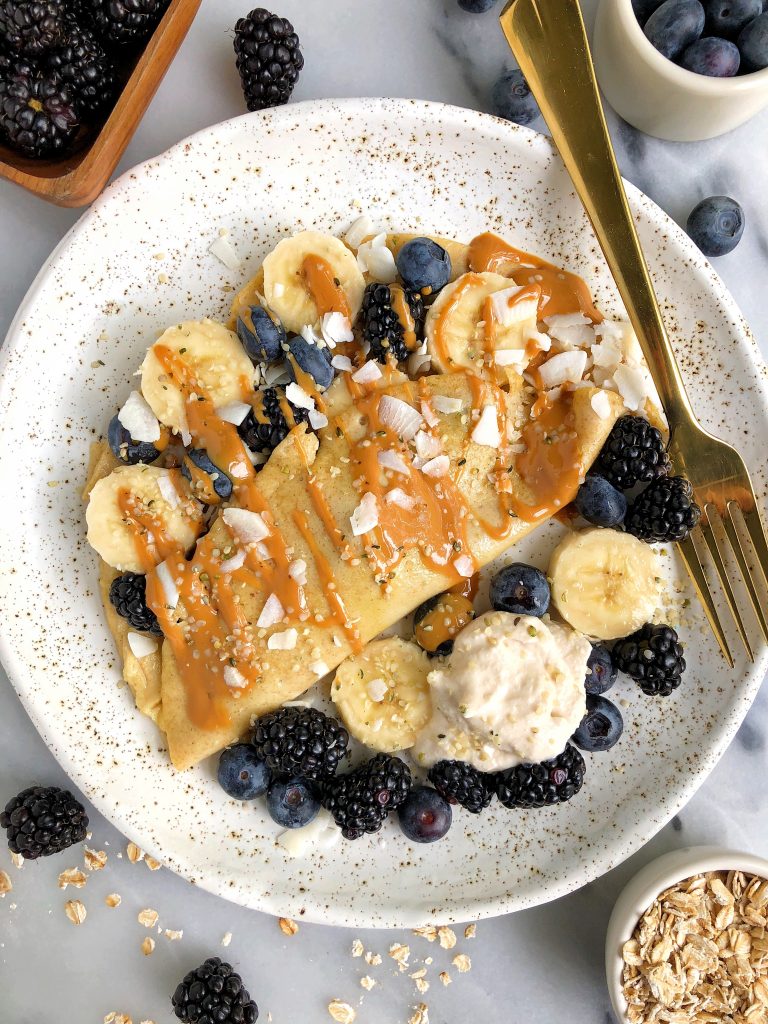 Whenever someone talks about crepes, I immediately think about a family vacation we went on when I was in middle school. We stayed at a resort in Turks & Caicos and every single day at 4pm they had free crepes for everyone. This was also the first time I ever had a crepe so needless to say, it was a memorable moment in my life.
Nutella or peanut butter and banana with cinnamon sugar will forever be my favorite combo. When I had my first crepe in France a few years ago (ok fine it was like a decade ago now), I got the nutella and banana combo. You guys know my love for pancakes is on another level so to eat something like a pancake filled with rich and delicious toppings while walking the streets of Paris? Life doesn't get better than that.
I am surprised it took me this long to make a recipe for the blog for you guys to try, but these Easy Collagen Breakfast Crepes were well worth the wait.
They are made with just a few simple ingredients like a pasture-raised egg, oat flour, non-dairy milk and collagen peptides. Adding collagen peptides to this recipe makes them more filling because of the protein and also adds many nutritional benefits for us as we are stuffing our faces with bananas and peanut butter. If you are wondering what collagen is, head on over to my blog post where I breakdown everything you need to know about collagen!
This recipe is so easy to make and I love that it only makes 3 crepes. Crepes aren't the best to eat leftover, I find that they have the best texture when eaten fresh but they do stay in the fridge for a couple days. Just try to wait to add the filling/toppings until you are going to eat.
I hope you guys love these healthier crepes as much as I do. Don't forget to share your crepes with me on Instagram!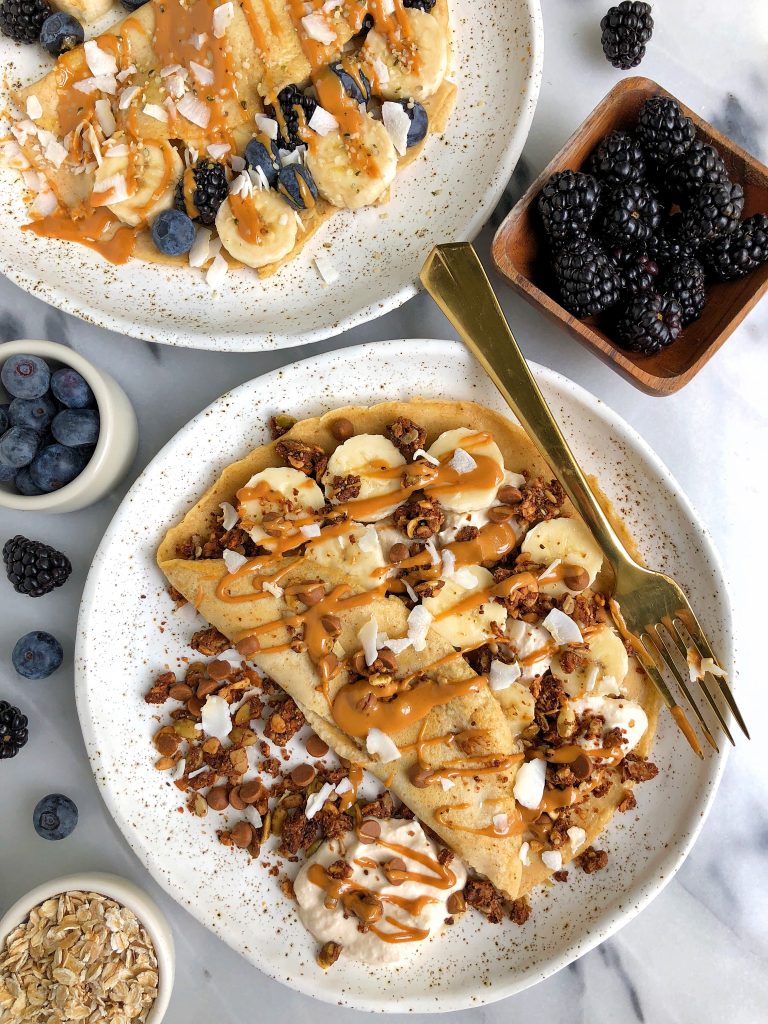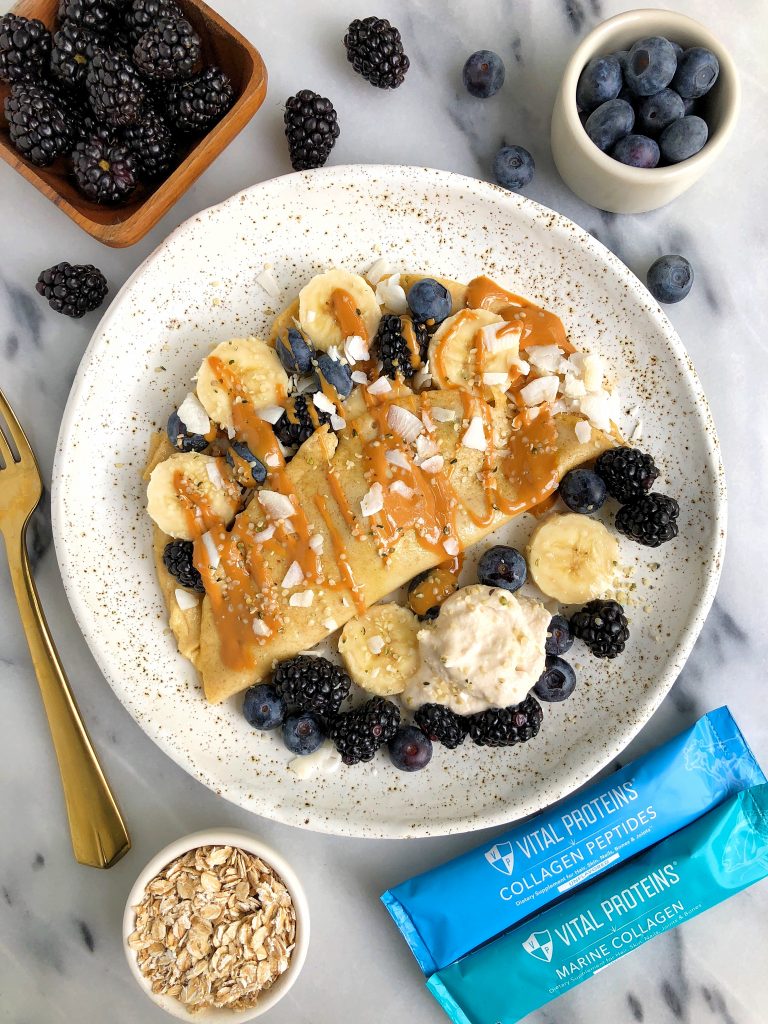 Print
Easy Collagen Breakfast Crepes
Easy Collagen Breakfast Crepes made with gluten-free and dairy-free ingredients! A simple and healthy recipe for crepes
Instructions
Add all the ingredients to a high-speed blender and blend for about 30 seconds
Let the batter sit for 5 minutes then grease a large skillet with additional coconut oil or butter (do not skip this step or the crepe will stick to the pan!)
Pour about 1/2 cup of crepe batter onto the pan and cook on medium heat, tilting the pan in a circle and making sure the batter is evenly cooking
Cover the pan then cook for about 5 minutes on medium low heat (I cover and cook so I don't need to flip!)
Remove crepe from pan and repeat with remaining batter (you should get 3 crepes total)
Enjoy with fruit, nut butter and yogurt of choice
*Store any leftovers in the fridge
xx, Rach
Thank you Vital Proteins for sponsoring this post. It means so much to me to work with brands I love and believe in!