6-ingredient Paleo Banana Breakfast Pudding made with wholesome ingredients like almond flour and flaxseeds for an easy grain-free oatmeal recipe!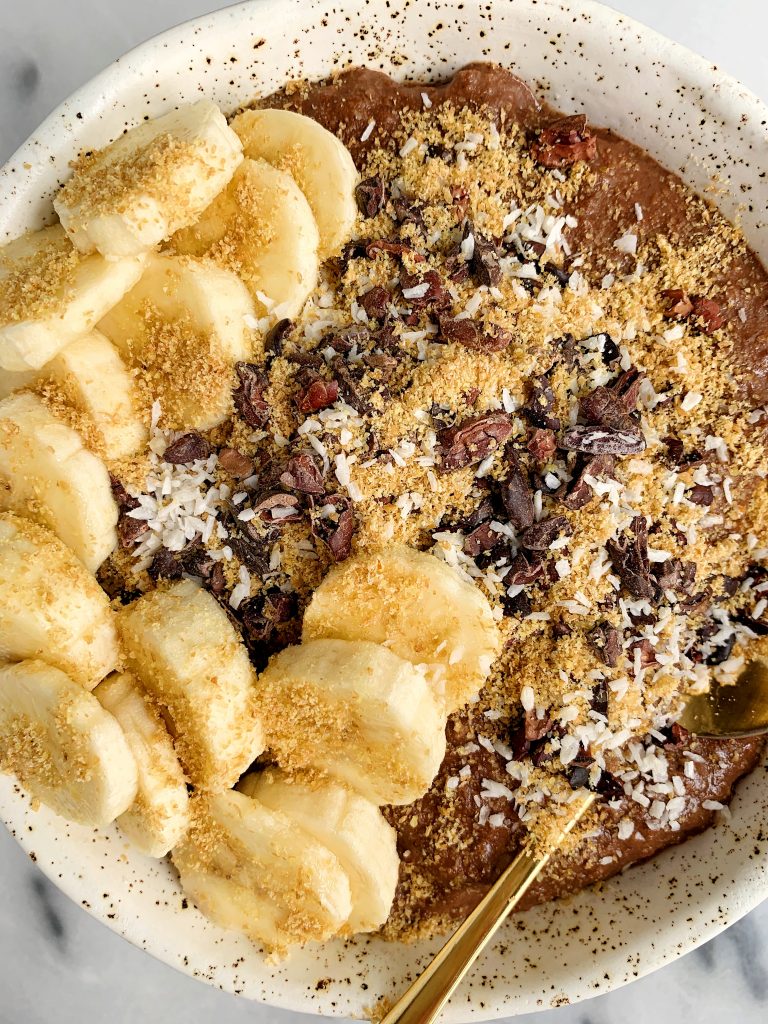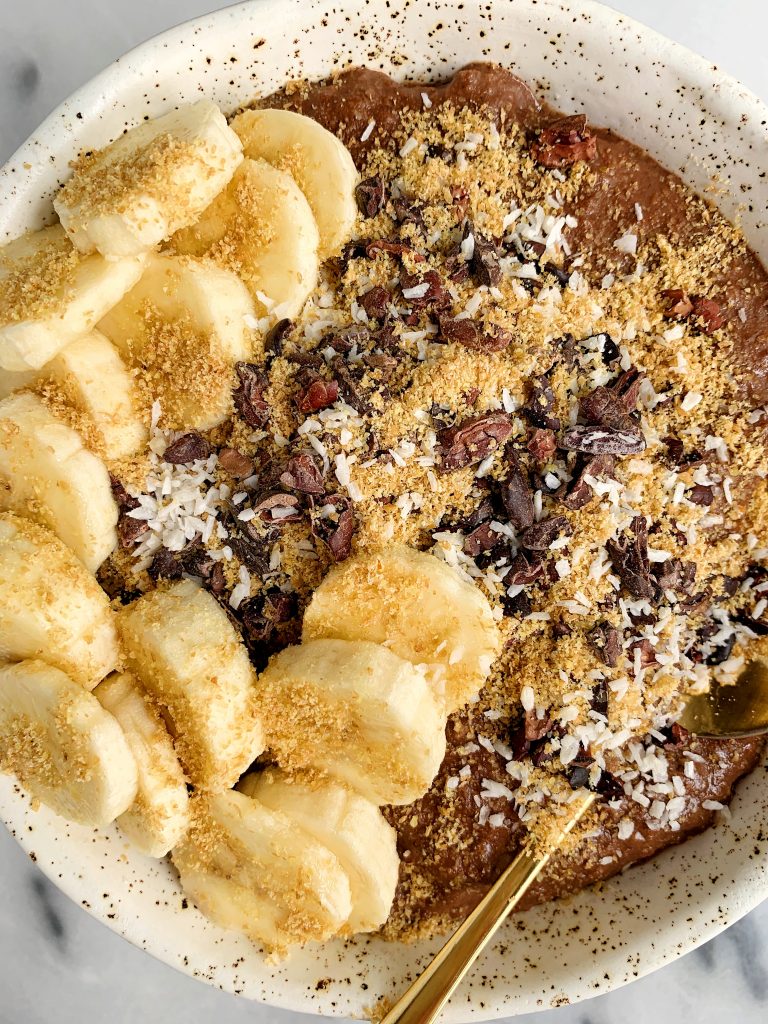 I mean, is there ever a time that banana bread isn't the most satisfying flavor combination imaginable? Especially when we're talking all things breakfast.
Toady we are making the easiest 6-ingredient Paleo Banana Breakfast Pudding and it has been on the weekly rotation over here. When I gave some to J for breakfast, he called me from work asking where I bought it from. I could have been insulted by that comment but instead took that as a compliment that he really was enjoying it.
So what exactly is oatmeal if there are no grains or oats in it?!
I like to think of this as a paleo/grain-free oatmeal meets pudding type of recipe. It is so simple and easy to make and is very filling and satisfying for breakfast. Plus you can whip up a big batch and enjoy it throughout the week.
I use a base of nut milk, banana, almond flour, coconut flakes, flaxseeds and collagen peptides for some extra protein. I find that if I don't have just the right combo of fat, carbs and protein in the morning, I'm starving in an hour. For this recipe I love to use Vital Protein's Mocha Collagen Creamer. The smell of that creamer alone has me drooling. Being someone who isn't a fan of coffee, I was hesitant on buying their creamers but now I love baking with them and using them in my oatmeal. Jord loves adding it to his coffee with creamy coconut milk too.
I chat all things collagen and why I use it in this blog post. It is one of the only *extra* supplements I really use daily. I like to keep things simple and I really have seen a difference in my overall health from using it over the past 3 years.
Once you stock up on Vital Proteins, there are so many recipes here on the blog that use their collagen. A few of my faves are: Mini Gluten-free Collagen Granola Bowls, Easy Collagen Breakfast Crepes and Paleo Pumpkin Chocolate Chip Bread.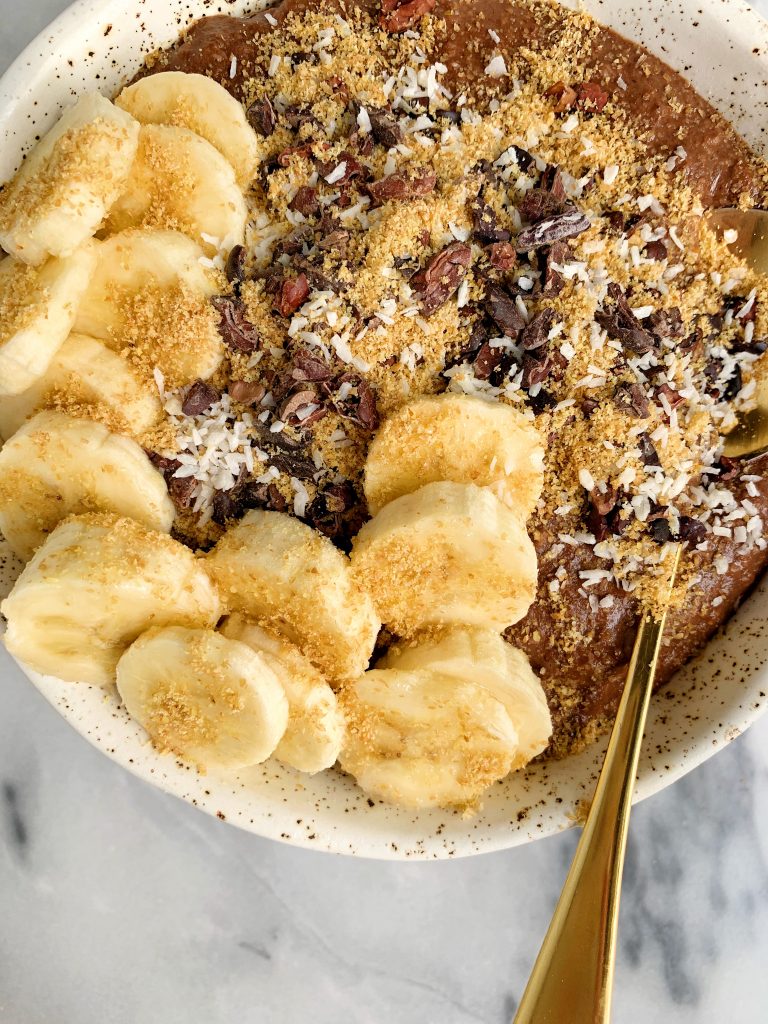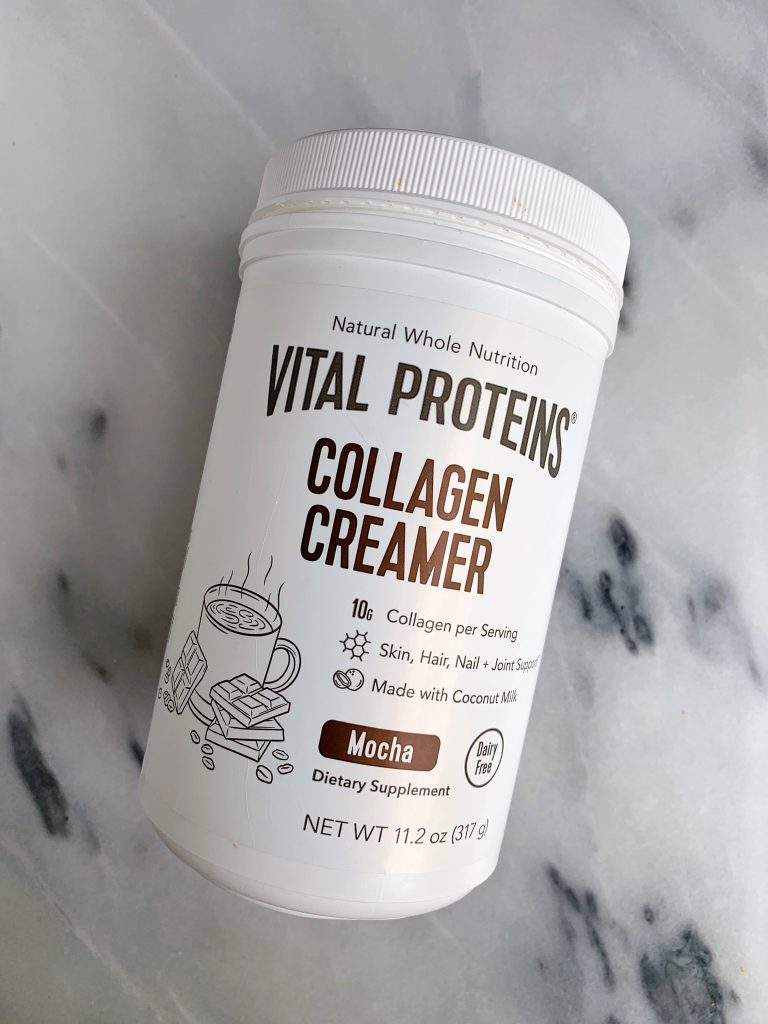 Print
6-ingredient Paleo Banana Breakfast Pudding
6-ingredient Paleo Banana Breakfast Pudding made with wholesome and healthy ingredients like almond flour and ground flaxseed for a delicious grain-free oatmeal recipe!
Prep Time:

5 mins

Cook Time:

5 mins

Total Time:

10 minutes
Instructions
Add all of the ingredients to a small sauce pan and warm over medium heat
Continue to stir the pudding together until well combined over heat until it starts to thicken a bit
Let the pudding simmer for 2 minutes then remove from heat
Pour into bowl of choice, add desired toppings and enjoy!
Notes
*Store leftovers in fridge for up to 5 days
xx, Rach
Thank you Vital Proteins for sponsoring this post! It means so much to me to partner with brands I love and believe in.