Sharing these Gluten-free Apple Crumb Cakes with a homemade Maple Glaze. Made with no refined sugar, dairy or eggs!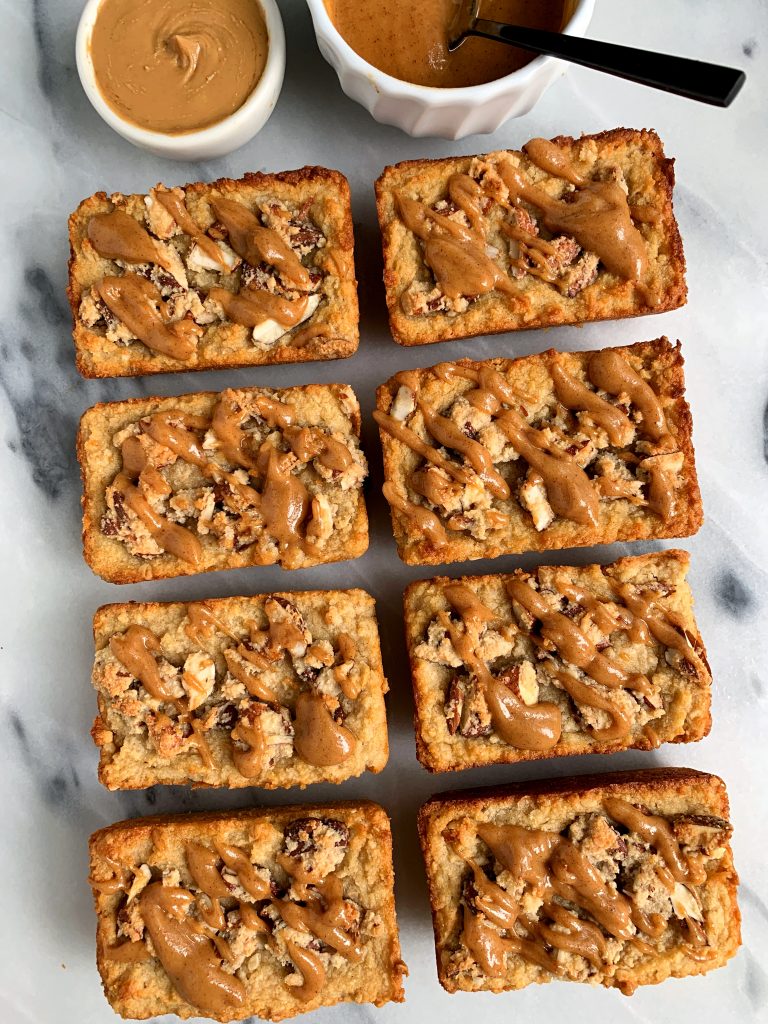 At first, I was planning to make some apple crumb muffins for you guys.
But then when I took out the muffin tray, I saw my mini loaf pan just calling my name. As you guys know, that tray has pretty much become an absolute staple in my kitchen and I use it a lot more than I ever thought I would.
Now let's make these Gluten-Free Apple Crumb Cakes…
Oh, and did I mention a maple glaze it involved?! Because DAYUM did this glaze come out 100x better than I thought it would.
Ok ok so the base off this recipe is an apple cake made with ingredients like applesauce, non-dairy milk, rolled oats, almond flour and a few other basic ingredients. But then I snuck in my not-so-expected ingredient, collagen!
At this point you guys know I am all about the collagen hype. It is a part of my everyday life and has been for over 4 years now. I love that it adds extra protein to things and a boost for my hair, skin and nails. I chat all about my love for collagen and Vital Proteins in this blog post too. It gives the full run down on baking with it and why I use it and how you can too.
So I use the Madagascar Vanilla Collagen Latte, which to be honest is the most delicious addition to this. It adds a little extra somethin' to the cake and the vanilla flavor is such a go-to for my baking needs or even just adding to oatmeal.
On top of the apple cake, I sprinkle a little crumb topping made with chopped almonds (you can use any nut), maple syrup and almond flour. So simple and easy to whip up.
But then you get to the GLAZE.
The easiest paleo maple glaze ever…
I am all about drizzling some extra nut butter or whatever it may be on too pretty much all my baked goods, but this maple glaze is officially a favorite of mine. It is made wit nut butter, non-dairy milk, tapioca flour and maple syrup.
You will absolutely love it!
Here are a few of my other favorite recipes using collagen from the blog too for when you are done feasting on these apple cakes: One Giant Paleo Chocolate Chip Protein Cookie (grain-free), One Giant Fudgy Chocolate Chip Brownie Cookie (gluten-free) and Gluten-free Baked Cinnamon Sugar Donuts (egg-free + nut-free).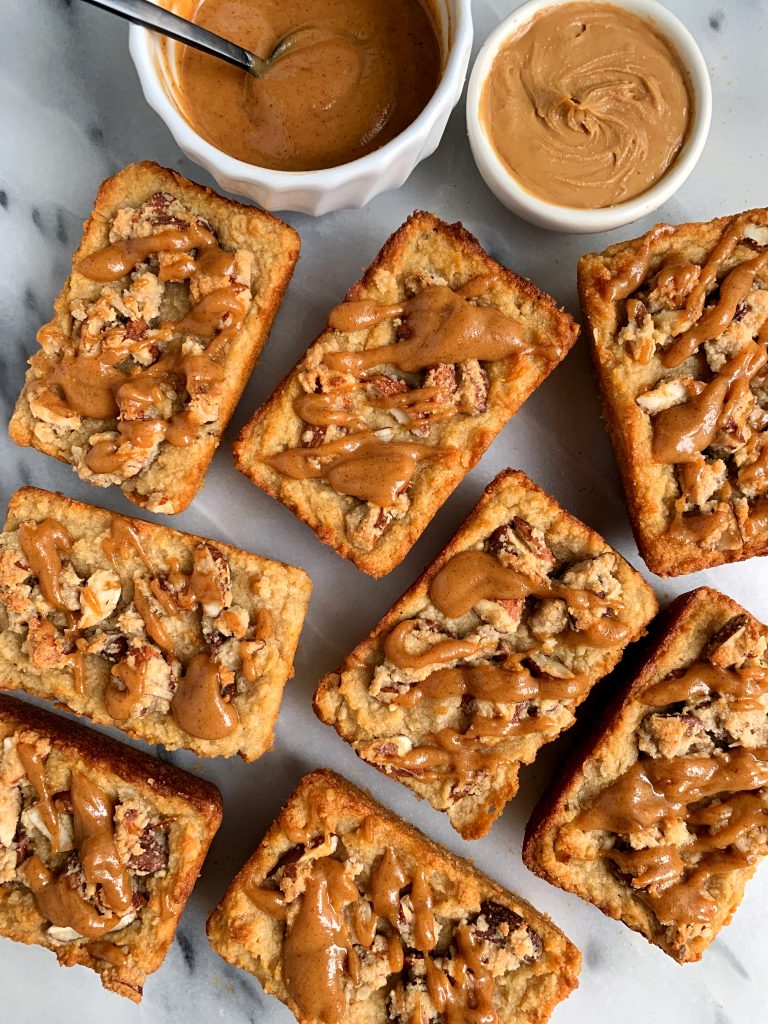 Print
Gluten-free Apple Crumb Cakes with Maple Glaze
Sharing these Gluten-free Apple Crumb Cakes with a homemade Maple Glaze. Made with no refined sugar or dairy!
Prep Time:

5 mins

Cook Time:

25-30 mins

Total Time:

30-35 mins
Cakes:
1

flax egg (

1 tablespoon

ground flax +

3 tablespoons

water)

1 cup

unsweetened organic applesauce

1/3 cup

liquid coconut oil

1/4 cup

non-dairy milk

1/4 cup

maple syrup

1/2 teaspoon

vanilla extract

2 cups

almonds flour

2/3 cup

organic rolled oats

3 teaspoons

baking powder

1/2 teaspoon

cinnamon
Crumb topping:
1/4 cup

maple syrup

4 tablespoons

almond flour

1/3 cup

chopped nuts (walnuts, almonds or pecans)
Maple glaze:
4 tablespoons

creamy nut butter (code RACHL for free shipping)

3 tablespoons

non-dairy milk

2 tablespoons

maple syrup

1 tablespoon

tapioca flour
Instructions
Preheat oven to 350 degrees and grease a mini loaf pan well (or use a muffin tin)
Make flax egg in a small bowl and set aside for a few minutes
In a large bowl, creamy together the applesauce, coconut oil, milk, syrup, vanilla and flax egg
Add the flour, oats, collagen, baking powder and cinnamon and mix well
In a small bowl, mix together the crumb topping well
Evenly distribute the cake batter to the loaf pan then sprinkle the crumb topping on top
Bake in oven for 25-30 minutes
Mix glaze ingredients together until it is a drizzle-able consistency (if too thick, add more milk!)
Drizzle maple glaze on top and enjoy!
Notes
*Store in fridge for 5 days or freezer for long
xx, Rach
Thank you Vital Proteins for partnering with me for this blog post. It means so much to me to partner with brands I love and use everyday!