30-minute Banana Bread Cinnamon Rolls that are gluten-free and easy to make!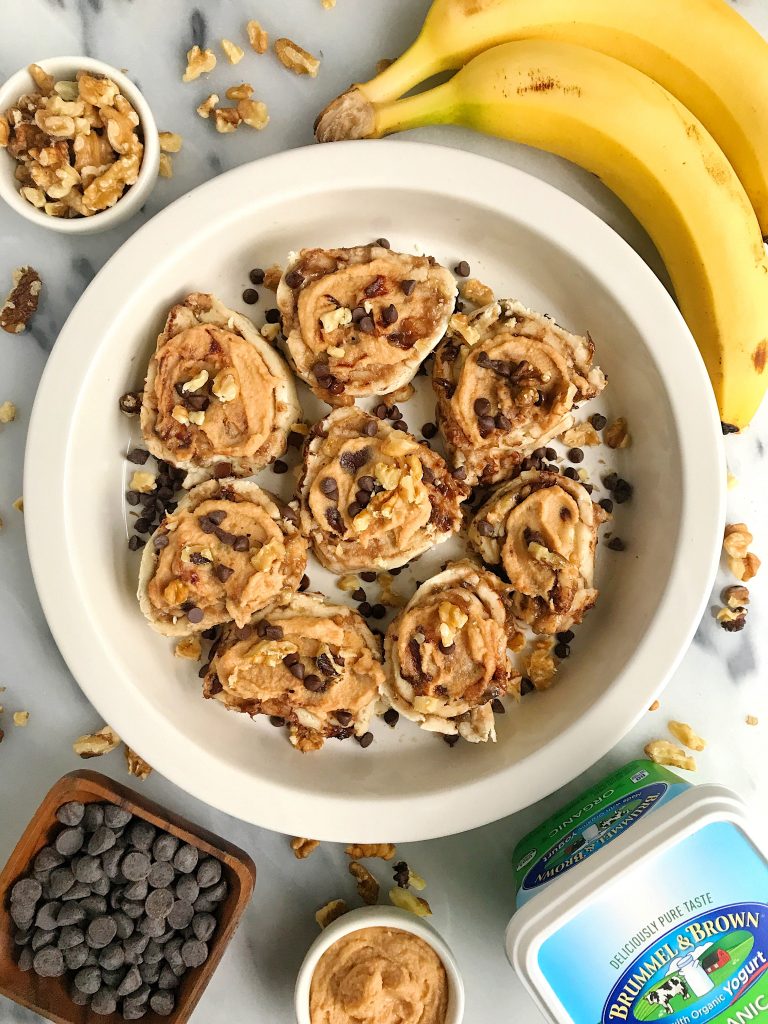 We are getting a 2 for 1 today friends. Cinnamon rolls meets banana bread meets perfection.
These gluten-free Banana Bread Cinnamon Rolls are SO GOOD! They are made with just a few ingredients (including my partner for this post, Brummel & Brown), and they don't require a lot of prep work. Not to mention they don't even have any yeast in them! I have nothing against adding yeast to cinnamon rolls but to be honest, I never have any in the house and always seem to forget in the store.
These are definitely quite the messy recipe though so I recommend waiting until your kitchen isn't spotless to bake them. I got flour all over the counter, floor and my finger prints were all over the place trying to get all the ingredients and utensils out (sorry Jord ha!).
I use gluten-free baking flour for these and the inside is filled with this delicious banana bread-like filling. Mashed banana, chocolate chips, cinnamon and organic buttery spread. I use Brummel & Brown buttery yogurt spread. It is made with real organic yogurt, plant-based oils and purified water. It doesn't have any artificial flavors or preservatives, and no artificial growth hormones used on the cows they get the yogurt from!
Brummel & Brown makes a variety of creamy buttery yogurt spreads that are a great alternative to butter. You can bake with it, cook with it or smear it on top of some toast! It was the perfect butter/oil sub for these Banana Bread Cinnamon Rolls. Brummel & Brown Organic can be replaced 1:1 for butter in most recipes.
I also smeared some homemade coconut cream "icing" on top of the cinnamon rolls once they were out of the oven! Traditionally this is made with powdered sugar but instead I used coconut butter, coconut oil and some nut milk to create a low sugar alternative.
These Banana Bread Cinnamon Rolls are ready from start to finish in 30 minutes and they are wholesome enough where you can eat some for breakfast and feel good about it. I wish I had these back in high school when I used to get cinnamon buns at Starbucks and Panera (yes, that happened!).
WHAT YOU NEED
Gluten-free baking flour
Bummel & Brown Organic Buttery Yogurt Spread
Baking powder
Nut milk
Maple syrup
Banana
Cinnamon
Coconut butter
Coconut oil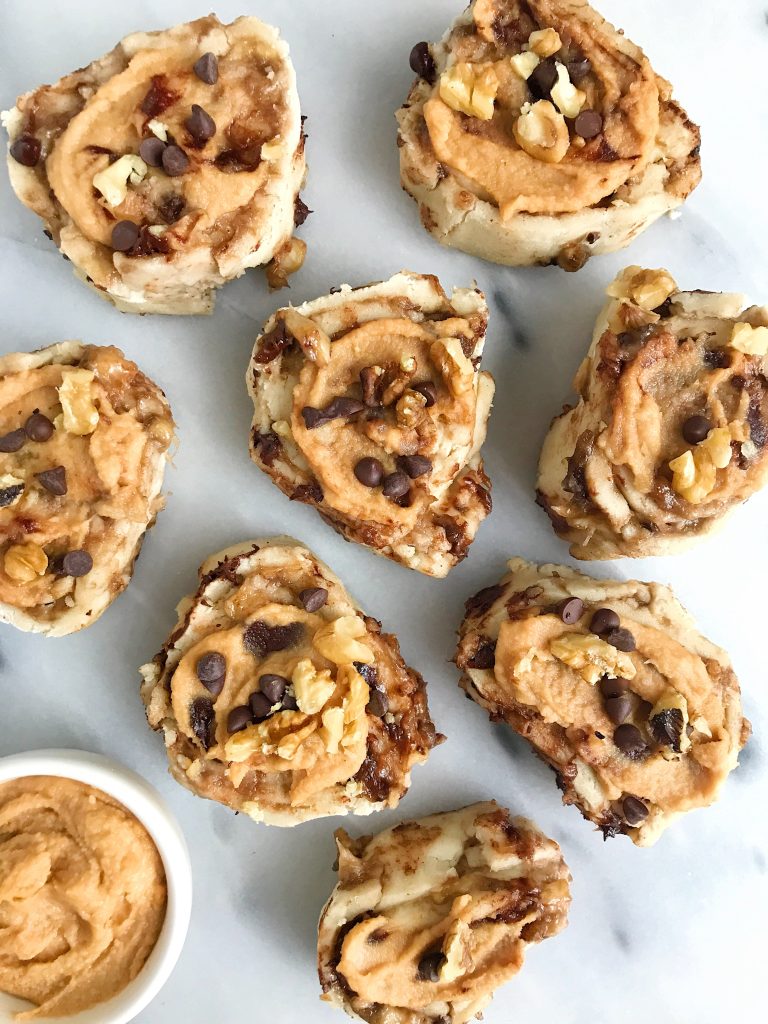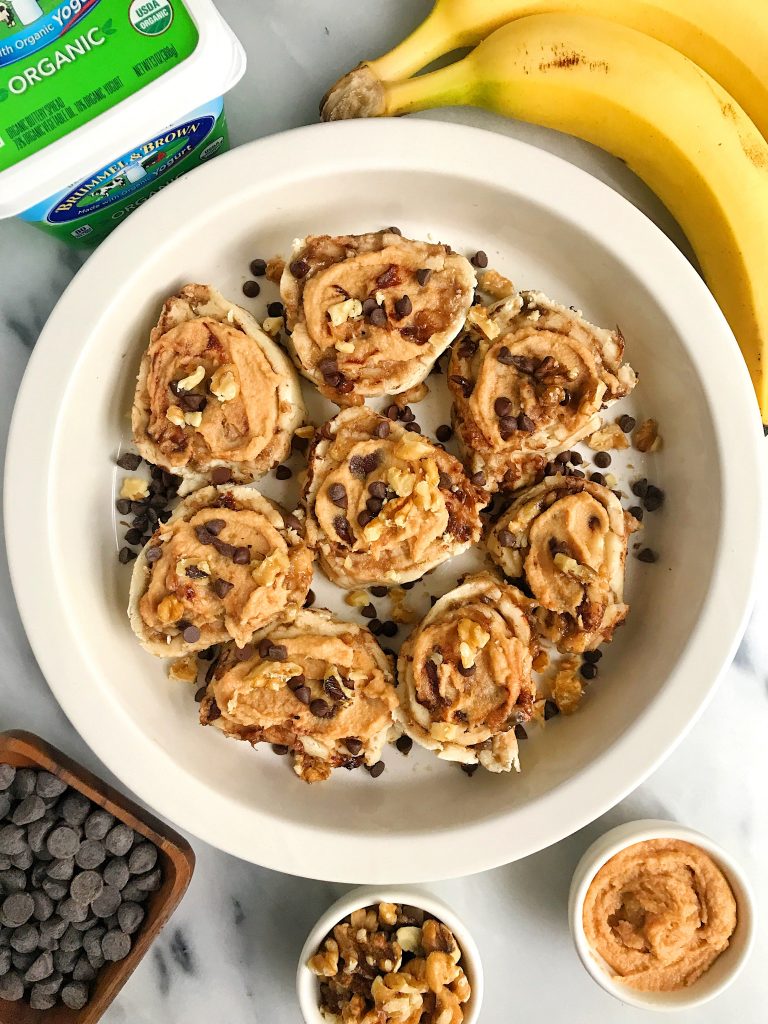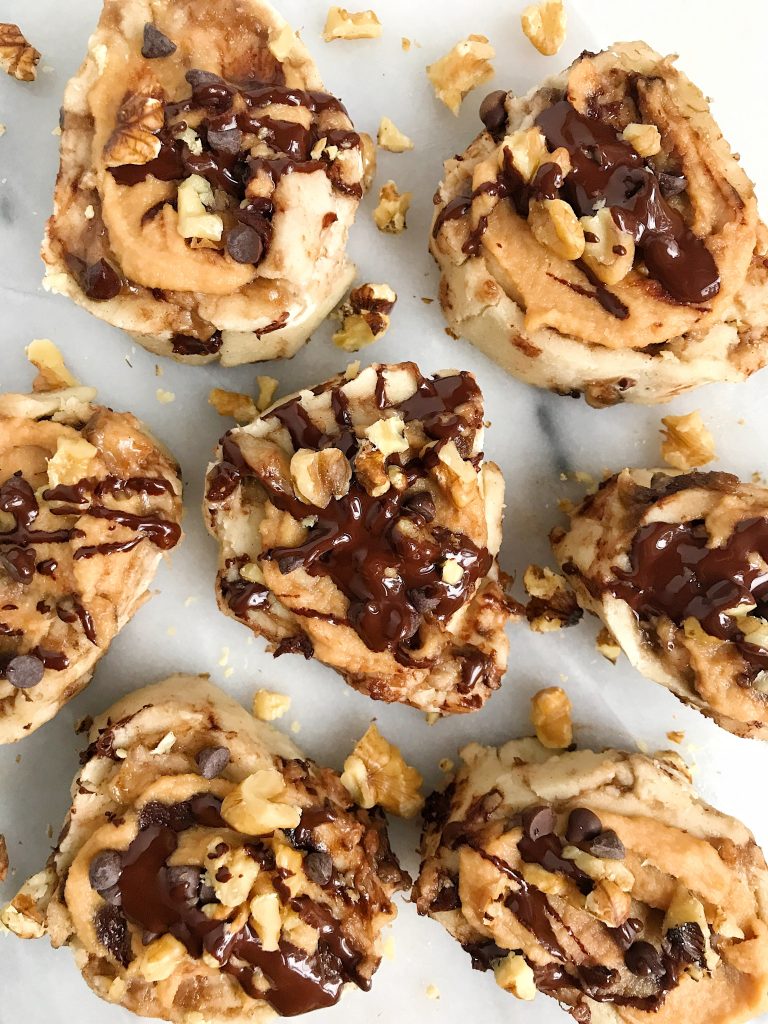 Print
30-minute Banana Bread Cinnamon Rolls
Prep Time:

10 mins

Cook Time:

15 mins

Total Time:

25 mins
Cinnamon rolls:

2 cups

gluten-free baking flour

1 1/2 teaspoon

baking powder

1 teaspoon

cinnamon

2/3 cup

+

3 tablespoons

almond milk

1 tablespoon

maple syrup

Banana bread filling:

1

medium-sized ripe banana, mashed

2 tablespoons

Brummel & Brown Organic Buttery Yogurt Spread (melted)

3 teaspoons

cinnamon

2 tablespoons

chocolate chips

Coconut "icing":

3 tablespoons

coconut butter

4 tablespoons

almond milk

2 tablespoons

coconut oil
Instructions
Preheat oven to 350ºF and grease a baking dish (any size will work but I used 8 inch round)
In a large bowl, combine all ingredients for dough
Next dump dough out onto a floured surface (I used a large cutting board)
Sprinkle a rolling pin with flour and begin to roll it out into a long rectangle (you may need to add more flour as you roll so the dough doesn't get sticky!)
In a small bowl, mix together mashed banana, cinnamon and Brummel & Brown and fold in chocolate chips
Spread mixture over rolled out dough and roll up dough into cinnamon roll shape and cut into 8-ish rolls
Place in baking dish and bake for about 15 minutes or until the dough seems firm and the inside in still gooey from the banana mixture
While the cinnamon rolls are baking, make your icing by adding coconut butter, almond milk and coconut oil and microwave for 30 seconds then stir
Once rolls are done, drizzle with some icing or spread (it can be thick or thin) and enjoy!
Author:
Category:

gluten-free

Cuisine:

breakfast, snacks, dessert
xx, Rach
Thank you Brummel & Brown for sponsoring this post. It means so much to me to work with brands that I love and who support rachLmansfield!
SaveSave
SaveSave
SaveSave
SaveSaveSaveSave
SaveSave
SaveSave
SaveSave
SaveSave
SaveSave
SaveSave