My kitchen is my sanctuary. Some would call their closet their favorite part of their home, but the kitchen area is my happy place.
We live in a 1,000 square foot apartment so space and storage is extremely limited. I try to keep things as minimal as possible. Plus you guys know at this point I am no frills when it comes to most things. If it something I barely use, I'm tossing it.
I have compiled a list of my "ride or dies" in the kitchen. This isn't a food or pantry list (that is found in my cookbook, Just the Good Stuff) but a list of some essentials for cooking and baking and things. It also isn't every single item I have, but the personal faves. I don't include the obvious like an oven, or stove etc. These are those "extra" type of things that I love and use often that may surprise you. Some are obvious though..
You of course don't need to go out and buy every single one of these items, but if you have been eye balling some for awhile and needed the extra push – happy to walk you guys through my faves. Not everything is in the photo and I am sure I am forgetting some things but I will keep adding as I think of some!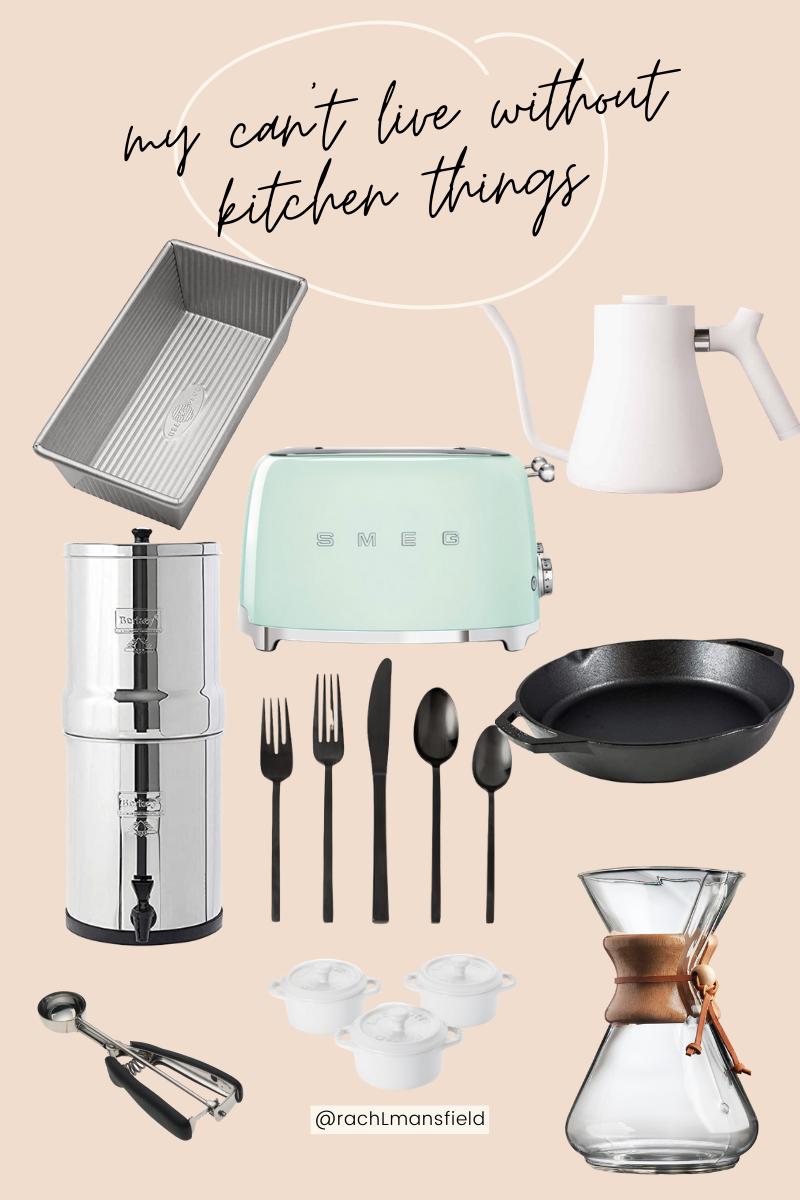 The official "kitchen favorites" list:
Lemon squeezer – OK i know this is so random. But it is a game changer for making my hot water with lemons in the morning and squeezing on my meals etc. I have had the same one for 6 years.
Hand mixer – full disclosure.. I have the fancy stand mixer from Kitchen Aid and I do not use it ever. It is more of a decor than anything else. Likely because I hate cleaning it. The hand mixer is easy to clean too and it does the trick.
Glass mixing bowls – I have this set in so many sizes. Great for anything with cooking, baking, even snacking
Berkey water filter – this isn't cheap but it is the absolute best water. I am officially a water snob and when I drink water anywhere else it just doesn't compare.
Loaf pan – 1000000% a must have if you like to make 50 types of banana bread like me. This set is great too because it comes with many other items it is less than $40
Muffin pan – you can use this for so much more than just muffins. Cupcakes, make my paleo bagels in muffin form, anything!
Cookie dough scooper – ok ok so this isn't one of the those things that you have to have or you won't be able to bake cookies, but it mixes it so much easier to scoop! I was so anti getting one until my Mom got me one. Now I can't live without it.
Cast iron skillet – for everything basically! Jord's Sunday Roasted Chicken from JTGS and so many desserts.
Fellow tea kettle – the best for making hot water and Jordan uses it for the water to make coffee in his Chemex. They have so many colors too, we have white.
Smeg toaster – omg you guys!!!!! This toaster is the absolute best. Makes perfect bagels, toast, anything. I love this colored one.
8×8 baking dish – I prefer this over 9×9 so it makes thicker brownies and bars and such.
Ramekins for baking – my newest addition and I am obsessed. ALL of the mini desserts please!
Jars for snacking + storing – I use these to store my nuts, flours and my homemade granola!
Cookbook stand – if you have a cookbook you use often..this is so helpful in displaying recipes and this one is just chic and on brand
Cutting board – I like getting ones that are practical but then can be used for cheese boards etc. when we want to make a spread
Set of white plates and bowls – I usually find local pottery when we travel, which is where I get most of the ones you see on my Instagram and on here but I love having a mate set of dinnerware to eat off of and photograph.
Matte black and gold flatware – this was an impulse purchase a few years ago and I am obsessed. I don't use this as our "everyday" flatware as we already had some from our registry from a few years ago. I bought these for photos but the day our flatware goes to the garbage from use, all of our flatware will be matte black for sure!!
Marble slab – the marble background you guys see in photos was not something I got for photos. In fact, I didn't even have my blog at the time. I got it for serving big spreads and I registered for it. They still sell the same one.
Donut/bagel pan – OK OK this was a spontaneous/impulse purchase a few years ago and I use it all the time. I make my homemade bagels with it and donuts too.
What are some of your must-have's?! Anything else you see on my stories/feed I forgot here?! Let me know 🙂
For a for more favorite items like my rug and such – head on over to this blog post!