Non-Negotiable Things I Do Every Single Day Not Work Related.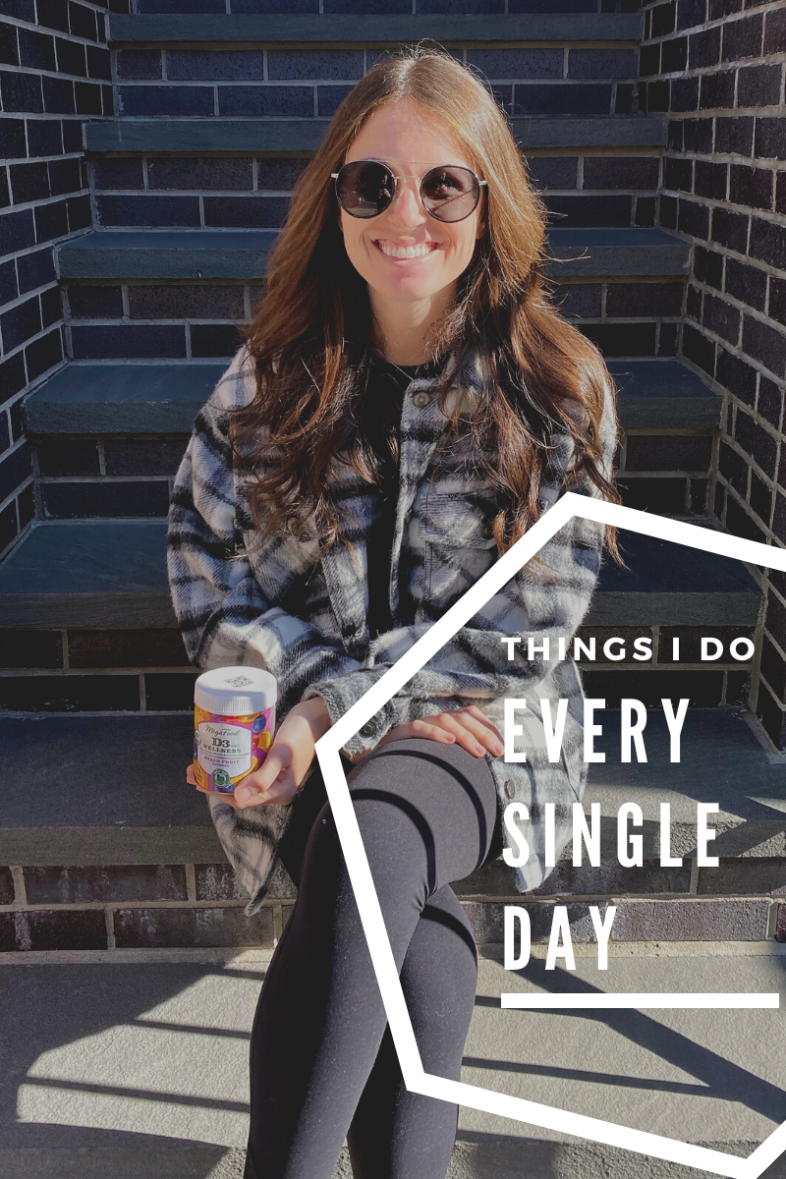 I have been loving these round up kind of blog posts for you guys. Majority of these topics come from requests you guys send in through DM. I love the curiosity and the more questions and things you guys ask for, the more content I can produce that answers all of your questions!!
What I always find funny is that the most simple things about my daily schedule and my family's life are always so requested. Not just what we are eating but where my outfit is from, what toothpaste I use, where I go to the OBGYN, how often Ezra poops – literally everything you guys want to know.
I live for it and love the passion so keep it coming.
Today I am sharing some things I do every single day (not work related). Of course things have changed now that we have been living the COVID lifestyle over here for almost a year (so nuts).
A few things that you may expect to see on here and won't: mediate, work out, drink green juice, do yoga…pretty much what most assume anyone in the "wellness" space does daily. For me I have to set realistic standards that bring me joy in between Ez and work and life.
Here are non-negotiable things I do basically every single day:
Go for a walk to get the beep out – you guys know that walking is my meditation and my main form of exercise. It is something that I do 7 days a week. Even if it is for 30 minutes. The outdoor air and movement is something my body craves. I literally get cranky if I don't get to walk. Usually it is first thing in the morning after breakfast. Weekdays it is just me and I usually plan work calls or call a friend. Then on weekends I always walk with Jordan and Ez, which is my fave. Especially when my parents are in town and join us.
Call my mama! – my mom is my bestie. She is my person I call 15x day but always in the morning. When I don't call her and it gets to be 10ish or so, she literally asks where I am and why I didn't call for our morning chat. When she isn't in Florida, I am so lucky she lives 1.5 miles away so we walk a lot of mornings together too. We share everything so I give her full updates on work, life, Ez and obviously spill all the dirt and updates that I have to share with her.
Take my daily supplements –

I am one of those people who has a vitamin case guys. You know at this point I take my supplement routine very seriously (more on what is in my supplement cabinet

here

). Lately I am very obsessed with taking vitamin D3 and also sneaking in turmeric whenever I can. We heard in

this podcast episode

how important

vitamin D3 is for immune support

and the importance of turmeric.* I love taking

MegaFood Turmeric Strength for Whole Body

because it helps support a healthy inflammation response* and at this point we all know turmeric is an absolute superfood. I am just not someone who loves it on my veggies and things so taking a tablet or using

MegaFood Daily Turmeric Nutrient Booster Powder

are two easy ways to take it (code RACHL for 15% off MegaFood).
Eat 3 meals + SNACKS + dessert – I am pretty sure no one is surprised that eating is something I do everyday. I eat well and food that I (and my baby) are craving. And also things that are easy to eat and make and just taste damn good. Lately I love having my Dark Chocolate Granola with whatever yogurt we have on hand (dairy or non-dairy) with sliced banana and nut butter or some chia seed pudding or a some banana bread/whatever is on hand. The amount of granola I consume is insane – this recipe is a staple. Weekends though we always do pancakes or my Cinnamon Sugar Challah French Toast Sticks! Then I usually have a bar or something easy for mid-morning snack. Lunch is typically a couple slices of toast with fried eggs or a bagel with scrambled eggs, avocado or banana and peanut butter sandwich type thing. Or something I am testing/making for work. Afternoon snacks are always sweet. Some chocolate covered nuts, banana or apple with nut butter, anything I have on hand. Dinner is whatever the family is having (typically something from this round up) and dessert is anything I have in the freezer from recipe testing. A few favorites I always like to have in my freezer: Vegan Funfetti Sugar Cookies (paleo), Chocolate Chip Walnut Cookies, Flourless Brownies or Vegan "Snickers" Candy Bars.
Hydrate like crazy – I have always been a huge water drinker. I don't drink much besides water, tea, kombucha, sparkling waters and that's about it on a daily basis. Oh and bone broth. I have a huuuuugeee mason jar I refill all day! I keep it by my side and even Ez always points to it and goes "mama agua" because he is so used to me always having my water.
Bath time – my baths used to be peaceful and quiet and a way to decompress a bit. Nowadays they are usually me, Ez and a ton of "vroom vrooms" and him rubbing soap all over me. They are sweetest and sometimes I do get to take a bath solo and it is glorious (bless you Jord for watching Ezra!). But regardless a bath at least 4-5x a week is just something I have always looked forward to. I always bring Ez in after about 15 minutes and it is the sweetest.
Family time – the silver lining of the pandemic is this family time for us. Jordan used to commute to city daily and come home at 9pm. Now we are all home. And granted it is crazy town, my heart is so full everyday. Even if it is us sitting on the floor in Ezra's room when he plays and I am on my laptop (like right now), we are all together and it is the best.
Watch a TV show – some people like to read a book before bed and go technology free. I am the person scrolling Instagram and watching a TV show with Jord. And I am usually on my laptop until about 9/9:30pm then watch an episode of something with J then go to bed. Not the most "wellnessy" routine there but it works for me right now!
*These statements have not been evaluated by the Food and Drug Administration. This product is not intended to diagnose, treat, cure or prevent any disease.