Here are some of my favorite school lunch ideas for 2 year olds and my go-to's to pack for his school that is nut-free, shellfish-free meat-free and kosher.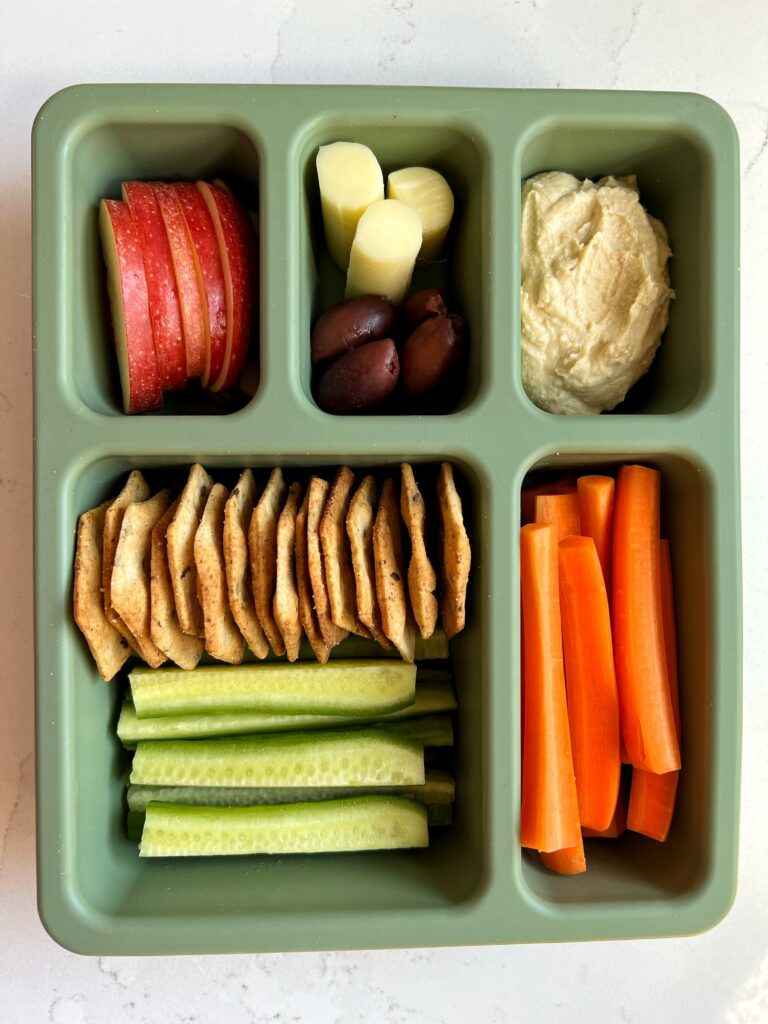 OK so first things first – let's chat where Ezra is in school without actually talking about where he is in school for privacy purposes.
Ez is in a twos class at a local spot. It is his first time in school so needless to say – it is a bit of an adjustment. It has been more rough for him than for Jordan and I who are embracing the 3 hours of silence when he is at school. He goes at 9am and we pick him up at 12:30pm. I of course thought to do longer, but being that it is the first time he is in school we wanted to hold off for now and see what happens.
When I read the school handbook they gave us the run down on food:
Lunchtime is right before they get picked up. This has been fun to pack for him. I share the ideas below. At first I wasn't into him eating at school because he usually ate lunch around 1pm everyday. But it is so much easier that they deal with the mess and it's cute he eats lunch with other kids.
Food for the kids must be nut-free, meat-free, shellfish-free and kosher. This loaded for me since 99% of what we eat has nuts in it. But ya girl likes a challenge.
On birthdays they serve fruit or store-bought kosher baked goods. Kind of bummed I can't make cupcakes but I will get over it.
Nut-free snack ideas I pack for my 2 year old:
Organic cereal – we usually have this on hand for Brody anyways. It's not my first pick but since they serve Cheerios in school, I wanted to match it with something similar for Ezra
Veggie crackers – I love these for a snack because they have a great nutrition breakdown and veggies are inside and your kid won't even know it
Fruit – sliced apple, banana, cut up berries, any fruit that is easy to serve. I do like to do apple most often since it is lower in sugar
Super seed crackers – another amazing and DELISH nut-free option! These are my personal favorite too.
Grain-free pretzels – It was hard to find a pretzel that was decent nutrient breakdown AND nut-free but Ez gobbles these up. My mom actually turned us on to them
String cheese – I usually get the organic ones from Trader Joe's
Meat sticks – my kids LVOE
Fruit and seed butter – tahini or sunflower seed butter are great options
Celery or carrots with hummus – Ez would bathe in hummus if I let him
Dried fruit – not a first choice but it is delicious and easy to just toss in there if you don't have any fresh fruit on hand and dried mango is life.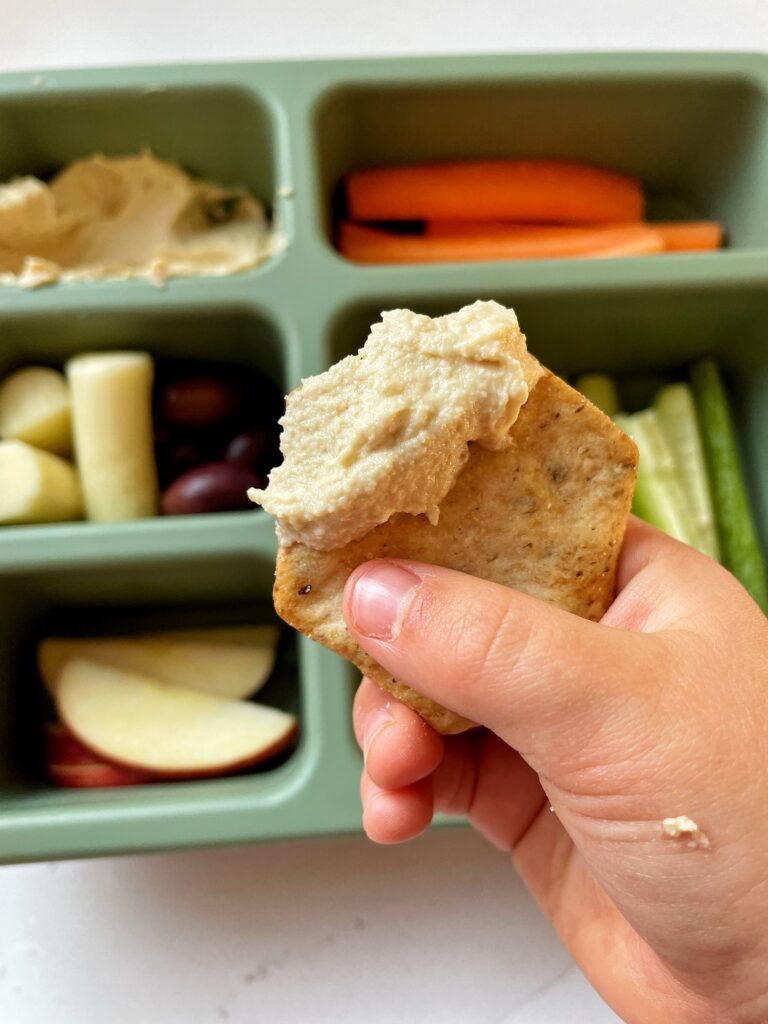 School Lunch Ideas for 2 Year Olds:
Here is the lunch box I use when I pack a bento box!
Hummus and avocado sandwich – I use the organic superseed bread from Trader Joe's usually. Ezra loves it and the ingredients are great
Yogurt with "crunchies" – aka granola. I do unsweetened yogurt with some oat-based granola
Leftovers from dinner – usually if it is meat-free like a rice or quinoa dish with veggies (we have a killer homemade rice pilaf coming soon!) and hummus for dipping because Ez can't live without "pummus"
Sunflower or tahini sandwich – I also love putting this in a wrap or tortilla with some banana
Egg salad with crackers or sandwich – Ez has a solid pallet. I know this is a hit or miss with kids
The Best Vegan Chickpea Salad Sandwich – my absolute favorite!
Pasta with tomato sauce – I like using a bean-based pasta so it has protein and fiber in it too. And I try to sneak in veggies
Pasta with pesto sauce – you can sub the cashews with sunflower seeds!
Vegetarian Enchilada Pasta – we make this a lot and send leftovers
Vegetarian Spaghetti Squash Pasta Boats – this gets messy but Ezra LOVES it. Anything in the "pasta" family and he is sold
Cauliflower Fried Rice – this is so easy to make. I like to add meat at home but I also love the egg adds protein
California roll or veggie sushi – if we don't have anything on hand, I buy this from Whole foods
Half a bagel or an english muffin with some avocado or hummus – kind of like the sandwich but to switch things up
Healthy Broccoli Cheddar Noodle Cups – these are SO fun and easy to prep for the week. You can add in any veggies you want too.