Chocolate Chip Cookie Bars made with all paleo and vegan ingredients. These are the BEST ever doughy cookie bars made with 6 ingredients.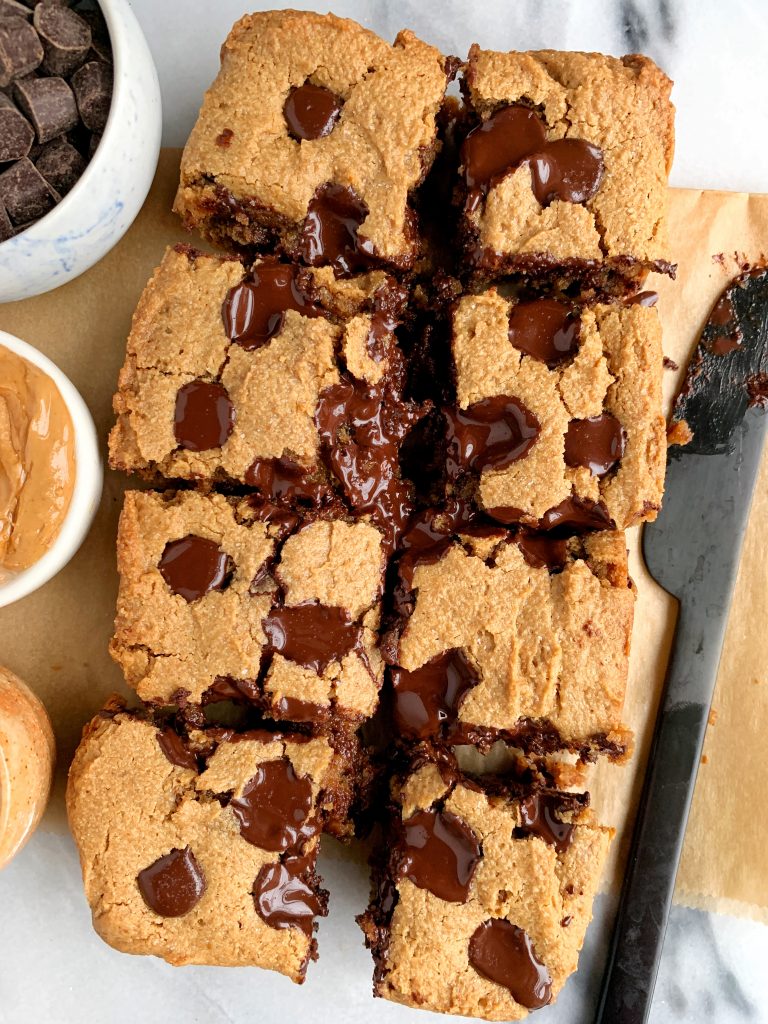 Are you looking for an easy and healthier dessert to enjoy?! Story of my life over here.
The craving for something sweet hits me after each meal. And after dinner is when you can typically find me digging into my freezer stash for any leftovers I have from recipe testing.
But what do I do when there isn't much to choose from?
I make these insanely dough chocolate chip COOKIE BARS!
These cookie bars are made with just 6 key ingredients. All vegan and paleo and SO simple. Plus this recipe is ready in under 30 minutes. It won't dirty a million bowls in the kitchen and you use your favorite bread dish to bake it. You can totally use an 8×8 dish too, but the bread dish is best so they turn out extra thick.
These cookie dough bars are also extra gooey when they come out of the oven and the chocolate pretty much melts in your mouth.
What ingredients are needed to make these bars:
Flax egg. Using ground flax is one of my favorite secret weapons in the kitchen. I use Garden of Life's Organic Ground Flaxseed for so many things but especially making flax eggs. They are super easy to make (just mix 1 tablespoon ground flax + 3 tablespoons water). You can also sub a pasture-raised egg as well if you prefer.
Almond butter. Any creamy nut butter works for this but I love using almond butter and cashew butter the most. Peanut works but the flavor will definitely be overpowering a bit.
Coconut sugar. One of my favorite types of sugar to use that isn't refined. It adds the best sweetness and a little graininess to the bars. Similar to your traditional cane sugar or brown sugar. I don't recommend using maple syrup or honey here as the liquid sweetener works a bit differently.
Coconut milk or any non-dairy milk. Anything works here. I recommend using one without added sugars. Canned coconut milk is my favorite to use.
Almond flour. I haven't tested other flours here. Coconut flour won't work well but almond meal will. Gluten-free oat would work too but you may need a little less.
Dark chocolate. An absolute MUST here! The more dark chocolate the better. These chocolate gems melt so beautifully in this recipe too. Code RACHL for free shipping on orders.
I love make these Almond Flour Chocolate Chip Cookies (paleo + vegan), The Best Ever Dark Chocolate Cookie Dough Bars (nut-free + gluten-free) and Vegan Blueberry Chocolate Chip Cookie Dough Bars (gluten-free) for a few other favorites for cookie dough cookie recipes!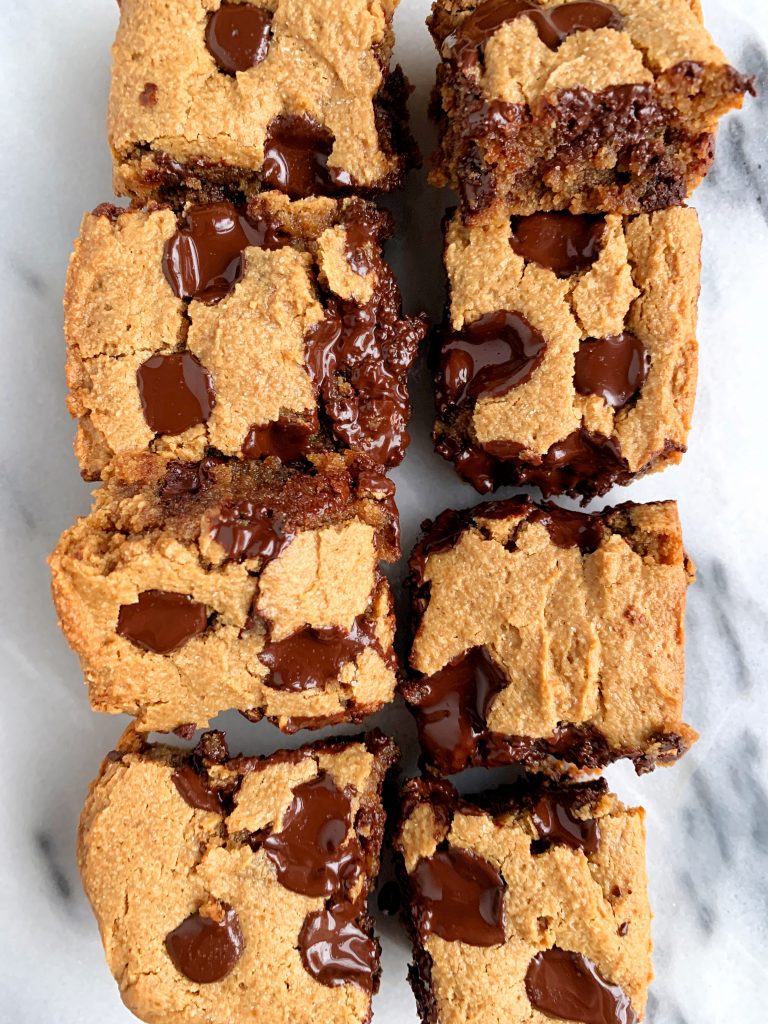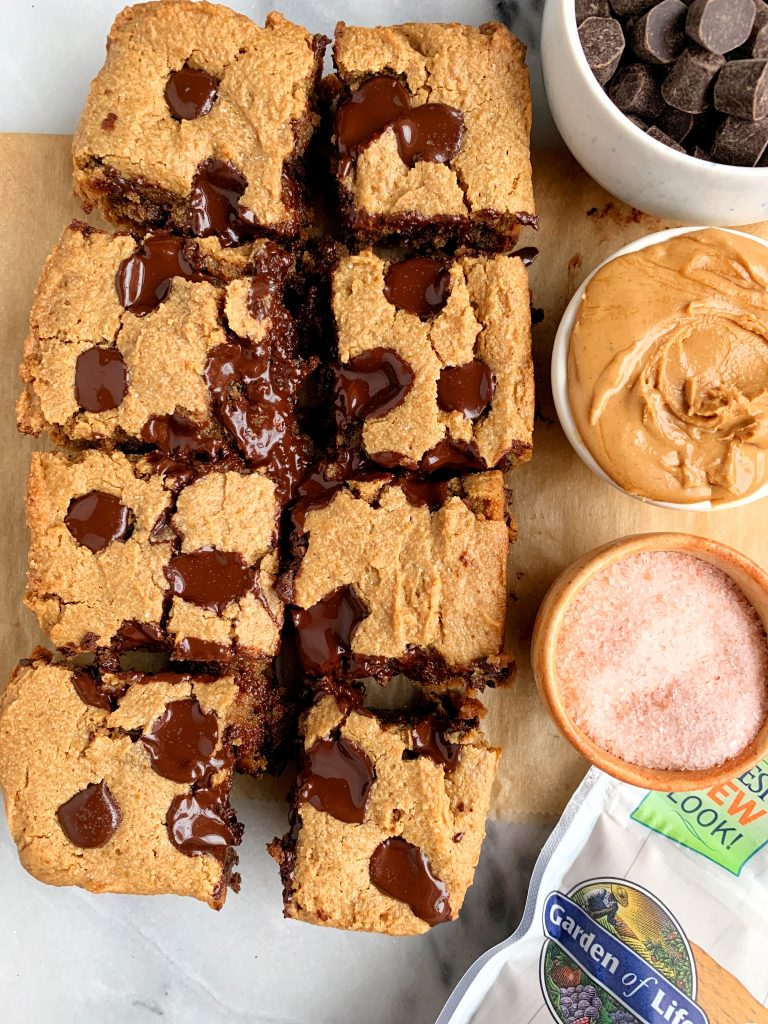 Print
The BEST Doughy Chocolate Chip Cookie Bars (paleo + vegan)
These paleo and vegan Chocolate Chip Cookie Dough Bars are the best! A delicious and healthier recipe to enjoy the most doughy melt-in-your-mouth chocolate chip cookies in bar form. Only 6 key ingredients needed!
Prep Time:

5 mins

Cook Time:

20 mins

Total Time:

25 mins
1

flax egg (

1 tablespoon

Garden of Life Organic Ground Flax +

3 tablespoons

water)

1/2 cup

creamy nut butter (I love using almond and cashew)

2/3 cup

coconut sugar

1/4 cup

non-dairy milk

1 1/4 cup

almond flour*

1 teaspoon

baking powder

1/2 cup

dark chocolate chips (I used these – code RACHL for free shipping)
Instructions
Preheat oven to 350 degrees and grease a bread dish with parchment paper and grease well*
Cream together the egg, nut butter, sugar and milk until smooth
Mix in the almond flour and baking powder until smooth and fully combined
Fold in chocolate chips then bake for about 20-25 minutes
Allow the bars to cool for a few then slice and enjoy
Notes
*I haven't tested other flours
*You can also use 8×8 dish but bars won't be as thick.
**Store in airtight container for 5 days or freezer for longer
xx, Rach
Thank you Garden of Life for sponsoring this post.