Make-Ahead Recipes to Freeze for Postpartum. Sharing my tips and go-to recipes for new moms to keep on hand when the baby arrives!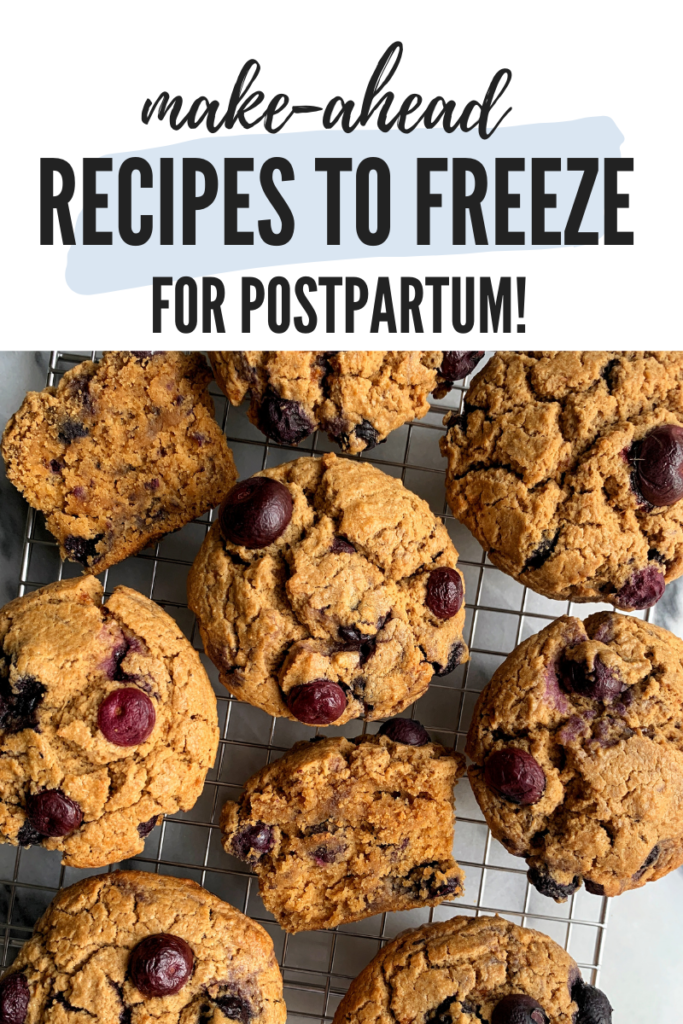 The number 1 thing I did not do before having Ezra, was prep food in anyway. Sure my freezer is always packed and crazy with things, but he came so early that I didn't really have much on hand when my water broke (more on that here).
This time around I just hit 39 weeks and we have stocked up on a ton of goodies in the pantry, mostly breakfast and dessert recipes in the freezer and uncooked meats and things too for easy cooking.
Full disclosure: I am very lucky that Jordan likes to cook. This makes things so much easier since he will do a lot of cooking for us since our freezer itself is a sock drawer. We can't keep too many bulky things in it and I prioritize cookies since Jord's speciality in the kitchen is everything savory. But if you don't live an apartment, there is a chance you are a freezer kween like my mama who had 3 freezers in our house growing up. She always stocked up on homemade chilis, sauces and things for easy meals, and I can't wait until we can do the same one day in our future home!!
In this blog post you will find a run down on how I freeze, defrost and reheat. As well as my food must-have's too stock up on. And last but not least – what blog recipes I recommend making and freezing. If you have my cookbook, Just the Good Stuff, I also have a list from there at the bottom of this post.
How to freeze recipes:
Typically I store baked goods in tinfoil and then in a large ziplock bag. This is a great method for things like banana breads or larger items. When it comes to cookies, muffins and things, I either use Tupperware like these containers and I also use the reusable bags a lot.
For meals – Tupperware is my go-to for recipes like chilis, pastas and soups. Then for chicken finger and such, those reusable bags come in handy again.
How to defrost + reheat freezer meals:
I usually defrost everything slowly in the fridge the night before. Or on the counter in the winter too (summer gets too hot in my opinion). You can also reheat some soups and chilis and things on the stovetop in a saucepan if you are able to scoop out the contents. I store any leftovers after in the fridge and make sure to eat within 3 days or so!
When you want to reheat something, the oven is usually best for baked pastas and dishes that are cooked in the oven like lasagna or casseroles. Things like my paleo chicken tenders, I like to do in oven or stovetop. Or you can also microwave as well if that is easier but anything that is meant to be crispy, won't crisp well if it is in microwave. I more so use that for pasta and such.
How to defrost + reheat freezer baked goods:
Baked goods are quick to defrost. I usually defrost at room temperature and it only takes 30-60 minutes. I also take them out the night before if I know I will want something the next day. And to reheat I typical microwave (easiest way) or you can also reheat in the oven if preferred. Banana breads and things I love to even pop into the toaster and warm up.
I store any leftovers in fridge for about 3-5 days when it comes to baked goods.
Items to stock up on in your fridge + pantry:
Nowadays it's not too hard to get groceries delivered so no worries if you are placing an order the day you come home from the hospital. Or whenever you need to stock up. I live in a city setting and have more of a habit of buying things as I need them, but there are some items we always have on hand. And when we run out – it is immediately added to the next grocery list.
Food items to stock up on:
Boxes of pasta – I also have mac and cheese boxes for even easier meals but pastas are a must!
Jarred pasta sauces – I like to keep a mix of marinara, vodka, anything!
Nut butters – we always have peanut butter, almond butter and mixed seed/nut butters as well as tahini (code RACHL for free shipping on Wild Friend's – the best!!)
Snack bars – a must have. I am a bar girl and eat 2-3 a day. They are the easiest snacks to keep on hand and with nursing – it's a game changer. I love these and these.
Granolas and cereals – I love making my own granola and I also buy this one at the store! This cereal is the best for high protein/low sugar (code RACHL) and this one.
Pancake mixes – DUH! Always need to keep yummy breakfast mixes on hand for easy mornings. I love these this brand's mix and this mix.
Dried fruits – ALL the dried mangos for me please!
Raw nuts and seeds
Canned tuna and salmon – to make my absolute favorite tuna melt recipe!
Crackers, tortilla chips, + pretzels – I love these crackers (code RACHL for free shipping) and these crackers which taste like Cheez-itz. For pretzels – get these honey mustard and plain ones, they're amazing (code RACHL for 15% off)
Bagels, tortillas and breads – LOTS AND LOTS of bagels!!! These bagels and tortillas are my go-to (code RACHL for 15% off)
Hummus and spreads like pesto
Dark chocolate – in any and all form. Peanut butter cups, chocolate covered cashews (code RACHL free shipping), my favorite peanut butter delights (code RACHL for 10% off)
Freezer-friendly breakfast recipes: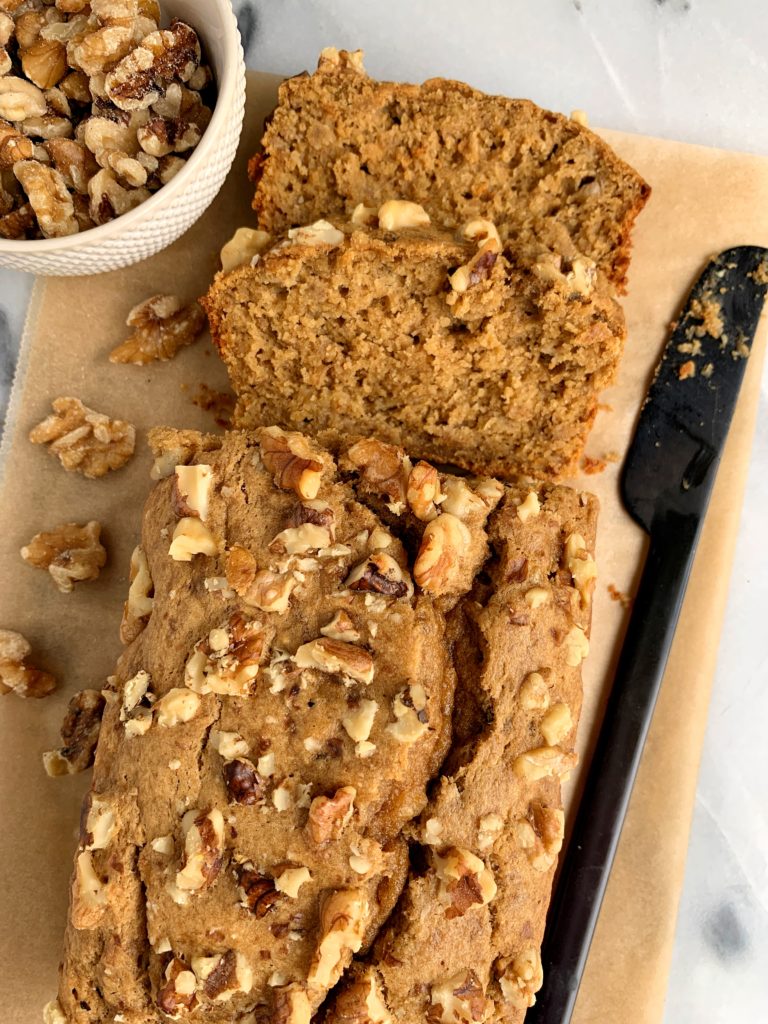 These are some of the breakfast recipes I recommend storing in the freezer. I like to say they are good for up to 3 months in there and you can freeze in sealed bags, tin foil, anything that is super tight/secure.
Easy Gluten-free Blueberry Oatmeal Cups!
Healthy Chocolate Chip Banana Bread Baked Oatmeal Bars
The BEST Paleo Everything Bagel Bread
Healthy Gluten-free Olive Oil Banana Bread
Chocolate Chip Oatmeal Muffin Tops (gluten-free)
Vegan Cinnamon Roll Banana Bread (gluten-free + nut-free)
The Easiest Gluten-free Yogurt Pancakes
Gluten-free Lactation Chocolate Chip Banana Bread (dairy-free)
The Best Ever Vegan Morning Glory Muffins (gluten-free)
Life Changing Bakery-Style Blueberry Muffins (gluten-free)
Paleo Cinnamon Streusel Banana Coffee Cake
Vegan Carrot Cake Banana Bread with Cream Cheese Frosting
Healthy Apple Pie Oatmeal Pancakes (gluten-free)
The Easiest Homemade Paleo Everything Bagels
Freezer-friendly lunch and dinner recipes: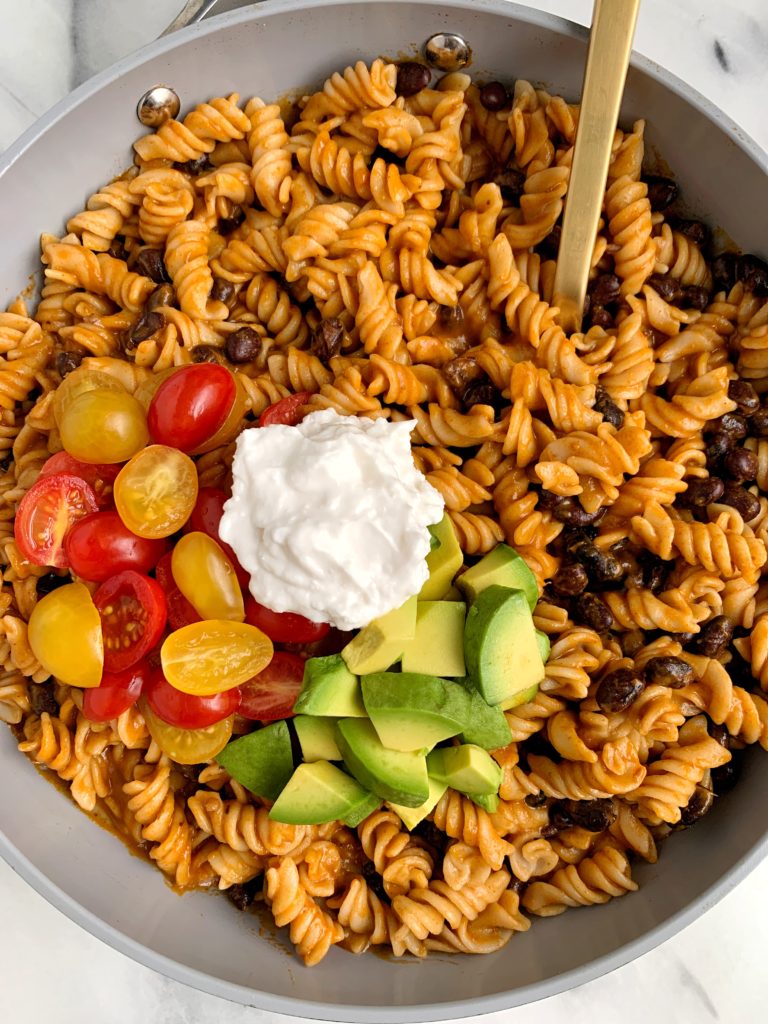 These are some of the meal ideas I recommend storing in the freezer. I like to say they are good for up to 3 months in there.
The Best Ever White Chicken Chili Recipe (gluten-free)
Vegan One-Skillet Cheesy Broccoli Casserole
The Easiest Healthy Burrito Bake (gluten-free)
Healthy Thai Turkey Meatballs in Coconut Curry
The Easiest Veggie-Loaded Lentil Soup (vegan)
The Best Paleo Buffalo Chicken Nuggets (Whole 30)
Paleo Crispy Sesame Chicken Tenders with Spicy Honey Sauce
Delicious Paleo Creamy Chicken and "Rice" Soup
Healthy One Pot Buffalo Chicken Chili Soup
Oven-Baked Paleo Veggie Chicken Nuggets
One-Pot Peanut Soup with Chicken + Veggies
Healthier Crispy Paleo Chicken Tenders
The Easiest No-Boil Baked Pasta Recipe (gluten-free)
One-Skillet Gluten-free Hamburger Helper
Freezer-friendly snack and dessert recipes: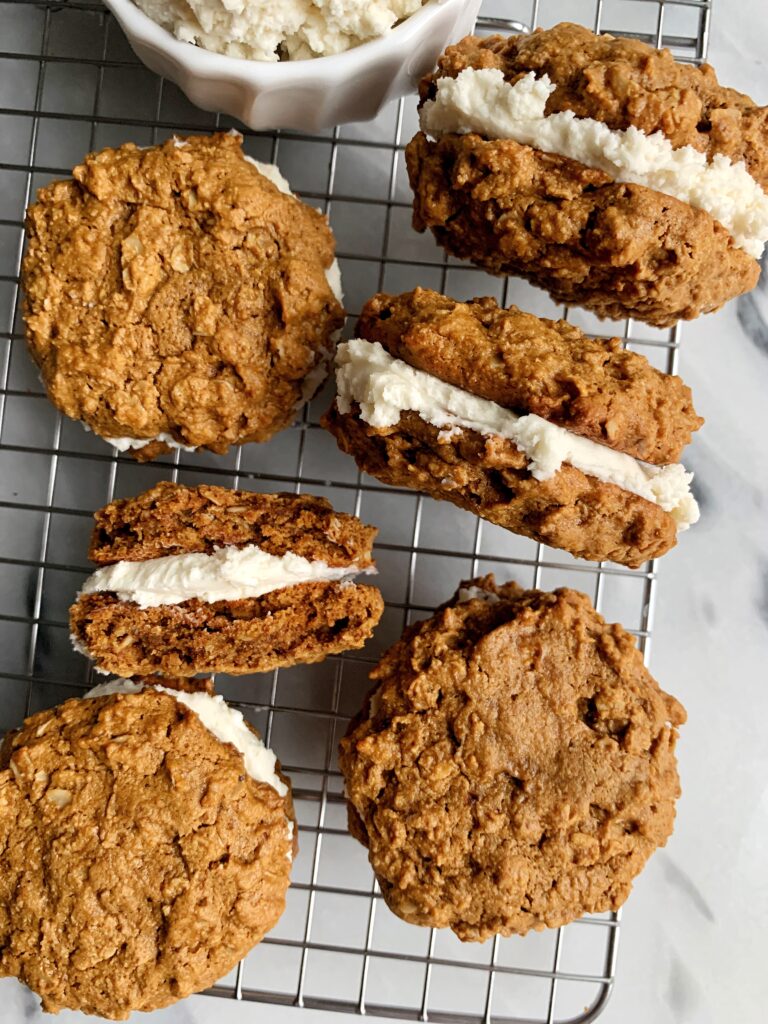 These are some of the dessert and snack recipes I recommend storing in the freezer. I like to say they are good for up to 3 months in there and you can freeze in sealed bags, tin foil, anything that is super tight/secure.
Oatmeal Chocolate Chip Lactation Cookies (gluten-free)
Healthier Vegan Oatmeal Cream Pies (gluten-free)
Gluten-free Peanut Butter Cup Stuffed Brownie Cookies
3-ingredient No Bake Peanut Butter Cookies
3-ingredient Peanut Butter Cookies
The BEST Chocolate Chip Walnut Cookies (gluten-free)
Easy 4-ingredient Chocolate Peanut Butter Fudge
The BEST Vegan Peanut Butter Cup Blossoms
Epic Gluten-free Chocolate Cake Mix Cookies
Copycat Paleo Girl Scout Samoa Cookies
The Ultimate Vegan Oatmeal Raisin Cookies (gluten-free)
Healthy Homemade Tagalong Girl Scout Cookies
Grain-free Peanut Butter Shortbread Cookie Bars
Gluten-free Birthday Cake Banana Bread
Copycat Vegan "Snickers" Candy Bars (grain-free)
Chocolate Chunk Banana Bread Cookie Skillet (grain-free)
Recipes from my cookbook to freeze: